Not all pancakes are sweet, especially when it comes to Asian cuisine! If you're expecting a sweet pancake dish that's similar to what you typically make for breakfast, prepare your taste buds for a fiery twist.
This kimchi jeon is jam-packed with kimchi, scallions, peppers, and squid. It has a light and crispy texture that is perfect with a glass of makgeolli (Korean rice wine) on a cold or rainy day. But if you're not in the mood for drinking, this also makes for a quick and delightful snack, side dish, or complete meal!
I usually like to use pork butt for the protein in this pancake but since I've been cutting down on meat, I decided to use squid this time! If you're not a huge fan of squid, you can substitute it with fresh shrimp, oysters, mussels, chicken, pork, or beef! 
When I was testing this recipe, I noticed that my kimchi jeon was turning out really salty so I tried washing half of the kimchi to adjust the saltiness. It definitely helped to reduce the saltiness and gave me more flexibility to add more seasoning if needed later on.
Since every batch of kimchi is different, I recommend sampling your kimchi first to check for saltiness. If you find that it's overly salty, rinse about half of the kimchi under cold water and it'll be ready to use!
Why you'll love this recipe
Drinking is more enjoyable when you have an appetizing snack to munch on in between and this Kimchi Seafood Pancake makes the perfect 'anju'. If you're not familiar with the term 'anju', it is a Korean word for food or snacks you eat while drinking. Korean pancakes or 'jeon' is typically enjoyed with makgeolli (Korean sparkling rice wine) but many also like to have it with soju (Korean distilled liquor). Aside from soaking up the alcohol, the spiciness and savoriness of the seafood pancakes will keep you wanting more. 
If you're not down to drink, you can also make this tasty recipe and enjoy it as is. Since its flavors go well with plenty of Korean dishes, you can also have your pick of dishes to pair it with! Aside from the Korean pancake mix, you'll probably already have the rest of the ingredients in your pantry so you can quickly scrounge this up in about 15 minutes. But if you can't find the pancake mix in the store, you can substitute it with a combination of flour and potato starch to give it its crispy and chewy texture! If you're ready to make this recipe, scroll down below for my quick step-by-step instructions.
How do I prepare Kimchi Seafood Pancake?
This recipe may not be your typical pancake recipe, but I promise that you'll be making this time and time again! It only takes a few steps to prepare, and you won't need any pancake-flipping skills to make it. 😉 To guide you on how to make these spicy pancakes, follow the steps below:
Step 1: Prepare the kimchi
To lessen the saltiness of this dish, rinse about ¼ to ½ the amount of kimchi and drain. Next, place all of the kimchi in a bowl and cut them into smaller pieces with scissors.
Step 2: Prepare the ingredients
Chop the scallions and long green pepper. Then, slice the squid into small chunks.
Step 3: Combine the ingredients
Combine the scallions, peppers, and squid with the kimchi. Mix well together.
Next, add the coarse gochugaru, fine gochugaru, sugar, Korean pancake mix, and water. Stir gently until just combined so you don't overmix the batter.
Step 4: Cook the pancakes
Heat a large skillet with 2 to 3 tablespoons of oil. Once it's hot, add the batter and spread it out thinly. While the pancake is cooking, remember to swirl the pan around to distribute the oil underneath evenly.
Once the edges of the pancake start to crisp up (about 2 to 3 minutes), flip the pancake and let it cook for 1 to 2 more minutes or until it's nice and crispy on both sides. Remove from heat and serve immediately!
Cooking tips for Kimchi Seafood Pancake
This recipe is as simple as making your typical pancakes for breakfast, but with many extra toppings. Here are a few tricks to make the perfect pancakes every time. 
Use kimchi that is sour and over-fermented. The sourer the kimchi, the better! If you don't have sour kimchi, you can add a teaspoon of vinegar for every ½ cup of kimchi. 
Be careful not to overmix the batter to prevent the pancakes from having a chewy/ bready texture!
I recommend using a good non-stick pan to cook the pancakes. This will ensure they don't stick to the surface, and flipping them won't be a hassle.
To make mini pancakes, you can spoon the pancakes in smaller batches when cooking!
After the pancakes have set in the pan, be sure to swirl the pancake around so the oil is evenly distributed underneath. This will ensure the pancake is evenly cooked. 
Ingredient Substitutions
Kimchi: Kimchi is the star of the show in this recipe so there really are no substitutes for this. if you can't find kimchi or want to take a stab at making your own at home, check out my Homemade Kimchi recipe!
Korean pancake mix: Korean pancake mix (called 'buchimgaru' in Korean) is a premade mix of dry ingredients to make the ideal pancake. It can be found at any Korean supermarket however, if you can't get your hands on any, you can replace it with a 1:1 mixture of all-purpose flour and potato starch.
Long green pepper: Long green pepper adds a mildly spicy flavor to this recipe, but you can also use jalapeño peppers as an alternative. For a toned-down spice level, you can also omit the pepper completely.
Squid: Aside from squid, you can substitute it with any shellfish including octopus, shrimp, oysters, scallops, and mussels. But if you're not fond of seafood, you can also replace it with pork, chicken, or beef as well. Get creative and use a combination of any protein you like! One of my favorite protein combos is pork and squid. 
Gochugaru: Fine gochugaru or coarse gochugaru levels up the spiciness in this pancake recipe. It has a distinct spicy flavor that cannot be substituted. 
Cooking oil: Any neutral-tasting oil that you use for frying would be suitable for this recipe including:
Frequently Asked Questions
Can you reheat Kimchi Seafood Pancake?
Yes, you can reheat the kimchi seafood pancakes, but I think they taste best when they're freshly cooked. For leftovers, you can store them in an airtight container in the fridge and they will stay fresh for up to 4 days. When you need to reheat them, warm them up in a skillet with a few tablespoons of oil for 1 to 2 minutes on each side. Alternatively, you can reheat them in the microwave however, if you're looking to crisp up the edges, reheating on the stovetop is your best bet!
What is Korean pancake mix made of?
I like to use Korean pancake mix for this recipe because it's easy and convenient! This pancake mix is a combination of the right flour formulation for the perfect pancake every time. It usually contains a combination of wheat flour, corn or potato starch, rice flour, and baking powder. Depending on the brand, some will also add a bit of garlic powder and pepper for extra flavor. Corn or potato starch is essential for this mix because it helps the pancakes get their crispy and chewy texture. You can find Korean pancake mix at any Asian/Korean market or online here. 
What's the difference between fine and coarse gochugaru?
Fine gochugaru and coarse gochugaru are basically made from the same type of chili pepper however the only difference is their textures. You'll typically use coarse chili powder for making kimchi, soups, and stews to give them their vibrant color and add heat to their flavors. While fine gochugaru can also be added to kimchi, it's usually used for sauces, like gochujang, where you don't want to see the coarse flakes in the mixture. Since the texture is finer, you'll notice that it gives a spicier taste compared to its coarser version, which is why I like to use both for this recipe.
What other dishes will go well with Kimchi Seafood Pancake?
Aside from being a delectable snack, you can make this seafood pancake as an appetizer or side dish to complement your meals. Since this dish has flavors that complement many popular dishes in Korean cuisine, you can have your pick on what recipe to pair it with. But to help you decide, these are some of my favorites!
1. Tteokbokki – similar to this Kimchi Seafood Pancake, tteokbokki is also considered an 'anju'. These two dishes are commonly enjoyed together so this pairing is a no-brainer. Give any of my tteokbokki dishes a try with this pancake:
2. Fried Chicken – aside from these spicy pancakes, fried chicken would also be a delicious snack to enjoy together. For inspiration, I recommend checking out my Honey Butter Fried Chicken or Crispy Chicken Gizzards recipes!
3. Dumplings – dumplings are a great addition to any meal and this one is no exception! I love having a side of my fried Japchae Dumplings with these pancakes every time. 
4. Steamed Eggs – Gyeran jjim or Korean steamed eggs are a classic Korean side dish and generally goes well with everything! Check out my easy Korean Steamed Eggs recipe!
5. Noodles – for a completely comforting meal, try out my Hangover Ramen recipe or Spicy Seafood Noodle Soup recipe with this dish for an ultra-satisfying meal. 
6. Soups & Stews – to help wash the pancake down, soups and stews really come in clutch and handy! Check out some soup and stew recipes that complement this pancake: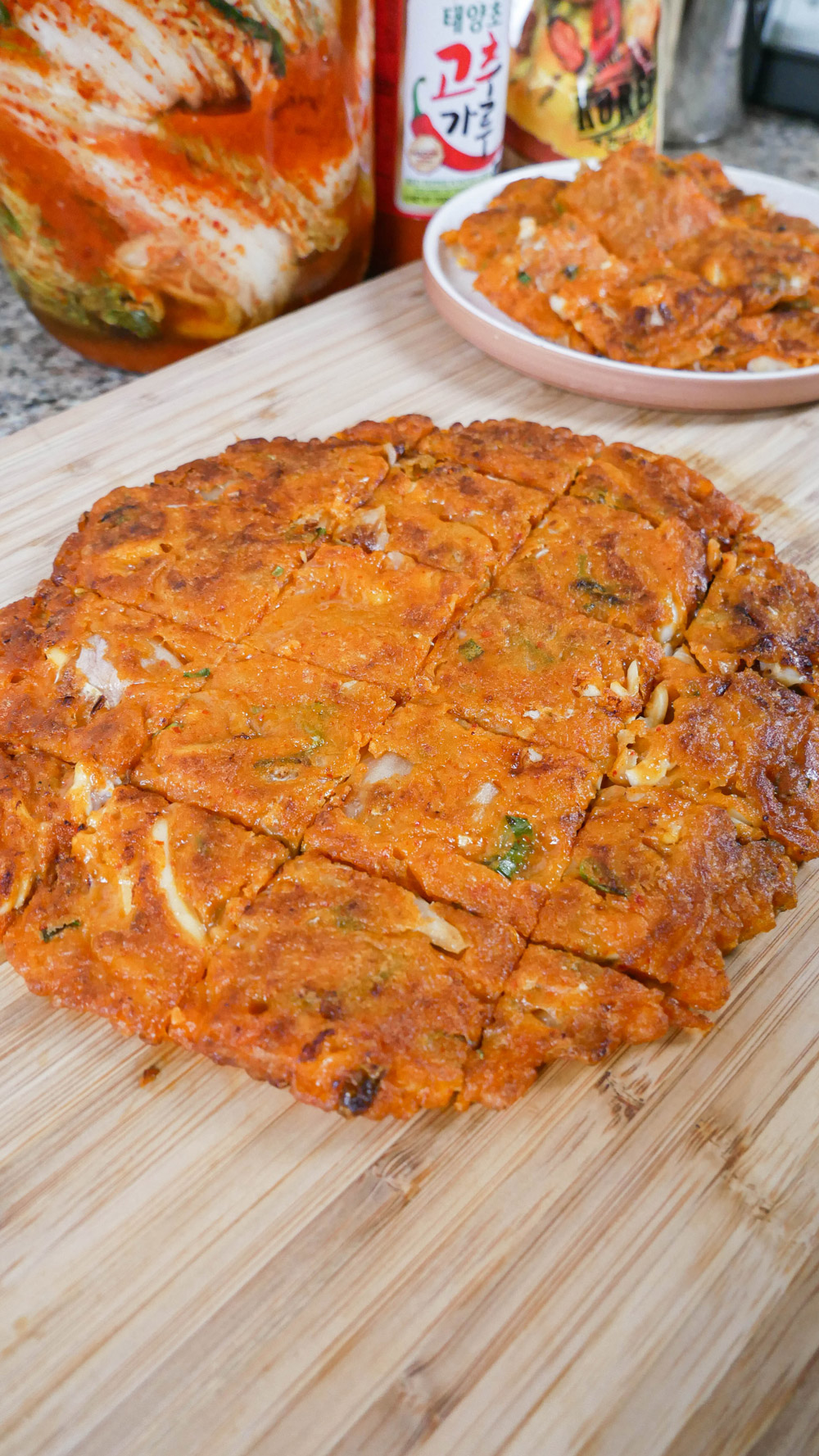 Kimchi Seafood Pancake (Kimchi Jeon)
Ingredients
2

cups

kimchi

2

tsp

sugar

1 2/3

cups

water

2

cups

Korean pancake mix

or substitute with 1:1 flour & potato starch

1

long green pepper

2

scallions

8

oz

squid

1

tbsp

coarse gochugaru

Korean red pepper powder

1

tbsp

fine gochugaru

Korean red pepper powder

cooking oil
Instructions
Wash about half the kimchi and drain. Place all the kimchi in a bowl and cut into small pieces with scissors.

Chop the scallions and long green pepper.

Slice the squid into small chunks.

Combine the scallions, peppers, and squid with the kimchi. Mix together well.

Add coarse gochugaru, fine gochugaru, sugar, Korean pancake mix, and water. Gently stir to avoid over mixing.

Heat a large skillet with 2 to 3 tbsp of oil. Add the batter and spread it out thinly.

While the pancake is cooking, swirl the pan so the oil gets evenly distributed underneath.

When the edges start to crisp up, flip the pancake and cook for 1 to 2 minutes or crispy and slighty charred.

Plate and serve immediately!
Pin & save this recipe for later!