These slinky cucumbers are irresistibly cute, delicious, and SUPER refreshing! Making these were so much fun because they brought back memories of my childhood. They remind me so much of slinkies (the real ones know heh).
I've been craving a cold and refreshing side dish lately and after seeing all these slinky cucumber videos on social media, I knew I had to try it for myself. I wanted to fuse my Korean and Chinese heritage so I included ingredients that I grew up enjoying like gochugaru and Chinese black vinegar. Let's just say this was busssssin'.
It's important to draw out the moisture from the cucumbers by salting it and letting it sit for 20-30 minutes. Doing this will result in a super crunchy and tasty cucumber. Please don't skip this step!
If you're looking for a new way to enjoy cucumbers, give my recipe a try! 🙂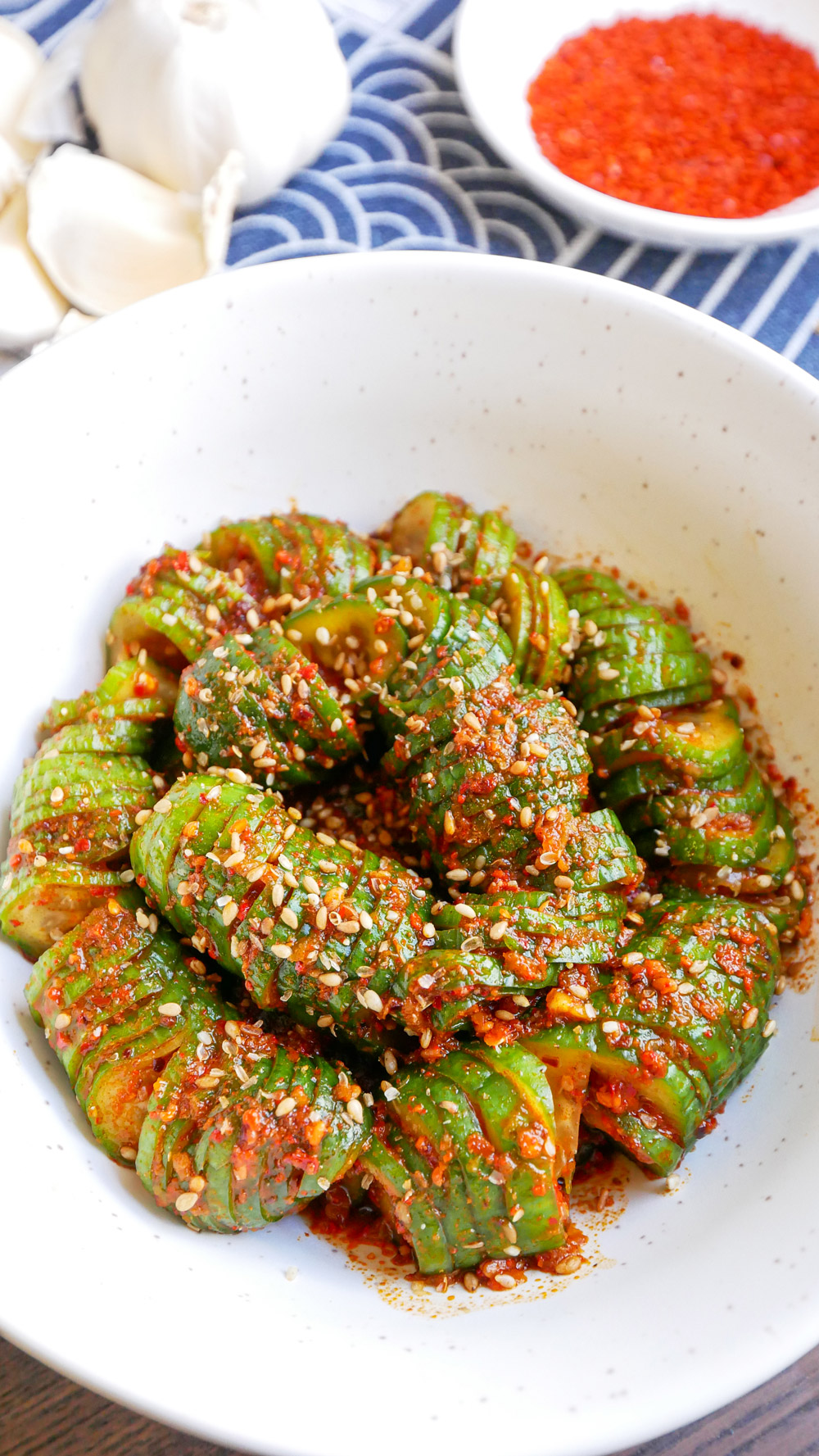 Spicy Asian Cucumber Salad
Ingredients
4-5

persian cucumbers

1/2

tbsp

salt

1 1/2

tbsp

soy sauce

soy sauce

1

tsp

sesame oil

1

tsp

sugar

2

tsp

black vinegar

or rice wine vinegar

1/2

tbsp

gochugaru

Korean red pepper flakes

1 1/2

tbsp

chili oil

4

garlic cloves

grated

1

tsp

sesame seeds

plus more for garnish
Instructions
Cut or smash the cucumbers. If you want the 'slinky' effect, lay the cucumber in between to chopsticks. Cut the cucumber into 1/4 inch slices vertically, making sure not the cut all the way through. Flip the cucumber and cut into a 45 degree angle into 1/4 inch slices.

Transfer the cucumbers into a bowl and add salt. Mix together and set aside for 20-30 minutes.

In the meantime, let's prepare the sauce. Combine soy sauce, sesame oil, sugar, black vinegar, gochugaru, chili oil, garlic, and sesame seeds. Mix together well.

After 20-30 minutes, rinse the cucumbers in cold water and pat dry well with a paper towel.

Transfer to a bowl and toss with the sauce mixture.
Pin & save this recipe for later!