Are you craving a quick and easy dish that could pair perfectly with almost anything?
Well, you should try Gyeran Jjim, also known as Korean Steamed Eggs. It's a classic side dish that you can usually find in Korean BBQ restaurants.
But because of its simple recipe, you can easily replicate it at home.
I highly recommend you add some salted fermented shrimp or saeu-jeot as this gives the dish tons of umami flavor. You can usually find saeu-jeot in most Asian or Korean supermarkets but if you can't find any, a teaspoon of soy sauce or salt is also a great alternative.
But before we get to cracking eggs, I have to warn you that using ddukbaegi (a Korean earthenware) is essential for making this dish. So if you don't have one at home, a makeshift steamer with a small bowl may work great but you won't get the same results as when you use a ddukbaegi.
What is a ddukbaegi?
A ddukbaegi is a traditional Korean earthenware that's used for cooking and serving soups and stews. They usually appear in a black or brown color and can come in a glossy or matte finish.
Since it primarily consists of clay, a ddukbaegi retains heat well. So for that reason, your soup can still be boiling by the time you serve it on the table.
Korean steamed eggs are also traditionally prepared in a ddukbaegi, that's why it's essential to have one if you want to try this recipe out. You can easily find ddukbaegi in Korean supermarkets or on Amazon, so make sure to grab one if you want to try more authentic Korean recipes.
With that said, let's get to making some tasty Gyeran jjim!
How to make Korean steamed eggs
Ingredients
6 eggs
1 tsp sugar
1 tbsp salted fermented shrimp (saeu-jeot)
1/4 cup water
1 tbsp sesame oil
1 scallion chopped
a sprinkle of sesame seeds
1 ddukbaegi Korean earthenware pot
Instructions
Grab the eggs and crack them into a bowl, making sure there are no egg shells in the mixture. Next, add in the salted shrimp and sugar then whisk them all together.
Pour the water into the egg mixture and stir until they're well combined.
Get your scallions and chop them to about ¼ inch sizes, and set them aside.
Slowly pour your egg mixture into the ddukbaegi, and place it on the stove over low-medium heat.
It's important to keep stirring the egg mixture constantly while scraping down the sides and bottom of the ddukbaegi, as this will prevent the egg from sticking and burning.
When the eggs are 75% done, mix in half of your chopped scallions.
Then, cover with a heatproof bowl or another ddukbaegi to trap steam inside, making the egg rise.
Reduce the heat to low, and let it cook for 3-5 minutes. You'll know the eggs are ready when you start to hear a sizzle or hissing sound.
Once the time is up, carefully remove the lid with oven mitts.
Garnish your steamed egg with the remaining chopped scallions, and add a sprinkle of sesame seeds.
Lastly, drizzle a bit of sesame oil for added flavor and serve immediately.
How to make Korean steamed eggs without an earthenware bowl?
Since not everyone readily has a ddukbaegi at home, that doesn't mean you can't try to make this tasty steamed egg recipe.
Although it won't have the same light and fluffy texture as when you make it in a ddukbaegi, cooking the eggs in a steamer can still make an acceptable side dish.
To start, mix all the ingredients in a bowl and set it aside.
Then, fill a steamer or stock pot with water and let it boil. Once the water's boiling, cover your bowl with another bowl to prevent the condensation from adding to your mixture.
Once that's secure, place the bowl inside the steamer and let it cook for 3-5 minutes until the eggs are fluffy.
Don't forget to garnish your steamed eggs with scallions, sesame seeds, and sesame oil after.
Can you make Korean steamed eggs in the microwave?
Making Korean steamed eggs in the microwave is not the best method for this recipe. But if you're in a pinch, a microwave can make preparation easier.
All you need to do is mix all of the ingredients in a microwave-safe bowl and place it in the microwave. Let the eggs cook for 2 minutes, then stir. Then return it for another 2 minutes before taking them out.
If your steamed eggs are still a bit undercooked, put them in the microwave for 30-second increments until the center becomes fluffy.
Then, garnish them with chopped scallions, sesame seeds, and sesame oil.
What goes with Korean steamed eggs?
Once you've mastered the method for making Korean steamed eggs, you can basically make it any time. Since this is a savory side dish, you can pair Gyeran jjim with any type of meal.
If you want to keep your meal simple, rice is always a great combo. It lets the flavors of the steamed eggs take center stage, plus the carbohydrates will keep you full for a couple of hours. Gyeran jjim is also a perfect side dish for an at-home Korean BBQ feast.
You can also toss a variety of vegetables into your steamed eggs. Onions, carrots, or mushrooms are my go-to choices since they can add a ton of flavors, while still keeping the recipe easy.
Frequently Asked Questions
Why is my steamed egg watery?
Keep in mind that the amount of liquid you add to this dish can make or break the final result. So if the eggs appear watery even after 5 minutes of cooking, you may have added too much water to your mixture.
This recipe calls for ¼ cup of water for 6 eggs, so make sure to use a measuring cup to get a precise amount.
Using warm water will also make it easier to mix with the eggs, so remember that trick for the next time you plan on making this recipe.
Why are my steamed eggs not fluffy?
The secret to a fluffy and voluminous Gyeran jjim is the constant stirring while cooking as this adds air to the eggs. So if you got distracted when making your steamed eggs, that might be the reason why they fell flat.
Using the correct ddukbaegi size can also make your steamed eggs look voluminous as long as you fill it 80-90% full.
Also, avoid using a flat lid to cover your ddukbaegi when cooking as this will prevent the eggs from rising. That's why I recommend using a bowl, as this allows more space for the eggs to puff up.
Why are my steamed eggs deflating?
Similar to taking a souffle out of the oven, you'll notice your steamed eggs will start to deflate a little when you take it off the stove.
But if they immediately turn flat after cooking, it's either overcooked or you've been using too much heat. The high temperature causes the eggs to rise too fast but the center remains uncooked.
So to remedy this, you'll need to turn the heat down for cooking and try to steam the eggs in less time.
Can you steam eggs for too long?
Eggs are relatively quick to cook, so you should be careful not to overcook them if you don't want to eat firm steamed eggs.
The trick is to use low heat to avoid cooking the sides of the eggs first before the center is even done. This will also prevent the edges from burning so you'll get a consistently soft texture when eating.
But using too low heat can also make your dish take too long to cook. So, keep practicing until you can get the correct temperature to create the perfect Korean steamed eggs.
Are steamed eggs healthier?
Compared to scrambled eggs and sunny-side-up, steamed eggs are healthier since you don't need to use any kind of fat to prepare them.
You also have full control of what you can add to your Gyeran jjim. So if you want to keep it healthy, the addition of vegetables would be a nutritious treat.
The recipe already has minimal salt but if it bothers you, you can also completely omit the salted fermented shrimp. Although this will make it a less flavorful dish, you can still replace the taste with low-sodium soy sauce.
What's the difference between Korean and Chinese steamed eggs?
It's easy to mistake the two dishes as similar since both recipes have a savory taste and can add a variety of ingredients to build flavor.
But the truth is, they have several key differences in terms of their preparation and consistency. Korean steamed eggs have a light and fluffy texture, while Chinese steamed eggs have a smooth and silky texture.
You also need to cook the Chinese dish steadily in a steamer. While Korean steamed eggs are best made in a ddukbaegi with constant stirring.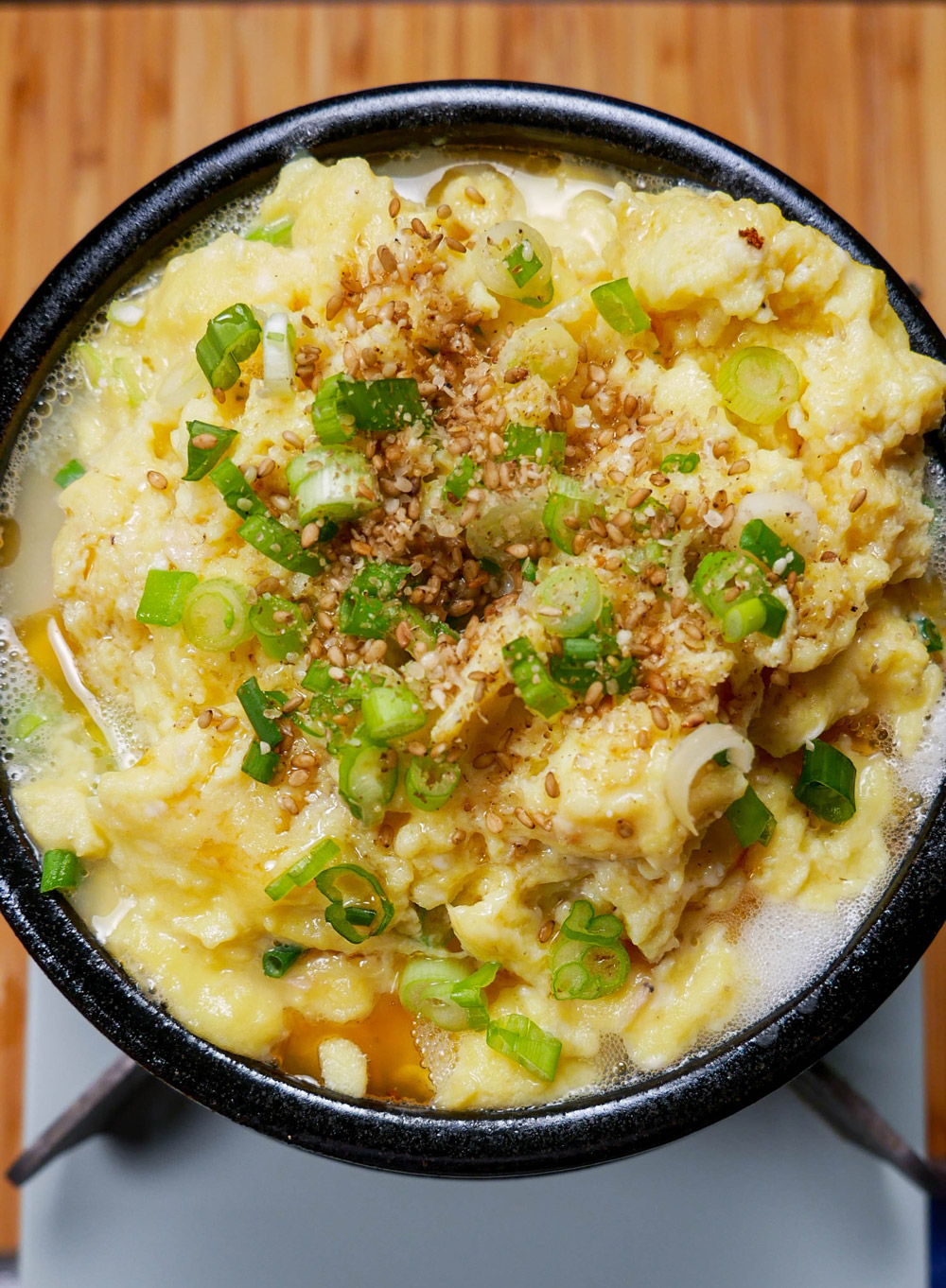 Korean Steamed Eggs (Gyeran Jjim)
Ingredients
6

eggs

1

tsp

sugar

1

tbsp

salted fermented shrimp

saeu-jeot

1/4

cup

water

1

tbsp

sesame oil

1

scallion

chopped

sprinkle of

sesame seeds

1

ddukbaegi

Korean earthenware pot
Instructions
Crack 6 eggs in a bowl. Add the salted shrimp and sugar. Whisk together.

Pour the water into egg mixture and mix well until combined.

Chop the scallions and set aside.

Pour the egg mixture in the ddukbaegi (earthenware pot) with the stove on low-medium heat.

Constantly stir the egg mixture and scrape down the sides and bottom of the ddukbaegi. This prevents the mixture from sticking and burning.

When the eggs are 75% cooked, mix in half of the scallions.

Cover with a heatproof bowl or another ddukbaegi to create an 'oven'. This will create steam inside the ddukbaegi and cause the egg to rise.

Turn the heat down to low and cook for 3-5 minutes. Once you hear a sizzle or hissing sound, you'll know it's ready.

Carefully remove the lid with oven mitts.

Garnish with the remaining scallions and sesame seeds.

Drizzle sesame oil and serve immediately.
Notes
The ddukbaegi or Korean earthenware pot is essential to making this dish. Using a pot will not give you the same result.
Salted fermented shrimp can be found at Korean supermarkets. If you don't have any or you can't find it, you can substitute this with soy sauce or just plain salt.
It's important that you use a heatproof bowl to cover the ddukbaegi so it doesn't crack or shatter. Do not use a glass bowl. 
Pin & save this recipe for later