Today we're making onigiri with myeongnanjoet which is Korean for spicy cured pollock roe. It is also called mentaiko in Japanese.
This fish roe has a deep, rich, umami flavor and while it's not 'fishy' it does have a strong let's say… seafood essence. I grew up eating this as a side dish mixed with sesame oil and sesame seeds and it's so good with rice. It really is a whole meal on its own!
Pro-tip: if you're making onigiri by hand, wet your hands and rub them with salt before shaping and filling. This will prevent the rice from sticking and the salt will add some extra flavor to the rice. To make this process easier, you can also use a mold.
If you're looking for more onigiri recipe ideas, check out my other posts: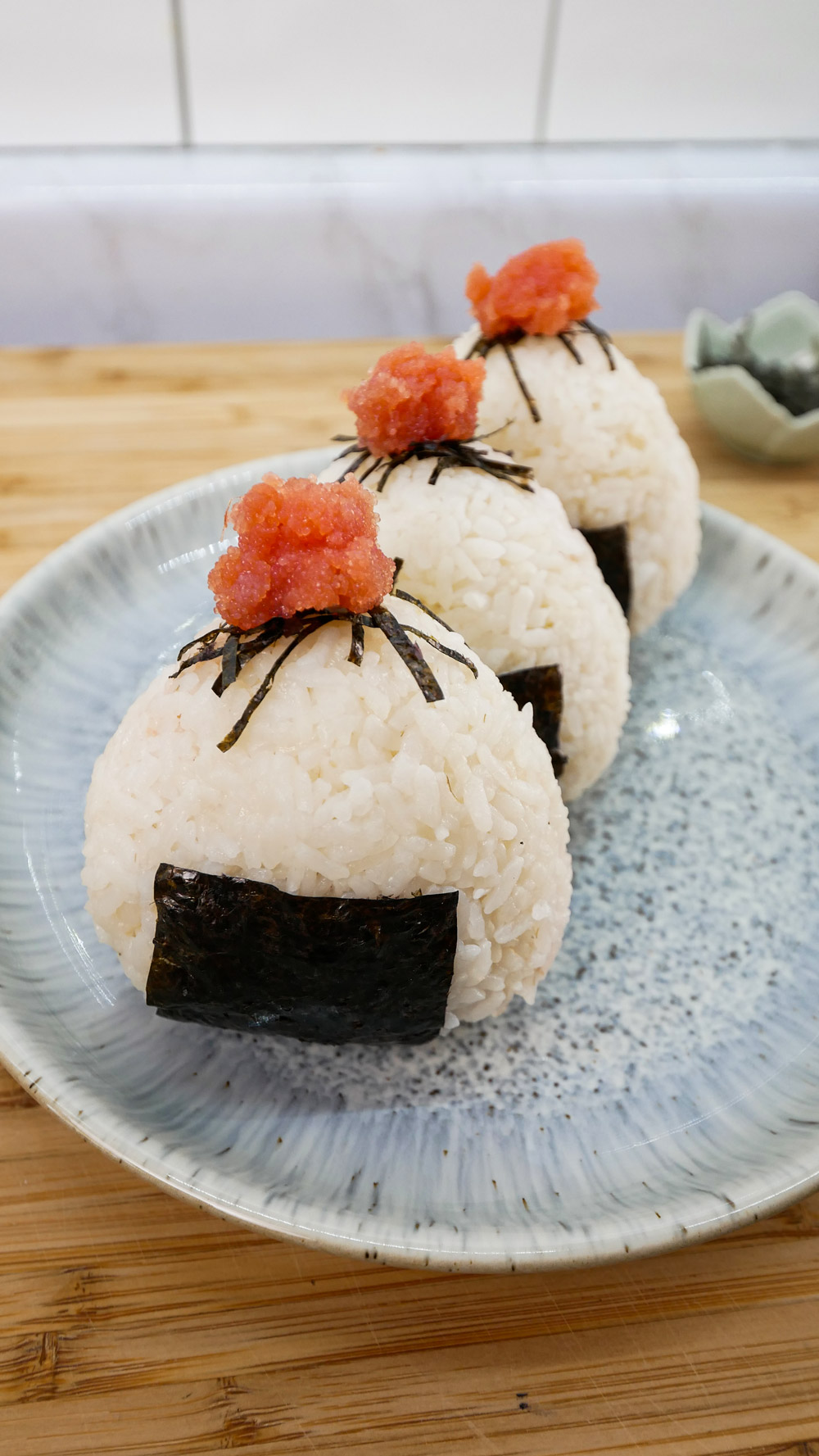 Mentaiko Onigiri
Ingredients
2- 2 1/2

cups

cooked rice

short-grain rice

2

tbsp

cured pollock roe

myeongnanjeot (Korean) or mentaiko (Japanese)

2

tsp

sesame oil

1

tsp

sesame seeds

bowl of

salt

bowl of

water

nori sheets

for garnish
Instructions
Transfer cooked rice into a bowl and set aside to cool.

Combine pollock roe, sesame oil and sesame seeds. Mix together and set aside.

While the rice is cooling down, prepare the assembling station. You'll need a bowl of cold or room temperature water, a small bowl of salt and a few nori strips.

Once the rice has completely cooled, it's time to assemble!

If assembling my hand – wet both hands and using two fingers, dip it in the bowl with salt. Rub the salt into the palm of hands until evenly coated. Take about 1/4 – 1/2 cup of rice and press it down flat on one hand. Add about 1 tbsp of roe in the middle, then take another 1/4 – 1/2 cup of rice and cover the roe. Press down firmly with both hands to help seal the onigiri.

To create a triangle shape, make the palm of one hand flat and make a 90 degree angle with the other hand. Shape the rice ball using this formation while rotating. Be sure to apply pressure when shaping!

Wrap the onigiri with a nori sheet and enjoy!