Tteokbokki is one of the most popular Korean street foods, and it's known for its medley of sweet, salty, and spicy flavors. It's also usually served at a "pojangmacha" which are street stalls that serve food to be enjoyed with soju – a Korean-distilled alcoholic beverage. 
Traditional tteokbokki recipes don't usually have peanut butter in the sauce but I like to add a tablespoon to give it a sweet and nutty taste. It rounds out the spiciness and sweetness and will leave you wanting more. 
If you're looking for a quick bite to eat that doesn't require a lot of fuss, give this tteokbokki recipe a try!
What is Tteokbokki?
Tteokbokki roughly translates to "stir-fried rice cakes", and they're a staple street food in Korea. It consists of soft and chewy rice cakes that are cooked in a thick red sauce – which you can easily replicate at home. 
This street food is nostalgic for many people living in Korea because it is a popular afterschool snack among students. It's believed that tteokbokki was originally served to the royals in court, and contained high-quality ingredients, like sirloin and beef. Over time, the dish went through several evolutions, leaving out many ingredients with the exception for soy sauce and rice cakes.
The modern version that we currently know was said to be invented by Ma Bok Lim when she accidentally dropped rice cakes into a pot of hot sauce. After she discovered how delicious it was, she decided to sell it, and the rest became history. Due to its wide spread popularity, you can now get tteokbokki in many restaurants and street food stalls. But why do that when you can easily make it at home!?
What are rice cakes? 
Rice cakes (or "tteok" in Korean), are made from glutinous rice flour that is pounded and steamed to give them their signature chewy texture that we all love. Although it contains 'cake' in the name, they're more similar in appearance to pasta, like gnocchi. In addition to a comforting bowl of tteokbokki, rice cakes are also used for desserts, stir-fries, and soups. 
How do I prepare Tteokbokki?
Tteokbokki is relatively straightforward and incredibly easy to make. Just follow the steps below!
Step 1: Prepare the broth
In a pot, toast the dried anchovies for 3 to 4 minutes or until they turn golden brown. This will enhance their taste and intensify the flavor of the broth. Next, add water and dried kelp, and simmer for about 15 minutes. After 15 minutes, remove the dried anchovies and kelp from the broth, and set aside.
Step 2: Make the sauce
Combine gochujang, coarse gochugaru, fine gochugaru, soy sauce, light brown sugar, and peanut butter in a bowl. Stir to mix well together.
Step 3: Cook the ingredients
In a large pot, add the broth, rice cakes, and sauce. Mix and stir until they're fully combined. 
Bring to a boil then add the cabbage and scallions. Cook for about 5 to 10 minutes or until the sauce starts to thicken. Then, add the sliced fish cakes and cook for another 1 to 2  minutes.
Step 4: Serve and enjoy!
Taste the broth to check if the flavors and seasonings are to your liking. Once you're happy, take the tteokbokki off the heat and serve while hot!
Cooking Tips for Making the Best Tteokbokki
Spicy rice cakes aren't complicated to make, but if you're not familiar with this dish, it might be a little daunting. But fear not! To get the best flavor and consistency, here are a few tips to guide you:
If the rice cakes you'll be using are frozen, defrost them ahead of time by soaking them in water.
Before toasting the dried anchovies, remove the guts to get rid of the bitter and unpleasant tastes. Don't throw out the heads though – they're packed with flavor!
Most gochujang come in different levels of spice from mild, hot, to very hot. Use the gochujang based on the spice level you want.
Ingredient Substitutions
Dried anchovies: dried anchovies add a uniquely fishy and salty flavor that can be substituted with dashi powder or fish sauce.
Dried kelp: dried kelp helps the broth build its salty and umami flavor. But if you can't find them you can also substitute them with dried shiitake mushrooms or omit them from the recipe altogether.
Gochujang: gochujang is a Korean fermented chili paste that adds a combination of sweet, salty, and spicy flavors. This is a key ingredient in tteokbokki and cannot be substituted with any other ingredient. 
Gochugaru: gochugaru is Korean red pepper chili flakes that give tteokbokki an extra spicy kick. Gochugaru has its own distinct spice and taste so I don't recommend any substitutions. If you don't have gochugaru, you leave it out. 
Frequently Asked Questions
Where can you buy rice cakes?
Rice cakes or "tteok" are typically sold in Korean supermarkets like H Mart. They come fresh or frozen and can be stored in the freezer for an extended period of time. They come in various shapes but the ones you want to look for are long cylindrical shaped. 
Where can you buy dried anchovies?
Dried anchovies are a common ingredient in Korean cuisine for flavoring broths and other dishes. You can usually find them in Korean or Asian grocery stores. They are best stored inside the freezer to extend their lifespan. 
Where can you buy dried kelp?
Dried kelp or "dashima" in Korean, is a type of edible kelp that's commonly used for making soups or broths. It is also called "kombu" in Japanese. Similar to dried anchovies, they can be found in Korean or Asian supermarkets. For the best quality kelp, pick the ones that are sturdy and thick, and ones that have a white powdery residue on them. This is what gives them their delicious umami flavor! They can be stored in the freezer in a sealed bag or container 
Can you store leftover Tteokbokki?
Tteokboki is always best enjoyed fresh but if you have leftovers, you can store them in an airtight container for 2 to 3 days in the fridge. To reheat, use the microwave or cook over the stop top. Keep in mind that rice cakes have the tendency to absorb the sauce so it will be softer and mushier in texture once reheated. 
What dishes complement Tteokbokki?
Tteokbokki is usually enjoyed as a snack or as a side dish but here are some of my favorite dishes that I recommend with:
1. Ramen – pairing tteokbokki with ramen is the epitome of comfort food and I guarantee you this will definitely hit the spot. If you want a dish that will compliment the rice cake's spicy flavor, check out my Hangover Ramen recipe!
2. Fish Cake Soup – also known as o-deng guk or eo-muk tang, fish cake soup and tteokbokki are a classic combination that many people enjoy. The spicy tteokbokki is washed down with the refreshing soup, making it irresistibly good. Try out my Korean Fish Cake Soup and see for yourself!
3. Dumplings – crispy dumplings are always welcome, especially when they go well with the chewy texture of rice cakes. They're also great to dip in the tteokbokki sauce. Check out my Japchae Dumplings recipe here!
4. Kimbap – kimbap is another popular Korean street food that is commonly eaten with tteokbokki. My Spicy Tuna Kimbap will pair perfectly with the flavors of this tteokbokki.
Check out my other Korean street food recipes!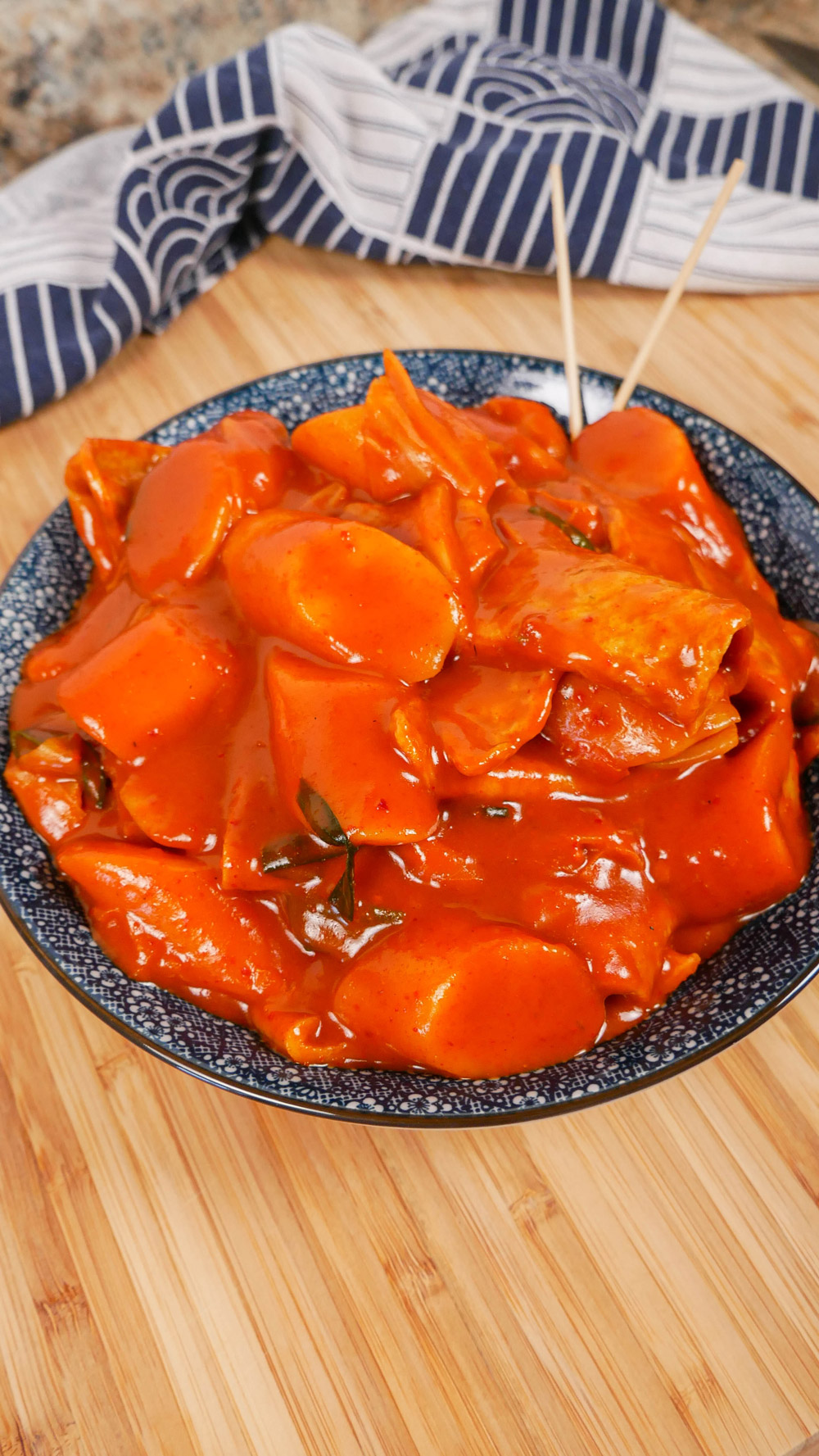 Tteokbokki Spicy Rice Cake
Ingredients
1

lb

rice cakes

6

oz

fish cake

sliced

1 1/2

cups

cabbage

chopped

2

scallions

chopped
Broth
4

cups

water

7-8

dried anchovies

innards removed

1

dried kelp

or kombu
Sauce
2

tbsp

gochujang

regular or spicy Korean red pepper paste

2

tbsp

coarse gochugaru

Korean red pepper flakes

2

tbsp

fine gochugaru

Korean red pepper flakes

2

tbsp

soy sauce

2

tbsp

light brown sugar

1

tbsp

peanut butter
Instructions
In a pot, toast the dried anchovies for 3-4 minutes or until browned. Add the water and dried kelp, and simmer for about 15 minutes. Strain and set aside.

Combine the gochujang, coarse gochugaru, fine gochugaru, soy sauce, light brown sugar, and peanut butter. Mix together well.

In a large pot, add the broth, rice cakes, and sauce mixture. Stir the sauce until fully combined.

Once the rice cakes come to a boil, add the cabbage and scallions.

Cook for about 5-10 minutes until the sauce has thickened. Add the sliced fish cakes and cook for another 1-2 minutes.

Serve immediately and enjoy!
Pin & save this recipe for later!