Maeun Tang is a super delicious Korean fish soup that literally translates to 'spicy soup'. Growing up I've watched my mom make maeun tang with fish head and bones after filleting the fish for sashimi.
You can definitely use chunks of fish but the bones and head is a good way to minimize waste and use every part of the fish. I recently went fishing with my boyfriend and he caught a keeper fluke so I knew I had to make maeun tang with it!
Fish head is a popular ingredient in many Asian cultures, but I haven't really seen it used as the main ingredient in Western cuisine! Are there any fish head recipes in your culture that you enjoy?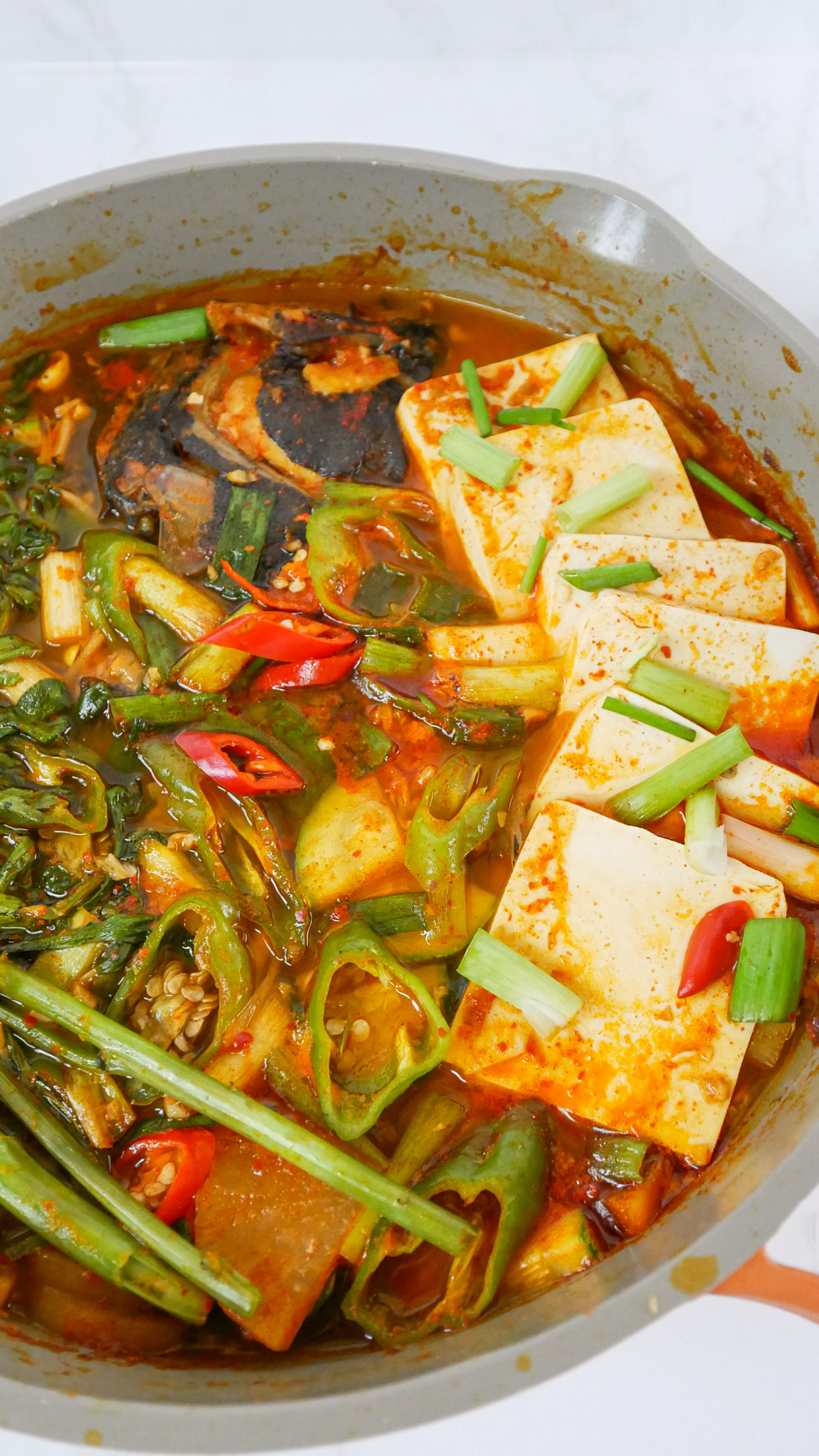 Maeun Tang
Ingredients
1

pound

white fish or fish bones/heads

(flounder, fluke, cod, sea bass), cut into chunks

1/2

pound

Korean radish

sliced into 1/4 inch thickness

1/2

zucchini

sliced

2

scallions

chopped

1

long

green pepper

sliced

1

red hot chili pepper

sliced

3

garlic cloves

minced

3

oz

bean sprouts

5

sprigs

of chrysanthemum greens

optional

1/2

block

soft tofu

sliced
Anchovy Broth
4

cups

water

8

dried anchovies

innards removed

2

oz

2 oz dried kelp

1/2

medium

onion
Seasoning
1

tbsp

gochujang

Korean hot pepper paste

3

tbsp

gochugaru

Korean red pepper flakes

1/2

tbsp

soup soy sauce

1

tbsp

fish sauce
Instructions
Let's prepare the anchovy broth! In a pot, combine water dried anchovies, dried kelp, and onion. Boil for 10 minutes then strain.

Transfer the anchovy broth into a pan along with Korean radish. Bring to a boil over high heat, then reduce to a simmer for 10 minutes or until the radish are tender.

For the seasoning, combine gochujang, gochigaru, soup soy sauce, and fish sauce. Mix together until it forms a paste.

Add 3/4 of the seasoning paste to the broth and mix until fully dissolved. At this point, you want to taste for the spice levels and adjust accordingly! If you prefer it spicier, add the remaining seasoning paste.

Toss in the fish and cover for 10 minutes or until it's fully cooked. Add garlic, zucchini, and bean sprouts, and cook for 2-3 minutes until they've softened up.

Add the tofu, green pepper, red pepper, and chrysanthemum greens and cook for 2-3 minutes.