If you like tteokbokki and you like ramen, you're gonna love rabokki! I mean, what's not to love? You get best of both worlds in one bite!
The key ingredient to marry the tteokbokki and ramen together is a little bit of the ramen powder. I like using Shin Ramen because it's my favorite ramen but use whatever you like! Adding a slice of cheese will make this extra bomb so I highly recommend adding it in. Feel free to use any cheese you like!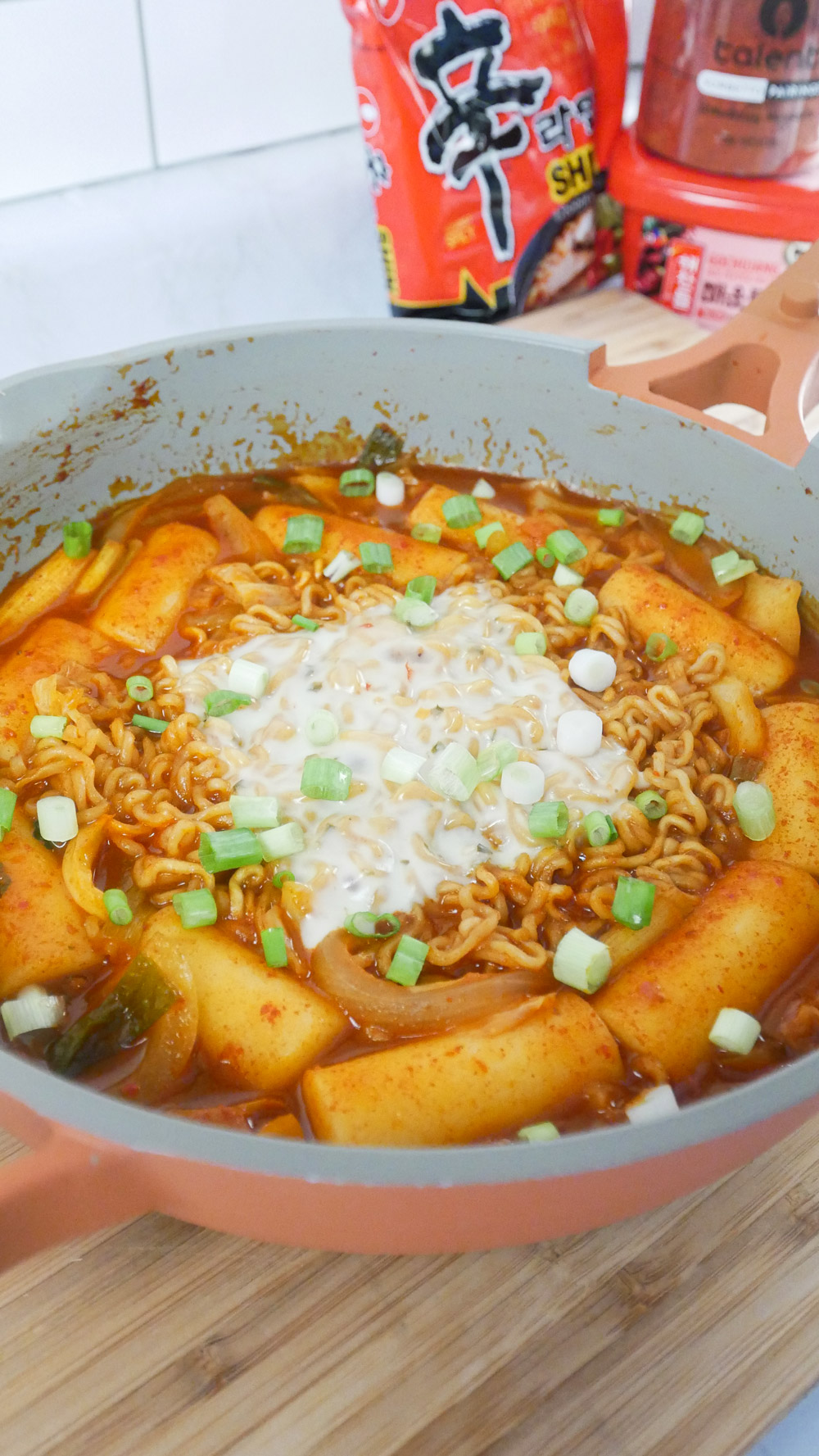 Rabokki
Ingredients
1/2

cup

cabbage

chopped

1/4

cup

onion

sliced

2

scallions

chopped

8-10

tteok (rice cakes)

1

instant ramen noodle

1/2

packet

ramen powder

3

cups

anchovy broth or water

cheese

optional
Sauce
1

tbsp

gochujang

Korean red pepper paste

1

tbsp

coarse gochugaru

Korean red pepper flakes

1/2

tbsp

fine gochugaru

Korean red pepper powder

1

tbsp

soy sauce
Anchovy Broth
6

cups

water

8

dried anchovies

innards removed

5

small pieces

of kelp

1/2

medium

onion
Instructions
In a pot, combine water, anchovies, kelp and onion. Bring this to a boil over medium heat for 20 minutes or until the liquid has reduced to half (about 3 cups). Strain and set aside.

To prepare the sauce, combine gochujang, coarse gochugaru, fine gochugaru, soy sauce, and sugar. Mix until well combined.

Pour the anchovy stock in a deep pan. Add the sauce mixture and half packet of ramen powder.

Toss in the tteok, cabbage, onion, and scallions. Cook for 2-3 minutes.

When the liquid has slightly reduced, add the instant ramen and cook noodles to your desired doneness.

Add cheese and cover until melted.
Pin & save this recipe for later!