Pollock Roe (mentaiko in Japanese and myeongnan-jeot in Korean) is cured fish roe that is savory, spicy and full of umami. It is a popular Korean and Japanese ingredient that is eaten as a side dish with rice.
I first tried mentaiko pasta at a Japanese jazz bar called Tomi Jazz in Midtown Manhattan and ever since then, I was completely hooked! This dish is also popular in Japan as well. This recipe is very easy and quick to prepare because the only ingredient that needs to be cooked is the pasta. All you'll need are a few everyday ingredients along with the spicy roe to create this buttery and delicious pasta. Dinner or lunch can be served in just 15 minutes!
Pollock roe can be found in most Japanese or Korean markets in the frozen section. They store very well in the freezer so you can buy a big pack and take out the proportions you need each time you make this recipe.
What is Mentaiko?
Mentaiko Pasta is a classic Japanese spaghetti-style dish that is smothered in fish roe sauce and is often topped with shiso leaves or nori strips. The origins of this dish lie in Korea, where it was called "myeongtae", which is where the word "mentai" "ko" (子) refers to "egg" in recipes! Myeontae was first created in the Korean peninsula and was only brought to Japan after World War II. The story begins with Toshio Kawahara, who made modifications to myeongnan-jeot (Korean's mentaiko!) and adapted it to suit the Japanese tastebuds. We have Toshio to thank for this lovely dish!
Mentaiko is a type of roe, which are tiny fish eggs encased in a membrane and spiced with seasonings, chili, or salt. I found out that there are two kinds of pollock roe: the tarako and mentaiko. Tarako is plain, salted pollock roe, while mentaiko is marinated in powdered chiles and spices and is deemed spicy. Don't be confused when you buy mentaiko because the two look identical! 
Mentaiko is commonly served as a side dish accompanying steamed rice, but there are many other ways to eat it, such as toppings on ramen, donburi, or sushi, as well as fillings inside onigiri.
Quick and Easy Mentaiko Pasta
You might think that this is an odd pairing because of its salty, spicy, and buttery elements. But trust me when I say that they work well together! This recipe is easy and quick to prepare because you only need to cook the pasta. All you will be needing are a few everyday ingredients you can buy from your local stores and, of course, the spicy roe to create this butter and delicious pasta. In just under 15 minutes, your dinner or lunch will be ready! 
There is no need to cook the mentaiko sauce because your hot pasta will do it for you. Do not take the nori garnish for granted. The nori strips add a deep, umami flavor that's essential to the dish. I usually have a side of extra nori strips because it'll have you craving more!
How do I prepare Mentaiko Pasta?
First off, start by dropping the spaghetti into salted boiling water. Cook until al dente or your desired doneness. While it is boiling, prepare the lobes of the roe and scrape the eggs from the membrane. Create your sauce by combining the roe, melted butter, olive oil, and soy sauce. Stir it well. 
Transfer the noodles to the bowl with the mentaiko mixture, which is the roe butter sauce, as soon as your pasta is ready. Add a few tablespoons of pasta water to loosen up the sauce and just like that, you're done! Pretty easy to make, right? 
Where to buy Mentaiko?
You can buy mentaiko from your local Korean or Japanese markets in the frozen section. They store well in the freezer if you keep them in an airtight container in the coldest part of the fridge. You can try buying them in bulk to store in your freezer as they can last up to two to three months, and when you thaw them in the refrigerator, you can keep them in the fridge for two to three days. 
Ingredients + Substitution
Mentaiko: This is the heart of this dish, and so it would not be recommended to prepare this dish without the star of the show. But the only close substitute for this would be tarako (たらこ), which can be found in Japanese grocery stores. 
Olive oil and butter: Some recipes use only butter instead of olive oil. For a healthier version, you can also opt to only use olive oil instead of butter.
Nori strips: Other recipes use shiso leaves instead of nori strips as garnish.
Can you store leftover Mentaiko Pasta?
Unfortunately, you can't. If you reheat the mentaiko, the fish eggs will be overcooked. This pasta is meant to be eaten right away for the best taste!
What are other dishes you can make with Mentaiko?
Onigiri – as mentioned before, mentaiko can be used as a filling for Onigiri!
Donburi – mentaiko is used as a topping for donburi. Check out my Steak Donburi recipe here!
Temaki – this is an easy-to-make type of sushi that can be done in the comforts of your home.
Pizza – in Japan, mentaiko is considered one of the top ingredients for pizza and pasta!
Omurice – mentaiko can be used as a substitute ingredient to elevate omurice.
Ramen – since mentaiko can be used as toppings like in donburi, you can also use it as a topping for ramen.
Sushi – as with temaki, mentaiko can be used in sushi where you top it off with roe in its raw form.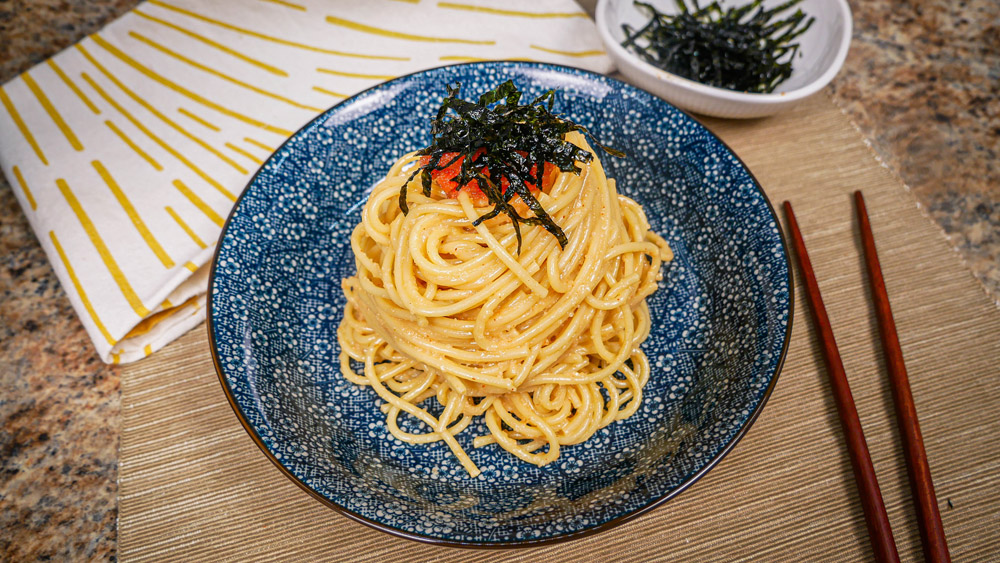 Mentaiko Pasta (Spicy Pollack Roe)
Ingredients
8

oz

dried spaghetti

2

oz

pollack roe

1/2

tbsp

light soy sauce

3

tbsp

olive oil

3

tbsp

butter

melted

Nori seaweed

strips for garnish
Instructions
In a pot, boil water and cook spaghetti until al dente or desired doneness. Refer to the instructions on the package.

Cut the pollack roe lobes and carefully scrape out the roe from the membrane. Set aside 2 teaspoons of roe for garnish.

In another bowl, add the rest of the roe with melted butter, olive oil, and soy sauce. Stir well to combine and set aside.

Once the spaghetti is done cooking, immediately transfer the noodles to the bowl with roe butter sauce. Add 2 tablespoons of pasta water to loosen the sauce. Using tongs, toss the pasta with the sauce until coated well.

Garnish with 1 teaspoon of roe and nori seaweek strips.
Notes
Adjust the amount of starch water you add into the pasta to your desired consistency.