If you're not familiar with pollock roe (mentaiko in Japanese and myeongnan-jeot in Korean), it's a type of cured fish roe that tastes spicy, savory, and umami all at the same time. It's a popular ingredient in Japanese and Korean cuisine, and it's often eaten as a side dish with rice.
When I first tried Mentaiko Pasta at a Japanese jazz bar called Tomi Jazz in Midtown Manhattan, I was completely hooked! It was so good that I made it a mission to create my own take on this dish. The great thing about this recipe is that it's quick and easy to prepare because the only ingredient you'll need to cook is the pasta. The rest consists of common ingredients that you'll likely already have in your pantry, along with the spicy roe as the star of the show.
You can find pollock roe in most Japanese or Korean markets, and they'll usually be in the frozen foods section. Since they can store well in the freezer, you can buy a big pack and take out small portions each time you want to use them. 
What is Mentaiko?
Mentaiko is a type of roe or tiny fish eggs encased in membranes that are marinated with seasonings, chili, and salt. The marinated roe (myeongnan-jeot) originally came from Korea, where it was called "myeongtae", but Toshio Kawahara later altered the ingredients to better suit the palates of the Japanese people and became what we now know as mentaiko!
Although many enjoy the flavors of mentaiko in its raw form, its cooked version is commonly served as a side dish accompanying steamed rice. But you can also use it as a topping on a variety of dishes like ramen, donburi, onigiri, sushi and even pasta!
Mentaiko pasta is a classic Japanese dish with fish roe sauce topped with shiso leaves or nori strips. The dish was first created in Kabe no Ana (壁の穴), a pasta restaurant in Tokyo, which translates to "Hole in the Wall".
It all started when a customer asked for caviar pasta but because the ingredient was too expensive, the chef used tarako instead. Since then, the dish became popular all over Japan and the dish evolved to using mentaiko instead to give the pasta an added spicy twist.
Mentaiko vs Tarako
Aside from mentaiko, pollock roe is also available as tarako. But compared to mentaiko, tarako is less flavorful since it's only marinated with salt. 
When buying mentaiko for this recipe, you'll have to be careful not to switch these two types of roe since they can look similar. But if you keep a close eye, you can differentiate them through their colors. Meintako can range from light pink to bright red shades, where the darker it gets the spicier it will be. However, tarako can be identified by its nude or beige color since it's not marinated with any spices.
Quick and Easy Mentaiko Pasta
You might think that pairing mentaiko with pasta is odd because of its salty, spicy, and buttery elements. But you'll have to trust me when I say that they work well together! You can whip this recipe up in just 15 minutes since the only cooking required is the pasta. This makes for a great meal when you're in a rush or simply want an easy, no frills dish.
Preparing the sauce is also just as easy! As the pasta is cooking, you can prepare the sauce by mixing all the ingredients together, along with the mentaiko. I also recommend that you don't skip the nori garnish because it adds a deep umami flavor that really completes the dish. I always make sure to cut up some extra nori strips because I just can't get enough!
How Do I Prepare Mentaiko Pasta?
If all this talk about mentaiko and pasta has made you hungry, it's time to get cooking! Here's a step-by-step guide on how you can prepare this dish. 
Step 1: Boil the pasta
Place spaghetti into salted boiling water, and cook until al dente or your desired doneness. You can also refer to the instructions on the package to see how long until the pasta cooks.
Step 2: Prepare the mentaiko
While the pasta's boiling, grab the lobes of the roe and scrape the eggs off the membrane. Set aside 2 teaspoons of roe for garnish.
Step 3: Make the sauce
To make the sauce, combine the roe (except for 2 teaspoons for garnish), melted butter, olive oil, and soy sauce. Stir well.
Step 4: Assemble
Once the pasta is cooked, transfer it directly into the bowl with the mentaiko sauce. Add 2 tablespoons of pasta water to loosen the sauce. Using tongs, toss the pasta to coat it well with the sauce and serve while hot. Depending on the consistency of the sauce, you may need to add a few more tablespoons of pasta water. 
Step 5: Garnish and serve!
After the sauce has been fully combined with the spaghetti, it's to garnish! Add 1 teaspoon of roe per serving (this recipe yields 2 servings) and nori strips on top of the finished pasta. Serve and enjoy!
Cooking tips for Mentaiko Pasta
This is a fairly easy and simple recipe but if this is your first time making this dish, here are a few tips to help you make the best mentaiko pasta:
You can adjust how much pasta water you'll need to add to the sauce. If your pasta looks a bit dry after adding the first 2 initial tablespoons of pasta water, you can add more in 1 tablespoon increments until your desired consistency.
If you want to level up the spiciness in the pasta, you can sprinkle some chili powder for toppings. Alternatively, if you want to reduce the spiciness in the pasta, use less of the pollock roe. 
Remember the roe we set aside for garnish earlier? Don't skip this step! The combination of the slightly cooked roe in the sauce along with the fresh roe as garnish adds multitude layers of flavor. 
Where to buy mentaiko?
You can buy mentaiko at your local Japanese or Korean markets, and they'll usually be in the frozen foods aisle. Some online seafood stores will also have them available, but make sure you only order them from reputable sellers.
Mentaiko can store really well in the freezer for up to 2-3 months, as long as you keep them in an airtight container.
If you want, you can also buy mentaiko in bulk and thaw a small amount whenever you need to eat or cook it. But if you need to store it in the fridge, it will last for 2-3 days.
Ingredient Substitutions
Mentaiko: Considering this is the heart of this dish and provides the majority of the flavor, I don't recommend substituting this ingredient except with tarako. Keep in mind that tarako is not spicy so this is a good substitute if your spice tolerance is on the lower end.
Spaghetti: If you can't find any spaghetti at the store, fettuccine or linguine would also make great alternatives. You can also use udon for a chewy texture!
Olive oil and butter: Olive oil and butter helps to emulsify the sauce and add richness to the pasta so I would say they are key ingredients that you don't want to omit or substitute. For a healthier version, however, you can eliminate the butter altogether and use olive oil instead.
Nori strips: If you're not a fan of nori strips, you can replace them with shiso leaves instead.
Can you store leftover Mentaiko Pasta?
I don't recommend that you store leftover Mentaiko Pasta since the fish roe will get overcooked and the pasta will be soggy if you reheat it. For the best taste, this dish is meant to be eaten right away!
Can you add cream to Mentaiko Pasta?
Yes of course! Adding cream or half-and-half in the sauce will make this pasta dish extra rich and creamy. Just note that the addition of dairy will slightly downplay the flavor and spice of the mentaiko. I personally do not use cream in this recipe because I like the intensity of the mentaiko to be more pronounced. But at the end of the day, experiment and make tweaks based on your preferences and what you like! I'm confident that it will turn out just as delicious.
What other dishes can you make with Mentaiko?
Once you try this recipe, I guarantee you'll want to incorporate mentaiko into more of your meals. Here are a few ways you can elevate your meals with mentaiko:
1. Onigiri – With some fluffy rice and nori, the flavors of mentaiko will be a perfect filling for onigiri! Check out my other onigiri recipes here:
2. Donburi – To take your donburi to the next level, you can add a dollop of mentaiko as a topping. Check out my donburi recipes here:
3. Temaki – Also known as a hand roll, this type of sushi is easy to replicate at home. You can add meintako as the main filling with rice or as a topping with other common temaki ingredients like sashimi salmon or tuna. 
4. Pizza – Pizza and mentaiko may be another odd pairing, but it's considered one of the top combos in Japan! 
5. Omurice – You can use meintako to substitute some ingredients in Omurice to elevate its sweet and savory flavors.
6. Rice – Keep it simple with a bowl of rice! In Korea, pollock roe is commonly eaten with rice. Just add a few dollops of roe on top of the rice along with sesame oil and sesame seeds. Mix together and enjoy!
7. Ramen – Since mentaiko can be used as toppings like in donburi, you can also use it as a topping for ramen too!
8. Sushi – Similar to temaki, you can also add mentaiko as a topping or as a filling for sushi.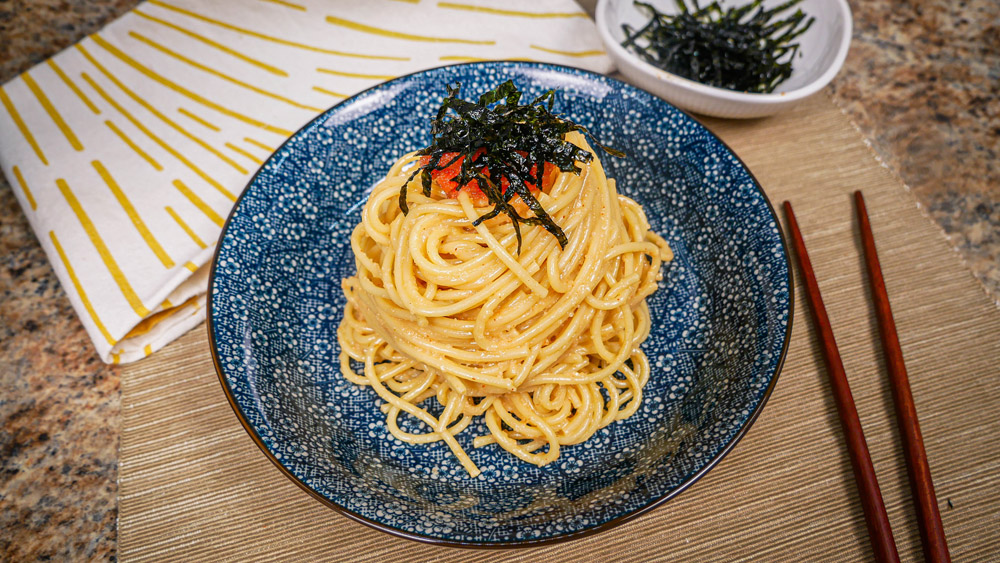 Mentaiko Pasta (Spicy Pollack Roe)
Ingredients
8

oz

dried spaghetti

2

oz

pollack roe

1/2

tbsp

light soy sauce

3

tbsp

olive oil

3

tbsp

butter

melted

Nori seaweed

strips for garnish
Instructions
In a pot, boil water and cook spaghetti until al dente or desired doneness. Refer to the instructions on the package.

Cut the pollack roe lobes and carefully scrape out the roe from the membrane. Set aside 2 teaspoons of roe for garnish.

In another bowl, add the rest of the roe with melted butter, olive oil, and soy sauce. Stir well to combine and set aside.

Once the spaghetti is done cooking, immediately transfer the noodles to the bowl with roe butter sauce. Add 2 tablespoons of pasta water to loosen the sauce. Using tongs, toss the pasta with the sauce until coated well.

Garnish with 1 teaspoon of roe and nori seaweek strips.
Notes
Adjust the amount of starch water you add into the pasta to your desired consistency.
Pin & save this recipe for later!