If you like japchae and dumplings, this recipe is for you! I've been looking for meatless vegetarian dumpling options and noticed that they are almost non-existent in the frozen section of my local Asian supermarkets. So I went ahead and made my own!
These are delicious on their own but I recommend enjoying these with my Korean dipping sauce on the side. I just think a sauce is essential for dumplings!
I deep fried these because I'm a crunch fiend but you can pan fry or boil them too. This recipe is easily customizable because you can use any kind of vegetables you want. I stuck with the traditional vegetable ingredients in japchae which include onions, carrots, wood ear mushrooms, spinach, and scallions. To add a hint of spice, I added a hot red pepper into the filling however, this is optional.
I made a huge batch and stuck them in the freezer so that I can have them as a quick lunch or dinner! 🙂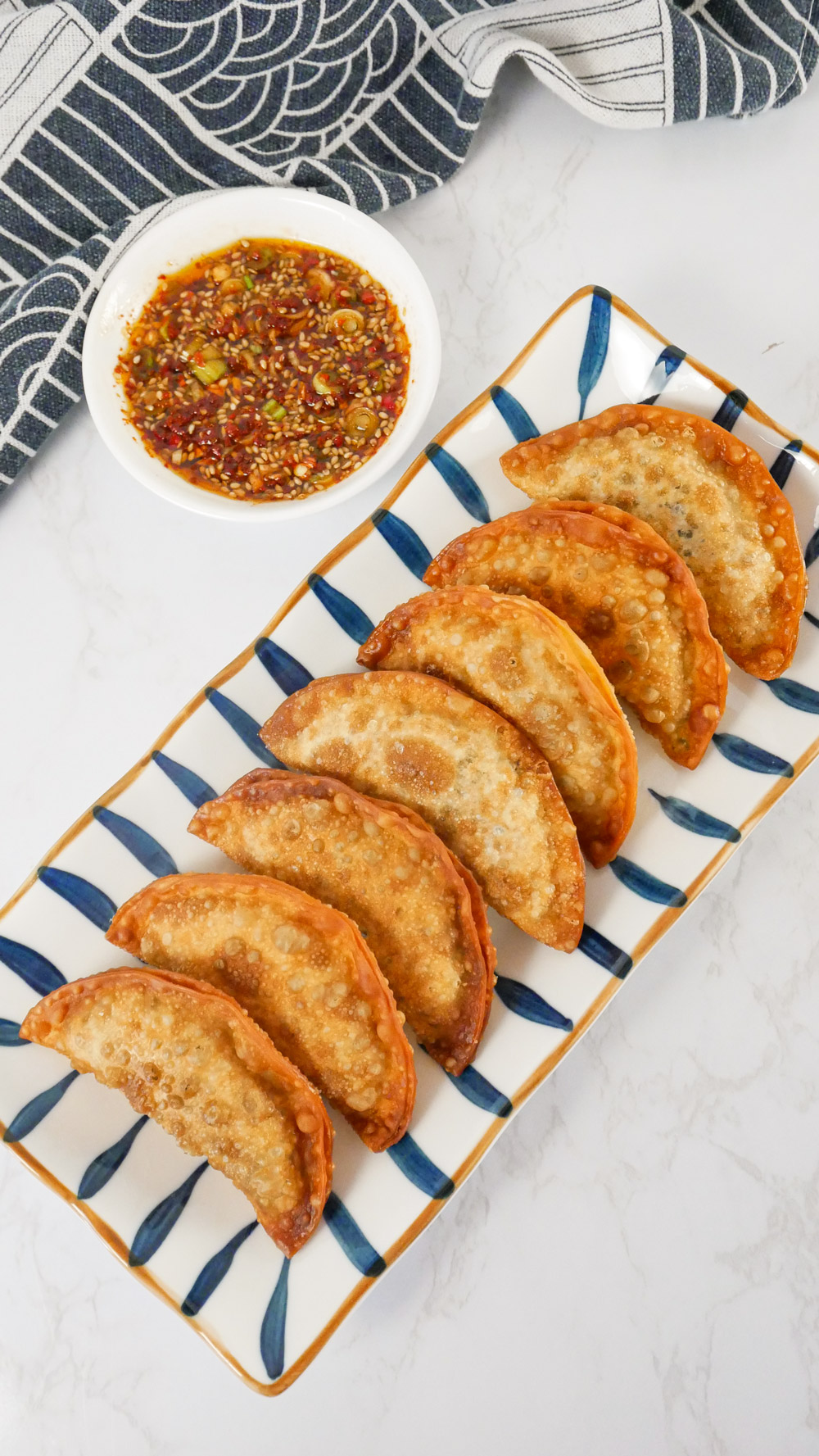 Japchae Dumplings
Ingredients
1

pack

dumpling wrappers

pre-made, store bought

4

oz

dried glass noodles

also known as cellophane noodles or Korean vermicelli

4

oz

spinach

washed, roughly chopped

5

pieces of

dried wood ear mushrooms

1

cup

onion

diced

1/4

cup

carrots

julienned

2

scallions

finely chopped

2

tbsp

oil

plus more for frying
Seasoning
2

garlic cloves

minced

1

hot red pepper

finely diced

1 1/2

tbsp

soy sauce

1/2

tbsp

dark soy sauce

substitute with soy sauce

2

tbsp

sesame oil

1

tbsp

sugar

1

tbsp

sesame seeds

pinch of salt

to taste

pinch of ground black pepper

to taste

1/4

tsp

msg

optional
Instructions
Rehydrate the dried wood ear mushrooms by soaking it in water for 20 minutes. Rinse and drain. Chop the mushrooms up into small pieces.

Heat a pan over medium heat and add oil. Once the oil is hot, add the onions and cook for 1 minute.

Toss in the carrots, wood ear mushrooms, and scallions. Cook for about 2-3 minutes. Season with salt and pepper. Remove from the pan and set aside in a large mixing bowl.

In a pot with boiling water, cook the glass noodles according to the package instructions. Rinse thoroughly in cold water. Drain and cut the noodles into 1/2 – 1 inch pieces.

In the large mixing bowl with the vegetables, add the noodles, minced garlic, and chopped peppers.

Season the mixture with soy sauce, dark soy sauce, sesame oil, sugar, sesame seeds, msg, salt and pepper. Mix together until fully combined. Taste the mixture and adjust the seasoning according to your taste.

Prepare a small bowl of water. Take a dumpling wrapper and add about 1 tbsp of the filling. Dip your finger in the bowl of water and wet half the edge of half dumpling wrapper. This is going to help seal the dumpling wrapper.

Using your index finger and thumb, fold the dumpling wrapper over and pinch the edges until they stick and close. Repeat for the rest of the dumplings.

In a deep pan, add about 1-2 inches of oil and heat to 350F or 175C. Add the dumplings in one by one, making sure not to overcrowd the pan. Work in batches if needed.

Fry the dumpling for 1-2 minutes on each side or until golden brown and crisp. Allow the dumpling to rest of a wire rack.

Serve with dipping sauce and enjoy!
Notes
This recipe is easily customizable because you can use any kind of vegetables you want including bell peppers, assorted mushrooms, and more!
The dumplings can be frozen after they are assembled for a quick and easy lunch or dinner. 
Pin & save this recipe for later!