This post is brought to you in partnership with EasyHomeMeals.com, a food and lifestyle blog sponsored by the National Frozen and Refrigerated Foods Association (NFRA). All opinions are mine. For more easy recipes and ideas, check out EasyHomeMeals.com!
Korean fried chicken is one of my ultimate comfort foods and a dish that I could probably eat every week. No, seriously! Looking back on my UberEats order history last year, I ordered Korean fried chicken almost every other week for the entire year. To be honest, my belly was thrilled, but my boyfriend's wallet, not so much lol. 
After last year's take-out rampage, I decided to make an effort to start cooking more at home. And to my surprise, I was able to make a delicious Korean fried chicken that's restaurant quality.. and maybe even better!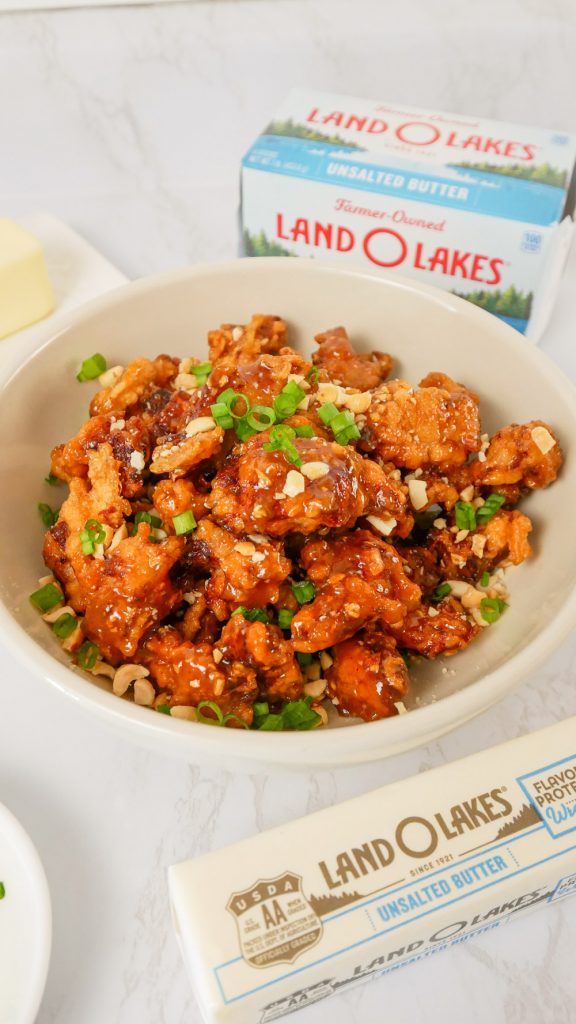 So without further ado, I introduce to you… the crispiest, juiciest, most delicious Honey Butter Korean-style Fried Chicken! The double-fried chicken is smothered in a rich and indulgent honey butter sauce that's sweet, savory and finger-licking-good. And if you know me, I love everything sweet and salty!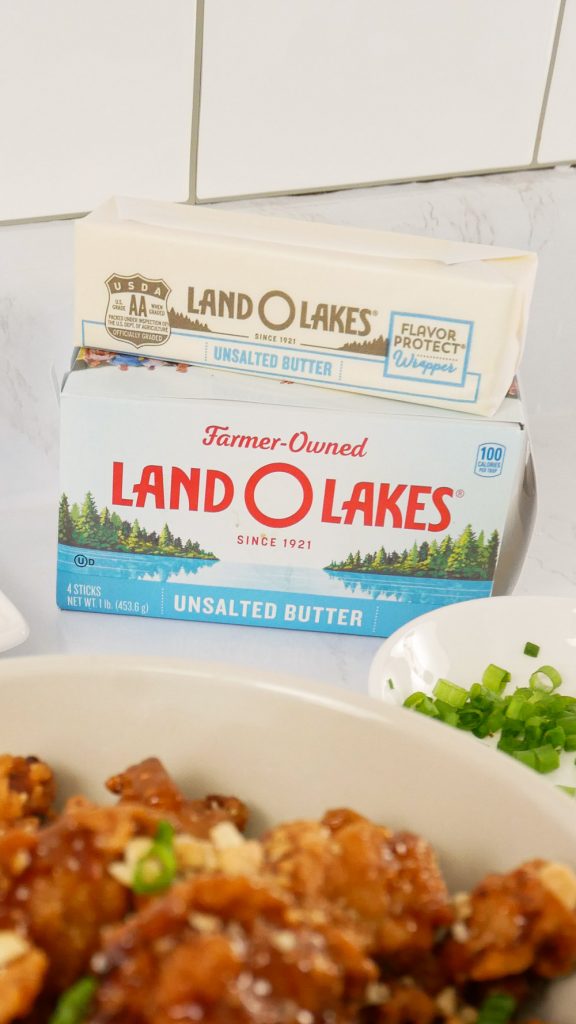 Whenever I cook at home, I always look for the highest quality of ingredients and this recipe is no exception. I knew I had to use Land O'Lakes Unsalted Butter for the honey butter sauce to make this an extra special indulgent treat. Their butter is a staple in my home and I've been using it for YEARS for all my comfort meals.
Here's what you need to make Korean-Style Honey Butter Fried Chicken:
Chicken Thighs (substitute with chicken breast)
Soy Sauce
Egg
Potato Starch
All-Purpose Flour
Baking Powder
Salt + Pepper
Peanuts, for garnish
Scallion, for garnish
Neutral oil, for frying
For the Honey Butter Sauce, you will need:
Honey
Garlic
Soy Sauce
Sugar
If you haven't treated yourself this week, this is your sign to make this! And if you have already, treat yourself again because you deserve it. 😘 All that's left now is to start cooking! Follow my recipe instructions below to make the Korean fried chicken of your dreams.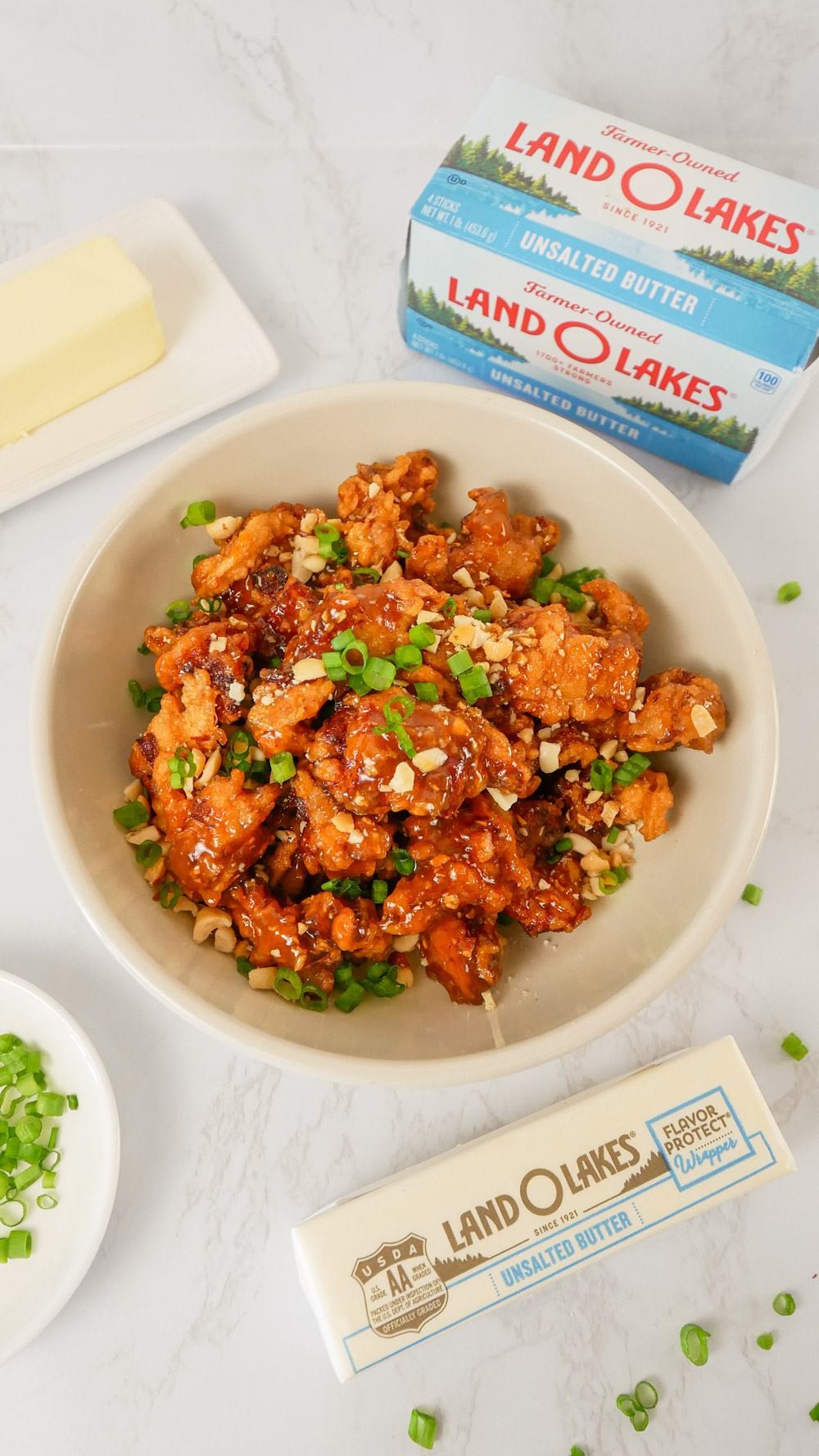 Honey Butter Fried Chicken
Ingredients
1

lb

boneless + skinless chicken thighs,

cut into 1-inch pieces (substitute with chicken breast)

1/2

tbsp

soy sauce

1

egg

1/4

cup

potato starch

1/4

cup

all-purpose flour

1/2

teaspoon

baking powder

1/4

teaspoon

salt

1/8

teaspoon

ground black pepper

1

tbsp

crushed peanuts,

for garnish (substitute with sesame seeds)

1

scallion, chopped,

for garnish

neutral oil,

for frying
Honey Butter Sauce
3

tbsp

Land O'Lakes Unsalted Butter

1 1/2

tsp

honey

3

garlic cloves,

minced

1 1/2

tsp

soy sauce

3

tbsp

sugar
Instructions
In a deep pot, pour neutral oil up to the halfway mark. Heat the oil to 325F/160C.

In a bowl, combine chicken, soy sauce, egg, potato starch, all-purpose flour, baking powder, salt, and black pepper. Mix together well.

When the oil is ready, carefully add the battered chicken one at a time, making sure not to overcrowd the pot. Work in batches if needed.

Fry for about 3-4 minutes and transfer to a wire rack or lined sheet tray. If working in batches, repeat until all the chicken is cooked.

Using the same oil, increase the heat to 375F/190C. Add the cooked chicken from the first fry and cook for 1-2 minutes or until golden brown. Work in batches if needed. Transfer to a wire rack or lined sheet tray.

In a pan, melt the butter then add the garlic and cook for 1-2 minutes until fragrant. Add the honey, soy sauce and sugar, and mix well.

Toss the chicken in the honey butter sauce, making sure it's evenly coated.

Garnish with peanuts and scallions.
Pin & save this recipe for later!