This Korean oyster pancake recipe is a variation of the popular Hong Kong style oyster pancake. The main difference is the size! Hong Kong style oyster pancakes are usually cooked as one large pancake but I've modified the size to create mini pancakes. This makes the pancakes more manageable to cook and they're also easier to share!
I'm using raw frozen oysters but you can use fresh ones if you can find them. Be sure to wash them thoroughly to get rid of all the sand and grit from the oysters. You'll have to wash, rinse, and drain 3-4 times or until the draining water is relatively clear. Check out my video at the bottom of this page to see how I like to clean the oysters!
I highly recommend making the pancake sauce to enjoy with this pancake. It's chunky, savory and really completes the pancake experience!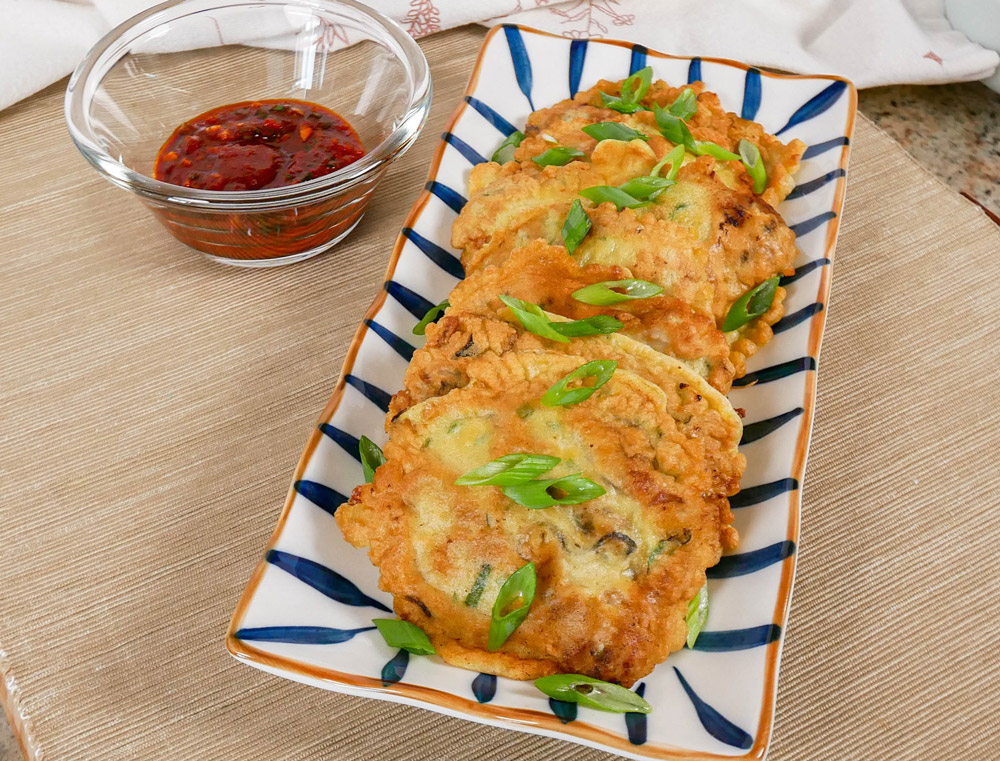 Korean Oyster Pancake [Gul Jeon]
Ingredients
2

package

oysters

raw and frozen (500g)

2

tsp

salt

2

chopped

scallion

reserve 1 tbsp for sauce

1/2

long green pepper

finely diced

2

eggs

beaten

1/2

cup

water

1/2

cup

frying mix

see note for substitution

4

tbsp

oil
Pancake Sauce
1

tbsp

soy sauce

1/2

tbsp

sesame oil

1/2

tbsp

gochugaru

Korean red pepper flakes

1/2

tbsp

chopped garlic

1

tbsp

chopped scallion
Instructions
Place the frozen oysters in a bowl and fill it up with water until completely submerged. Add 2 tsp salt and mix together. Let this sit for 10-15 minutes to clean the oysters before cooking.

Chop the scallion and long green peppers. Set aside.

When the oysters are ready to be drained, scoop the oysters out of the bowl with your hands into a strainer. Do not pour the oysters directly onto the strainer from the bowl. This will prevent the sand and grit on the bottom of the bowl from getting onto the oysters. Place the drained oysters back into the bowl and rinse with water. Repeat this process 3-4 times or until the water is clear. Drain well.

In a large bowl, add the drained oysters, scallions, peppers, eggs, water, and frying mix. Gently stir and mix well, making sure not to tear the oysters.

In a pan, heat the oil over medium high heat. Once the oil is hot, add about 1/4 cup of the oyster batter to make one pancake. Add as many pancakes as you can fit into your pan.

Cook the pancake for about 2-3 minutes on each side or until golden brown.

Serve immediately with the pancake dipping sauce!
Pancake Sauce
In a small bowl, combine the soy sauce, sesame oil, gochugaru, garlic and scallion in a small bowl. Mix together well.
Notes
You can find the frying mix (twigim garu) at your local Korean supermarket like H Mart. Alternatively, you can make your own mix by using a 2:1 ratio of cake flour and rice flour.