If you're looking to jazz up your next instant ramen meal, you might want to try this easy and flavorful hangover radish ramen recipe! I usually crave a hot bowl of soup the day after a night of drinking, and this ramen dish usually fixes me right up!
With the fermented shrimp and green peppers, it has all the right elements you'll need for a satisfying meal to help you get through the day. The flavors and spiciness of the gochugaru will also give you an instant boost so the next time you need a quick but delicious instant ramen recipe, I recommend you give this one a try!
What is Instant Ramen?
You're probably already familiar with ramen – a hot noodle soup dish that is often served in a delicious umami broth and topped with a variety of meats and vegetables. However, authentic ramen and instant ramen are both unique and equally loved by many people. Authentic ramen is commonly served with fresh wheat noodles, broth, meat, boiled egg, and green onions while instant ramen is made up of dried noodle blocks and packaged seasoning. 
In 1958, Momofuku Ando was pushed into experimenting with making instant noodles when he saw the reality of food shortages after World War II. When he finally came up with a successful method, the instant noodles became a hit and that's when the Nissin company started. Since then, more brands have also come up with their own versions of ramen and is now a common household favorite around the world.
Quick and Comforting Hangover Ramen
It may be tempting to cook the ramen only with the seasoning packets it comes with, but with a few extra steps you can level up your typical instant ramen meal. This dish will only take you a maximum of 15 minutes to prepare in one pot, so you also won't have to worry about the clean-up later.
Trust me when I say this – you don't want to skip the step of sautéeing the fermented shrimp in sesame oil since this will give the ramen another layer of flavor. Adding radish into the mix will also be a quick way of sneaking in some vegetables while giving the dish additional texture and sweetness. Aside from being a hangover cure, this ramen recipe will also be great for when you're feeling under the weather because the spiciness of the broth will warm you right up.
How do I prepare Hangover Ramen?
I know cooking won't be your first priority the day after a night of fun, but this recipe will only take 4 easy steps to prepare:
Step 1: Chop the vegetables
Grab the scallions and long green pepper and chop them into thin pieces. Set them aside for garnish later. Next, wash and peel the radish and cut them into julienne strips.
Step 2: Prepare the base
In a pot, pre-heat the sesame oil over medium heat. Once hot, add the fermented shrimp (saeu- jeot) and sauté. This will release a delicious savory smell that will get you excited to eat!
Next, place the radish into the pot, and cook for 3-4 minutes. When it turns translucent, you'll know the radish is cooked through.
Step 3: Cook the ramen
In the same pot, pour 4 1/2 cups (or 1100ml) of water and bring it to a boil. Then, stir in the ramen flavor packets and add the instant ramen noodles. Cook the noodles according to the package instructions.
When the noodles are almost done, add the gochugaru and mix well. You can also add more according to your taste.
Step 4: Enjoy while hot!
Pour the ramen into a bowl, then garnish with scallions and green pepper on top. Now you have a hearty bowl of ramen to cure your hangover!
Cooking Tips for Hangover Ramen
Cooking ramen is a no-brainer, but here are a few simple tricks to help you make the best Hangover Ramen:
To prevent your ramen noodles from getting soggy, take them out 15-30 seconds earlier than the recommended cook time on the packaging. 
Slicing the radishes into thin strips will help them cook and extract the flavors faster. I don't recommend skipping the radishes! It's a key ingredient that will turn this ramen from 'good' to 'great'. 
If you don't like spicy ramen, you can also opt for a non-spicy one and omit the green peppers and gochugaru.
Ingredient Alternatives
Sesame oil: The closest substitute to the nutty flavor that sesame oil has is peanut oil. But you can also DIY your own sesame oil by cooking sesame seeds with a neutral oil until the seeds turn brown. Once it's cooled, mix them in a blender, and strain the seeds out.
Radish: If you can't find Korean radishes, julienned carrots will also work great for this recipe.
Fermented shrimp: Fermented shrimp can add a salty and umami flavor to this recipe, and the best alternatives to it are fermented fish sauce, soy sauce, or dark miso paste. 
Gochugaru: Gochugaru has a unique smoky and spicy flavor, but you can also substitute it with gochujang, cayenne pepper, paprika, or chipotle pepper.
Frequently Asked Questions
What is saeu-jeot?
Saeu-jeot or fermented salted shrimp is a traditional ingredient that's commonly used in Korean cuisine. It consists of small shrimp and salt and is usually stored in a barrel to ferment. After a few months, the shrimp will break down and result in a soft consistency with strong umami flavors. This process allows the saeu-jeot to have an extended shelf-life, so it can be stored in the fridge for up to one year.
You'll typically see saeu-jeot incorporated into kimchi, but it can also be added to eggs, stews, and sauces. Since saeu-jeot also has a potently salty taste, you won't need to add extra salt when mixing it with this ramen dish.
What is gochugaru?
Gochugaru is a type of Korean chili flake powder with an intense red color that's made from sun-dried chili peppers. Gochugaru has a smokey and spicy taste, so you can add it to almost any type of dish. Whether it's sauces, marinades, soups, or stews, a dash of gochugaru can drastically improve its flavor. Gochugaru comes in various levels of spiciness that range from mild to hot, so you can choose one based on your spice tolerance.
Where can I buy instant ramen?
You can buy ramen in most grocery stores, but you'll probably have more options in Asian markets. Some online stores also sell ramen but remember to only get them from reliable sellers. Instant ramen packets can last up to 6 months as long as you keep them in a cool dry place like your pantry.
Can I store leftover ramen?
I don't recommend storing leftover ramen since the noodles will soak up the broth and will turn into mush. But if you don't want to throw away your leftovers, you can store them in an airtight container in the fridge. Just make sure you separate the noodles from the broth so it can maintain its texture. When you're ready to eat it, heat the soup in a pot over the stove top. Once it comes to a boil, add the noodles and cook just enough to warm the noodles. 
What goes well with Hangover Ramen?
If you're up for pairing your Hangover Ramen with a couple of side dishes, here are a few ideas that I think would go well with its flavors:
1. Chinese Tea Eggs – ramen is always best served with a side of boiled eggs, but you can also make Chinese Tea Eggs in advance to add them as a topping. If you want to know how to make them, you can try my Chinese Tea Eggs recipe!
2. Fried Dumplings – dumplings will always go well with any noodle dish, but once you fry them they will hit the right spot – especially when you have a hangover! Check out my Japchae Dumplings recipe!
3. Cucumber Salad – if you want a refreshing side dish to break the salty taste of ramen, a sour and spicy cucumber salad will do the trick. For some inspiration, you can try my cucumber side dishes below:
4. Kimchi – If there's instant ramen, kimchi is a must! Pairing this ramen recipe with spicy kimchi is the ultimate comfort food. Want to make your own kimchi at home? Check out my easy Cabbage Kimchi recipe!
5. Sautéed leafy vegetables – if you're craving some nutritious vegetable side dishes to pair with your ramen, try my Bok Choy with Garlic Sauce or Stir Fried Water Spinach recipes!
Next time you're feeling hungover or under the weather, give this spicy and hearty hangover ramen a try! I promise you'll feel (almost) brand new.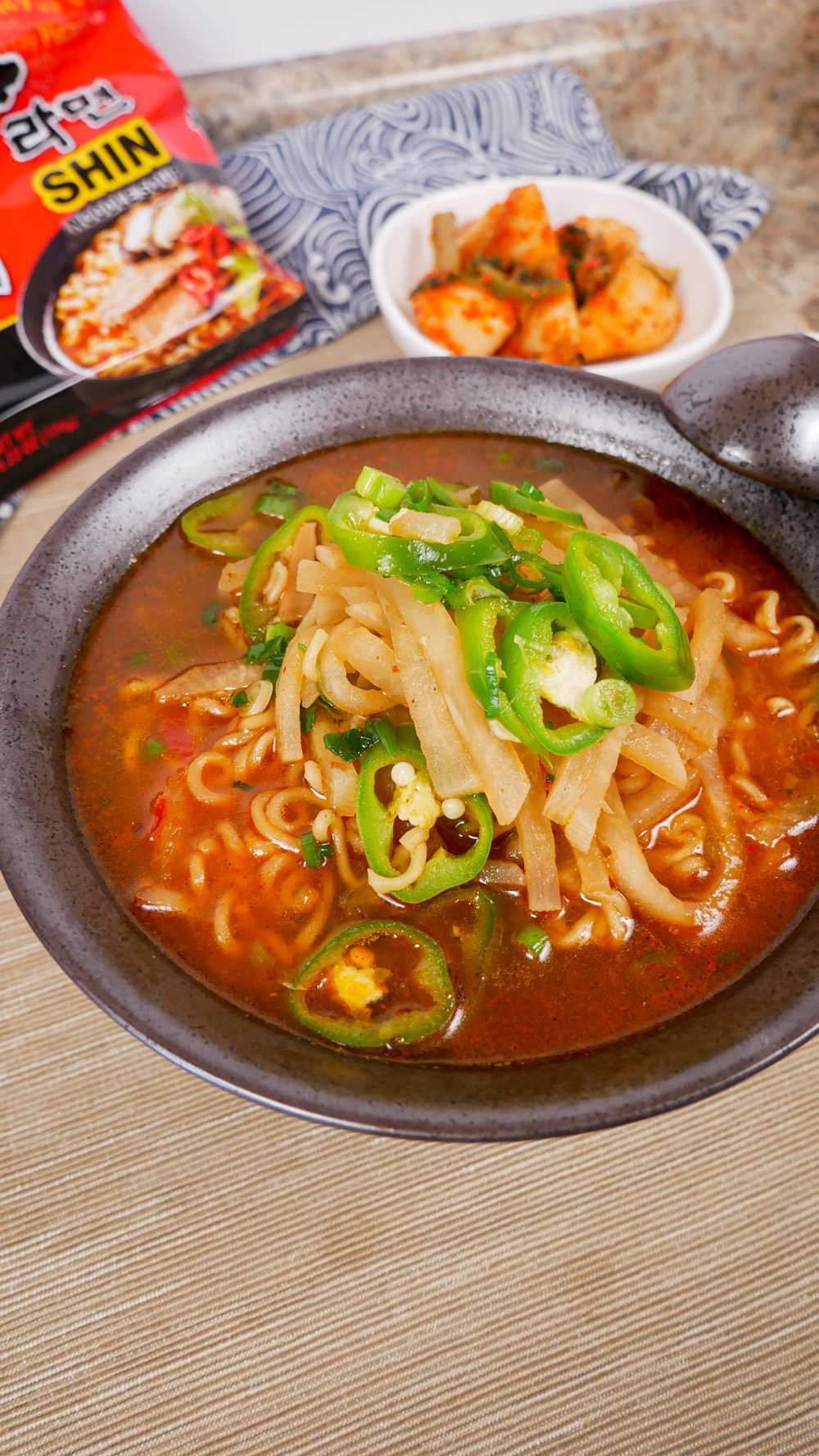 Hangover Ramen
Ingredients
2

packages of

instant ramen

like Shin Ramen

4.5

cup (1100 ml)

water

1/2

tbsp

gochugaru

Korean red pepper flakes

1/2

cup

Korean radish

julienne

3

tbsp

sesame oil

1

tbsp

fermented salted shrimp

sae-u jeot

1

scallion

chopped for garnish

1

long

green pepper

chopped for garnish
Instructions
Chop the scallions and long green pepper. Set aside for garnish.

Wash and peel the radish. Cut into thin julienne strips.

In a pot, add the sesame oil over medium heat. Add the fermented salted shrimp (sae-u jeot) and mix into the sesame oil.

Place the radish into the pot and cook for about 3-4 minutes or until the radish is translucent and cooked all the way through.

Pour 4.5 cups or 1100 ml water into the pot and bring to a boil.

Stir in the ramen flavor packets and add the instant ramen noodles. Cook the noodles according to the package instructions.

When the noodles are almost done, add the gochugaru and mix well.

Garnish with scallions and pepper and enjoy.
Pin & save this recipe for later