Korean chicken gizzards or dak dong jib is one of the most popular Korean appetizers. It's particularly common to eat this when you're drinking soju or some type of alcohol. This type of food is called 'anju' in Korean, which means food that you eat while you're drinking. If you don't drink alcohol, this is still a delicious snack that is great as an appetizer or side dish.
My parents would make this all the time and this is a recipe that I've adapted from my mom! Crack open the soju because it's about to go down.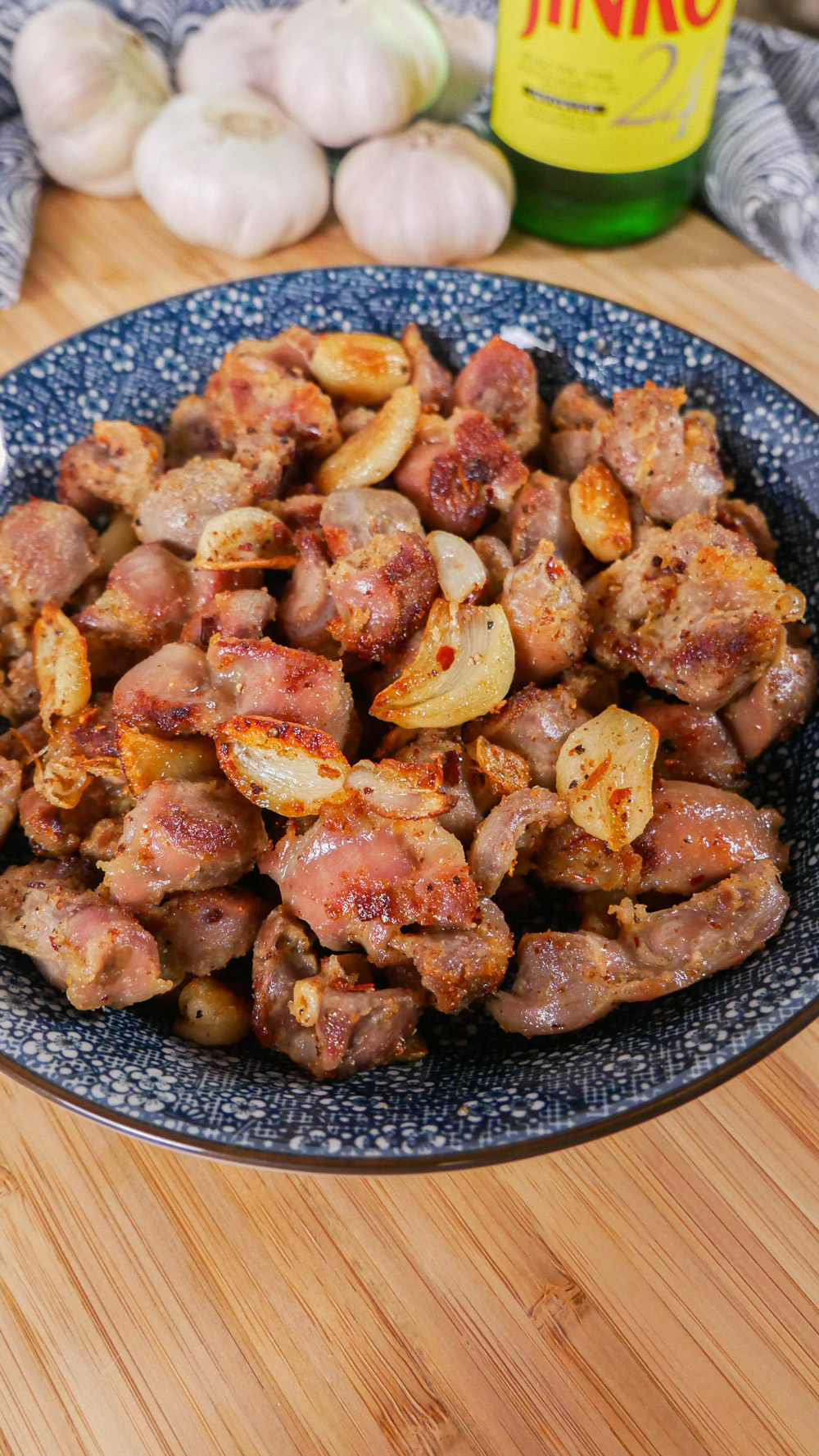 Korean Chicken Gizzard (Dak Dong Jib)
Ingredients
1

lb

chicken gizzards

2

tbsp

flour

1

tsp

salt

3

cups

milk

20-24

garlic cloves

1

tsp

onion powder

1

tsp

garlic powder

3/4

tsp

salt

adjust to taste

1/4

tsp

black pepper

1/2

tsp

red chili flakes

1/2

tsp

sesame oil

3

tbsp

olive oil
Instructions
Clean and trim the chicken gizzards. To clean, place the gizzards in a bowl with 2 tbsp flour, 1 tsp salt and water. Gently scrub the flour and salt mixture onto the gizzards to remove impurities. Drain, rinse, wash and drain until the water runs clear.

To tenderize the gizzards, pour 3 cups of milk or until the gizzards are completely submerged. Let this sit for 20-30 minutes.

Peel the garlic cloves and slice them in half lengthwise.

Strain the gizzards and rinse in water. Drain well and pat dry with a paper towel.

In a pan or skillet, heat up the olive oil over medium high heat. Add the chicken gizzards and season with salt, onion powder, and garlic powder. Cook until all the water has been evaporated.

When most of the liquid has evaporated, add the garlic and cook until charred on both sides.

Season with black pepper and red chili flakes. Adjust the seasoning (salt, onion powder, garlic powder) to taste.

Remove from heat and top with sesame oil. Serve immediately.
Pin & save this recipe for later!