This Korean mussel soup or 'hong hap tang' in Korean is another family favorite in my home. It's a light and refreshing soup with a nice little kick that rounds out almost any meal. 
Thai chili peppers aren't traditionally used in the recipe but I decided to add them for an extra layer of spice. Since I had some leftover bread I also decided to turn them into buttery garlic bread to enjoy with this soup, and they definitely didn't disappoint!
I don't recommend using frozen mussels for this recipe since the soup won't be as flavorful. Fresh mussels add a tasty oceany essence to the soup which is developed as they open up during the cooking process. I picked up these fresh mussels from my local fish market, and even though it did take a bit of extra work cleaning the mussels, it was definitely worth it!
Why you'll love this recipe
Fresh mussels taste the best when you let their natural flavors shine, so you won't need to add many ingredients to this soup recipe. The savory meaty mussels are the perfect accompaniment to soju (Korean distilled liquor), and the refreshing spicy soup will help you wash everything down. 
If you're not up for drinking or would prefer to skip the spirits, this hearty soup is also ideal to enjoy on a cold and gloomy day. Plus, the combination of long green pepper and Thai chili peppers will also warm you right up! Alternatively, if you don't want this soup to be spicy, you also have the option to reduce the number of peppers or completely omit them. 
Once you have fresh mussels, the rest of the ingredients are pantry staples or easily accessible so you can whip this soup up in as quick as 20 minutes. If you want to know how I make this mouth-watering dish, follow the steps below!
How do I prepare Korean Mussel Soup?
Since you'll be preparing fresh mussels, it's important to clean them before cooking. They're actually quite easy to clean and totally work the extra work! Here's what you need to do:
Step 1: Clean the mussels
Clean and debeard the mussels. Next, soak them in cold water for 20 minutes and drain. Set aside while you prepare the rest of the ingredients.
Step 2: Chop the ingredients
Remove the stems of the Thai chili peppers, then slice the long green pepper and scallions into ¼-inch thick pieces. Set them aside.
Step 3: Prepare the soup
In a pot, add water, onion, dried kelp, and Thai chili peppers. Bring the water to a boil and let the ingredients cook for 20 minutes. Once the time is up, strain the broth and bring it back up to a boil again.
Step 4: Cook the mussels
Add the mussels, long green peppers, and scallions to the soup. Let it cook until the mussels have opened, then transfer the opened mussels to a bowl.
Since mussels release some salt into the soup during the cooking process, taste it first before adding any seasoning. Season with salt, white pepper powder, anchovy powder, and msg to taste and adjust accordingly. Next, pour the soup over the mussels to combine them together.
Step 5: Make the garlic bread
In a pan, melt the butter and toast the sliced bread. Let them cook until they're golden brown on both sides.
Once they're done, remove them from the pan and immediately rub garlic on both sides while they're still hot.
Step 6: Plate and serve!
Serve the soup in a bowl while it's still hot. Enjoy with the toasty buttery garlic bread on the side. They're perfect for dunking into the soup!
Cooking tips for Korean Mussel Soup
If this is your first time cooking with mussels, you'll want to keep these tricks in mind so you can make the perfect soup every time:
When cleaning the mussels, discard any open ones. If you spot any unopened mussel shells after cooking, make sure to pick them out as they're unsafe to consume.
Mussels can overcook easily and turn rubbery so to prevent them from overcooking, transfer the opened mussels from the pot to a serving plate. Some mussels take longer to cook so keep them in the pot until they've fully opened. 
This soup is SPICY so if you have low spice tolerance or would like to get rid of the spice completely, omit the Thai chilis and long green pepper. It'll still taste delicious and refreshing!
To make this soup extra delicious, I added a dash of my homemade ground anchovy powder and some msg. These two ingredients are optional, but I highly recommend using them if you can – it'll taste so good you'll be coming back for more!
Ingredient substitution
Mussels: fresh mussels make this soup very refreshing and flavorful so I don't recommend using frozen mussels for this recipe. Fresh mussels can be substituted with fresh clams. 
Dried kelp: dried kelp adds a salty oceany flavor to the soup, and they're also very nutritious to eat. But if you can't find them at the store you can just add an extra teaspoon of ground anchovy powder to build the flavors in this recipe.
Long green pepper: long green pepper adds a subtle spice to the soup making it more delectable to sip on. But if it's unavailable you can also use jalapeño peppers instead.
Thai chili peppers: don't be fooled by the size of Thai chili peppers – they will add a ton of heat to the soup. If you can't find them in your Asian market, you can also replace them with long green pepper or serrano peppers.
White pepper powder: I prefer to use white pepper powder for this recipe but you can also use black pepper powder instead.
Frequently Asked Questions
What to look for when buying mussels?
Since you'll need fresh mussels for this recipe, it's essential to know what to look for so you can get the best quality ones. The first thing to consider is whether their shells are opened or closed. Opened mussels indicate that they're dead and unsafe to consume so you want to pick ones that are completely closed. Next, the shells should look wet and shiny, and they should be placed over a bed of ice. Mussels need to be kept chilled at all times! Lastly, their smell should be fresh and resemble the salty scent of the ocean, not fishy. 
How do you clean and debeard mussels?
To clean fresh mussels, place them in a bowl and run cold water over them. If you spot any open shells tap them with your finger, and if they don't close, discard them as they're probably dead. Also, remember to throw away any mussels with broken shells. Once you've discarded any unconsumable mussels, use a mussel to scrub another shell to scrub off any debris or seaweed that's on their surface. (Just like how I did in the video below!)
If you spot any hair-like fibers sticking out of their shell, you've located the beard! Simply pull and tug them out until you've removed them. Once you're done, rinse the muscles with clean water and it's onto soaking!
Why do you soak mussels in water before cooking?
Although I make sure the mussel is thoroughly clean and debearded, I still like to do the extra step of soaking them in water for 20 minutes to make sure all of the grit, sand, and debris are gone. Sometimes sand can get trapped inside the shell and soaking the mussels in water will help release them. Once you're done soaking the shells, be careful not to tip the water from the bowl as the sand or grit that has settled at the bottom will get all over the mussels again. Instead, gently take the mussels out and transfer them to another container before tossing the water out.
Can you reheat this Korean Mussel Soup?
Yes, you can reheat this mussel soup! Just make sure you store the leftovers in an airtight container in the fridge and it will stay fresh for 1 to 2 days. If you need to reheat it, place it in a pot on medium heat for 3 to 5 minutes or until the soup comes to a boil. Be careful not to leave it on the heat for too long to prevent the mussels from overcooking!
What side dishes can you enjoy with Korean Mussel Soup?
Although I recommend having garlic bread as a side dish, this soup can also be enjoyed with many other dishes. Whether you're thinking about making this soup as an 'anju' or as a complete lunch or dinner, here are some of my favorite foods to enjoy with this soup:
1. Fried rice – this hot soup would also taste good with a bowl of freshly steamed rice. But if you want to shake things up fried rice is always a good choice. Check out How to Make Kimchi Bokkeumbap or my Lap Cheong Fried Rice recipes!
2. Chicken gizzards – if you're planning on making this tasty mussel soup as 'anju', it will pair well with these spicy Chicken Gizzards or Dak Dong Jib recipes!
3. Nuts – Nuts are a popular 'anju' snack but if you want to level them up you can also try making my Spiced Maple Glazed Pecans or Honey Glazed Walnuts recipes.
4. Pancakes – savory pancakes and refreshing soups are commonly eaten together in Korean cuisine. I highly recommend trying my Korean Oyster Pancake or Korean Seafood Pancake recipes!
5. Noodles – wash down some delicious noodles with this super refreshing mussel soup! My favorite dishes to enjoy with this soup are my Chili Oil Ramen or Rabokki recipes!
Want more Soup & Stew recipes? Here are my top recommendations!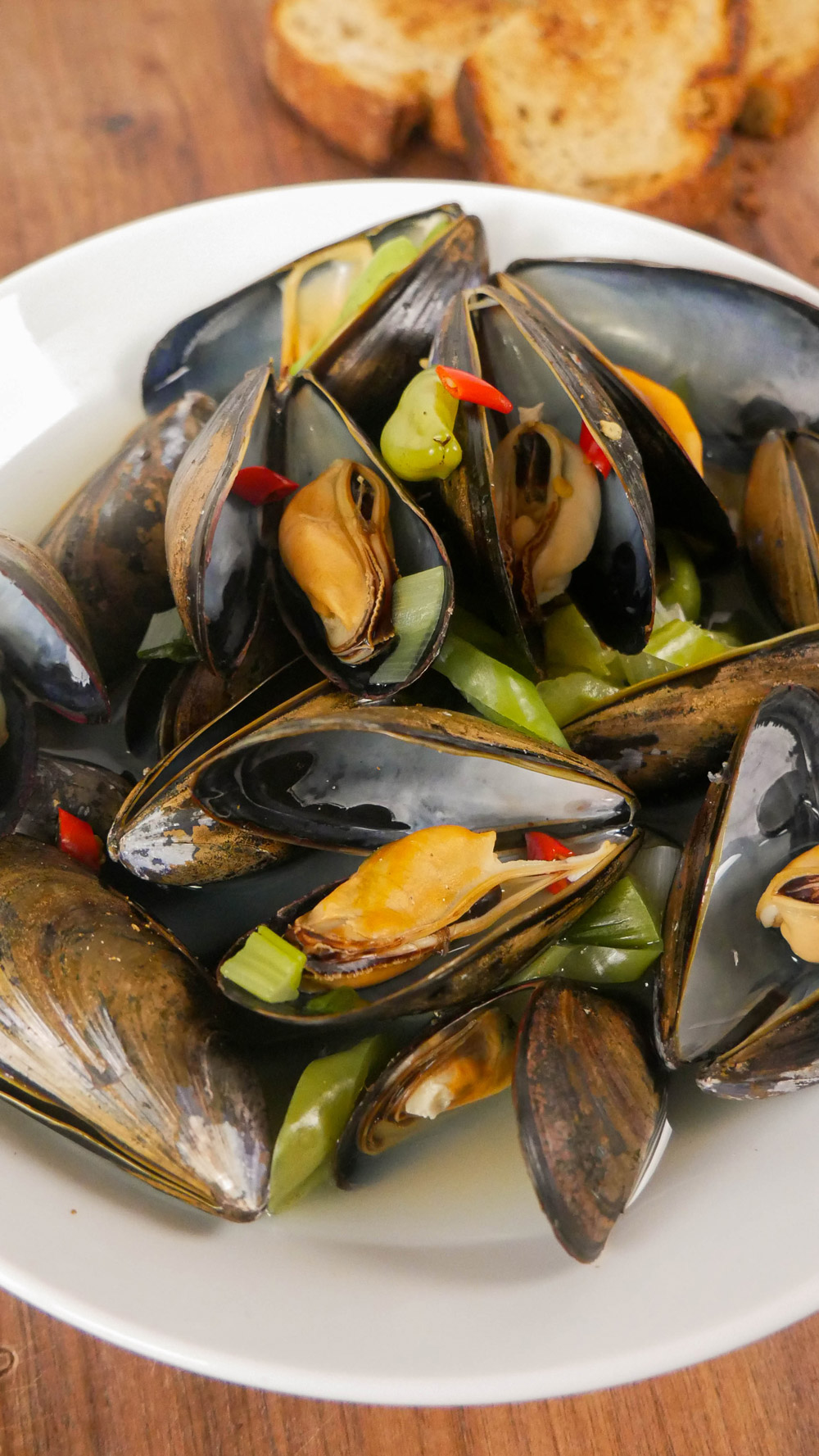 Korean Mussel Soup
Ingredients
1

lb

mussels

fresh, not frozen

4

cups

water

1/2

medium

onion

4-5

pieces of

dried kelp

1

long green pepper

or jalapeno

1

scallion

3

thai chili peppers

optional

1/2

tsp

salt

to taste

1/4

tsp

white pepper powder

or black pepper

1/2

tsp

ground anchovy powder

optional

1/8

tsp

msg

optional
Garlic Bread
1

clove of

garlic

1

tbsp

butter

2

slices of

bread
Instructions
Clean and debeard the mussels. Soak in cold water for 20 minutes and drain. Please use fresh mussels for this recipe!

Cut the peppers and scallions into 1/4 inch thick slices.

In a pot, add water, onion, dried kelp, and thai chili peppers. Bring to a boil and cook for 20 minutes. Strain and bring to a boil again.

Add the mussels, peppers and scallions. Cook until the mussels have opened. Transfer the opened mussels to a bowl.

Mussels release some salt during the cooking process so taste the soup first before adding the seasoning. Add all the salt, white pepper, anchovy powder, and msg.

Pour the soup over the mussels and serve immediately!
Butter Garlic Bread
In a pan, melt the butter and add the sliced bread. Cook until browned on both sides.

Remove from the pan and while the bread is still hot, rub the garlic clove on both sides.
Pin & save this recipe for later!