One of my favorite comforts is doenjang jjigae or Korean soybean paste stew because it reminds me of home so much! This is a classic Korean stew that's rich and savory, a little spicy, packed with a ton of veggies, and delicious with a bowl of rice.
My mom would make me doenjang jjigae at least once a week with a variety of vegetables each time. It's definitely something I crave and make when I miss my mom's cooking.
This stew is great for days where you want to clean out the fridge. Any veggies will work for this but my favorite ingredient is potatoes! Potatoes are essential because they help thicken the stew but you could always omit it if you don't have any. Customization is the best thing about cooking and doenjang jjigae is one of those recipes that allow you to embrace it.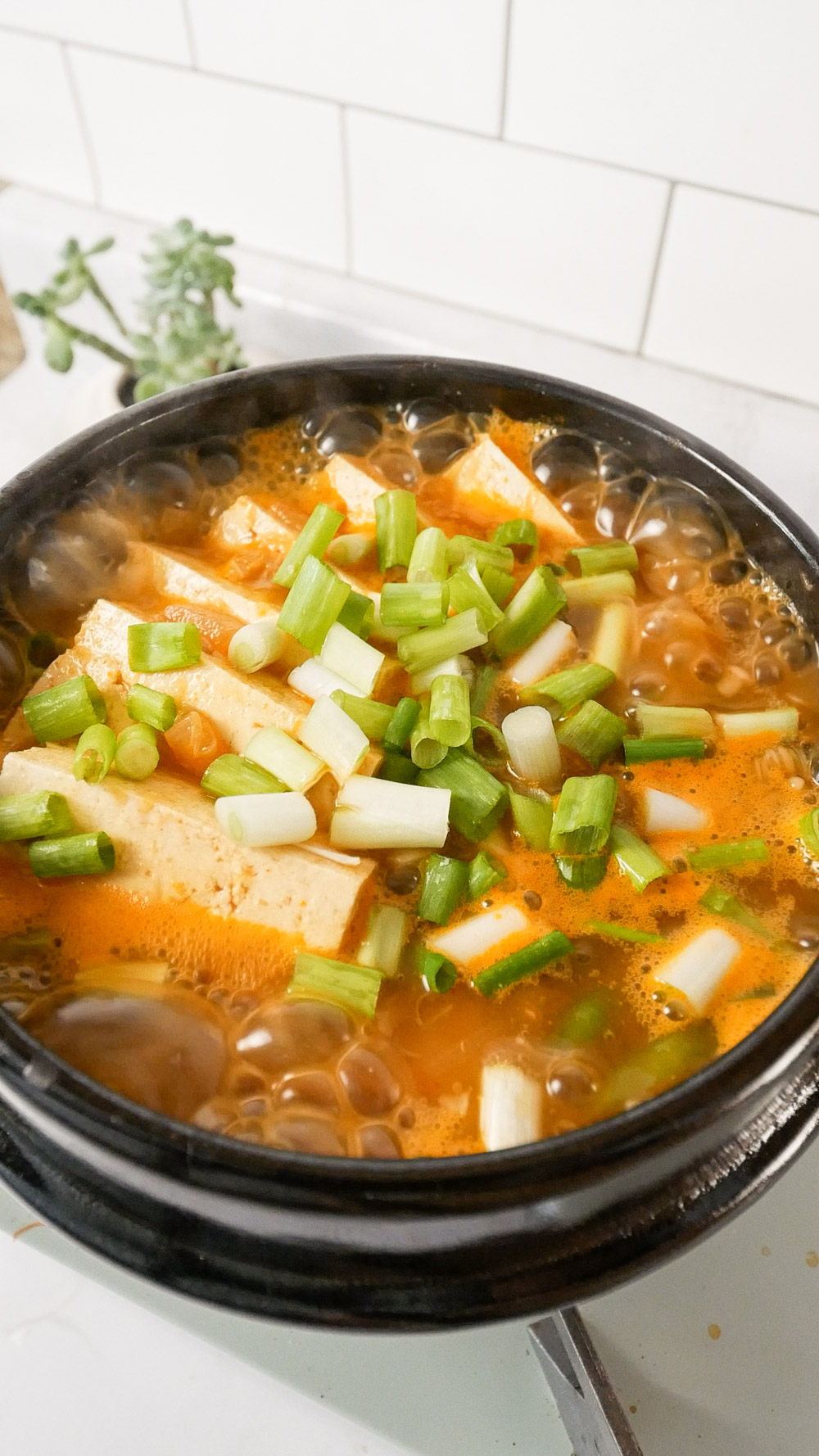 Doenjang Jjigae (Soybean Paste Stew)
Ingredients
Anchovy Broth
6-8

dried anchovies

innards removed

4

dried kelp

1/4

onion

3

cups

water
Main Ingredients
1 1/2

tbsp

doenjang

Korean fermented soybean paste

1

tsp

gochujang

Korean red pepper paste

1/2

tbsp

soup soy sauce

1

medium

potato

1

medium

onion

1/2

zucchini

1/2

package

enoki mushrooms

1/2

block of

tofu

preferably firm

2

cloves of

garlic

minced

1

long

green pepper

sliced

2

scallions

chopped for garnish

salt and pepper to taste
Instructions
To make the anchovy broth, bring water to a boil and add dried anchovies, dried kelp, and onion. Boil for 10-15 minutes and strain.

Chop the potato, onion, zucchini, and tofu into bite sized pieces.

Pour the anchovy broth into a ddukbaegi or pot and bring to a boil. Add the potatoes and onions and cook until the potatoes are tender. Toss in the zucchini, enoki mushrooms, minced garlic and any other vegetables you like.

Once the stew comes to a boil, add the doenjang and gochujang. Mix well until the pastes have dissolved completely. Add soup soy sauce and adjust the seasoning with salt and pepper if needed.

When you're happy with the seasoning, add the peppers and tofu. Cook for about 2 minutes.

Garnish with scallions and serve with a bowl of rice.
Notes
Feel free to use any vegetables you like including radish, leeks, mushrooms, carrots, and more!
You can use any tofu you like however, I prefer firm tofu. 
Pin & save this recipe for later!