One of my favorite comfort foods is doenjang jjigae or Korean soybean paste stew because it reminds me of my mom's cooking. Growing up, my mom would make doenjang jjigae at least once a week with a different variety of vegetables and meats every time. It's usually the first thing I crave when I'm feeling a little homesick. 
Doenjang jjigae is the epitome of Korean comfort food. It's a classic Korean stew that's incredibly comforting, satisfying, and easy to make. You might be familiar with this rich and hearty stew if you enjoy Korean food. However, if you're not, there are a multitude of reasons to give it a try! 
Why you'll love this recipe
The way I like to describe doenjang jjigae is like getting a big warm hug from your mom or grandma. The embrace brings comfort and joy, and that's what eating doenjang jjigae is like. 
Not only is this stew packed with a ton of vegetables, but it's also the perfect pick-me-up meal. Whether you're looking for something to warm you up or a comforting meal to soothe your soul, doenjang jjigae will get the job done. 
This stew is also great for days when you need to clean out the fridge because you can toss in any vegetables or proteins laying around. I encourage you to customize the ingredients based on what you desire and have on hand so you can make it how you like it. Customization is the best thing about cooking and doenjang jjigae is one of those recipes that allows you to embrace it!
With that being said, an essential ingredient for me is potatoes. These are non-negotiable and must be added when I make this because a) potatoes are delicious and b) they help thicken the stew! In the case you don't have potatoes, you can always omit them BUT I highly recommend adding them if you can. 
Don't forget to prepare some rice to enjoy with this stew! It's the ultimate rice killer.
How do I prepare Doenjang Jjigae?
The best part about this stew is that it's incredibly easy to make. Even if you're not an experienced cook, you can prepare a delicious doenjang jjigae, with just a few simple ingredients. 
Step 1: Make the anchovy broth.
To start, bring water to a boil in a pot over medium heat. Once the water is boiling, add the dried anchovies, dried kelp, and onion. Allow the mixture to boil for 10 to 15 minutes then strain the ingredients out. Set the broth aside while you prepare the ingredients.
Step 2: Chop the vegetables.
Prepare the ingredients by chopping the potato, onion, zucchini, and tofu into bite-sized pieces. Set them aside. Feel free to prepare any additional vegetables or proteins. 
Step 3: Cook the stew.
Pour the anchovy broth into a ddukbaegi (Korean earthenware pot) or medium-sized pot and bring it to a boil. Add the potatoes and onions, and cook until the potatoes are tender, about 10 minutes. Then, toss in the zucchini, enoki mushrooms, minced garlic, and any other vegetables you're using. 
Step 4: Add the seasonings.
Once the stew comes to a boil, add the doenjang and gochujang. Mix the stew well until the paste dissolves completely. Then, add the soup soy sauce and adjust the seasoning by adding salt and pepper if needed.
Step 5: Add the rest of the ingredients.
When you're happy with the seasonings, add the peppers and tofu. Allow the stew to cook for 2 more minutes.
Step 6: Garnish and serve.
Garnish with a generous amount of scallions. Serve with a bowl of rice and enjoy while hot!
Cooking Tips for Doenjang Jjigae
To ensure your soybean paste stew turns out great every single time, here are a few tips you can keep in mind:
Use a variety of ingredients. Feel free to mix and match different vegetables and/or proteins in your stew. This is a great way to use up what you have on hand while minimizing waste. In addition to tofu, you could also add other proteins like pork, seafood, beef, or even chicken. 
Don't overcook the potatoes. Overcooked potatoes will turn mushy, causing the stew to get very thick. If this happens, just add a few tablespoons to loosen it up to your desired consistency. 
Adjust the spice level. Increase or decrease the amount of gochujang added based on your spice preference. 
Invest in good quality doenjang. The doenjang greatly affects the flavor of the stew so I recommend using a high-quality brand, if possible. 
Taste as you go. The saltiness of the doenjang varies depending on the brand you use. Doenjang jjigae should be salty but not overwhelmingly salty. Be sure to taste as you prepare the stew and adjust the seasonings as needed. 
Use a ddukbaegi. This Korean earthenware pot is traditionally used to cook stews because they distribute heat evenly and retains heat well. But if you don't have one, you could also use a regular pot. 
Serve with banchan (Korean side dishes). Complete the meal by serving the stew with a variety of side dishes. Here are some of my favorite banchan recipes:
Ingredients & Substitutions
Doenjang: doenjang or fermented soybean paste is the stew's star ingredient. It brings a depth of flavor that is unique, savory, and delicious. The closest substitute to doenjang is dark Japanese miso paste like red miso. However, I don't recommend substituting the doenjang because it will completely change the flavor profile of the stew. If you're looking to make an authentic doenjang jjigae, you need doenjang!
Dried anchovies: dried anchovies are essential to the broth because they add salty and umami flavors, but if you don't have them you can also add a couple of spoons of my Homemade Anchovy Powder or just use water or vegetable broth. Using a broth will enhance the flavor of the stew, so I do recommend making this recipe with a broth.
Dried kelp: dried kelp also helps to build the umami flavor in the broth, but if you can't find any you can double the amount of dried anchovies or use dried shiitake mushrooms. 
Onion: onions are used in two ways in this stew – in the broth base and as a chunky vegetable ingredient. They add a natural sweetness to balance out the umami flavors of the dried anchovies and kelp. 
Gochujang: the gochujang adds a subtle heat to the dish, but you can replace it with gochugaru (Korean red pepper flakes) or fresh peppers like green peppers, serrano peppers, or jalapeno peppers. 
Soup soy sauce: the soup soy sauce flavors the stew and is usually saltier than regular soy sauce. To substitute it, you can use fish sauce or regular salt.  
Potato: potatoes are my must-have vegetable in doenjang jjigae. Not only are they delicious but they help thicken up the stew. 
Zucchini: zucchini is a classic vegetable ingredient for this stew. However, you can leave out the zucchini or replace it with other veggies like squash, bok choy, spinach, or even bean sprouts. 
Enoki mushrooms: besides enoki mushrooms, you can also use other types of mushrooms like shiitake, button, or cremini mushrooms.
Tofu: firm tofu is commonly used in doenjang jjigae and is also my preferred tofu. But, you can use any type of tofu you like, including soft and silken tofu. Just keep in mind that they will break apart more easily while cooking but it should not affect the overall taste of the stew. 
Green pepper: green pepper adds a hint of freshness and spiciness to the stew, but you can also substitute it with peppers such as serrano or jalapeno peppers. 
Garlic
Scallions
Protein: tofu is the most popular protein used in doenjang jjigae however, you can experiment and explore other proteins to make this a heartier stew. Some include pork belly, thinly sliced beef, or seafood like clams, squid, or shrimp. Just be sure to adjust the cooking time according to the protein you use so they are cooked all the way through. 
Frequently Asked Questions
What is doenjang made of?
Doenjang is a type of soybean paste that's a staple in Korean cuisine. It's made from soybeans and salt that are then fermented for a minimum of 6 weeks to create its signature funky flavor and pungent smell. Aside from doenjang jjigae, you can also use doenjang for flavoring soups, stews, dipping sauces, and marinades. 
Can I make doenjang jjigae ahead of time?
Yes, absolutely! The flavors of the stew will actually develop and deepen as it sits so it'll taste even more delicious the next day. Simply reheat it on the stovetop or in the microwave. 
Can I make doenjang jjigae spicy?
Of course! While my recipe already calls for gochujang to add a subtle kick of spice, you can increase the spiciness level by adding gochugaru (Korean red pepper flakes) or the spicy version of gochujang (Korean red pepper paste). Gochujang is usually sold in various spice levels – mild, hot, and very hot. Start with a small amount and adjust to your desired heat level as you go. 
Can I adjust the thickness of the stew?
You sure can! While the potatoes will help to thicken the stew, you can also adjust the thickness by adding more or less broth. For a thicker stew, reduce the amount of broth or allow it to simmer down to your desired consistency. For a thinner stew, just add more broth!
Can I freeze doenjang jjigae?
I don't recommend freezing doenjang jjigae because it will greatly affect the texture of the vegetables and tofu. This stew is best enjoyed fresh or within 2 to 3 days. If you wanted to speed up the process, however, you can make the anchovy broth in advance and freeze it. When you're ready to make the stew, just defrost the broth! This will shave off 20 minutes from the cooking time. 
Is doenjang jjigae gluten-free?
Traditional doenjang is usually gluten-free but it's important to check the labels of the ingredients just to be sure. Soup soy sauce is most likely not gluten-free however you can substitute it with fish sauce or regular salt. 
What is soup soy sauce?
Soup soy sauce is the brine from fermenting doenjang, and it's a common Korean ingredient that's used for flavoring soups and side dishes. Its color is lighter than traditional soy sauce, but it's saltier and has a richer umami flavor. You can buy a bottle of soup soy sauce at any Korean market or on Amazon. 
Can I store and reheat doenjang jjigae?
Yes, you can store any leftover doenjang jjigae in an airtight container for up to 3 to 4 days in the fridge! Allow the stew to cool completely before putting it in the fridge. Keep in mind that the flavors of the stew will deepen and taste even better the next day! To reheat, bring it to a simmer on the stovetop or microwave it until hot. 
Looking for more easy and delicious stew recipes? Give these a try!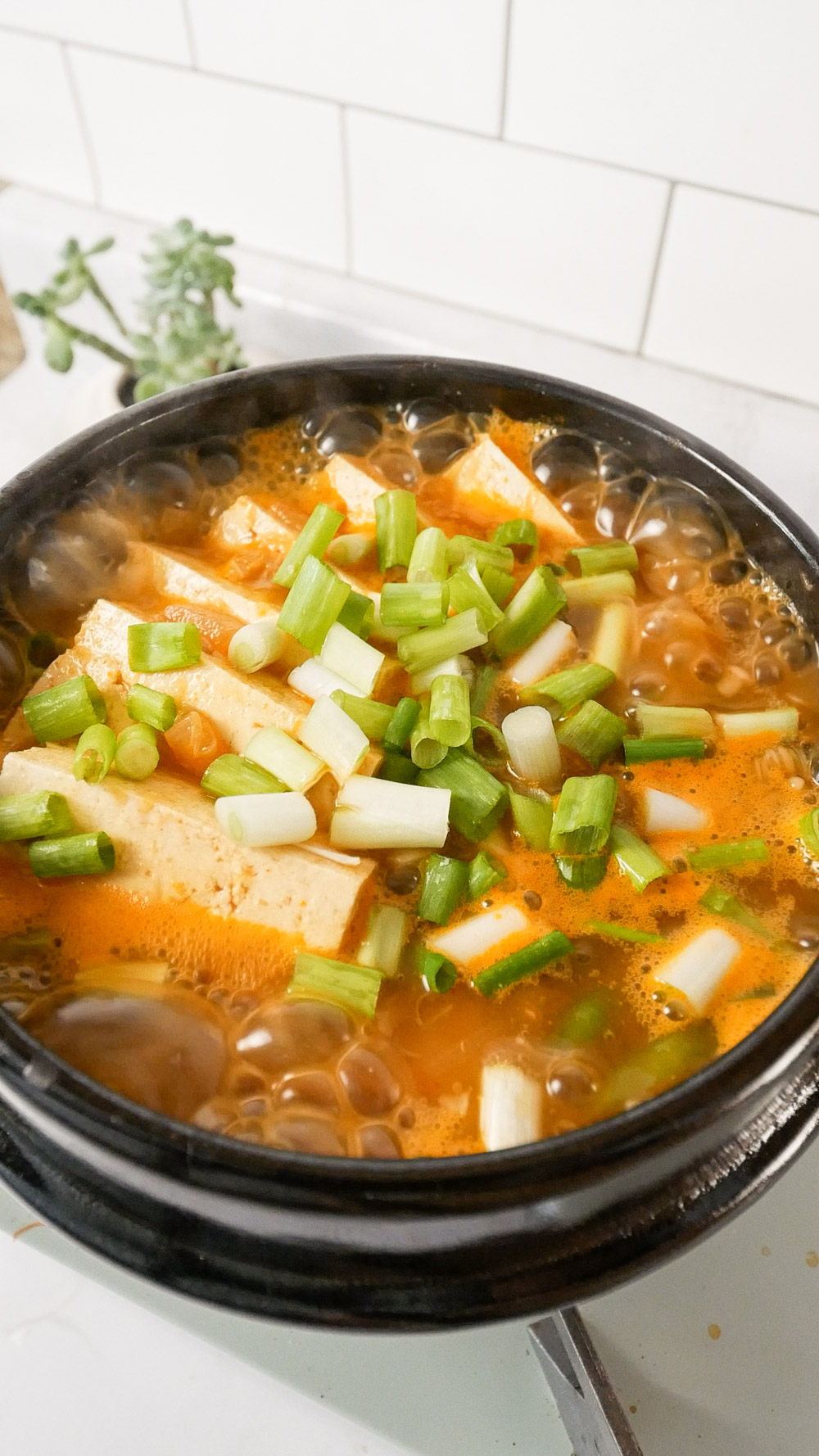 Doenjang Jjigae (Soybean Paste Stew)
Ingredients
Anchovy Broth
6-8

dried anchovies

innards removed

4

dried kelp

1/4

onion

3

cups

water
Main Ingredients
1 1/2

tbsp

doenjang

Korean fermented soybean paste

1

tsp

gochujang

Korean red pepper paste

1/2

tbsp

soup soy sauce

1

medium

potato

1/2

medium

onion

1/2

zucchini

1/2

package

enoki mushrooms

1/2

block of

tofu

preferably firm

2

cloves of

garlic

minced

1

long

green pepper

sliced

2

scallions

chopped for garnish

salt and pepper to taste
Instructions
To make the anchovy broth, bring water to a boil and add dried anchovies, dried kelp, and onion. Boil for 10-15 minutes and strain.

Chop the potato, onion, zucchini, and tofu into bite sized pieces.

Pour the anchovy broth into a ddukbaegi or pot and bring to a boil. Add the potatoes and onions and cook until the potatoes are tender. Toss in the zucchini, enoki mushrooms, minced garlic and any other vegetables you like.

Once the stew comes to a boil, add the doenjang and gochujang. Mix well until the pastes have dissolved completely. Add soup soy sauce and adjust the seasoning with salt and pepper if needed.

When you're happy with the seasoning, add the peppers and tofu. Cook for about 2 minutes.

Garnish with scallions and serve with a bowl of rice.
Notes
Feel free to use any vegetables you like including radish, leeks, mushrooms, carrots, and more!
You can use any tofu you like however, I prefer firm tofu. 
Pin & save this recipe for later!