This recipe was inspired by my eggplant katsu recipe I posted a few weeks back. I've been thinking of new ways to add more vegetables into my diet and thought zucchini would be great for this recipe! Let's just say, I'm VERY happy with the way it turned out.
Zucchini has high water content, even higher than eggplant, so it's important to draw out some of that moisture. To do that, you'll need to sprinkle some salt on both sides of the zucchini and let it sit for about 5 minutes. You'll begin to see water droplets on the surface of the zucchini which is what you want, Make sure to pat the zucchini dry with a paper towel to remove as much water as you possible before dredging it.
To complement the zucchini katsu, I have a dipping sauce that is a tangy, garlicy and creamy. It adds a ton of freshness and brightness and I highly recommend making this sauce to enjoy with the zucchini katsu!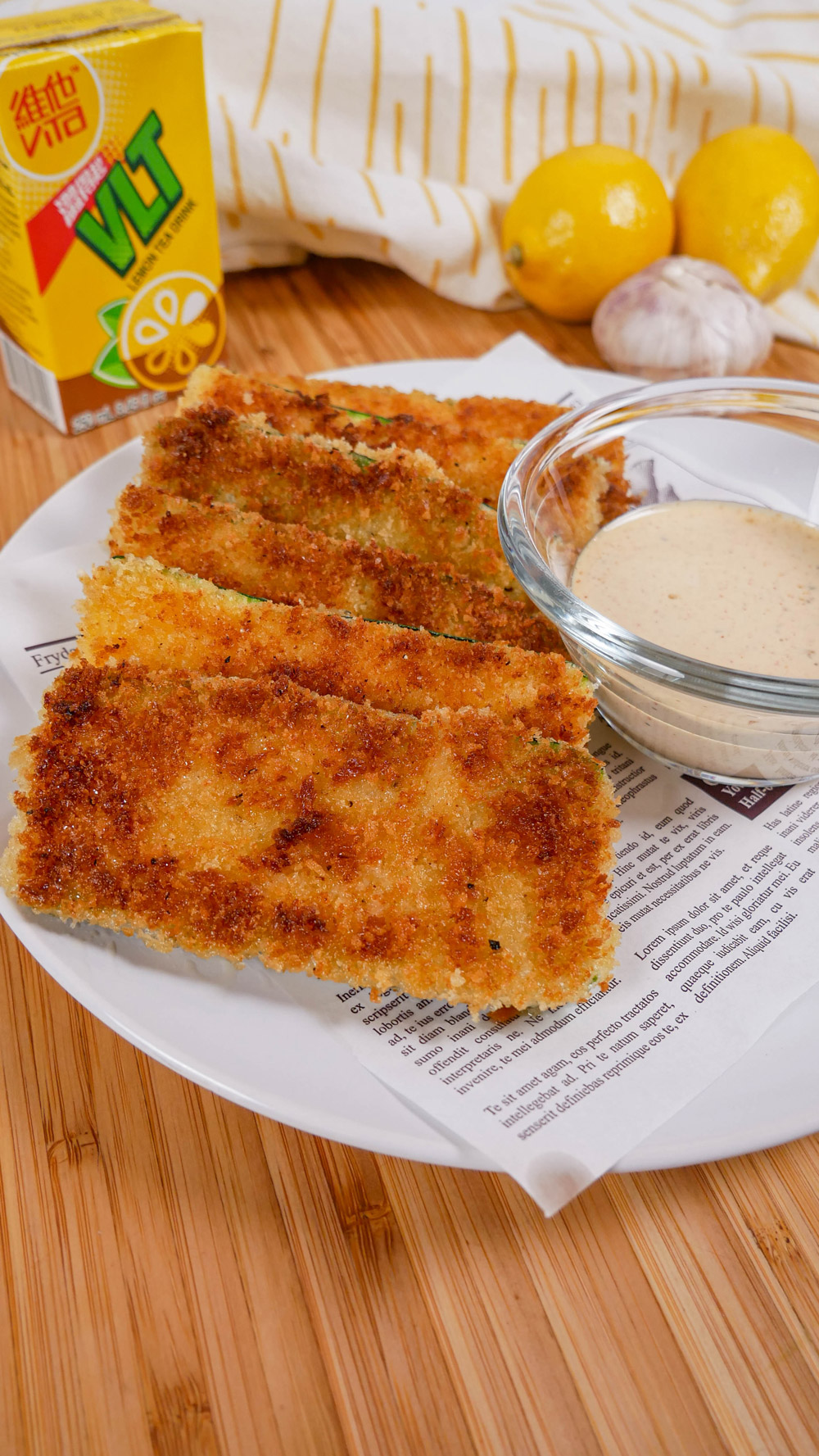 Zucchini Katsu + Garlic Dipping Sauce
Ingredients
1

zucchini

1/2

tsp

salt

neutral oil for frying
Panko Breading
1

cup

panko bread crumbs

more if needed

1

tsp

salt

1/4

tsp

paprika

1/4

tsp

black pepper
Dipping Sauce
1/4

cup

kewpie mayo

1-2

cloves of

garlic

grated

1

tsp

lemon juice

half a lemon

1

tsp

lemon zest

1/4

tsp

cayenne pepper

1/4

tsp

salt

to taste

1/8

tsp

black pepper

to taste
Instructions
Slice the zucchini into 1/2 inch pieces.

Lay the sliced zucchini on a plate or surface area. Sprinkle 1/2 tsp salt on both sides. Set aside for 5 minutes to draw out excess moisture. Pat the zucchini with a dry paper towel after 5 minutes.

Mix the flour and 1/2 tsp salt in a plate or deep dish. Set aside.

Combine the panko bread crumbs, 1 tsp salt, paprika, and black pepper in a plate or deep dish. Set aside.

Mix the eggs and water in a plate or deep dish.

Place the zucchini into the flour dredge, making sure to coat well.

Dip the dredged zucchini into the egg wash and coat well.

Next, coat with panko breading. Press the coating into the zucchini to help adhere better.

In a deep pan, heat up the oil on medium heat. Add a pinch of the breadcrumbs to the pan to test the oil. If it starts to sizzle, it's ready.

Fry the zucchini for 2-3 minutes on each side or until golden brown.

Move to a wire rack and allow to cool.

Enjoy with dipping sauce!
Dipping Sauce
In a bowl, combine the kewpie mayo, grated garlic, lemon juice, lemon zest, cayenne pepper, salt, and black pepper. Mix well.

Mix well and serve with zucchini!