If you're in the mood for a crispy and tasty vegetable dish, you might want to give this Zucchini Katsu recipe a try! This recipe was inspired by my eggplant katsu recipe I posted a little while ago. I've been thinking of new ways to add more vegetables into my diet and thought zucchini would be great for this recipe! Let's just say, I'm VERY happy with the way it turned out and wanted to share it with you.
Zucchini has high water content, even higher than eggplant, so it's important to draw out some of that excess moisture to make it extra crispy. To do that, you'll need to sprinkle some salt on both sides of the zucchini and let it sit for about 5 minutes. You'll begin to see water droplets on the surface of the zucchini which is what you want. After 5 minutes, pat the zucchini dry with a paper towel to remove as much water as you possible before dredging it.
To complement the zucchini katsu, I also have a tangy and creamy garlic dipping sauce. It adds a ton of freshness and brightness so I highly recommend making this sauce to enjoy with the zucchini katsu!
What type of food is 'katsu'?
If you've been to a Japanese restaurant, you might have seen or eaten a variation of katsu. It's a Western-style Japanese dish that consists of breaded pork or chicken topped with a sweet and savory sauce. It first appeared in Rengatei, a restaurant in Tokyo, and was originally called katsuretsu, or katsu for short.
Katsu was traditionally made with beef but eventually evolved to include pork, chicken, seafood, and vegetables. Because of its popularity, other variations of the dish also began to pop up. Some like to make it with curry sauce, while others like to serve it over a hot bowl of rice and egg.
Katsu is often served with rice and shredded cabbage so it's quite a filling meal that keeps you satiated for the rest of the day.
If you're looking for a lighter meal or meat alternative, zucchini is a great substitute. It'll be just as crispy and delicious – plus, it's a clutch way of incorporating more vegetables into your meals.
How do I prepare Zucchini Katsu?
Making this dish can get a little messy, but I think that's just part of the fun of cooking. If you want to try this recipe, here's an easy step-by-step guide on how I make it:
Step 1: Prepare the zucchini
Slice the zucchini into ½-inch pieces and lay them on a plate or a flat surface.  Then, sprinkle about ½ tsp salt on both sides. Set aside for 5 minutes to let them draw out excess moisture.
When the time is up, pat the zucchini slices with a dry paper towel.
Step 2: Prepare your dredging station
On a plate or deep dish, mix flour and ½ tsp salt, then set aside.
Mix the panko bread crumbs, 1 tsp salt, paprika, and black pepper in a different bowl. In a 3rd bowl, whisk together 2 eggs and water, then set aside.
Step 3: Dredging
Grab the zucchini slices and dredge with flour, ensuring all sides are well-coated. Then, dip them into the egg mixture, making sure all the flour is covered. Lastly, transfer the zucchini into the panko breading and coat each side. You can also press the breading into each slice to help them stick to its surface better.
Step 4: Frying
In a deep pan, pre-heat neutral oil over medium heat. You can test the oil to see if it's ready by dropping a pinch of breadcrumbs into the pan. If the oil starts to sizzle, you'll know the temperature is good for frying. If it doesn't sizzle, allow it to heat for an additional minute or two.
Once the oil is hot, fry the zucchini for 2-3 minutes on each side, or until they're golden brown. Place them on a wire rack to drain the excess oil and sprinkle with flakey salt.
Step 5: Prepare the dipping sauce
While the zucchini slices are cooling, combine the Kewpie mayo, grated garlic, lemon juice, lemon zest, cayenne pepper, salt, and black pepper in a bowl. Mix well and serve with the zucchini katsu. Enjoy!
Cooking tips for Zucchini Katsu
Zucchini katsu isn't complicated to make, however, here are a few tips and tricks:
Lightly salting the zucchini to draw out moisture is crucial for a crispy and crunchy katsu. I highly recommend that you don't skip this step!
Make sure all sides of the zucchini slices is covered with the coating. This is key for a consistently crispy and golden brown surface after frying.
When frying the zucchini, be sure to keep an eye on the heat to prevent the zucchini from burning. Alternatively, you don't want the heat to be too low otherwise, the zucchini will absorb the oil and turn soggy.
If you want the garlic dipping sauce to have some heat, you can also add a bit of chili powder to make it spicy.
How to pick the right zucchini for this recipe?
Since zucchini is the star of the show, you want to find the best zucchini for this recipe. Choose a zucchini that's firm, smooth, and dark green in color. This is a good indication that it's fresh and crisp on the inside. Avoid zucchini that is soft or shriveled.
Can you make Zucchini Katsu in the air fryer?
Yes! Cooking the zucchini katsu in the air fryer is an easier and healthier alternative to cooking it over the stove top. Plus, you won't need to use oil for cooking, which will save you some calories. To start, arrange the zucchini in one layer and air fry at 370°F (185°C) for 10-13 minutes, making sure to flip them over halfway.
Ingredient Substitutions
Zucchini: I don't really recommend that you substitute zucchini with another vegetable since it's the main ingredient in this recipe. But if you can't find any at your local market, squash or eggplant would be good alternatives. Check out my quick, easy, and delicious Eggplant Katsu recipe here!
Flour: If flour isn't available at the moment, you can replace it with cornstarch or potato starch.
Egg: Eggs are necessary for making the breadcrumbs stick to the zucchini, but heavy cream can also be a good substitute. For a vegan recipe, you can replace them with a flaxseed and water mixture.  
Panko bread crumbs: If you can't find any panko bread crumbs, you can make it at home by shredding a few pieces of crust-less bread and toasting them in the oven for around 20 minutes or until gold brown. Transfer to a food processor and blend into crumbs.
What other dishes can you make with zucchini?
If you can't get enough zucchini, here are a few dishes that would make excellent meals:
1. Noodles – zucchini is a common ingredient in Korean cooking, especially in noodle and soup dishes. For a soup-less recipe, you have to try my Jjajangmyun (Korean Black Bean Paste Noodles) recipe. It's packed with tons of vegetables like onion and zucchini! For soupy recipes, I highly recommend my non-spicy Sujebi (Korean Hand Torn Noodle Soup) and Spicy Seafood Noodle Soup.
2. Stews – if you're craving a hearty meal, mixing a medley of zucchini and a variety of vegetables can hit the right spot. For seafood lovers, check out my Korean Spicy Fish Stew recipe or Seafood Soondubu Jjigae! For a milder stew, my Doenjang Jjigae (Korean Soybean Paste Stew) always hits the spot.
3. Pasta – if you like pasta but hate the calories, shredding zucchini into thin strips can be a perfect solution.
4. Salad – although zucchini tastes best cooked, a fresh salad with zucchini can be refreshing for a summer meal.
5. Bread – it may be odd to think about mixing a vegetable into bread but because of its high water content, zucchini can add a ton of moisture to the loaf.
Now that you've learned about zucchini katsu and how to prepare it, let's get cooking! I hope you find this recipe as delightful and tasty as I did. As a reminder, please don't skip the dipping sauce!!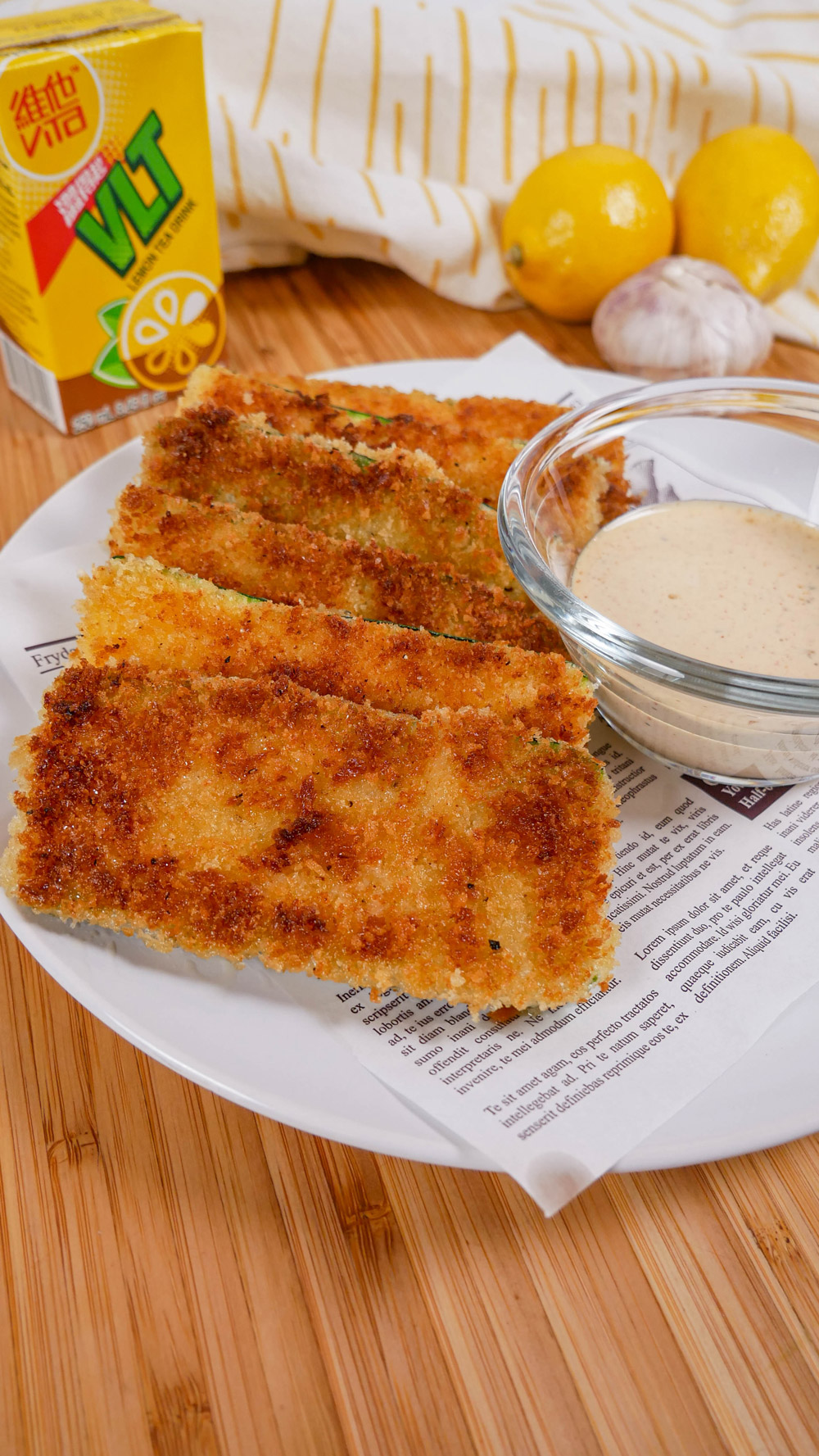 Zucchini Katsu + Garlic Dipping Sauce
Ingredients
1

zucchini

1/2

tsp

salt

neutral oil for frying
Panko Breading
1

cup

panko bread crumbs

more if needed

1

tsp

salt

1/4

tsp

paprika

1/4

tsp

black pepper
Dipping Sauce
1/4

cup

kewpie mayo

1-2

cloves of

garlic

grated

1

tsp

lemon juice

half a lemon

1

tsp

lemon zest

1/4

tsp

cayenne pepper

1/4

tsp

salt

to taste

1/8

tsp

black pepper

to taste
Instructions
Slice the zucchini into 1/2 inch pieces.

Lay the sliced zucchini on a plate or surface area. Sprinkle 1/2 tsp salt on both sides. Set aside for 5 minutes to draw out excess moisture. Pat the zucchini with a dry paper towel after 5 minutes.

Mix the flour and 1/2 tsp salt in a plate or deep dish. Set aside.

Combine the panko bread crumbs, 1 tsp salt, paprika, and black pepper in a plate or deep dish. Set aside.

Mix the eggs and water in a plate or deep dish.

Place the zucchini into the flour dredge, making sure to coat well.

Dip the dredged zucchini into the egg wash and coat well.

Next, coat with panko breading. Press the coating into the zucchini to help adhere better.

In a deep pan, heat up the oil on medium heat. Add a pinch of the breadcrumbs to the pan to test the oil. If it starts to sizzle, it's ready.

Fry the zucchini for 2-3 minutes on each side or until golden brown.

Move to a wire rack and allow to cool.

Enjoy with dipping sauce!
Dipping Sauce
In a bowl, combine the kewpie mayo, grated garlic, lemon juice, lemon zest, cayenne pepper, salt, and black pepper. Mix well.

Mix well and serve with zucchini!
Pin & save this recipe for later