Rose tteokbokki is tteokbokki's modernized sister – she's creamy, smoky, and mild in spice with a beautiful rosy pink colored sauce. It's incredibly indulgent and the perfect treat-yourself-meal.
This tteokbokki variation is usually served mild but if you wanted to take the spice up a notch, I recommend using the 'hot' version of gochujang or adding more sliced hot peppers.
To add a hint of smokiness, I used mini sausages that you can find at H Mart or most Korean grocery markets. However, you can also substitute or supplement the sausages with bacon too. Just be sure to render the bacon fat and remove it from the pan before sautéing the scallions in step #2!
Pro-tip: For the bounciest and chewiest rice cake texture, submerge the rice cakes in a mixture of hot water, salt and sugar. This achieves two things – it'll warm up the rice cakes and impart some flavor as well. When they're ready to be added into the pan, strain and rinse them under cold water. This will make them extra 'QQ' and chewy!
I hope you love this recipe as much as I do! Enjoy~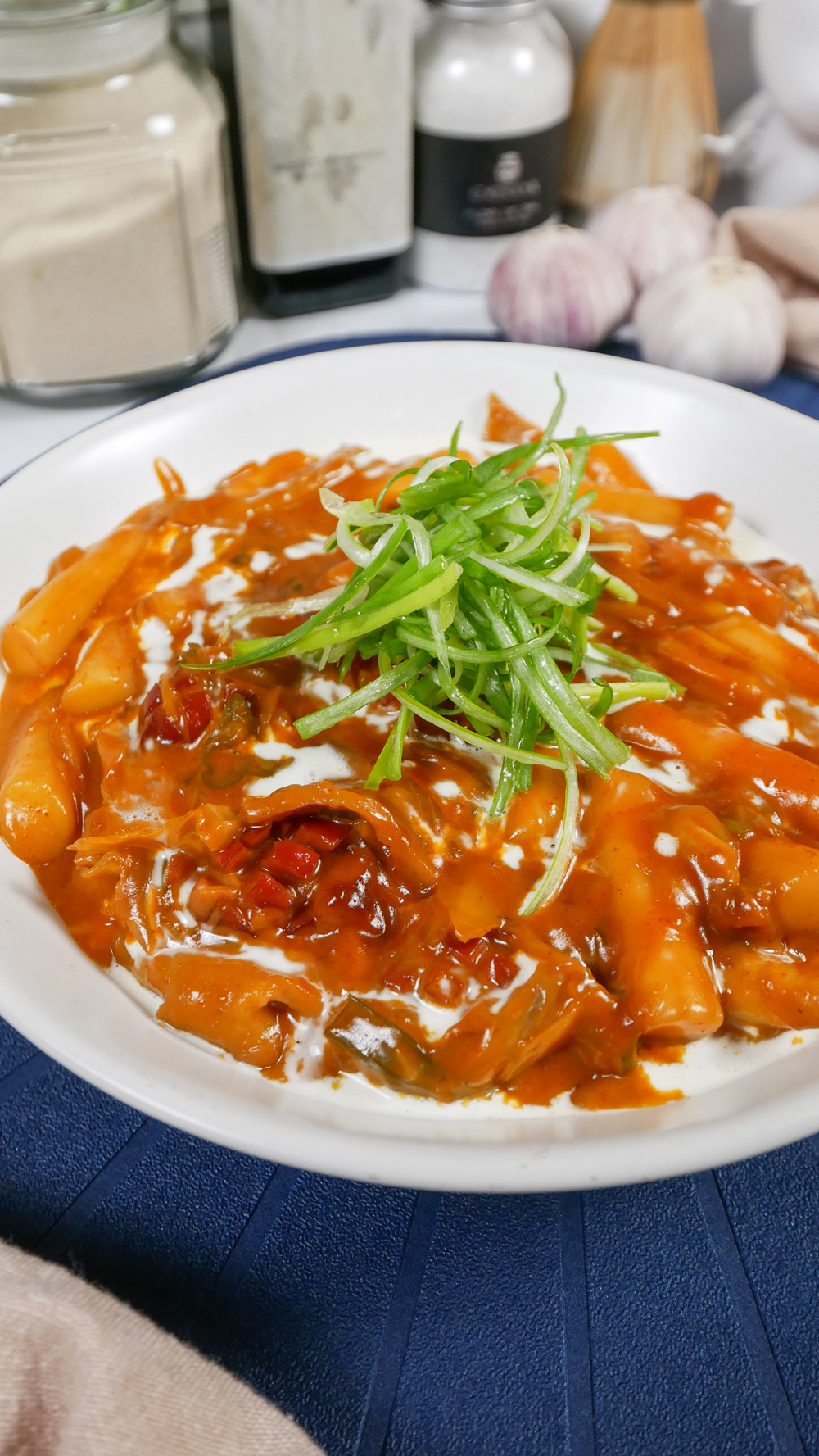 Rose Tteokbokki
Ingredients
Rice Cakes (Tteok)
10 oz

(300g)

rice cakes

for tteokbokki

1

tbsp

salt

1

tbsp

sugar
Main Ingredients
1

scallion

chopped (plus more for garnish)

1

scallion

2 -inch pieces

5

garlic cloves

thinly sliced

2

tbsp

gochujang

Korean red pepper paste

6

mini sausages

or 2 hot dogs cut in thirds

1/4

medium onion

sliced

1/2

cup

cabbage

roughly chopped

1

long hot green pepper

substitute with jalapeno or serrano

1 1/4 cup

(300ml)

water

2

sheets of fish cakes

cut into triangles

1

tbsp

sugar

1

tbsp

honey

1

tbsp

soy sauce

1/41

tsp

MSG, optional

optional

1/2

cup

heavy cream

reserve 2 tsp for garnish

3

tbsp

tbsp neutral oil
Instructions
Bring 4 cups of water to a boil with salt and sugar. Reduce to the lowest heat setting then carefully add rice cakes. While the rice cakes are warming up, begin preparing the rest of the dish. Do not allow the water to come to a boil!

In a deep pan over medium-low heat, add oil. Toss in chopped scallions and garlic. Saute for about 2 minutes until fragrant, but not browned.

Reduce heat to low then add gochujang. Immediately stir and mix with scallions and garlic. Cook for about 2 minutes or until the oil turns into a bright vibrant orange color. Keep an eye on the heat to prevent the gochujang from burning.

Toss in the sausages, 2 inch piece scallions, onions, and cabbage. Stir fry to coat well.

Drain the rice cakes and rinse under cold water. Transfer to the pan and mix together.

Add water then bring to a boil. Once boiling, add sugar, honey, fish cakes, soy sauce, and MSG. Carefuly mix then cook for 1 to 2 minutes until slightly thickened.

Pour in cream and stir until well combined. Cook for an additional 1 to 2 minutes until it reaches your desired thickness.

Garnish with a drizzle of the remaining heavy cream and scallions. Enjoy!
Pin & save this recipe for later!