Geotjeori or fresh kimchi is a delicious refreshing kimchi variety that comes together in less than half the time of regular kimchi!
Compared to most kimchi that takes a couple of days to prepare, this kimchi can be eaten right away so you don't have to wait. It's light, refreshing, and the perfect side dish for any meal! ☺️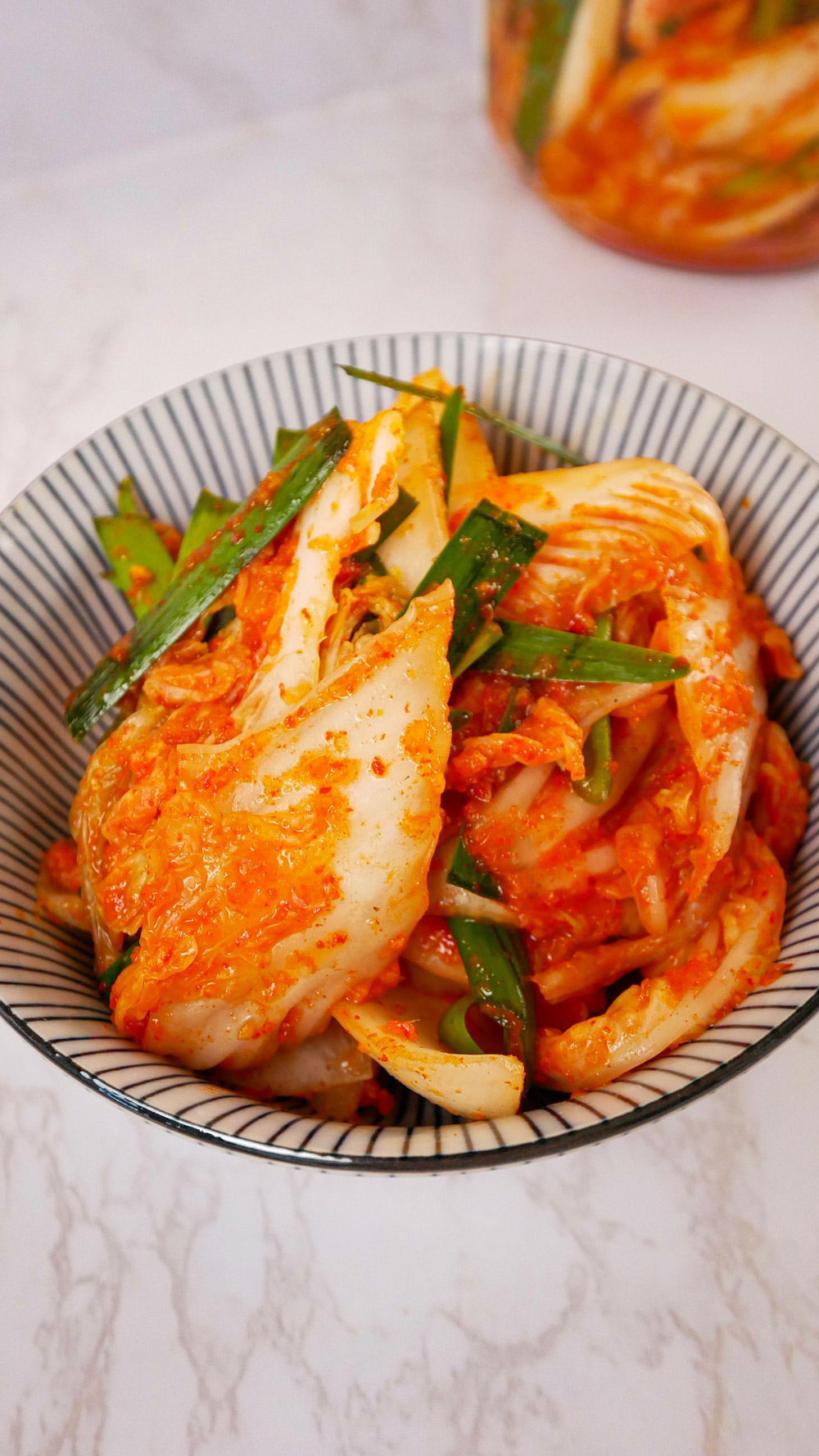 Geotjeori Kimchi
Ingredients
1

napa cabbage

about 2 1/2 lbs

2

tbsp

salt

1/2

cup

water

divided

1

cup

garlic chives

chopped into 2 inch pieces

3

scallions

chopped into 2 inch pieces

12

garlic cloves

1/2

inch

ginger

1/2

cup

Korean radish

1/4

cup

gochugaru

adjust according to spice tolerance

2

tbsp

sugar

6-8

tbsp

fish sauce

adjust to taste
Instructions
Split the napa cabbage in half, then into quarters. Remove the core then roughly chop the cabbage to your desired size.

Sprinkle salt over the cabbage and add about 1/4 cup of water. Mix thoroughly until cabbage is evenly coated with salt and water. Set aside for at least 30 minutes or up to 1 1/2 hours.

When the cabbage is ready, rinse under cold water then drain. Using your hands, squeeze the excess water out from the cabbage. Work in batches so it's more manageable.

Combine garlic, ginger, Korean radish, and remaining 1/4 cup water into a high speed blender. Blend on high until smooth. If the mixture is too thick, add more water one tablespoon at a time until it blends.

Transfer the blended aromatic mixture into a bowl. Add gochugaru, sugar, and fish sauce. Mix together until well combined.

In a large mixing bowl, add cabbage, garlic chives and scallion. Pour in the sauce and mix everything together well.

Transfer to a glass jar or container with a tight lid. Store in the refrigerator until chilled and enjoy!