This kimchi jeon is jam packed with kimchi, scallions, peppers, and lots of squid! It light, crispy and perfect with a glass of makkeolli on a rainy day like today.
I usually like to use pork butt but I've been cutting back on meat so I used squid this time! Any other seafood like shrimp and oysters would work too.
When I was testing this recipe, I noticed my kimchi jeon came out really salty so I washed about half the kimchi to adjust the saltiness.
Pro tip – don't over mix the batter or else it will result in a chewy / bready texture!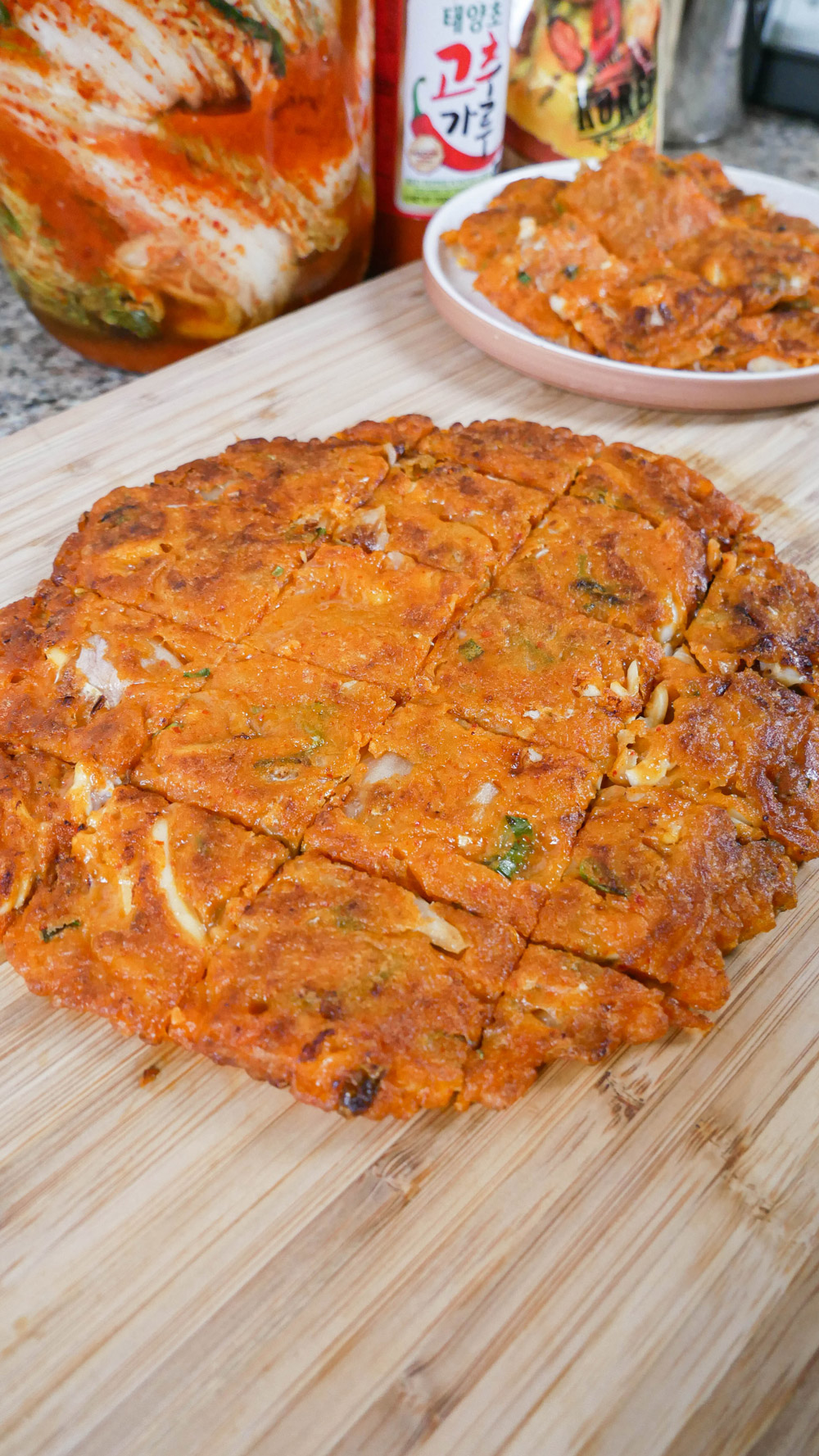 Kimchi Seafood Pancake (Kimchi Jeon)
Ingredients
2

cups

kimchi

2

tsp

sugar

1 2/3

cups

water

2

cups

Korean pancake mix

or substitute with 1:1 flour & potato starch

1

long green pepper

2

scallions

8

oz

squid

1

tbsp

coarse gochugaru

Korean red pepper powder

1

tbsp

fine gochugaru

Korean red pepper powder

cooking oil
Instructions
Wash half the kimchi and drain. Place all the kimchi in a bowl and cut into small pieces with scissors.

Chop the scallions and long green pepper.

Slice the squid into small chunks.

Combine the scallions, peppers, and squid with the kimchi. Mix together well.

Add coarse gochugaru, fine gochugaru, sugar, Korean pancake mix, and water. Gently stir to avoid over mixing.

Heat a large skillet with 2-3 tbsp of oil. Add the batter and spread it out thinly.

While the pancake is cooking, swirl the pan so the oil gets evenly distributed underneath.

When the edges start to crisp up, flip the pancake and cook for 1-2 minutes or until done.

Plate and serve immediately!
Pin & save this recipe for later!