These chive and egg pockets or boxes are very popular Chinese snacks and appetizers. Depending on the region in China, there are slight variations in the filling however, one thing that they all have in common is the beautiful crispy golden exterior and savory and moist filling.
The very first time I had these chive and egg pockets were at a Shanghainese restaurant in my hometown Flushing, NY. They were filled with lots of chives, eggs, vermicelli noodles, and dried shrimp which was so memorable. This recipe is heavily influenced and inspired by that experience, and I'm very excited to share it with you today!
The secret to making the filling extra flavorful is the dried shrimp. They are tiny flavor bombs that add umami to the filling, making it incredibly flavorful and delicious. While these chive and egg pockets can be enjoyed as is, I like serving them with an easy 3 ingredient chili oil dipping sauce made with soy sauce, black vinegar, and chili oil. This is optional, but highly recommended!
These pockets are also perfect for freezing, so you can make them ahead of time and have a quick breakfast, snack, or meal whenever you want. Just pan-fry or shallow-fry until golden and crispy on both sides, and that's it!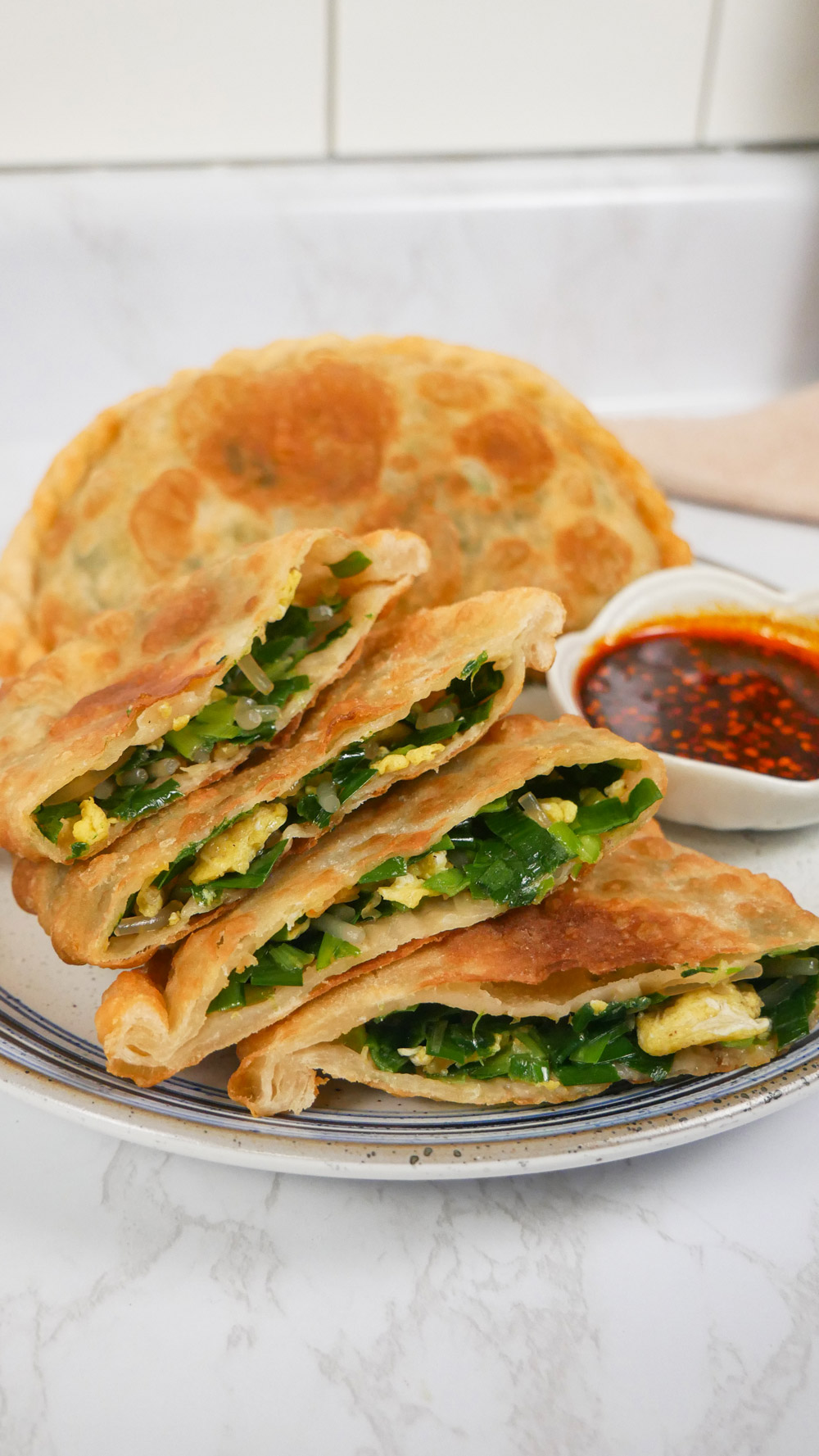 Chive and Egg Pockets
Ingredients
Dough
1 1/2 cups

(220g)

all-purpose flour

1

tsp

salt

1/2 cup

(120g)

warm water

3

tbsp

neutral oil

divided

neutral oil

for frying
Filling
8oz

Chinese chives

or garlic chives

3

eggs

1/2

tsp

salt

divided

2

tbsp

dried shrimp

1/4 cup

(1 oz)

vermicelli noodles

cooked and cut into 1/2 inch pieces

1 1/2

tbsp

sesame oil

1

tbsp

oyster sauce

1/4

tsp

chicken bouillon powder

1/4

tsp

white pepper
Dipping Sauce
1

tbsp

soy sauce

1

tbsp

Chinese black vinegar

substitute with rice vinegar

1/2

tbsp

chili oil
Instructions
In a bowl, combine all-purpose flour and salt. Whisk until combined.

Pour the warm water while stirring with a spatula or chopsticks until a shaggy dough forms. Add 1 tablespoon oil then knead until a dough forms, about 1 to 2 minutes.

Cover with plastic wrap or a damp towel and allow the dough to rest for at least 30 minutes.

While the dough is resting, start prepping the filling. Soak the dried shrimp in cold water to rehydrate for 10 to 15 minutes. Once rehydrated, finely chop then set aside.

Next, chop the chives, about 1/4 inch thick, then transfer them to a large mixing bowl.

In a non-stick pan, heat 1 tablespoon oil over medium heat. Once the oil is hot, add dried shrimp and cook for about 1 minute. Transfer to the bowl with chives.

In a small mixing bowl, whisk together eggs and 1/4 tsp salt.

In the same pan, add 1 tablespoon oil then pour in the eggs while continuously stirring with a spatula or chopsticks in a circular motion. Cook until the eggs are no longer runny. Transfer to the bowl with chives.

In the bowl with chives with dried shrimp and eggs, add the cooked vermicelli noodles, sesame oil, oyster sauce, chicken bouillon powder, 1/4 teaspoon salt, and white pepper powder. Mix together until well combined. At this point, taste for seasoning and adjust according to your preferences. Cover and set the filling aside.

Take the rested dough and cut it into 6 equal pieces of dough (about 60 grams each). I recommend using a scale to weigh them out so they are accurate in size.

Roll each piece of dough into a ball. Cover with plastic wrap and allow to rest for 15 minutes. After 15 minutes, sprinkle flour over the surface area and onto the rolling pin. Roll each dough ball out very thinly into a wide oval shape.

Take about 4 to 5 tablespoons of the filling and place it in the bottom half of the dough. Spread the filling out so it's flat, leaving about 1/2 inch of space to the edge.

Fold the top half of the dough over the bottom half and align the seams together. Gently press down to seal around the edges. Be sure to push out any air pockets before completely sealing.

Once sealed, pleat the edges of the dumplings. Repeat until all pockets are filled and pleated.

Fill up a pan with 1 inch of oil and heat over medium heat. To check if the oil is hot, stick a chopstick in the oil – if it starts to sizzle and bubble, the oil is hot and ready. Carefully place the chive pocket in the oil. Be sure to work in batches to prevent overcrowding the pan. Fry for 1 to 2 minutes then flip and fry for 1 to 2 minutes or until golden brown and crispy.

Transfer to a wire rack to cool. Repeat until all chive pockets are cooked.
Dipping Sauce
Combine soy sauce, Chinese black vinegar, and chili oil. Mix together until well combined. Serve with pockets and enjoy!