Today, I'm sharing the recipe for my favorite type of kimbap – spicy tuna kimbap! This delicious kimbap is subtly spicy and filled with savory goodness. Aside from tasting great, it is also very easy to make!
While there are tons of recipes for spicy tuna kimbap out there, I personally love my recipe because it includes perilla leaves. Perilla leaves are a cross between basil and mint and they add a refreshing bite that perfectly complements the flavor of the spicy tuna.
There are different kinds of kimbap– there's bulgogi kimbap, egg kimbap, kimchi kimbap, crab meat kimbap, and many more. You can honestly add whatever you want to a kimbap roll. It's all up to you!
What is Spicy Tuna Kimbap?
Kimbap is a popular Korean dish you can snack on at any time of day. It can be served as an appetizer or as a light meal. You can conveniently eat these Korean rice rolls for lunch at your working desk or pack them for picnics or long car trips. 
These rice rolls are filled with different kinds of meat and vegetables, wrapped in crispy seaweed, and then sliced into bite-sized round pieces. Because canned tuna is a common staple pantry item, spicy tuna kimbap is one of the most popular types of kimbap.
Canned tuna is not only affordable and super versatile but it is also packed with protein and nutrients. So what's not to like?
Some people also stuff their spicy tuna kimbap with eggs, carrots, cucumber, and yellow pickled radish. They also add seasoned burdock root or fish cakes to add a more complex flavor profile and texture. 
But here, I will share a much simpler recipe that best highlights the spicy tuna ingredient.. 
How to Make Spicy Tuna Kimbap
Making Spicy Tuna Kimbap is very easy and takes less than an hour. If you haven't made a kimbap recipe, follow the step-by-step instructions below. From preparing the seasoned rice and spicy tuna filling to rolling the kimbap, I will guide you every step of the way. 
Step 1: Prepare the perilla leaves.
The first step is the preparation of ingredients. Start by washing the perilla leaves. Pat them dry and set aside. Perilla leaves taste so good with tuna because of their earthy, herby freshness.
Step 2: Season your rice.
It's a good idea to pre-cook the rice before the time you plan on making your kimbap. To season the rice, you only need sesame oil, some sesame seeds, and salt. 
Simply put your fresh rice in a clean bowl, and add the seasoning ingredients. Mix thoroughly so it evenly coats the rice.
Set the seasoned rice aside and allow it to cool before assembling your kimbap.
Step 3: Make the spicy tuna filling.
To make the filling, begin by draining the can of tuna completely. Next, chop the scallions finely and add them to the tuna.
Next, add the sesame oil, gochujang, gochugaru, and sesame seeds. Mix all the ingredients until well combined. 
Step 4. Roll your spicy tuna kimbap.
Now that your seasoned rice and spicy tuna filling are ready, it's time to roll them.
Start by placing a sheet of your seaweed on a bamboo rolling mat. Take ¾ to 1 cup of rice and spread them evenly on top of the seaweed, leaving about one inch of space at the top.
Take around four perilla leaves and place them in the center of the rice. Next, add some of the spicy tuna fillings you prepared on top of the leaves.
Once all the ingredients are layered, you can start rolling by lifting the bamboo mat from the bottom and rolling it over to cover the filling. Make sure to hold the ingredients tightly with your hands and tuck everything with a bit of pressure to form a round shape. Roll all the way to the top, ensuring everything is tightly kept in place.
Step 5: Slice your kimbap and serve.
Brush a thin layer of sesame oil on top of the kimbap. Using a sharp knife, slice your kimbap into bite-sized ½ inch pieces. Once done, serve and enjoy!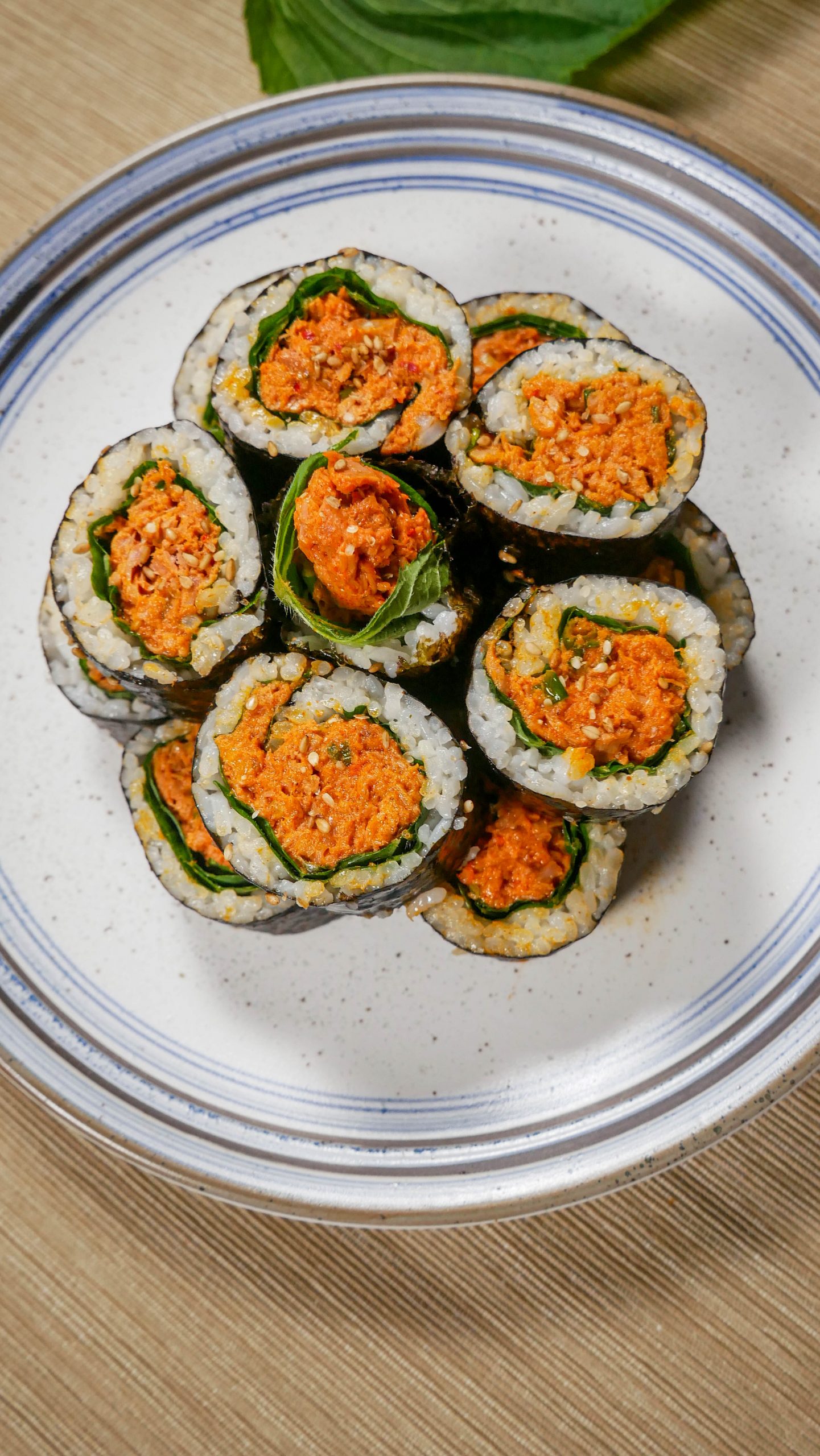 Spicy Tuna Kimbap
Ingredients
4

sheets of

seaweed

16

perilla leaves
Rice Seasoning
3

cups

rice

cooked

1

tbsp

sesame oil

1/2

tbsp

sesame seeds

1/4

tsp

salt
Spicy Tuna
1

can

tuna

2

scallions

chopped

2

tbsp

mayo

preferably Kewpie brand

1

tbsp

gochujang

red pepper paste

1

tbsp

gochugaru

red pepper powder

1

tbsp

sesame oil

1/2

tbsp

sesame seeds
Instructions
Wash the perilla leaves. Pat dry and set aside.

In a bowl, add fresh rice and season it with sesame oi, sesame seeds, and salt. Allow the rice to cool before assembling the kimbap.

Drain a can of tuna completely. Combine the tuna with scallions, gochugaru, gochujang, sesame oil, kewpie mayo, sesame seeds and mix well.

Place a sheet of seaweed on a bamboo rolling mat. Evenly spread out 3/4 to 1 cup of rice, leaving roughly 2 inches of space at the top.

Layer on the perilla leaves (about 4 for each kimbap) in the center of the rice. Add the spicy tuna filling on top.

Lift the bamboo mat from the bottom and roll. Make sure to tuck everything tightly and apply a little pressure as you roll. This will keep everything in place and prevent the kimbap from falling apart.

Slice the kimbap into 1 inch pieces. If you find that the knife gets stuck to the rice as you cut, wet the knife to help prevent sticking.
Notes
Spicy tuna kimbap is best eaten on the same day you make it or the next day at the latest. If you have leftovers, keep them in an airtight container and refrigerate them. 

Because the main ingredient is tuna, try to use high-quality tuna. I recommend the brand Dong Wong which you can find at H Mart. 

Short grained rice is essential for this recipe. Also called sushi rice, short grain rice contains more starch and sticks together better. Fluffy long or medium grain rice won't work because they will fall out as you roll and slice your kimbap.
Final Thoughts
There are so many variations of kimbap, but I always find myself being drawn back to this spicy tuna kimbap recipe. Its spicy, savory goodness will make you want to make them again and again.
The plus side of being addicted to this family favorite kimbap is that it is healthy, very easy to make, affordable, and only requires a few ingredients.
I hope you try my Spicy Tuna Kimbap recipe and share it with your family and friends if you love it! Whether you're planning to have it for lunch, dinner, or as a side dish, send me a picture of your own creation!
Pin & save this recipe for later!