Today, I'm sharing my favorite type of kimbap – spicy tuna kimbap! This delicious kimbap is filled with a tuna mixture that's spicy, savory, and creamy. Aside from tasting great, it is also very easy to make!
While there are tons of recipes for spicy tuna kimbap out there, I personally love my recipe because it includes perilla leaves. Perilla leaves are a cross between basil and mint and they add a refreshing bite that perfectly complements the flavor of the spicy tuna.
There are many different kinds of kimbap– there's bulgogi kimbap, egg kimbap, kimchi kimbap, crab meat kimbap, and so much more. You can honestly add whatever you want to a kimbap roll. It's all up to you!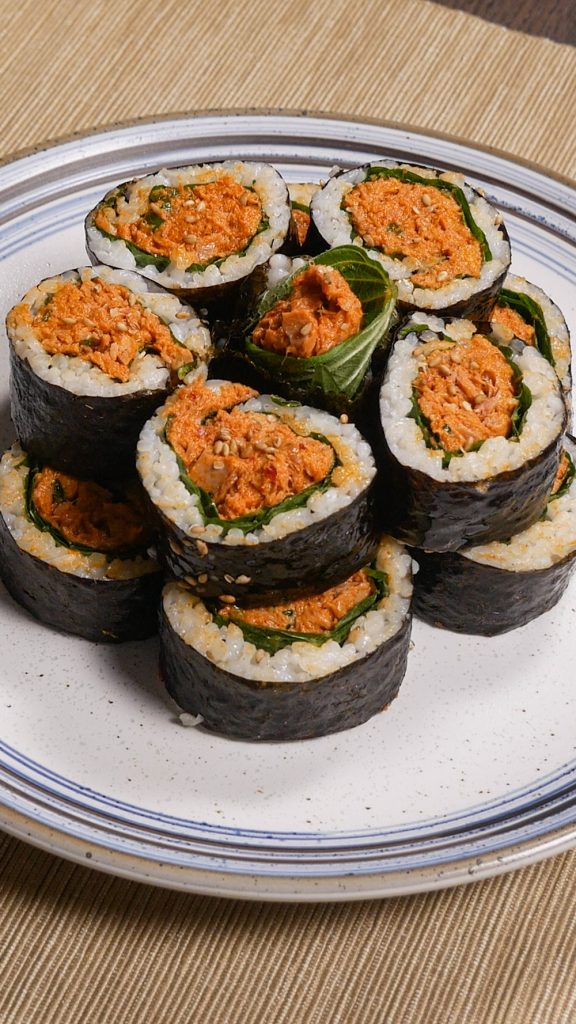 What is Spicy Tuna Kimbap?
Kimbap is a popular Korean dish that you can snack on at any time of the day. It can be served as an appetizer or as a light meal for breakfast, lunch, or dinner. You can also conveniently eat these Korean rice rolls at your work desk or pack them for picnics or long car trips. 
Kimbap is generally filled with different kinds of meat and vegetables, wrapped in crispy roasted seaweed, and then sliced into bite-sized round pieces. Because canned tuna is a common staple pantry item, spicy tuna kimbap is one of the most popular types of kimbap. Canned tuna is not only affordable and super versatile but it is also packed with protein and nutrients. So what's not to like?
There are also different ways you can make spicy tuna kimbap too! Some people like to stuff their spicy tuna kimbap with eggs, carrots, cucumber, and yellow pickled radish (danmuji). Seasoned burdock root or fish cakes are also commonly added for a more complex flavor profile and texture. 
But today, I'm going to share a much simpler recipe that best highlights the spicy tuna filling and in my opinion, is the best way to enjoy it!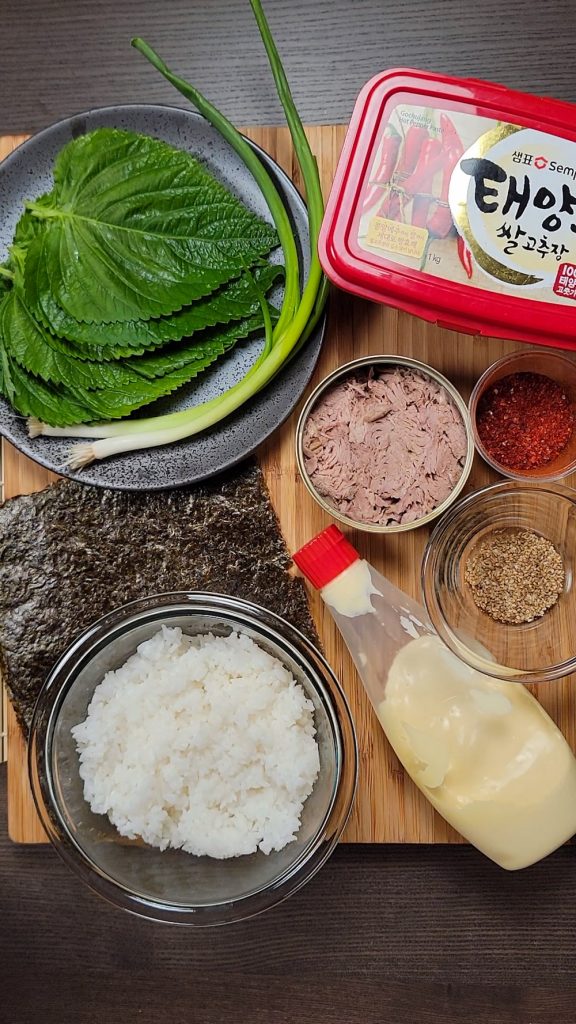 Ingredients & Substituions
Short-grain Rice: the best type of rice to use for this recipe and kimbap, in general, is short-grain rice. Short-grain rice is starchy and sticky when cooked which makes it easy for the rice to hold its shape when rolling the kimbap. You could also use medium-grain rice however, I don't recommend using any type of long-grain rice.
Canned Tuna: canned tuna is the star of the show so I highly recommend using the highest quality canned tuna or from a brand that you like. I personally think the Korean canned tuna by DongWon is superior to American canned tuna. It's more flavorful and it's the only tuna my family eats in my home.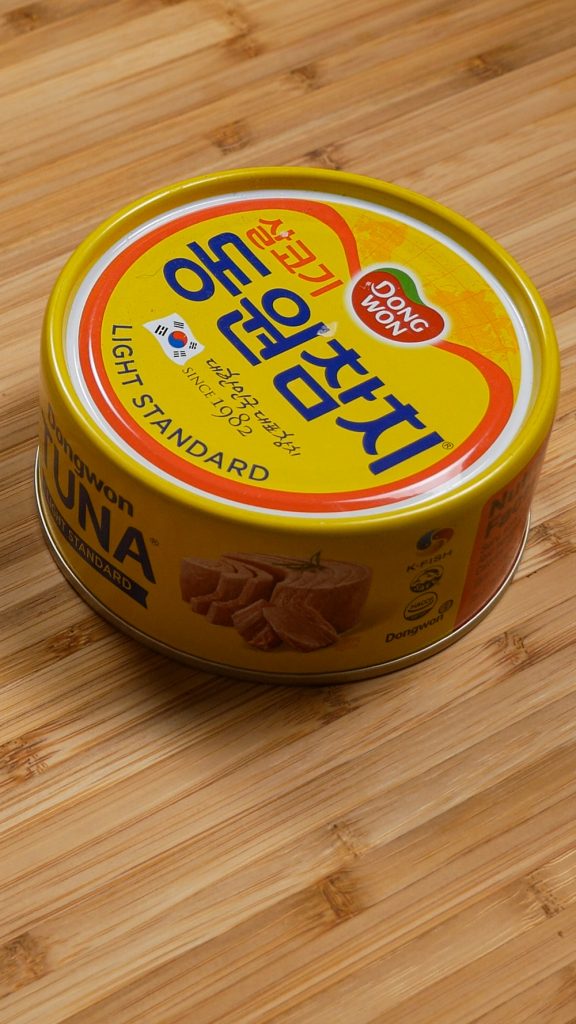 Roasted Seaweed: roasted seaweed is the vehicle that holds the kimbap together. Don't get this confused with salted roasted seaweed. The right roasted seaweed for kimbap isn't salted or oily.
Perilla Leaves: perilla leaves or 'kaetnip' add a refreshing bite that perfectly complements the flavor of the spicy tuna. It's a cross between basil and mint and is unique in its own way. I don't think this kimbap is the same without perilla leaves so definitely use it if you can! While the flavor profiles are completely different, you can substitute perilla leaves for red-leaf lettuce.
Scallions (Green Onions): scallions or green onions add freshness and texture to the tuna mixture. You could substitute it with onion or omit it completely.
Mayo: the mayo helps bind all the ingredients in the tuna mixture. It also adds creaminess and moisture so the tuna mixture isn't dry. I prefer using Kewpie mayo, which is a Japanese mayo. It's richer and slighter sweeter than regular mayo. Kewpie mayo can also be substituted with regular mayo.
Gochujang: gochujang is a Korean red pepper paste that's slightly sweet, spicy, and smoky. It's an essential ingredient that can't be replicated so there are no substitutions. Just a quick tip – when purchasing gochujang, be sure to double-check the labels for the spice level. They're usually sold as mild, hot, and very hot. Mild and hot are ideal for this recipe because very hot is very SPICY!
Gochugaru: gochugaru is a Korean red chili flake. Similar to gochujang, gochugaru also adds a subtle sweetness, spiciness, and smokiness to the tuna mixture. If you wanted to substitute gochugaru, you could use cayenne pepper or smoked paprika.
Sesame Oil: the toasted sesame oil helps round out the spiciness, savoriness, and sweetness in this kimbap. It also adds a beautiful nutty taste and aroma. While there are no substitutions for sesame oil, you could omit it if you'd like.
Roasted Sesame Seeds: the roasted sesame seeds add some crunch and nuttiness to the tuna mixture. There are no substitutions for sesame seeds and they can be left out if you prefer.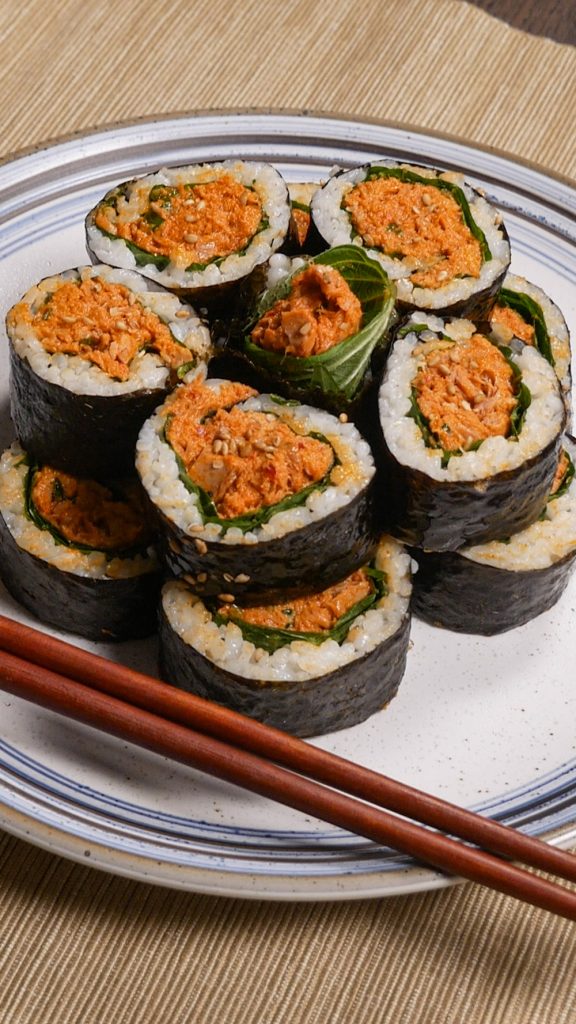 How to Make Spicy Tuna Kimbap
Making Spicy Tuna Kimbap is very easy and only takes less than an hour. If you haven't made a kimbap recipe before, follow the step-by-step instructions below. From preparing the seasoned rice and spicy tuna filling to rolling the kimbap, I will guide you every step of the way!
Step 1: Prepare the perilla leaves.
The first step is to prepare all the ingredients. Start by washing the perilla leaves. Pat them dry then set them aside. Perilla leaves taste so good with tuna because of their earthy, herby freshness. I highly recommend including the perilla leaves in this kimbap!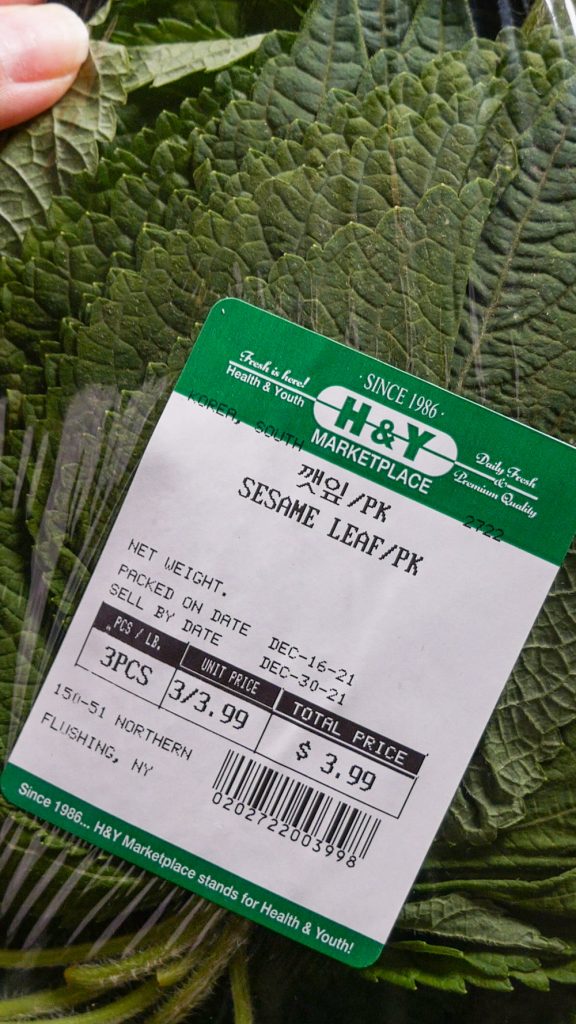 Step 2: Season your rice.
If you haven't already made your rice, go ahead and make it now while you prepare the rest of the ingredients. I recommend making the rice in advance so it's ready when you assemble it!
Place the cooked rice in a medium mixing bowl. To season the rice, you'll only need sesame oil, sesame seeds, and salt.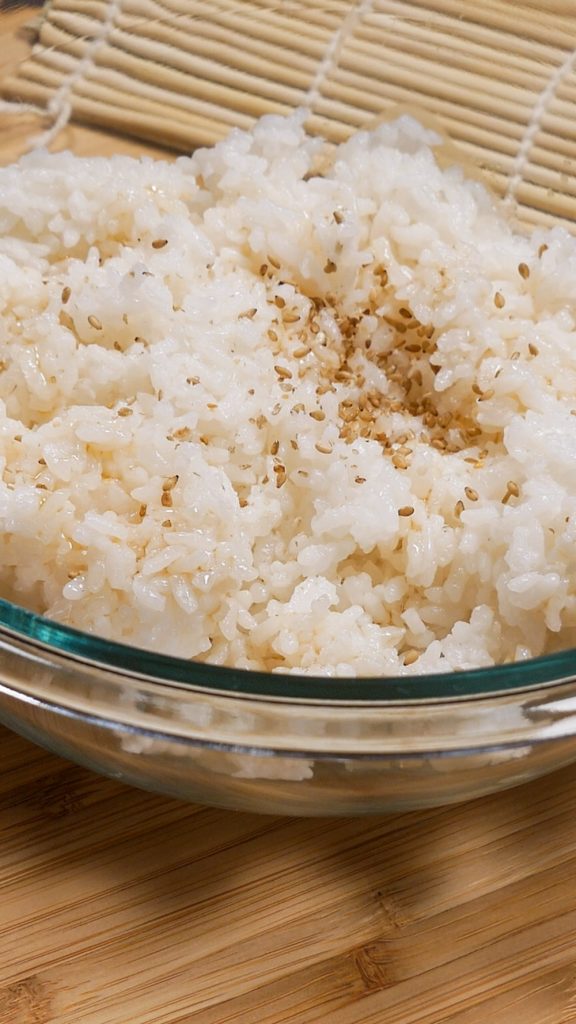 Mix thoroughly so it evenly coats the rice. Set the seasoned rice aside to cool before assembling your kimbap.
Step 3: Make the spicy tuna filling.
To make the filling, begin by draining the can of tuna completely. Next, transfer the drained tuna into a small mixing bowl. Chop the scallions finely and add them to the tuna.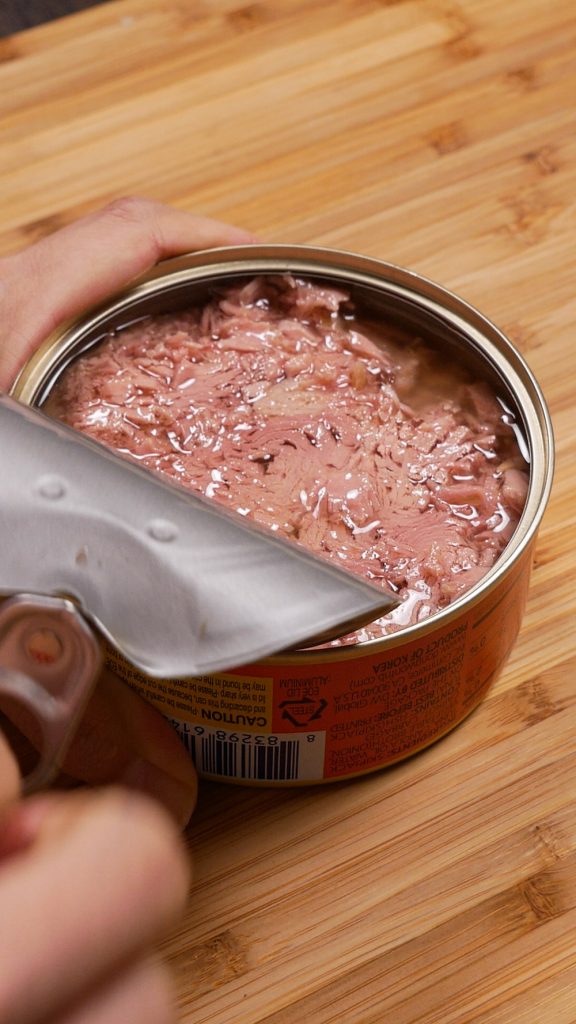 Next, add the gochugaru, gochujang, mayo, sesame oil, and sesame seeds. Mix everything together until well combined.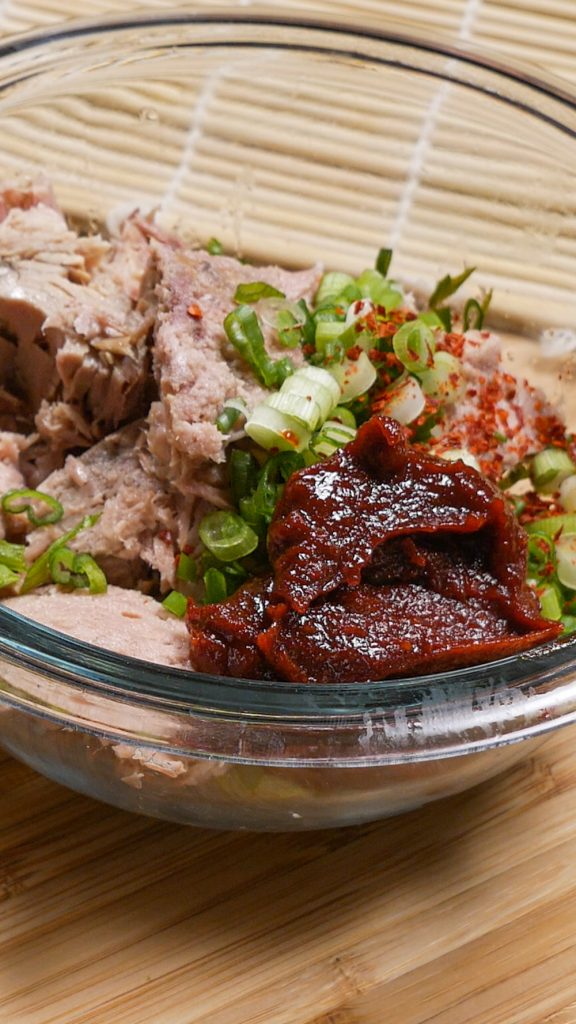 Step 4. Roll your spicy tuna kimbap.
Now that your seasoned rice and spicy tuna filling are ready, it's time to roll the kimbap!
Start by placing a sheet of roasted seaweed on a bamboo rolling mat. Place the rigid side facing up and the smooth side facing down. Take ¾ cup to 1 cup of cooked rice and spread them evenly on top of the seaweed using the rice paddle. Make sure to leave about one inch of space at the top of the seaweed.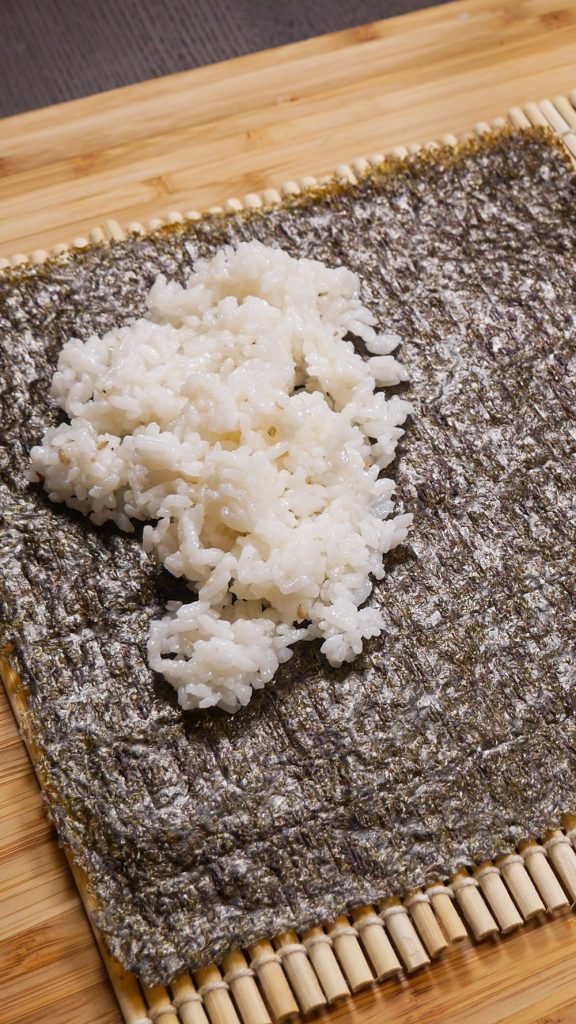 Next, take four perilla leaves and place them in the center of the rice from the left to the right side. Overlap the perilla leaves so that they can all fit. Add some of the spicy tuna filling right on top of the perilla leaves, making sure there's an even amount across.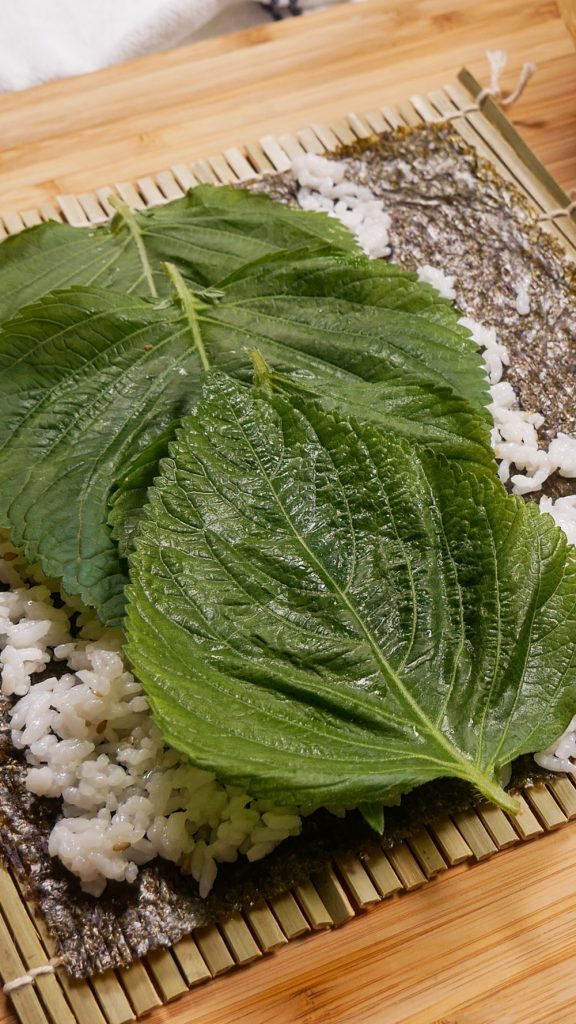 Once all the ingredients are layered, you can start rolling the kimbap by lifting the bamboo mat from the bottom and rolling it over while tucking it in to cover the filling. Make sure to hold the ingredients tightly with your hands and tuck everything with a bit of pressure to form a log shape. Roll all the way to the top, ensuring everything is tightly kept in place.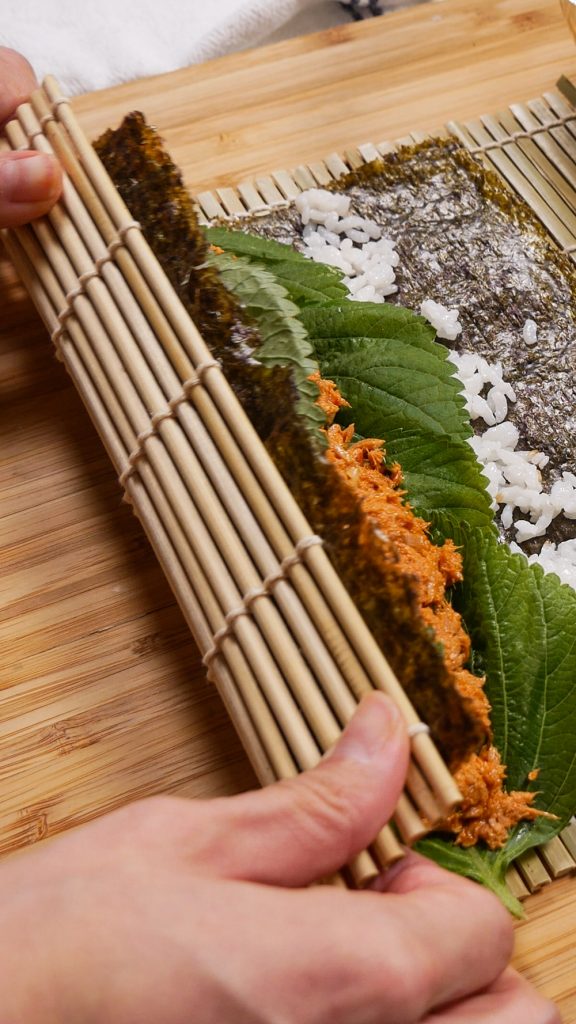 Step 5: Slice your kimbap and serve.
Brush a thin layer of sesame oil on top of the kimbap. Then using a sharp knife, slice your kimbap into bite-sized 1 inch pieces.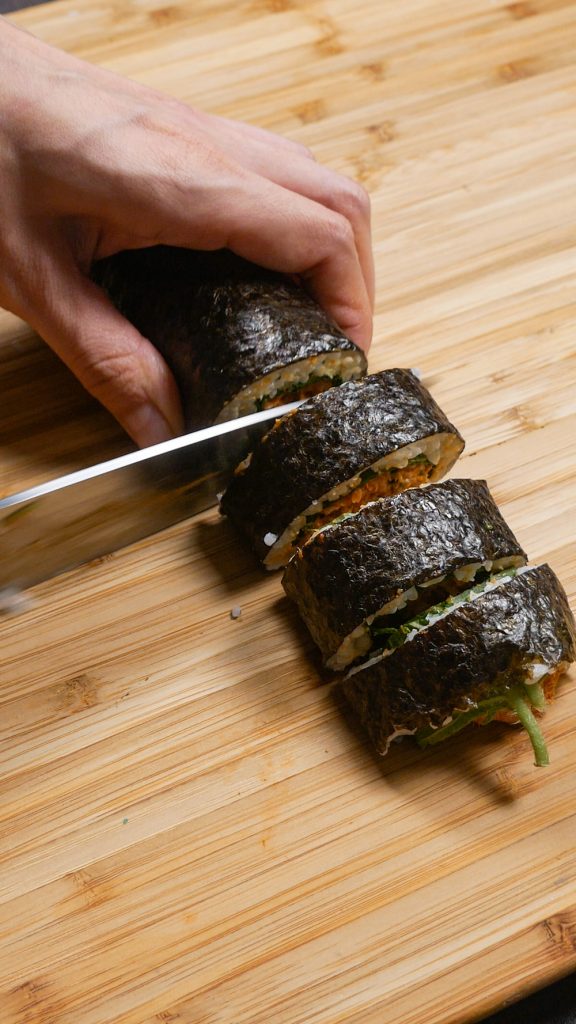 Once done, serve and enjoy!
Frequently Asked Questions
What is the difference between sushi and kimbap?
Sushi is a Japanese dish that is usually made with short-grain rice filled with raw fish or seafood, tempura seafood, and/or assorted vegetables. Traditionally, sushi rice is seasoned with rice vinegar, making it slightly sweet and tangy. Sushi is also commonly served with a side of soy sauce and/or wasabi.
Kimbap on the other hand is a Korean dish that's made with short-grain rice fillled with cooked protein (like bulgogi or marinated squid), spam, imitation crab, eggs, and/or vegetables. Unlike sushi, kimbap does not contain any raw fish or seafood. Kimbap rice is also seasoned with salt, sesame oil, and sesame seeds, which adds a rich and nutty flavor to the dish. Kimbap is also commonly served with a side of sliced yellow pickled radish or 'danmuji'.
Is kimbap healthy?
Yes, kimbap is a relatively healthy dish! Generally speaking, it covers all the major food groups, so kimbap can be a well-balanced meal. Depending on the type of filling, some kimbap's are healthier than others. For example, a spicy tuna kimbap is definitely healthier than a deep-fried tempura shrimp kimbap because of the greasiness that comes with fried foods.
Is kimbap eaten hot or cold?
Kimbap is usually eaten at room temperature when it's freshly made. When refrigerated for an extended period of time, the rice in the kimbap will turn hard and dry, making it quite unpleasant to eat. Kimbap is generally never served hot unless it is reheated.
Can you store leftover kimbap?
Yes! If you have any leftover kimbap or you're simply making them in advance for the next day, you can store the kimbap in an airtight container in the refrigerator. Since kimbap is usually filled with protein, it has to be refrigerated so it doesn't spoil. As mentioned above, just remember that the rice will turn hard and dry the longer it's refrigerated.
How do you eat leftover kimbap?
There are a few different ways you can eat leftover kimbap. Since the rice will be hard and dry from refrigeration, you can either take it out of the fridge and let it come to room temperature before eating or you can microwave the kimbap in 30-second intervals to slightly warm it up. Alternatively, you can coat the kimbap slices with a whisked egg then pan fry it on both sides until warmed all the way through.
Final Thoughts
There are so many variations of kimbap, but I always find myself coming back to this spicy tuna kimbap recipe. Its spicy and savory flavors will make you want to eat them over and over again!
The plus side of my family's favorite kimbap recipe is that it is healthy, easy to make, affordable, and requires only a few ingredients.
I hope you try my Spicy Tuna Kimbap recipe and share it with your family and friends! Whether you're planning to have it for breakfast, lunch, dinner, or as a side dish, let me know how it turns out! 🙂
Looking for more easy and delicious Korean-inspired recipes? Check these out below!
1. Korean steamed eggs – or 'gyeran jjim' is a classic Korean side dish and generally go well with everything! It's fluffy, light, and healthy.
2. Spicy Seafood Noodle Soup – for a spicy and refreshing meal, check out my spicy seafood noodle soup! It's a thick broth made with mussels and it adheres to the noodles, making each bite deliciously flavorful. 
3. Kimchi Seafood Pancake – if you're looking for something that's also easy to prepare but is just as delicious, give this kimchi seafood pancake recipe a try! It's packed with seafood and pairs perfectly with the kimchi.
4. Jjajangmyeon Black Bean Noodles – this is a rich noodle dish served with a hearty black bean sauce. The noodles are chewy and bouncy and the sauce is incredibly addicting!
5. Korean Potato Stew (Gamja Jjageuli) – this is a spicy, hearty Korean potato stew and the perfect hearty dish to make for quick and easy meals. Only a few ingredients are needed and it's very easy to prepare!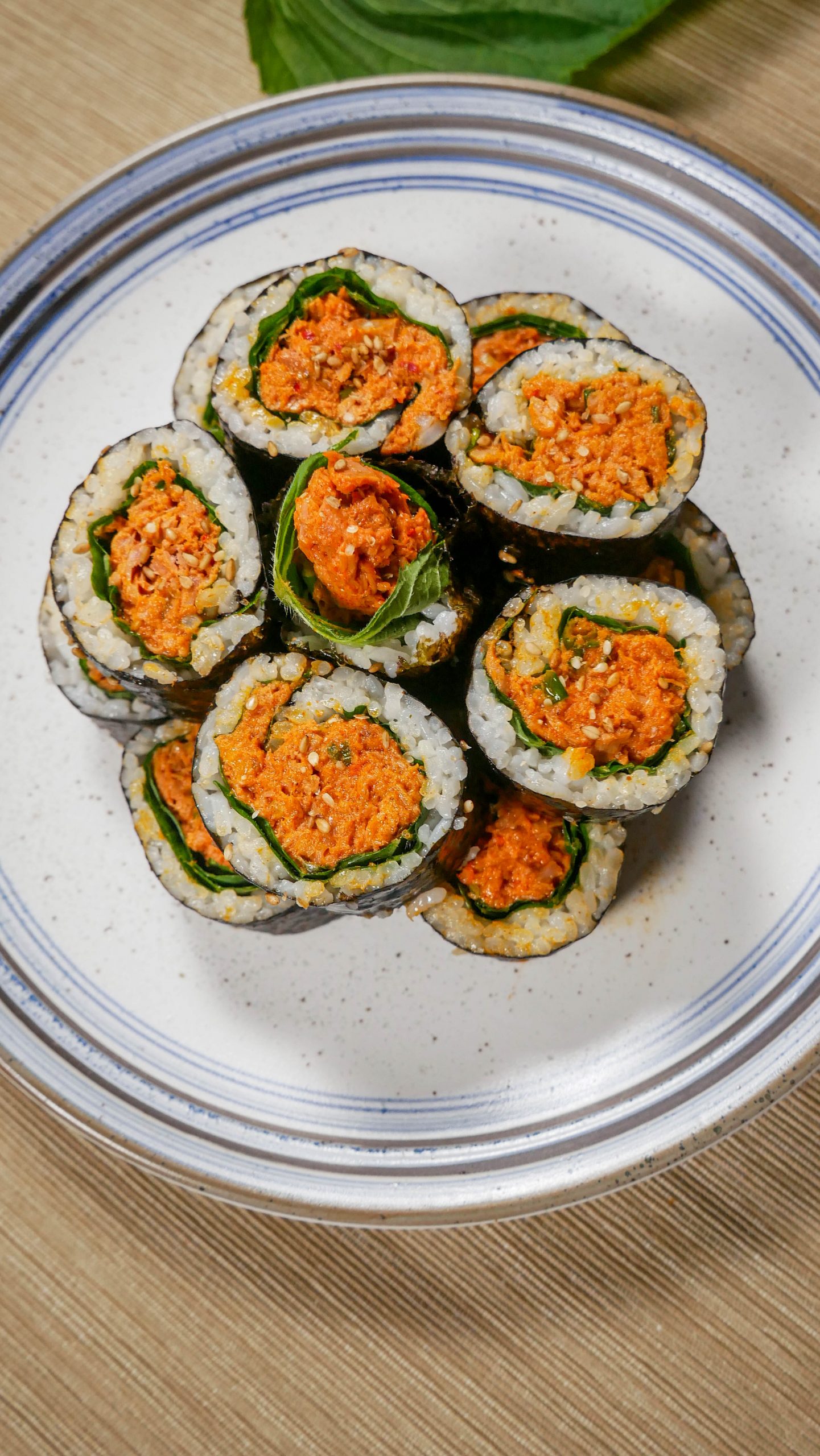 Easy Korean Spicy Tuna Kimbap
Ingredients
4

sheets of

roasted seaweed

16

perilla leaves
Rice Seasoning
3

cups

cooked rice

short-grain or medium-grain

1

tbsp

sesame oil

1/2

tbsp

roasted sesame seeds

1/4

tsp

salt
Spicy Tuna
1

can

tuna

2

scallions

chopped

2

tbsp

mayo

preferably Kewpie brand

1

tbsp

gochujang

Korean red pepper paste

1

tbsp

gochugaru

Korean red pepper flakes

1

tbsp

sesame oil

1/2

tbsp

roasted sesame seeds
Instructions
Wash the perilla leaves. Pat dry and set aside.

In a medium bowl, add cooked rice and season it with sesame oil, sesame seeds, and salt. Mix until thoroughly combined. Set aside to allow the rice to cool before assembling the kimbap.

Drain a can of tuna completely. In a small mixing bowl, combine the tuna with scallions, gochugaru, gochujang, sesame oil, kewpie mayo, sesame seeds, Mix will until combined.

Place a sheet of roated seaweed on a bamboo rolling mat. Place 3/4 to 1 cup of rice on top of the seaweed then evenly spread it onto the seaweed. Be sure to leave about inches of space at the top.

Layer on the perilla leaves (about 4 for each kimbap) in the center of the rice. Add the spicy tuna filling on top, making sure there's an even amount across the seaweed.

Lift the bamboo mat from the bottom and roll it over to cover the filling. Make sure to tuck everything tightly and apply a little pressure as you roll to form a log shape. This will keep everything in place and prevent the kimbap from falling apart.

Brush the kimbap with sesame oil then slice the kimbap into 1 inch pieces. If you find that the knife gets stuck to the rice as you cut, wet the knife to help prevent sticking.
Notes
Spicy tuna kimbap is best eaten on the same day you make it or the next day at the latest. If you have leftovers, keep them in an airtight container in the refrigerator. 

Because the main ingredient is tuna, you want to use high-quality tuna. I recommend the brand Dong Wong which you can find at H Mart or online. 

Short-grained rice is essential for this recipe. Also called sushi rice, short-grain rice contains more starch and sticks together better. You could also use medium-grain rice however, long-grain rice will not work for this. 
Pin & save this recipe for later!