These honey glazed walnuts are the best snack to have around! They're light, crisp and extra crunchy. Enjoy them on top of yogurt, in a shake, in savory dishes like my Honey Walnut Shrimp recipe, or as is!
The secret to making them extra light and crisp is boiling them first. It also helps remove the bitterness that is naturally found on raw walnuts.
I like to make a big batch of these because they're usually gone quick and I guarantee yours will too!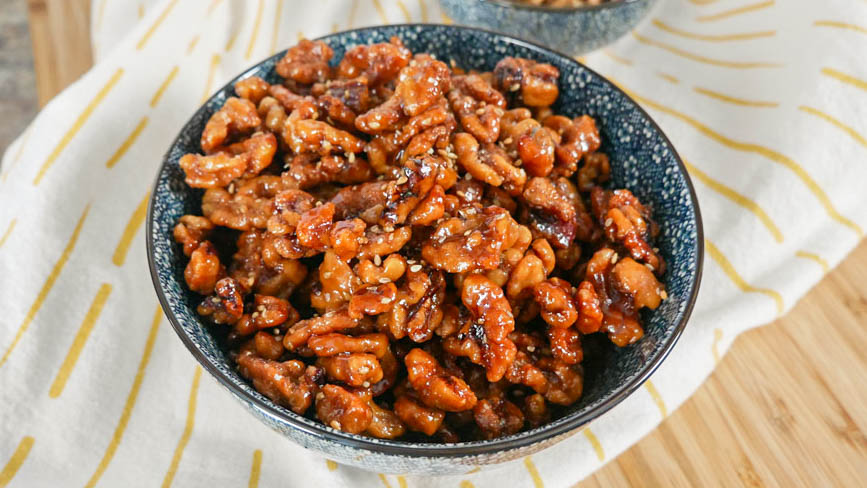 Honey Glazed Walnuts
Ingredients
2 1/2

cups

walnuts

halves

1

tsp

salt

3/4

cup

sugar

2

tbsp

honey

2

tbsp

sesame seeds

pinch

of flakey salt

neutral oil

for frying
Instructions
Bring a pot of water to boil over medium high heat. Add the walnuts and boil for 5 minutes. Strain and rinse with cold water twice. Drain and set aside.

In a pot or deep pan, add the walnuts and sugar. Mix well until evenly coated. Cook until there is a thick shiny coating of sugar on the walnuts. There should be very little liquid remaining in the pot.

Remove from heat and place the walnuts on a lined sheet pan to cool.

In a deep pot, heat the frying oil to 350 degrees F. Fry the walnuts for 3-4 minutes or until golden brown. Remove and strain completely on a fine mesh sieve.

Heat the water and honey in a small pot on medium low heat. Add the walnuts and stir for 1-2 minutes or until evenly coated. Add sesame seeds on top and transfer to a lined baking sheet.

Sprinkle a bit of fllakey salt on top and allow to cool completely.