These Korean Spicy Whelk Noodles or 'golbaengi muchim' is one of my favorite spring and summer dishes. It's a cold noodle dish that's sweet, spicy, salty, and super refreshing for the warmer months. 
I'm a huge seafood lover so naturally, I'm a sucker for whelks! If you've never had whelks before, they are sea snails! They're briny, sweet, and a bit chewy so they go perfectly with the crisp and crunchy veggies and tender noodles. 
I remember having this at least once a week with my mom when I still lived at home. Whenever I get homesick, I just whip up these noodles and it takes me right back to my childhood home. I'm super happy I get to share this recipe with you – it's a special one so I hope you enjoy it!
Why you'll love this recipe
If you're obsessed with seafood like I am, this simple yet delicious spicy whelk noodle dish is for you! It's spicy, light, and refreshing – just what you need on a warm sunny day. And the best part? It only takes 15 minutes to prepare!
I like using canned whelks for this because they're more accessible and cheaper than fresh ones. You can find canned whelks at any Korean market or most Asian markets. Once you get a hold of the whelks, it's pretty easy and straightforward from here. 
The spicy sauce only requires 6 ingredients and the vegetables used in the salad are easily customizable. I'm using carrots, onions, peppers, and scallions but you can use any kind of raw vegetable you like including zucchini, romaine lettuce, and celery. Once you mix the whelks and vegetables with the spicy sauce, it'll be an explosion of flavors in your mouth. The noodles will help tone down the sauce and fill you up!
As mentioned earlier, if you can't get a hold of whelks, you can also substitute them with clams, squid, oysters, scallops, or squid! 
How do I prepare Spicy Whelk Noodles?
These spicy whelk noodles are very easy to make with minimal cooking required. The only thing that requires cooking is the noodles so everything will come together relatively quickly. To get started on this recipe, follow the steps below:
Step 1: Prepare the whelks
Drain and rinse a can of whelks. Next, cut them in half or into bite-sized chunks and transfer them to a bowl.
Step 2: Prepare the vegetables
Thinly slice the cucumber, carrot, and onion. Chop the peppers and scallions. Add everything into the same bowl as the whelks.
Step 3: Make the sauce
For the sauce, combine gochugaru, gochujang, sugar, vinegar, sesame oil, and minced garlic. Stir to mix well then set aside. 
Step 4: Cook the noodles
Bring a pot of water to a boil over medium-high heat. Next, add the noodles and cook according to the package instructions. When the noodles are done, drain the water and rinse the noodles with cold water.
Step 5: Plate and serve
Transfer the noodles to a plate and serve with a generous amount of sauce. You can also watch the video below to see how I plate my noodles. Enjoy!
Cooking tips for Spicy Whelk Noodles
Making these spicy whelk noodles isn't a complex process but to help you prepare the best version of this dish, here are a few tips to keep in mind:
Don't forget to rinse the noodles after cooking. This will stop the residual heat from overcooking them. Rinsing will also prevent the noodles from sticking to each other. 
Feel free to adjust the green chili peppers and gochugaru in the recipe. If you prefer a milder dish, just reduce these two ingredients. 
When buying gochujang, be sure to double-check the spice levels on the packaging. They are usually sold as mild, hot, and very hot. If you have a low spice tolerance, you definitely want to get the mild one. The very hot is VERY HOT. 
You can also sprinkle some sesame seeds on top for more sesame flavor and visual appeal!
Ingredient Substitutions
Whelks: since whelks are the star of this dish so I don't recommend substituting this ingredient. However, if you can't find whelks, you can substitute them with clams, squid, oysters, scallops, or squid. 
Cucumber: the cucumbers add a nice refreshing crunch to the noodles, but you can also replace them with fresh zucchini. 
Long green pepper: for some extra heat, I like adding long green peppers to the salad. But you can also substitute it with jalapeno peppers, serrano peppers, or even Thai chili peppers.
Somyeon noodles: thin somyeon noodles are perfect for this recipe, but you can also substitute them with soba noodles or buckwheat noodles.
Gochugaru: gochugaru adds subtle smokiness, spiciness, and sweetness to the noodles. The flavor of this spice is unique and can't be substituted. 
Gochujang: the base of the sauce starts with gochujang. It's sweet and spicy and cannot be substituted with any other ingredient. Just a quick reminder – when purchasing gochujang, be sure to double-check the labels for the spice level. They're usually sold as mild, hot, and very hot. Mild and hot are ideal for this recipe because very hot is very FREAKING SPICY! lol
Frequently Asked Questions
What are whelks?
If you've stumbled upon this recipe and still have no idea what whelks are, they're a type of sea snail that can be found all over the world. Fresh whelks usually come with a tan spiral shell, and they can range in size from 2 to 10 inches long. When properly cooked, whelks have a tender and chewy texture with a briny and sweet flavor. I prefer to use canned whelks for this recipe due to their convenience, accessibility, and cost. If you're lucky enough to get them fresh, that would be better (and I would be totally jealous of you lol)! Whether you get them canned or fresh, this dish will still taste just as delicious!
What are somyeon noodles made of?
Somyeon noodles are thin and white noodles that are made from wheat flour and salt. It's made by stretching the dough with vegetable oil until it lengthens into its delicate form. The noodles are then placed on a stretching tool to air dry before they're packed and sealed. Somyeon noodles can be used for making hot or cold dishes, like this spicy whelk noodle recipe! You can find them in your local Asian market or online. Once you have them, make sure they're sealed tightly and stored in a cool dry place so stay fresh for longer. 
Gochujang vs gochugaru
Gochujang (Korean chili paste) and gochugaru (Korean chili flakes) are both commonly used in a variety of Korean dishes. It's the foundation of Korean cuisine and if you cook Korean food frequently, you'll know how often these two ingredients are used. Both gochujang and gochugaru are made from the same chili pepper however, gochugaru comes in the form of ground chili pepper flakes, while gochujang comes as a sticky paste. Gochujang also usually contains fermented soybeans, glutinous rice, barley, gochugaru, malt powder, and salt. The addition of fermented soybeans gives gochujang an added umami and salty flavor, making it a great base for sauces in many Korean dishes – like this one!
Can you serve these whelk noodles hot?
To be honest, I don't see why you can't serve these noodles hot! This dish is traditionally served cold, which I really enjoy. But I think it's a matter of preference.
If you wanted to enjoy these noodles hot, here's how you can do it. After you cook the noodles, strain them immediately and transfer them to a serving bowl. Be sure NOT to wash the noodles under cold water since we want them hot. Add the vegetables on top of the noodles. 
Next, heat a pan over medium heat then add the sauce and whelks. Be sure to stir the whelks so they're coating in the sauce. Once the sauce begins to simmer, pour it over the noodles. Mix and enjoy!
Can you store Spicy Whelk Noodles?
Since this dish is already served cold, it can store well in the fridge however, I don't recommend saving any leftover noodles. They will turn soft and mushy. The whelks and the sauce itself can be stored in an airtight container for up to 4 days in the fridge. Once you're ready to eat them again, just make yourself a fresh batch of noodles and mix it with the sauce!
Looking for more easy and delicious noodle recipes? Check these out below!
1. Gochujang Pasta – gochujang is so versatile that it even works as a pasta sauce! The roasted tomato and gochujang combo is unique and delicious. If you're looking for a new way to enjoy pasta, give this a try!
2. Spicy Seafood Noodle Soup – if you're looking for something spicy and refreshing, give this spicy seafood noodle soup a try! It's packed with mussels meat and the thick broth adheres to the noodles, making each bite incredibly flavorful. 
3. Chili Oil Ramen – looking for a quick, easy, and delicious meal? This chili oil ramen is the one! By combining the ramen powder with a few everyday ingredients, you can create something magically delicious!
4. Jjajangmyeon Black Bean Noodles – this noodle dish needs no introduction. The rich and hearty black bean sauce with chewy and bouncy noodles is such a great combo!
5. Taiwanese Sesame Noodles – these sesame noodles are one of those quick 10-minute meals that you can make any day of the week. The combination of salty, sweet, and creamy makes this a delectable meal!
6. Easy Chili Oil Noodles – if you want to make something that's simple, easy, and most importantly tasty, these delicious garlicky chili oil noodles will hit the spot every time. All you need are a few simple everyday ingredients and 10 minutes!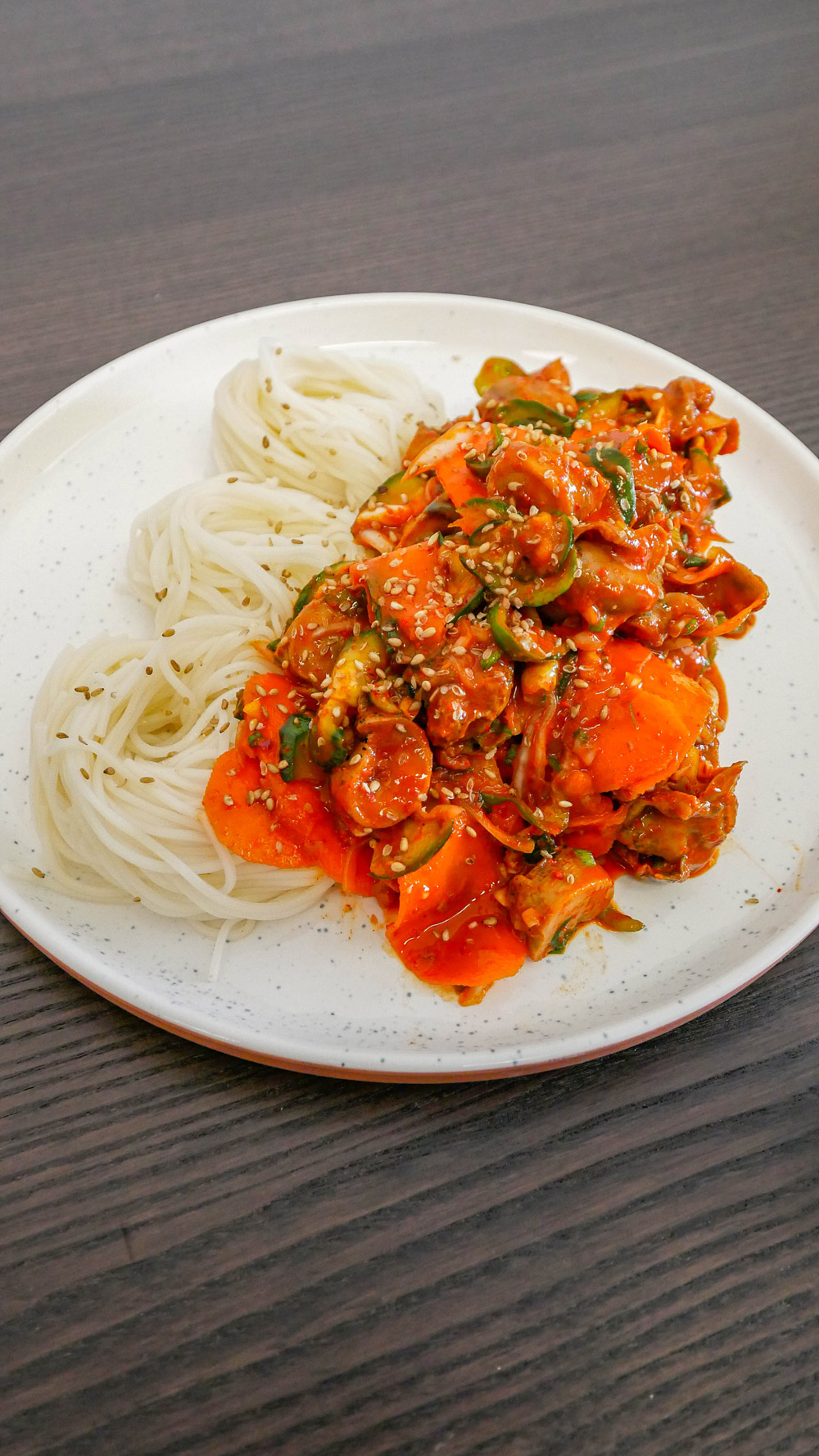 Spicy Whelk Noodles (Golbaengi Muchim)
Ingredients
1

can

of whelks (sea snails)

4

oz

somyeon noodles

thin wheat noodles

1

Persian cucumber

thinly sliced

1/2

cup

carrot

thinly sliced

1/2

medium

onion

thinly sliced

1

long

green chili pepper

chopped

2

scallions

chopped
Sauce
2

tbsp

gochugaru

Korean red pepper flakes

3

tbsp

gochujang

Korean red pepper paste

1

tbsp

sugar

more to taste

2 1/2

tbsp

vinegar

more to taste

1

tbsp

toasted sesame oil

2

cloves

garlic

minced
Instructions
Drain and rinse a can of whelks. Cut into chunks and transfer to a bowl.

In the same bowl with the whelks, add cucumber, carrot, onion, pepper, and scallions.

To make the sauce, combine gochugaru, gochujang, sugar, vinegar, sesame oil, and minced garlic. Stir and mix well.

Bring a pot of water to boil over medium high heat. Add the noodles and cook according to the package instructions.

When the noodles are done, drain and rinse in cold water.
Pin & save this recipe for later!