Snow pea shoots (also known as snow pea leaves or snow pea tips) are a family favorite vegetable in my home. It's our go-to veggie for a quick stir-fry, hot pot, or even ramen because it's so good and simple to cook!
This recipe may have basic flavors, but I wouldn't take its simplicity for granted because it makes a great side dish for most main courses. When cooked right, pea shoots can add a light and refreshing addition to any meal. Plus, it will only take you a few simple ingredients to make this easy and healthy vegetable dish.
Why you'll love this recipe
I must say, the flavor profile of this pea shoots recipe may not be as complex as other dishes, but sometimes you don't need to add a ton of ingredients to make something taste good. Since these leafy greens have a delicate essence, you can also use them as palette cleansers for heavier meals. I love adding lots of sauteed garlic to make this extra flavorful and tasty!
Aside from its minimal ingredients, this recipe will only take you around 15 minutes to make so it's a perfect dish to make when you want something quick, easy, and convenient. 
For a vegetarian meal, you can pair these delightful pea shoots with a bowl of steaming rice and tofu or beans for protein. If you're craving a more filling meal, you can also pair it with any protein of your choice. Some of my favorite main protein dishes to pair these pea shoots with include my Three Cups Chicken or Honey Walnut Shrimp recipes. 
I'll have more recommended recipes listed below but in the meantime, let's get started on this recipe! I promise you won't be disappointed 🙂
How do I prepare Pea Shoots with Garlic?
The simplicity of the ingredients and steps makes this the perfect side dish to enjoy with your meal. To get started, follow these simple steps below:
Step 1: Clean the pea shoots
Wash and drain the pea shoots 3 to 4 times to remove any dirt and sand. Drain them well in a colander and set them aside.
Step 2: Cook the pea shoots
In a wok or large pan, preheat the oil over medium-high heat. Once it's hot, add the minced garlic and sauté for 30 seconds or until they're aromatic and slightly toasted. Next, toss in the pea shoots.
Using two spatulas or chopsticks, flip and mix the pea shoots continuously so they cook evenly until they're wilted. Season with salt and white pepper.
Step 3: Serve!
Before taking the pea shoots out of the heat, take a bite to taste, and adjust the seasonings according to your preference. Once you're happy with how it tastes, transfer them to a plate and serve immediately. Enjoy!
Cooking tips for Pea Shoots with Garlic
With its minimal ingredients and steps, anyone can make this recipe. But if you want some tips on how to make them perfectly every time, here are a few to keep in mind:
Pea shoots cook relatively quickly so be sure to keep an eye on them to prevent them from overcooking. Overcooked pea shoots can become tough. 
Pea shoots should generally be cooked the same day they're purchased. While they can be stored for up to 3 days in the fridge before spoiling, I recommend using them as soon as you can. The longer they sit in the fridge the more wilted their leaves will get. 
Some pea shoots may have a touch and chewy stem, making them unpleasant to eat. While this is optional, you can break off the hard stems while you're washing the pea shoots. You can feel them with your fingers when they just bend instead of breaking off easily. It's tedious work but it will make a big difference once you're eating them!
Feel free to add more garlic to make it extra garlicky! Sometimes I like to add 2 to 3 more cloves, depending on how I'm feeling. 
Ingredient substitutions
Snow pea shoots: snow pea shoots are perfect for this recipe because they cook quickly and are very nutritious. But if you can't find any, you can also replace it with any leafy greens of your choice, like spinach, watercress, arugula, or water spinach.
White pepper powder: white pepper powder adds a mild spiciness to the dish, but black pepper powder can work too.
Oil: you can use any neutral oil with a high smoke point including:
Frequently Asked Questions
Are pea shoots the same as pea sprouts?
Pea shoots and pea sprouts come from the same plant, however, they are vastly different in how they're grown.  Pea sprouts are grown in water and are the first stages of the life cycle of a pea plant. They're often harvested after a few days when the tips begin to grow. Pea shoots are harvested when a pea plant is in its early stages, usually when its true leaves grow out and they're only a few inches tall. Pea sprouts are also edible, but I prefer to use pea shoots for this recipe since they contain more leafy greens. 
What do pea shoots taste like?
If you've never tried pea shoots before, they have a subtly sweet and earthy flavor and crisp texture. The great thing about pea shoots is that every part is edible, including the stems, and twisting tendrils! Pea shoots are also good to eat raw in salads along with other vegetables. But in Chinese cuisine, they're often stir-fried with garlic to build their flavors – just like this recipe!
Where can you buy pea shoots?
You can buy pea shoots at most Asian markets. If you're lucky, you might even find some at the farmer's market when they're in season. But if you can't find pea shoots at any local store, you may also be able to buy them online. If you don't plan on cooking the pea shoots immediately, remember to store them in a sealed plastic bag in the fridge for up to 3 days.
Can you store Pea Shoots with Garlic?
Yes, you can store this dish in an airtight container in the fridge. Although the pea shoots will taste best when newly cooked, they will stay good for a few days. If you need to reheat the dish, place the pea shoots in a pan over medium heat until they turn warm. Remember to stir them occasionally to heat them evenly. Alternatively, you can reheat them in the microwave!
What other dishes will go well with Pea Shoots with Garlic?
Once you get a bite of this light and refreshing dish, you'll be inspired to add this to your weekly rotation of vegetable side dishes. If you're stumped on what main courses to pair the pea shoots with, I recommend checking out these recipes:
1. Fried Chicken – before you get too excited about gorging on some fried chicken, don't forget to add a portion of your veggies with this recipe. If you want some inspiration, you can try my Taiwanese Fried Chicken or Honey Butter Fried Chicken recipes. 
2. Tofu – if you want to keep your meal vegetarian, you can add some protein by pairing the pea shoots with either of my Air Fryer Salt and Pepper Tofu or Impossible Mapo Tofu recipes!
3. Noodles – if you're craving some noodles, Taiwanese Sesame Noodles or Shrimp Pan Fried Noodles recipes would be great for these veggies!
4. Fried rice – a bowl of fried rice is already a meal on its own, but to make it a well-rounded meal, why not add a serving of pea shoots on the side? If you like, you can try my Lap Cheong Fried Rice or Pineapple Fried Rice recipes.
5. Rice Bowls – if you're up for a rice bowl, try making my Beef Gyudon or Japanese Chicken Rice Bowl recipes and pair it with this pea shoots side dish. I promise you'll be thinking about this meal for the rest of the week!  
6. Pork barbecue – if you feel like dining like a king (or queen!) but with minimal effort, try making my Air Fryer Char Siu recipe and pair it with this delightful vegetable side dish.
7. Fish – if you're looking for a main course that's as light as the pea shoots, you can try making my Miso Marinated Cod or Salted Salmon recipes.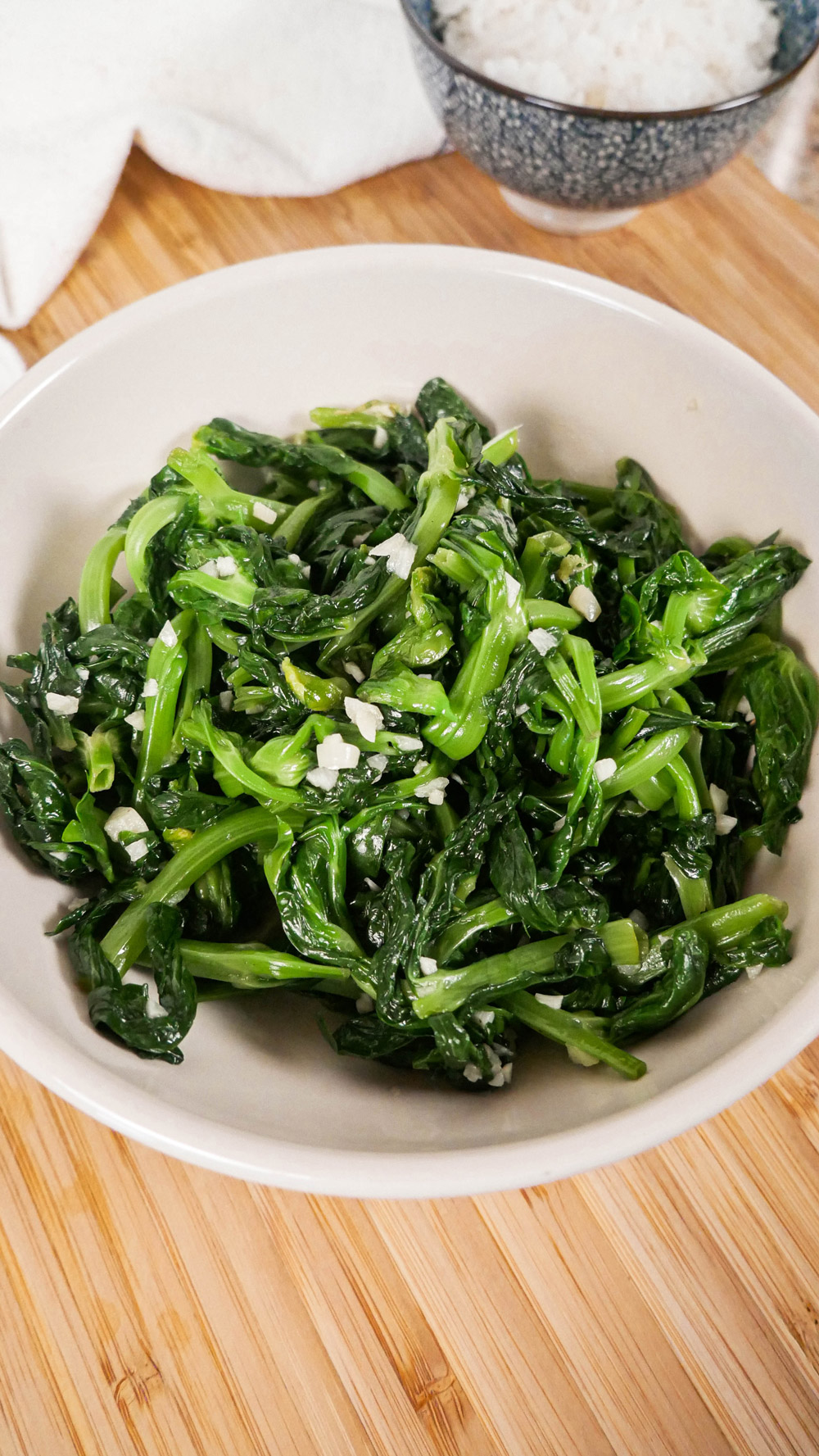 Pea Shoots with Garlic
Ingredients
1

lb

snow pea shoots

also called pea leaves or pea tips

4

tbsp

garlic

minced

1/2

tsp

salt

to taste

1/4

tsp

white pepper powder

3

tbsp

oil
Instructions
Wash and drain the pea shoots 3-4 times to remove dirt and sand. Drain well and set aside.

In a wok or large pan, heat oil over medium high heat. Add the minced garlic and cook for 30 seconds. Toss in the pea shoots.

Using two spatulas or chopsticks, continuously flip and mix the pea shoots so they cook evenly until wilted. Season with salt and white pepper.
Pin & save this recipe for later!