This garlicky cheesy potato pancake is inspired by the viral TikTok potato cheese pancake! If you haven't seen it or tasted it yet, your mind is going to be blown.
While the potato cheese pancake is already delicious on its own, the addition of roasted garlic takes this to the next level. To accentuate the flavors of the roasted garlic, I used not one but TWO garlic bulbs. If you're a garlic lover like me, I highly recommend it!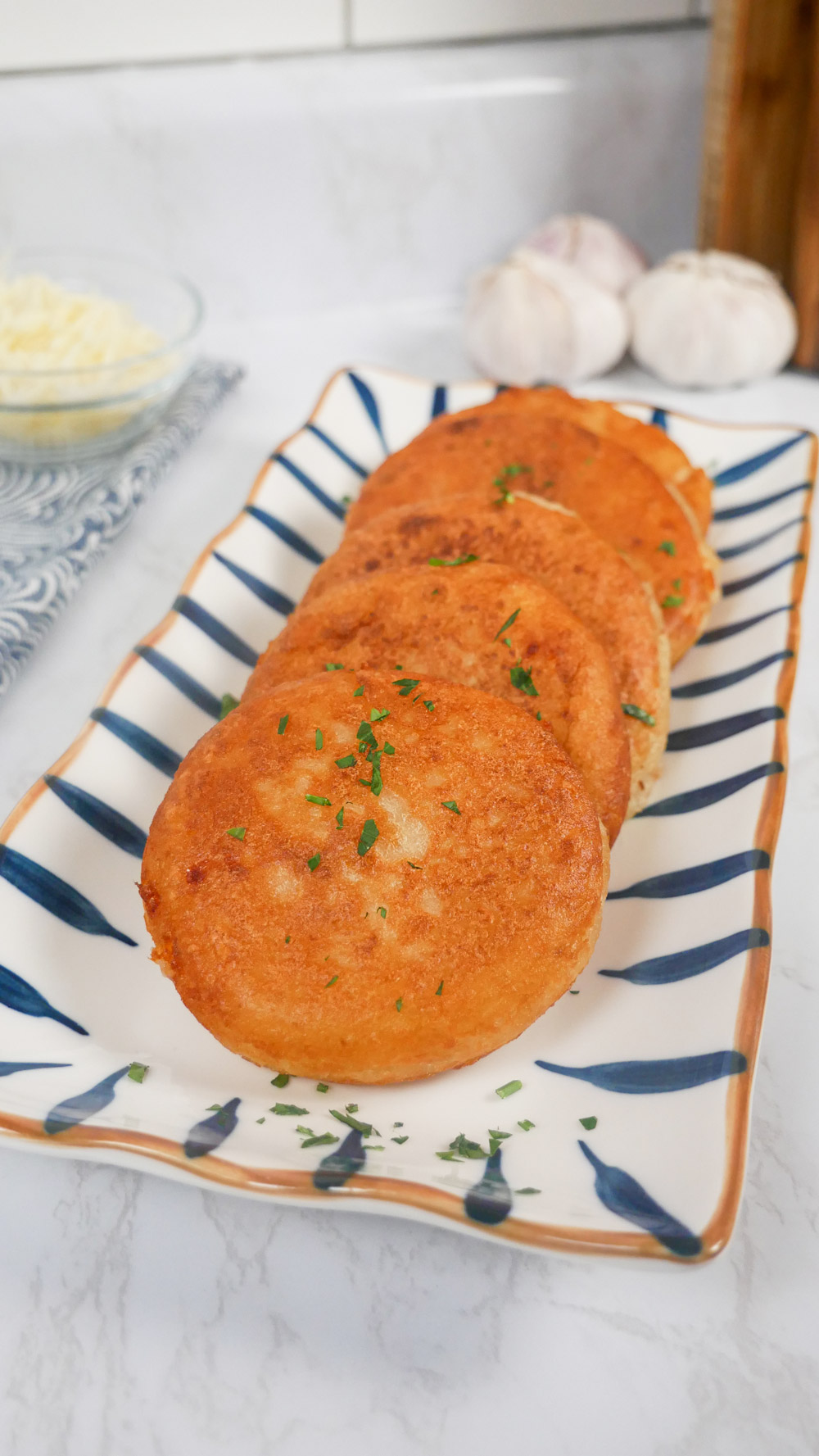 Roasted Garlic Potato Cheese Pancake
Ingredients
2

medium russet potatoes

about 400g

2

whole garlic bulbs

1

tbsp

olive oil

1 1/4

tsp

salt

divided

1/4

cup

cornstarch

or potato starch

1

tsp

granulated sugar

1/2

cup

shredded mozzarella cheese

neutral oil for shallow frying

chopped parsley

for garnish (optional)
Instructions
Preheat the oven to 400F (205C).

Slice 1/2 inch off the top of the garlic bulbs. Transfer each bulb to a separate sheet of aluminum foil. Drizzle each garlic with 1/2 tablespoon and a pinch of salt. Cover and wrap the garlic with aluminum foil. Place in the oven and bake for 45 to 60 minutes.

While the garlic is roasting, peel the potatoes and slice them into chunks. Bring a pot of water to a boil then add 1 teaspoon of salt. Toss in the potatoes and boil for 20 minutes or until chopstick tender.

Strain the potatoes and allow them to slightly cool down so they're easier to handle. Once slightly cooled, run the potatoes through a ricer or mash them up until smooth with a masher.

To the potatoes, add cornstarch, 1 teaspoon of sugar, 1/2 teaspoon salt, and the roasted garlic. Mix until everything is well combined.

Using a weight scale or 1/4 cup measuring cup, divide the potato dough into 5 equal pieces, then shape them into a ball.

Take one ball and flatten it out with your hands while making a small well in the center. Add 1 to 2 tablespoons of shredded mozzarella cheese in the center. Close the seams then roll it into a ball until smooth. Gently press the potato in between the palm of your hands to flatten it and shape the edges into a round disc. Repeat for the remaining potato dough.

In a pan over medium heat, add neutral oil, about 1/4 inch up from the pan. Carefully add the potato pancakes, making sure to leave ample space in between so they don't touch.

Fry for 1 to 2 minutes or until golden brown and crispy. Flip and cook for an additional 1 to 2 minutes until golden brown and crispy. Remove and rest on a wire rack to slightly cool.

Garnish with parsley and serve!