These cheesy breakfast rice papers dumplings are my new favorite snack. If you love breakfast food and crispy dumplings, you have to try this!
I filled these with egg, shredded mozzarella cheese, and oyster mushrooms but you can use any of your favorite breakfast ingredients. For the mushrooms, I brushed it with a smoky glaze to help give it a slight 'bacon' flavor and this turned out to be a great substitute for bacon!!
I always need ketchup when I eat a breakfast sandwich so I made a very simple dipping sauce with ketchup and my 5 minute chili oil recipe. This is completely optional, but highly recommended! Quick note – be sure to adjust the amount of chili oil added depending on your spice tolerance.
If you're looking for a fun, unique and delicious way to spice up your breakfast, give this recipe a try!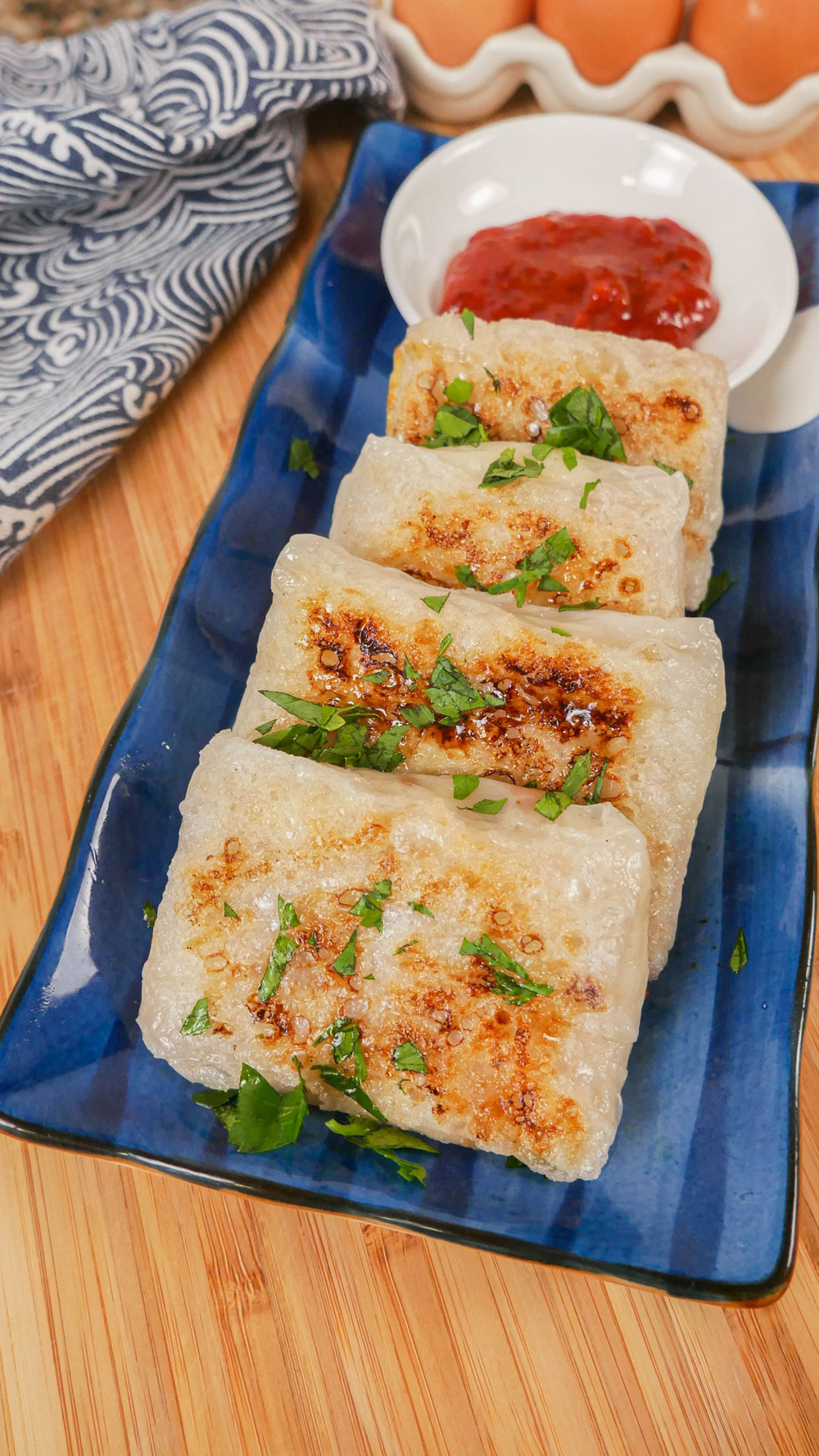 Cheesy Breakfast Dumplings + Chili Oil Ketchup
Ingredients
4

eggs

1/2

lb

oyster mushrooms

1

cup

mozzarella cheese

shredded

12

rice paper sheets

1/2-1

cup

warm water

to hydrate rice paper

1

tsp

salt

1/8

tsp

ground black pepper

6

tbsp

oil

divided
Mushroom Glaze
1/2

tbsp

Dijon mustard

1/2

tsp

sriracha

1/2

tsp

Worcestershire sauce

1

tsp

soy sauce

1/2

tsp

smoked paprika

1/4

tsp

chipotle powder

1

tsp

sugar

1/2

tsp

olive oil
Dipping Sauce
3

tbsp

ketchup

1/2

tbsp

chili oil

adjust to taste
Instructions
Eggs
To prepare the eggs, add the eggs, salt and pepper into a bowl. Whisk until fully combined.

In a pan (preferably square), heat 1 tbsp oil over medium heat. Add the eggs and spread around so that it covers the entire pan into a thin layer. Cook for 1-2 minutes or until it is manageable and can be flipped. Flip and cook for another 1 minute.

Transfer the egg to a cutting board and cut into a rectangular shape. It should the same size as what you want the dumplings to be. Set aside.
Mushroom + Glaze
To prepare the glaze, combine Dijon mustard, sriracha, Worcestershire sauce, soy sauce, smoked paprika, chipotle powder, sugar, and olive oil in a boil. Mix together until fully combined.

In a pan, heat 1 tbsp of oil over medium-high heat. Add the oyster mushrooms and cook for 2-3 minutes or until nicely seared.

Lower the heat to medium and add the mushroom glaze. Quickly stir and mix the glaze with the mushrooms. Cook for 30 seconds – 1 minute or until the glaze has slightly charred. Remove from heat and set aside.
Dumplings
To prepare the dumplings, place the warm water in a deep plate. Wet a sheet of rice paper completely and place on cutting board or clean surface. Layer the dumplings with egg, mushrooms, and cheese.

Fold the bottom section of the rice paper over to the top. Take the top section of the rice paper and fold it over the bottom. If there is excess rice paper, tuck it under so it wraps around completely.

Fold the left and right sides of the rice paper over each other.

Wet a second piece of rice paper. Place the rice paper dumpling seam side down. This will ensure that both sides of the dumpling have an equal amount of rice paper. Repeat steps 8-10 to double wrap the dumpling.

Once the dumpling has been double wrapped, set aside. Repeat for rest of the dumplings. Makes about 6-7 dumplings.

Heat a pan on medium-low heat and add 4 tablespoons oil. The pan should be heated thoroughly before adding the dumplings to avoid a greasy and oily dumpling.

Place the dumplings in the pan and make sure they have enough space on all sides. These dumplings will stick together if they touch.

Cook for 3-4 minutes on each side or until golden brown.

Serve immediately with dipping sauce!
Dipping Sauce
In a small bowl, combine ketchup and your choice of chili oil. Mix together and serve!
Pin & save this recipe for later!