If you want to add more vegetables to your diet, this bok choy with garlic sauce recipe is a tasty way to help you jumpstart that healthy habit. 
There are many different bok choy recipes out there, but I love this one in particular because it's simple, easy, and only takes 10 minutes to make. Since most of the ingredients are easy to find, you can easily whip this up in no time!
Go ahead and give this recipe a try – I guarantee you'll be making this time and time again!
What is bok choy?
Bok choy (also known as 'pok choi' or 'pak choi') is a type of cruciferous vegetable that belongs to the Brassica family. It typically has elongated white or light green stalks that end with dark green leaves. It's a common ingredient among Asian cuisines and a staple in my home growing up because of its versatility and ease of preparation. 
The real origin of bok choy is unclear, but it's said that it was discovered in China around 6,000 years ago! It was then later brought to Korea, where it was used as an early version of kimchi.
When raw, bok choy has a bitter taste and crunchy texture. But it greatly improves to a mild and slightly nutty flavor when cooked properly. Baby bok choy tastes sweeter than its mature version, that's why most prefer to harvest them earlier. You can add bok choy to stir-fries, soups, or steamed dishes, but I like to highlight it on its own with this recipe!
Bok Choy vs Yu Choy Sum
It may be easy to differentiate between bok choy and yu choy sum from each other, but they're often interchanged in a variety of dishes. Aside from belonging to the Brassica family, these leafy greens actually differ in more ways than one.
Yu choy or choy sum has a long green stem that extends down to its leafy ends. It's one of the sweeter Chinese leafy vegetable variations and has a similar texture to bok choy. Yu choy sum is also popular in soups, stir-fries, or stews making it extremely versatile. 
You can substitute these two vegetables for the other because they behave and taste similarly when cooked. If you can't get a hold of bok choy, yu choy sum is the next best pick!
Best Bok Choy with Garlic Sauce Recipe
If you're not a fan of bok choy, I can guarantee you that one bite out of this dish will make you change your mind. The oyster sauce adds umami and sweetness, while the crispy sautéed garlic adds another layer of texture. Don't underestimate the dash of sesame oil because it ties all of the flavors together for a complete dish.
Since most of the ingredients are probably already in your pantry or can be easily found at your local market, you can prepare this dish in as fast as 10 minutes! With a bowl of steaming rice, this bok choy with garlic sauce will make the perfect side dish or even taste great on its own.
How do I prepare Bok Choy with Garlic Sauce?
Incorporating more vegetables into your diet doesn't require a lot of effort when you've got this recipe in your repertoire. To make this tasty vegetable dish, just follow the steps below:
Step 1: Blanch the bok choy
To remove any grit and sand, wash the bok choy and drain it well. In a pot of boiling water, blanch the bok choy for 2 minutes or until your desired doneness. Drain and set aside.
Step 2: Mix the sauce
In a small bowl, combine the oyster sauce, sesame oil, sugar, soy sauce, white pepper, and water. Mix until they're well combined.
Step 3: Combine the ingredients
In a saucepan, add 3 tablespoons of oil and garlic. Sauté the garlic for 1 minute or until it starts to become fragrant.
Next, add the sauce mixture and cook for 1 to 2 minutes or until it has slightly thickened.
Step 4: Plate and serve
Place the bok choy on a plate and drizzle a generous amount of the garlic sauce on top. Enjoy it while it's hot!
Cooking Tips for Bok Choy with Garlic Sauce
This no-frills recipe doesn't require many skills, but here are a couple of tips to help make the process easier:
Adding a pinch of salt to the water when blanching the bok choy will help it retain its bright green color.
To know if the bok choy is ready, you can use a fork to press its stems. If the bok choy feels soft and the fork goes through quickly, they're ready!
When sautéing, keep an eye on the garlic to prevent it from burning, otherwise, it will make the sauce taste bitter.
Ingredient Substitutions
Bok choy: I like to use bok choy for this recipe because it's affordable and easy to find in grocery stores. But if you want to switch it up, you can also use yu choy sum and Chinese broccoli (or gai lan).
Oyster sauce: Oyster sauce has a unique taste that adds a ton of flavor to this dish so I don't recommend substituting or omitting it. However, if you can't find oyster sauce, here are some alternatives:
Worcestershire Sauce
Soy Sauce & Sugar
Fish Sauce
Sugar: Sugar is essential in the sauce to balance out the savoriness of the soy sauce and oyster sauce. For a sugar substitute, you can also use brown sugar, honey, or agave syrup.
Frequently Asked Questions
Where to buy bok choy?
Bok choy can be found at most grocery stores or farmer's markets. Just be sure to inspect the leaves and stalks for freshness. Pick a bok choy with firm stems and bright green leaves, and avoid the ones with brown spots and yellowing leaves.
If you don't need to cook it within the same day, avoid washing it before storing it in the fridge. Excess moisture will speed up its spoilage which we don't want! Instead, store the dry bok choy in a plastic bag inside your fridge to last for up to a week.
What is blanching?
Blanching is a process of quickly cooking food in boiling water for 30 to 60 seconds. There are various reasons why you'll need to blanch ingredients but most often, it's used to soften its texture or brighten up its color. 
Typically, once the ingredient is blanched, it is transferred to an ice bath or runs under cold water to stop the cooking process. However, I like to serve the bok choy warm for this recipe, so I skip the ice bath completely. 
Can I reheat this recipe?
Yes, absolutely! Sometimes, I'll make a big portion and have leftovers. They store well in the refrigerator and can be easily reheated in the microwave. You can enjoy them as is or add them as a topping in your ramen, or fried rice, or as a side with your eggs for breakfast in the morning. While the texture will be a bit softer after reheating, it'll be just as delicious!
What other dishes can I pair with Bok Choy with Garlic Sauce?
The flavors of Bok Choy with Garlic Sauce are versatile enough to go well with almost any dish, but if you want some suggestions here are a few of my favorite pairs:
1. Tofu – for a vegetarian meal, you can pair the bok choy with some smooth and tasty tofu to keep you full for the day. Check out my tofu recipes here:
2. Fried Rice – fried rice is already a meal in itself because it has all the elements of rice, protein, and veggies. But if you're craving more leafy greens, this savory bok choy dish will be the perfect side for it. Check out my fried rice recipes here:
3. Stir Fry – stir-fry is another dish that you can easily whip up even if you're in a rush. That's why these two dishes will be the perfect pairing on your busy days. Check out my Chinese stir fry recipes here:
4. Pan Fried Noodles – similar to fried rice, pan-fried noodles also contain a medley of ingredients that makes it filling but adding a side of bok choy can turn it into a complete meal. For some inspiration, check out my Shrimp Pan Fried Noodle recipe!
5. Chinese BBQ Pork (Char Sui) – pork barbecue can get too heavy by itself, but adding this bok choy with garlic sauce as a side will give you a break from the monotony. Check out my Air Fryer Char Siu recipe here!
For more Chinese-inspired dishes, check out my recipes here: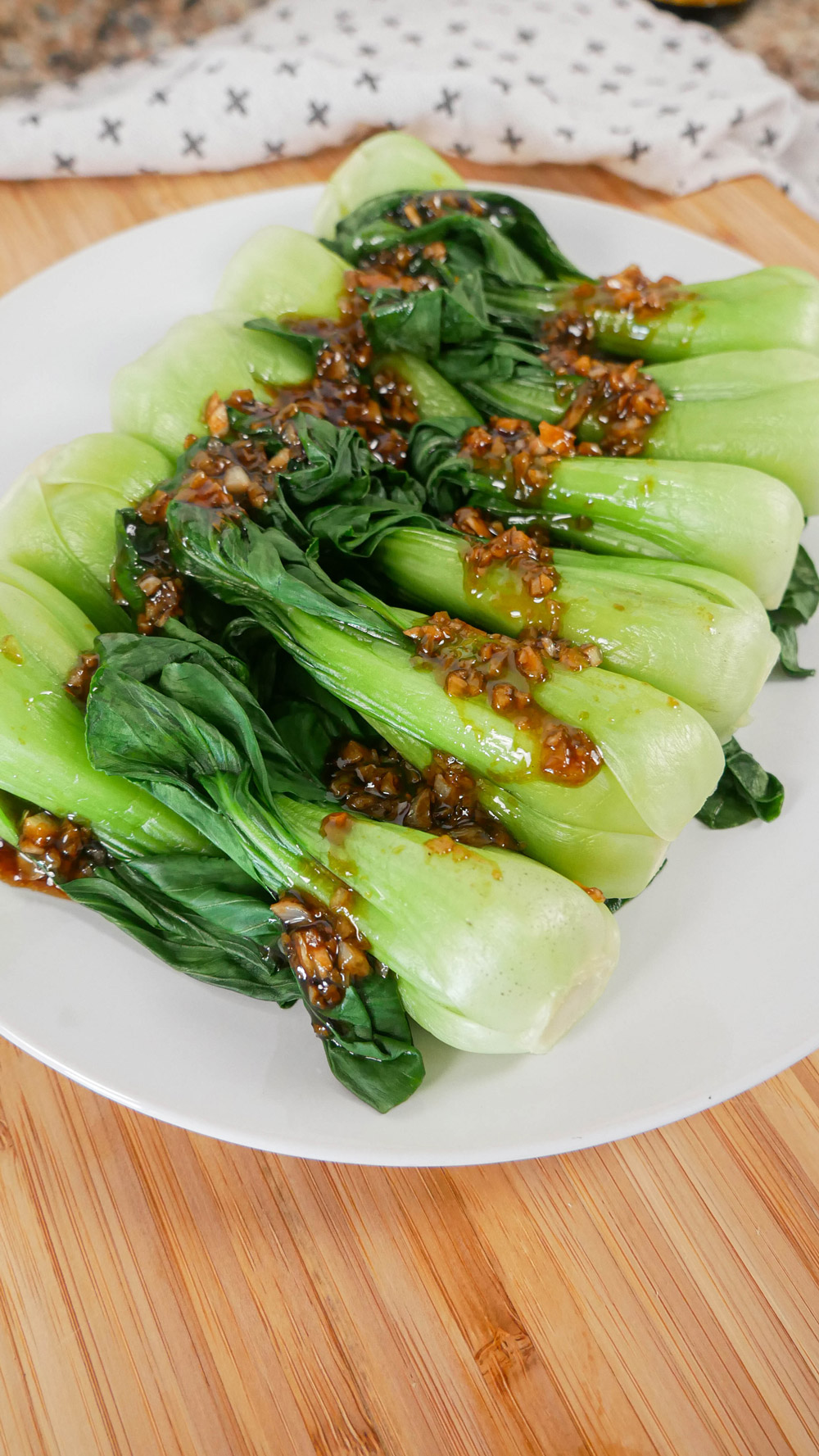 Bok Choy with Garlic Sauce
Ingredients
1/2

lb

bok choy

3

tbsp

neutral oil

2

tbsp

garlic

minced

1 1/2

tbsp

oyster sauce

1

tsp

sesame oil

1

tsp

sugar

1

tsp

soy sauce

1/8

tsp

white pepper

1

tbsp

water
Instructions
Wash and drain the bok choy. In a pot of boiling water, blanch the bok choy for 2 minutes (or until desired doneness). Drain and set aside.

Combine the oyster sauce, sesame oil, sugar, soy sauce, white pepper, and water in a small bowl.

In a sauce pan, add 3 tbsp oil and garlic. Cook for 1 minute until fragrant.

Add the sauce mixture and cook for 1-2 minutes or until slightly thickened.

Plate the bok choy and pour the garlic sauce on top.
Pin & save this recipe for later!