Brussels Sprouts is a seriously underrated vegetable and when cooked right, it is absolutely delicious!
The secret to getting a nice char or 'crust' on the cut side is to preheat the sheet pan in the oven before unloading the brussels sprouts. The heat from the pan will immediately start cooking and charring the brussels sprouts so that by the time it's ready, it'll have a nice beautiful color.
The fried shallots and garlic chips add a nice crunch to complement the soft and tender brussels sprouts. I prefer frying the shallots and garlic first so that I can use that infused oil to roast with the brussels sprouts. This adds a ton of flavor while putting the infused oil to good use!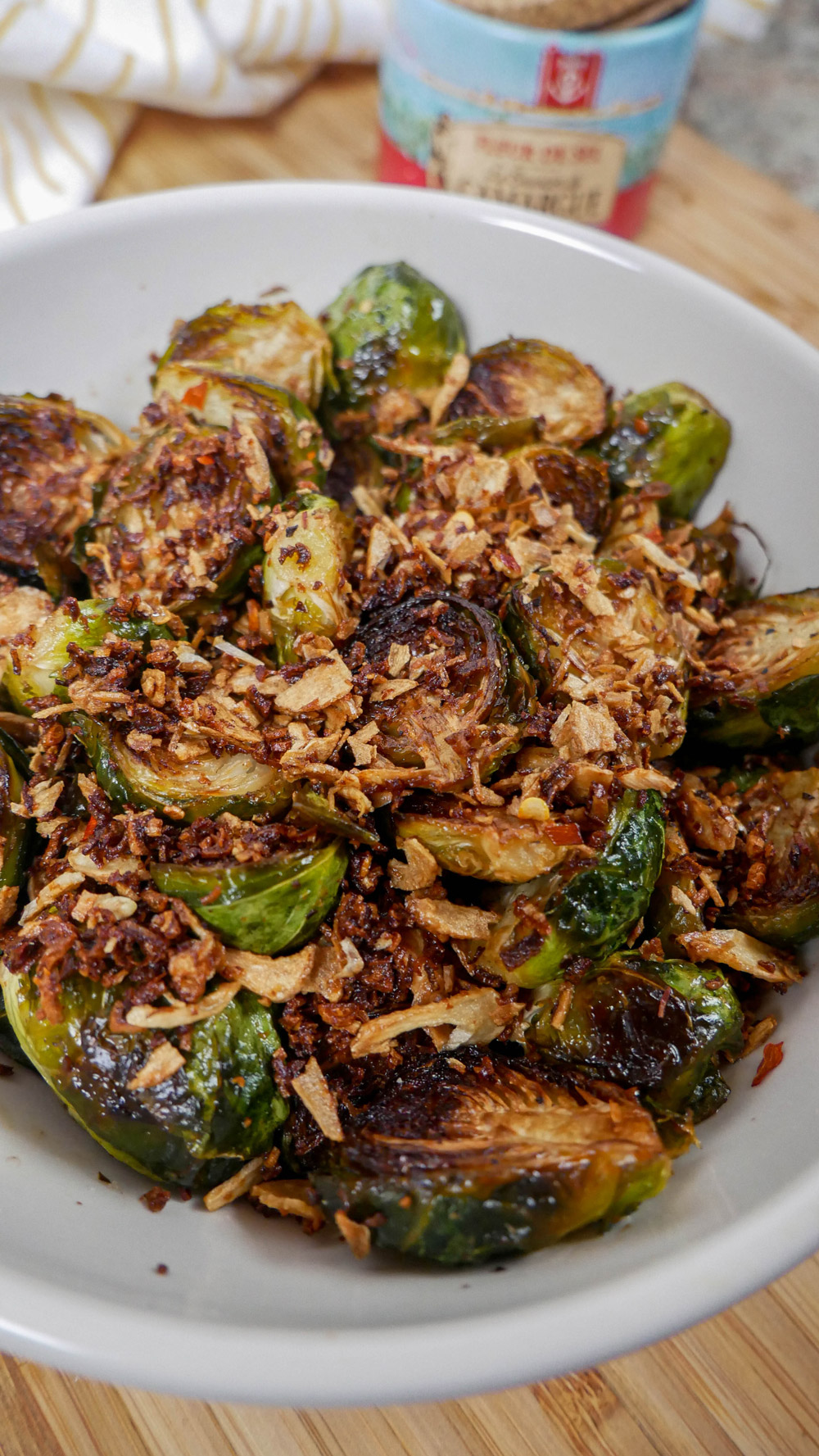 Brussels Sprouts with Shallot & Garlic Chips
Ingredients
1

lb

brussels sprouts

6

cloves of

garlic

4

small shallots

1/4

tsp

cayenne

1/4

tsp

red pepper flakes

1/2

tsp

sesame oil

1/4

cup

olive oil
Instructions
Preheat oven at 425 degrees. Place your sheet tray in the oven while you prepare the ingredients.

Thinly slice the garlic and shallots.

In a pot, heat up the oil and add in the garlic slices. Fry for 1-2 minutes or until golden brown. Strain and set aside.

In the same pot, add the sliced shallots. Fry for 2-3 minutes or until golden brown. Strain and set aside.

Reserve the infused oil and allow to cool completely.

Wash and trim the brussels sprouts. Drain well.

Cut the brussels sprouts in half and place in a bowl.

Pour the infused oil into the bowl with brussels sprouts. Add the salt, pepper, cayenne pepper and red pepper flakes. Mix together well.

Carefully remove the heated sheet tray from the oven. Add the brussels sprouts onto the hot sheet tray cut side down.

Place the sheet tray back in the oven and roast for 25-35 minutes.

Flip the brussels sprouts cut side up and roast for another 5-10 minutes, or until your desired doneness.

Take the sheet tray out and transfer the brussels sprouts to a bowl.

Pour the sesame oil on top and toss.

Using your hands, crush the garlic and shallot chips and garnish the brussels sprouts. Sprinkle on a little more red pepper flakes for additional spice.

Serve with your favorite main course!
Notes
Preheat your sheet tray in the oven so it's nice and hot. This will help develop a nice char that is often missed on most brussels sprouts recipes. The pan should sizzle when you add the brussels sprouts – make sure to place them cut side down.