Brussels Sprouts are a seriously underrated vegetable and when cooked right, they're absolutely delicious! They usually have a bad reputation for being unsavory vegetables but it's all in how you prepare them that turns them into a tasty vegetable dish. Brussels sprouts are jam packed with vitamins and minerals, making them a healthy addition to your weekly meal rotation.
In this recipe, the crispy shallots and garlic chips complement the soft and tender texture of the Brussels sprouts which makes them a perfect appetizer or side dish to accompany almost any meal. To add an extra layer of flavor, I like to drizzle the garlic and shallot-infused oil prior to roasting. I always make sure to set aside the olive oil I use to fry the garlic and shallots for this reason. 
The secret to getting a nice char or 'crust' on the cut side is to preheat the sheet pan in the oven before unloading the brussels sprouts. The heat from the pan will immediately start cooking the brussels sprouts so that by the time it's ready, they'll have a nice beautiful char.
So if you're looking for a quick and easy dish to whip up for lunch or dinner, this delicious recipe will make you rethink the way you eat your Brussels sprouts.
What is a Brussels sprout?
It's easy to mistake Brussels sprouts for smaller versions of cabbages due to the similarities in color and shape. Although they are in the same family, Brussels sprouts are actually the shoots of a thick and fibrous stalk.
They originate from the capital of Belgium – Brussels, but they're now widely accessible in most parts of the world. 
Brussels sprouts are extremely versatile and can be cooked in many ways from roasting, steaming, stir frying and even deep frying. When done right, they're incredibly delicious and addicting. Fun fact – eating too many Brussels sprouts at one time can make you gassy! 
What are the health benefits of Brussels sprouts?
Don't let the size of a Brussels sprout fool you! This tiny vegetable contains a number of vitamins and minerals that turn it into a nutritious side dish.
Brussels sprouts are an excellent source of vitamins C, K, calcium, potassium, iron, and folate. So regularly incorporating this vegetable into your diet can help protect against stomach, lung, and kidney cancers, high blood pressure, heart disease, and diabetes. Sounds like a winner to me! 
With that said, let's start preparing.
How to make Brussels Sprouts with Shallot & Garlic Chips
If you think it's impossible to turn Brussels sprouts into a delicious side dish, I hope this recipe will change your mind!
Step 1: Prepare the oven
Preheat your oven to 425°F (218°C), and place a lined sheet tray inside the oven.
It's important not to skip this step! A pre-heated pan will create a nice char on the Brussels sprouts. 
Step 2: Prepare the shallots and garlic
Cut your shallots and garlic into thin slices, and set aside.
Heat the olive oil in a pan, and add the garlic slices. Fry them for 1-2 minutes or until golden brown, making sure not to burn them. Then, place them into a strainer to drain the excess oil. Once done, set the garlic slice aside.
In the same pan, return the drained garlic oil and fry the shallot slices for 2-3 minutes or until golden brown. Then allow the extra oil to strain before setting the shallots aside.
Don't forget to reserve the garlic and shallot-infused oil!
Step 3: Prepare the Brussels sprouts
Grab your Brussels sprouts and give them a good wash and trim. Then, let them drain on a paper towel.
Once dry, cut them in half, and place them in a bowl.
Step 4: Mix the ingredients
Pour the infused garlic and shallot oil over the Brussels sprouts, then add salt, pepper, cayenne, and red pepper flakes before mixing. Feel free to add more spices if you'd like!
Carefully take out the pre-heated sheet tray from the oven, then place your Brussels sprouts cut side down.
You should hear some sizzling as soon as the Brussels sprouts hits the pan. 
Step 5: Roast the Brussels sprouts
Put the sheet tray with the Brussels sprouts in the oven, and let them roast for 25-35 minutes.
Once the time is up, flip the Brussels sprouts over so the cut sides are up, and let them roast for another 5-10 minutes, or until they're cooked the way you like!
Take the sheet tray out of the oven, then transfer the roasted Brussels sprouts into a bowl.
Step 6: The final touches
For the last step, drizzle sesame oil on top and give them a good toss.
Using your hands, crush the shallot and garlic chips and sprinkle them over the Brussels sprouts. You can also add more cayenne or red pepper flakes if you want to give the dish a little bit more kick.
Step 7: Serve hot
Serve the Brussels sprouts while they're still hot, and pair them with your favorite main course!
Frequently Asked Questions
What can you serve with this Brussels Sprouts side dish?
This Brussels sprouts recipe is a testament to show that you don't always need a crazy amount of flavors and ingredients to create a tasty side dish.
Since you already have your vegetables down, serving this with protein will create a well-balanced meal. This Steak Donburi is quite indulgent making this the perfect accompaniment to these light and healthy Brussels sprouts side dish.
If you're craving some seafood, you can try my Crispy Pan Seared Salmon, which is personally my favorite main to serve with these Brussels sprouts!
But if you want to keep it vegetarian, pairing it with this scrumptious Mushroom Steak Burger will keep your belly full and happy for the rest of the day.
How do you clean and cut fresh Brussels sprouts?
If this is your first time preparing Brussels sprouts, it's not as complicated as it seems!
All you need to do is to run the sprouts under clean water to make sure there isn't any dirt or grime sticking to them. If the outer leaves are bruised, wilted, or browned, you can easily remove 1-2 layers of the outer leaves, Once they're clean, pat them down try on some paper towels. From here, individually trim their bottom stems, cut them in half and they're ready!
Why are my shallot and garlic chips bitter?
Burnt shallots and garlic can give off an unpleasant bitter taste. So if you don't want to munch on acrid chips, make sure to keep the flame at low-medium heat.
Frying shallot and garlic chips also only takes a few minutes, so be sure to keep an eye on them to prevent them from burning. Once they turn a light golden brown color, immediately strain or transfer them to a plate lined with paper towels. They will continue to cook and brown while they are resting so you don't want them to turn too dark before taking them out.
What gives Brussels sprouts a bitter taste?
Glucosinolates are organic compounds that occur naturally in Brussels sprouts are what's causing them to have that bitter taste. So before you knock these compounds, know that they actually contain antioxidants and enzymes that help protect your body against cancer.
It's said that current strains of Brussels sprouts now have a milder bitter taste. But by knowing how to prepare and cook it correctly, you'll be able to get rid of its unpleasant taste (almost) entirely.
How do you cook Brussels sprouts so they are not bitter?
The best way to get rid of the bitter taste of Brussels sprouts is to caramelize them! This will bring out their sweet and nutty flavor so roasting, deep-frying, pan-frying, stir-frying, and air-frying are some of the best techniques for this.
In this recipe, the Brussels sprouts are roasted and caramelized with a nice char, which helps get rid of most of the bitterness. To ensure the Brussels sprouts are beautifully caramelized every single time, remember to pre-heat your sheet pan in the oven before roasting them!
To be fairly honest, I used to hate Brussels sprouts but this recipe has made me fall in love with it! It's my go-to side dish and it never disappoints. I hope you give this recipe a try and let me know how it turns out!!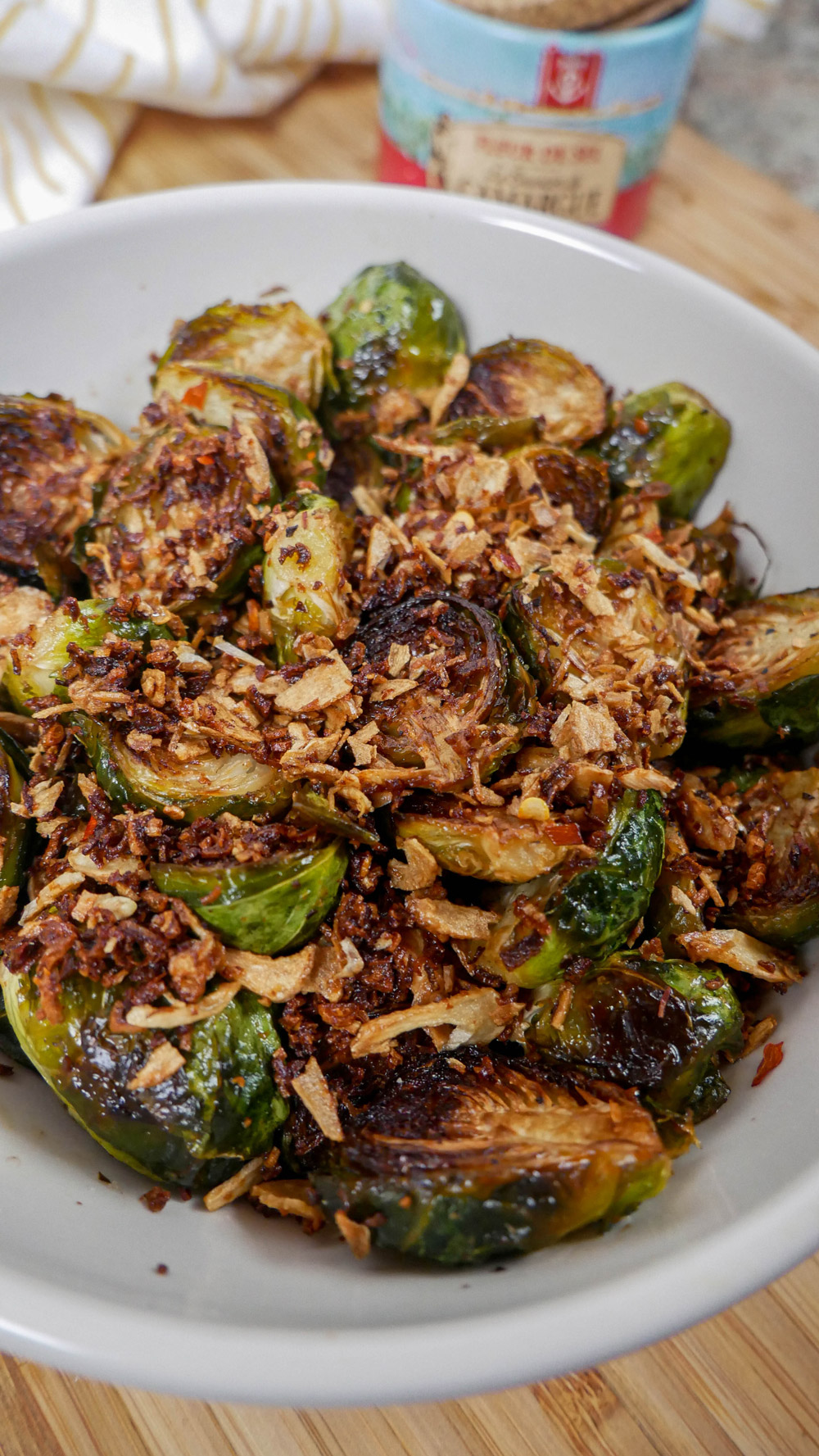 Brussels Sprouts with Shallot & Garlic Chips
Ingredients
1

lb

brussels sprouts

6

cloves of

garlic

4

small shallots

1/4

tsp

cayenne

1/4

tsp

red pepper flakes

1/2

tsp

sesame oil

1/4

cup

olive oil
Instructions
Preheat oven at 425 degrees. Place your sheet tray in the oven while you prepare the ingredients.

Thinly slice the garlic and shallots.

In a pot, heat up the oil and add in the garlic slices. Fry for 1-2 minutes or until golden brown. Strain and set aside.

In the same pot, add the sliced shallots. Fry for 2-3 minutes or until golden brown. Strain and set aside.

Reserve the infused oil and allow to cool completely.

Wash and trim the brussels sprouts. Drain well.

Cut the brussels sprouts in half and place in a bowl.

Pour the infused oil into the bowl with brussels sprouts. Add the salt, pepper, cayenne pepper and red pepper flakes. Mix together well.

Carefully remove the heated sheet tray from the oven. Add the brussels sprouts onto the hot sheet tray cut side down.

Place the sheet tray back in the oven and roast for 25-35 minutes.

Flip the brussels sprouts cut side up and roast for another 5-10 minutes, or until your desired doneness.

Take the sheet tray out and transfer the brussels sprouts to a bowl.

Pour the sesame oil on top and toss.

Using your hands, crush the garlic and shallot chips and garnish the brussels sprouts. Sprinkle on a little more red pepper flakes for additional spice.

Serve with your favorite main course!
Notes
Preheat your sheet tray in the oven so it's nice and hot. This will help develop a nice char that is often missed on most brussels sprouts recipes. The pan should sizzle when you add the brussels sprouts – make sure to place them cut side down. 
Pin & save this recipe for later