Summer is right around the corner and I'm all about light and refreshing salads! This is a Vietnamese-style tomato salad that's quick, easy, and perfect for the warmer weather. It has a nice balance of salty, sweet, spicy, and sour, and I love that you can make this in just 10 minutes! Since this salad helps to refresh your palate, it would also be perfect to enjoy during your potlucks and barbecues.
Feel free to adjust the amount of saltiness, sweetness, spiciness, and sourness based on your preferences. The most important thing is that you make the salad just how you like it! So go ahead and give this recipe a try – I promise you'll be surprised by how simple yet delicious this is!
Why you'll love this recipe
If you're used to eating leafy green salads, you'll be delighted by the sweet and tangy twist of this Vietnamese-inspired tomato salad. Cilantro, fish sauce, and lime juice may not be your first choice of ingredients when making a vegetable salad, but I promise they create a beautiful and tasty harmony of flavors with the tomatoes. 
Just be careful with how much fish sauce you add to the sauce because fish sauce is incredibly salty! Depending on the fish sauce brand that you using may also depend on how salty it is so sure to taste as you go. Cilantro – you either love it or hate it. Personally, I love it and think it makes a great addition to the salad. It creates another layer of complexity and depth of flavor that makes this so memorable. If you're not a fan of cilantro, you can just leave it out! Remember – make it how you like 🙂
This salad only takes 10 minutes to whip up so you can easily add this salad to your repertoire of go-to recipes. As long as you use fresh ingredients, I guarantee this refreshing tomato salad will be the perfect salad for any meal. 
How do I prepare Vietnamese Tomato Salad?
Making a vegetable salad is usually a delight because you only need to expend minimal energy and time to make a delicious side dish out of it. If you want to know how I make this scrumptious refreshing salad, you can follow these steps below:
Step 1: Make the salad dressing
To prepare the dressing, add sugar and warm water in a small bowl and mix until all of the sugar is fully dissolved. Next, add the lime juice, fish sauce, minced garlic, and chopped Thai chili peppers, and mix well until they're well combined. Place the dressing in the fridge while you prepare the salad.
Step 2: Prepare the tomatoes
Wash the tomatoes and pat them dry with a paper towel. Cut them in half and remove the core. Then, cut each tomato in half again to quarter them.
Step 3: Assemble the salad
In a bowl, combine the tomatoes, sliced shallots, sliced onions, and chopped cilantro. Pour the dressing over the tomatoes and mix to coat them well. Allow the salad to sit for 10 minutes in the fridge before serving to allow the flavors to develop. Once the time is up, serve the salad with any dish of your choice!
Preparation Tips for Vietnamese Tomato Salad
Although you have the freedom to tweak this recipe according to your preference, here are a couple of tips to keep in mind that will help you make a refreshingly delicious tomato salad every time:
Feel free to use any tomatoes you like! I personally like tomatoes on the vine because they're super juicy but any would work, including beefsteak tomatoes, plum tomatoes, and even grape and cherry tomatoes!
Be sure to adjust the seasoning according to your taste! For example, if you want the salad to be sweeter, you can add more sugar to taste. But if you want it to be saltier you can add more fish sauce 1 teaspoon at a time.
Thai chili peppers add a spicy punch to this recipe but if you don't want the salad to be spicy, you can swap it for a milder pepper like jalapeno peppers or omit the Thai chili peppers completely.
For more crunch and variety, you can also toss in some sliced cucumbers and crushed peanuts into the salad. 
This salad dressing (or sauce) is super addicting so I sometimes like to make a big batch and store it in the fridge. It stays fresh for up to a week when stored properly in a tight lid jar or container. In addition to using this as a dressing for this salad, you can also use this as a dipping sauce for your favorite proteins!
Ingredient Substitutions
Tomatoes: I like using tomatoes on the vine for this recipe because they're juicer than most tomatoes. However, feel free to use any type of tomato you like! Smaller tomatoes like grape and cherry tomatoes would work well with this too. Just be sure to slice them in half before tossing them so they soak up some of the delicious dressing!
Cilantro: If you're not a fan of the taste of cilantro you can also replace it with fresh parsley instead.
Shallot: Shallots have a milder and sweeter flavor that won't overpower the flavors of this recipe, but you can substitute it by using double the amount of onion instead.
Onions: Onions help cut through the acidity of the tomatoes and lime juice, and the saltiness of the fish sauce. They are spicier and more pungent than shallots however, they can be easily substituted with more shallots.
Fish sauce: Most of the flavors and seasonings will come from the fish sauce. If you wanted to substitute it, you can swap it out with soy sauce or salt. I don't think this salad will taste nearly as good with those substitutions though!
Lime juice: Lime juice is tart and acidic, which helps cut through the saltiness of the fish sauce. It also adds a nice refreshing touch to the salad. I highly recommend using fresh limes instead of bottled lime juice but if you wanted to substitute lime juice completely, you can use rice vinegar instead. 
Thai chili peppers: Thai chili peppers will add a significant amount of heat despite their size, so just be wary of how much you use if you're spice tolerance is low. They can be substituted with serrano peppers or jalapeno peppers. 
Frequently Asked Questions
What are tomatoes on the vine?
If you're not familiar, tomatoes on the vine are any type of fresh tomatoes that are sold in clusters of 4 to 6 tomatoes and are still attached to the vine. It's believed that vine-ripened tomatoes can produce juicier and more flavorful tomatoes that are perfect for salads, like this one. Most markets carry tomatoes on the vine so they should be easily accessible. If you can't find any at your local supermarket or farmers market, feel free you use any type of tomato of your choice!
How do I choose the best tomatoes for this recipe?
To select the best tomatoes for your salad, make sure to pick ones that have a shiny bright red exterior with no cuts and bruises. Be wary of any dark spots on their skin as this could be a sign of hidden rot in their interior. Fresh tomatoes should also feel firm, so steer clear from soft or mushy ones since that signifies that they're almost overripe. If you're not planning to make this recipe the same day you bought the tomatoes, make sure to store them in the fridge to prolong their lifespan.   
Shallots vs Onions
Although they're from the same plant family, shallots and onions have several differences that can dictate how they are used for preparing food. Shallots are typically smaller and have an oblong shape, with skin colors that can range from golden brown, to purple, or red. They have a milder taste with a hint of sweetness, which I think complements this salad very well. Onions on the other hand are larger with a circular shape and have a sharper taste with a touch of spiciness. 
Although you can substitute one ingredient for the other, I wanted to use both onion and shallot for this recipe because I liked the combination of their flavors. One can be easily substituted for the other so feel free to use what you have on hand!
Can you store Vietnamese Tomato Salad?
Yes, you can keep any leftover tomato salad in the fridge, as long as you store it in an airtight container. The salad will stay fresh for 2 to 3 days, but it's best to consume it immediately because the tomatoes can turn mushy. The longer you leave it in the fridge, the watery the salad will be because of the moisture from the tomatoes. So be sure to eat them quickly – which I don't think will be a problem!
What dishes can you enjoy with Vietnamese Tomato Salad?
This tomato salad is light, refreshing, and a great side dish for many main course meals. For some inspiration on my favorite recipe pairings, here are a few recipes you can try:
1. Spam Onigirazu – I always equate warmer weather with picnics so if you're planning a beautiful sunny day at the park, pack this Vietnamese tomato salad with a quick and easy spam onigirazu!
2. Healthy Tuna Sandwich – If you're looking for something that's just as light and refreshing as this salad but will curb your hunger, this healthy tuna sandwich is the one! 
3. Salt and Pepper Shrimp – The acidity that comes through from this tomato salad will help balance out the spicy, salty, crispy, and juicy elements of this delicious salt and pepper shrimp dish!
4. Shrimp Pan Fried Noodle – if you're looking for something crispy and super satisfying to pair with this tomato salad, give this pan-fried noodle recipe a try!
5. Easy Pineapple Fried Rice – Made with juicy succulent shrimp, and sweet golden pineapple, in a delicious, savory fried rice. Perfect to go along with this salad!
6. Shrimp Summer Rolls – Summer rolls are a classic Vietnamese appetizer so pairing it with this Vietnamese-inspired tomato salad is a no-brainer! 
7. Mushroom Steak Burger – If you're looking for a full vegetarian meal, give this mushroom steak burger recipe a try! The delightful and refreshing tomato salad is the perfect side dish for this!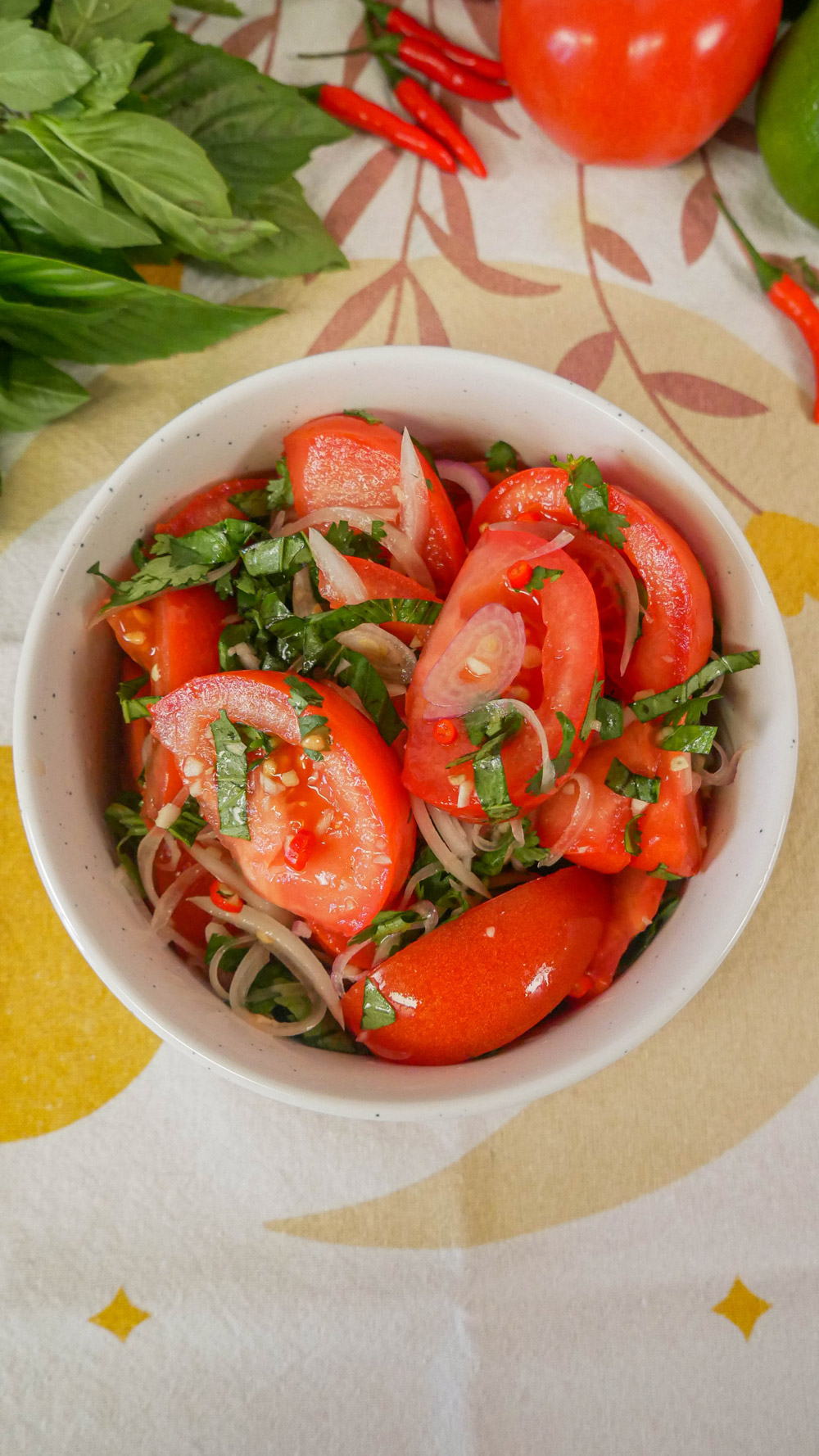 Vietnamese Tomato Salad
Ingredients
3

tomatoes

on the vine

1

small

shallot

sliced

1/4

onion

sliced

1/4

cup

cilantro

rough chopped
Dressing
1

tbsp

sugar

1

tbsp

warm water

2

tbsp

lime juice

rice wine vinegar

2

tbsp

fish sauce

3

cloves

garlic

minced

3

thai chili peppers

chopped
Instructions
To prepare the dressing, add the sugar and warm water in a bowl. Mix together until the sugar has fully dissolved. Add lime juice, fish sauce, minced garlic, and chopped thai chili peppers. Mix well until combined. Adjust the sweetness and saltiness to taste. Place the dressing in the fridge while you prepare the salad.

Wash the tomatoes and pat dry. Cut the tomatoes in half and remove the core. Cut each half into 4 pieces.

In a bowl, combine the tomatoes, sliced shallots, sliced onions, and chopped cilantro.

Pour the dressing over the tomatoes and mix to coat well. Allow this to sit for 10 minutes before serving to allow the flavors to develop.
Pin & save this recipe for later!