I posted my super crispy fried Eggplant Katsu recipe a few weeks ago, and I received a lot of requests for a baked eggplant katsu version. Since I didn't want to let you down (hehe), I finally perfected this recipe. The extra crispy eggplant with the delicious chipotle lime dipping sauce almost made me forget about the fried version because of how good it tastes! The best thing about this dish is that it's also vegan, so feel free to add this to your repertoire for quick and healthy meals!
For the sauce, I used my vegan mayo recipe as the base but you can also swap it for Greek yogurt if you're not a fan of mayo or want to keep this recipe entirely vegan. If you try this recipe, make sure to leave a comment below to let me know which katsu version is your favorite!
Why you'll love this recipe
If you've always wanted to try a crunchy eggplant katsu meal but dread the greasiness that comes with it, this baked recipe is just for you. Even though it's not deep-fried, it still retains its crispy exterior and soft interior to satisfy all your katsu cravings.
This is a relatively easy recipe – all you need to do is dip the eggplant in the wet batter and then coat it in the bread crumbs for a mouth-watering dish that's worth making. If you've never really enjoyed eggplant, I suggest giving this recipe a try – I promise it'll change your mind!
The chili lime dipping sauce pairs deliciously with the eggplant katsu. It's spicy and tangy and adds a refreshing twist to every bite of the eggplant. 
How do I prepare this Baked Vegan Katsu with Eggplant?
I have to warn you – this is a good one. Baking the eggplant will take more time than the fried version, but the anticipation will be worth it once you finally take a bite. To make this tasty recipe, follow the steps below:
Step 1: Prepare the batter
For the wet batter, combine all-purpose flour, cornstarch, baking powder, salt, and water. Make sure to mix well.
Step 2: Prepare the coating
To make the panko breading, combine panko bread crumbs, salt, paprika, and black pepper in a deep plate or dish. Then, set aside.
Step 3: Prepare the eggplant
Wash the eggplant, and slice them into ½ inch pieces. 
Step 4: Coating
Dip the eggplant into the wet batter making sure both sides are completely covered.
Then, place them into the panko breading. Be sure to press the bread crumbs firmly into the eggplant to help them stick to their surface better. Once you're done, line the eggplant on a baking sheet. Brush them with olive oil or spray them with cooking oil spray. 
Step 5: Baking
Preheat the oven to 350°F (176°C), and bake the eggplant for 40-50 minutes. Don't forget to flip them halfway through so both sides are crispy and golden brown.
Step 6: Make the sauce 
For the spicy chipotle lime dipping sauce, combine vegan mayo, chipotle powder, smoked paprika, cayenne pepper, water, lime zest, and lime juice. You can also adjust the amount of water according to your preferred consistency.
Step 7: Serve hot
Serve the crispy eggplant with the chipotle lime dipping sauce or sauce of your choice. Enjoy!
Cooking tips for Baked Vegan Katsu with Eggplant
Aside from coating the eggplant, the most challenging process in this recipe is waiting for it to bake in the oven. But to make sure you'll get the perfect katsu every time, check out these tips below:
I don't recommend cutting the eggplant thicker than ½ inch slices. The thicker the slices, the longer it'll take to cook!
When coating the eggplant in the wet batter, allow the excess batter to drain before coating it in the panko breading
Make sure to brush the eggplant with oil or spray it with cooking oil spray. This will give them a crispy and golden brown exterior. I recommend using cooking spray since it is easier to apply.
For extra flavor, sprinkle a pinch of flakey salt onto each eggplant after taking them out of the oven.
Ingredient Substitutions
Eggplant: if you're still not sold on using eggplant for this katsu recipe, check out my Zucchini Katsu recipe here.
Cornstarch: aside from all-purpose flour, cornstarch is key to giving the katsu its crunchy texture. Feel free to substitute cornstarch with potato starch.
Panko breadcrumbs: panko breadcrumbs are light and airy. In my opinion, they crisp up really nicely so I do recommend using them. Alternatively, you can replace them with regular breadcrumbs or if you have some old stale bread lying around at home, you can also make your own breadcrumbs. Just cut off the crust, then blend the rest of the bread into a food processor or high-speed blender. Toast them in the oven until they're golden brown and that's it!
Olive oil: brushing the eggplant with oil is essential for giving it a crunchy coating. To substitute olive oil, any neutral oil will also work, including canola oil, grapeseed oil, avocado oil, sunflower seed oil, or peanut oil.
Smoked paprika: smoked paprika adds a sweet and smokey flavor to the sauce. You can substitute it with chipotle powder, or make a mixture of regular paprika and cumin. Just use 2 parts paprika and 1 part cumin. 
Chipotle powder: chipotle powder adds an earthy and smoky spice to the sauce, however, you can substitute it by doubling the amount of smoked paprika in the recipe. 
Cayenne pepper: to round out the flavors of the sauce, cayenne pepper adds another level of spice that I really enjoy. For cayenne pepper alternatives, you can use crushed pepper flakes, regular paprika, or even gochugaru (Korean red pepper flakes). 
Frequently Asked Questions
Can you reheat leftover Baked Vegan Katsu?
I recommend enjoying this dish fresh but if you have any leftovers, you can store them in the fridge in an airtight container for up to 3 days.
If you want to reheat the eggplant, bake them in the oven for 12 to 15 minutes. You can also warm them up in a pan over the stove with some olive oil. I would avoid reheating in the microwave because it'll cause the eggplant to turn mushy and soggy. 
Can you cook this Vegan Katsu with Eggplant in an air fryer?
If you don't have an oven at home but still want to enjoy a healthy vegan katsu, cooking it in an air fryer is an excellent alternative. An air fryer works similarly to a convection oven, where it circulates the air inside the device to allow the heat to distribute more efficiently.
To make this in the air fryer, preheat the air fryer to 325°F (162°C). Once it's preheated, line the eggplant katsu on the air fryer basket and apply oil or cooking spray on each side.  Let them cook for 30 to 35 minutes or until they're golden brown. Be sure to flip them halfway through so they get evenly brown on both sides. 
Depending on how much eggplant you're preparing, you may need to cook the katsu in batches. The last thing you want to do is overcrowd or overlap the eggplants in the air fryer. They should be arranged in a single layer with a few centimeters of space in between each other. 
Whether you bake or air fry this eggplant katsu, it'll be just like the fried version!
Panko Bread Crumbs vs Regular Bread Crumbs
Similar to all my other katsu recipes, I prefer using panko bread crumbs over regular ones because they're lighter and they create a crunchier exterior compared to regular breadcrumbs. Since they're made from crustless white bread, they will also absorb less oil – making them stay crispier for longer. 
If you don't have any panko breadcrumbs but still want to get the maximum crunch, you can easily make your own at home. All you have to do is grind stale crustless white bread in a food processor and toast them in the oven until they're golden brown.
What can you enjoy with Baked Vegan Katsu with Eggplant?
If you're looking for a couple of side dishes to build a hearty meal, here are a few recipes I would recommend:
1. Curry – katsu dishes are commonly paired with curry rice so I think this baked eggplant katsu would be the PERFECT addition to my Korean Curry Rice recipe. 
2. Salad – to break the heavy flavors of the chili lime sauce, you can pair this dish with a light and refreshing vegetable side dish with my Vietnamese Tomato Salad recipe.
3. Kimchi – I might be biased but I think a side of kimchi is 100% necessary whenever I eat Asian-inspired recipes like this one! Check out my homemade Kimchi recipe, or try my Geotjeori Kimchi recipe for a shorter quicker version.
Looking for more healthy Asian-inspired recipes? Check them out below: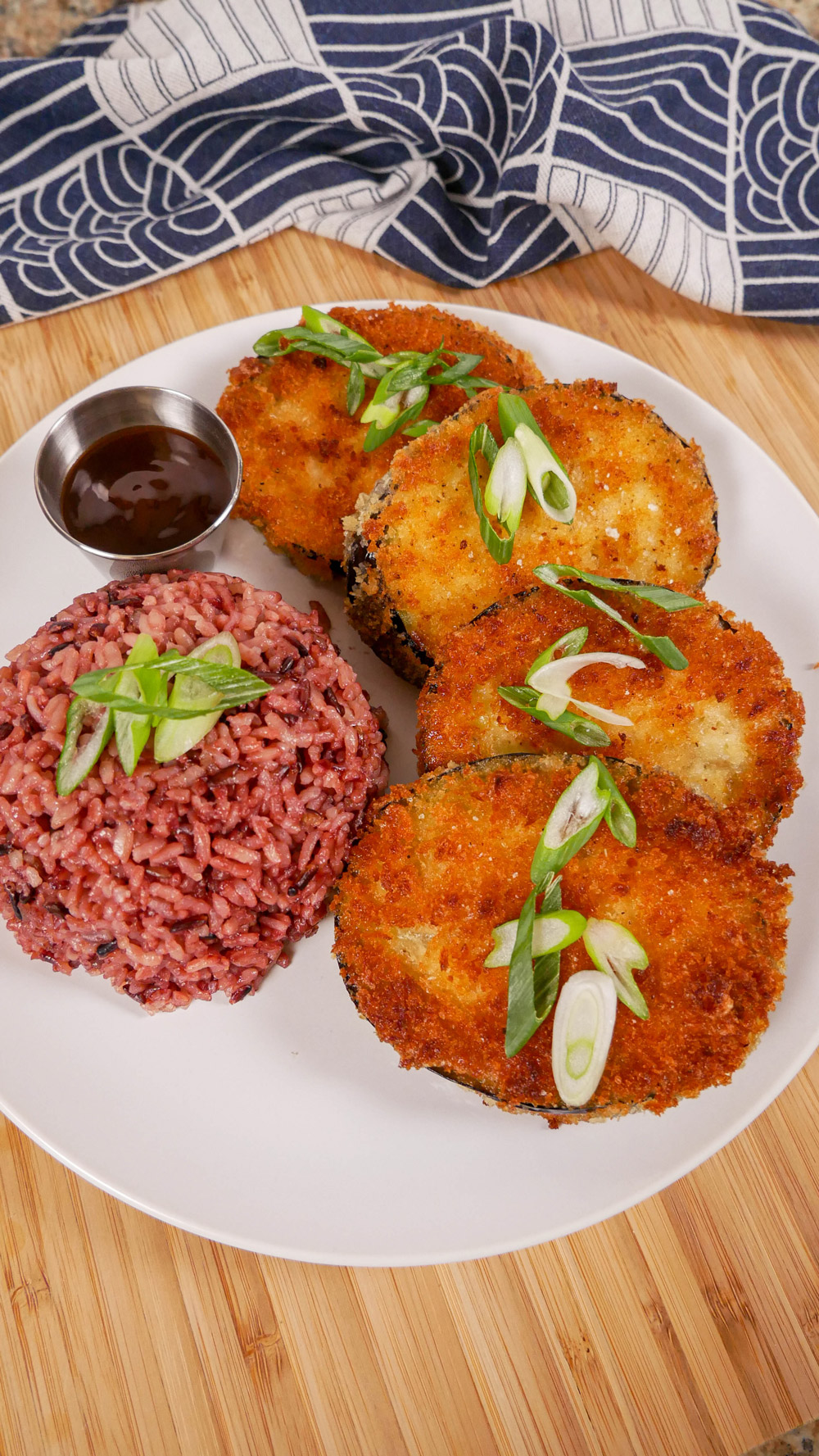 Crunchy Eggplant Katsu
Ingredients
1

lb

eggplant

1/4

cup

neutral oil

for frying, more if needed

pinch of flakey salt
Wet Batter
1/2

cup

all-purpose flour

1 1/2

tbsp

corn starch

or potato starch

1

tsp

baking powder

1 1/2

tsp

salt

1/3

cup

water
Panko Coating
2 1/2

cups

panko bread crumbs

1/2

tsp

salt

1/4

tsp

black pepper

1/2

tsp

smoked paprika

optional
Tonkatsu Sauce
2

tbsp

ketchup

2

tbsp

Worcestershire sauce

1

tbsp

oyster sauce

1/2

tsp

sugar
Instructions
For the wet batter, combine all-purpose flour, corn starch, baking powder, salt, and water. Mix well.

For the panko breading, combine panko bread crumbs, salt, paprika, and black pepper in a deep plate or dish. Set aside.

Slice the eggplant into 1/2 inch pieces. Dip eggplant into the wet batter until fully coated.

Next, place the eggplant in the panko coating. Press the bread crumbs into the eggplant to help the breading adhere better.

In a pan, preheat the frying oil on medium-low heat. To check if the oil is hot enough, add a pinch of breadcrumbs to the hot oil. If it starts to sizzle, then you'll know it's ready for frying. However, if it doesn't sizzle, allow the oil to heat up for a few more minutes. 

Slowly add the eggplant to the preheated oil and let it cook for 2-3 minutes on each side or until it starts to turn golden brown. Once they're done, remove them from the heat and place them on a wire rack to let the excess oil drain. Sprinkle with a pinch of flakey salt.

Enjoy with the tonkatsu sauce!
Tonkatsu Sauce
In a small bowl, combine ketchup, Worcestershire sauce, oyster sauce and sugar. Mix well until fully combined.
Pin & save this recipe for later!