Three cup chicken is a Taiwanese staple and it happens to be one of my all-time favorites. This classic dish has three key ingredients that make up the sauce which you'll need equal parts of, hence the name.
The few times I've had this in Taiwanese restaurants, I noticed the chicken would come out really dry. So I decided to start making my own! The secret to a super juicy and tender chicken is baking soda! Baking soda tenderizes the meat and keeps it extra moist while cooking.

If you want to learn more about Three Cup Chicken, a detailed step-by-step guide on how to make it at home, and more helpful tips and tricks, continue reading!
What is Three Cup Chicken?
Three Cup Chicken, also known as San Bei Ji, is a classic Taiwanese dish with origins in Southern China. It can be characterized as chicken braised in a sweet and savory sauce and reduced until it gets a nice, sticky glaze.
This iconic chicken dish is named as such because of the three key ingredients in this recipe: sesame oil, soy sauce, and Shaoxing wine or Chinese rice wine. The word "cups" in the name of the dish does not necessarily refer to literal measurements, but rather an equal ratio of these ingredients.
Another crucial component that can make this dish taste authentic is Thai basil leaves. The exotic aroma of Thai basil plus the minty taste adds soul to this Taiwanese classic. Aside from chicken, the Taiwanese also love different sorts of "three cup" dishes that involve ingredients such as mushrooms, tofu, squid, or eggplant.
How to Make Three Cup Chicken
Three Cup Chicken has an intense flavor not only from the three main ingredients for the viscous sauce, but also from the heaps of garlic, ginger, sesame oil, and Thai basil leaves. If you're excited to try this out, follow this step-by-step guide.
Step 1: Cut the drumsticks into chunks, about 3 pieces.
In Taiwan, Three Cup Chicken is normally served in bite-sized, bone-in pieces. You can take a cleaver to do this yourself or simply ask your butcher to chop it this way. By slicing the pieces so that they are about the same size, you'll be able to ensure that everything cooks evenly.
Step 2: Coat with baking soda and mix well.
Coat the chicken pieces with baking soda and set them aside for 10 minutes. Don't skip this step as it is the key to a juicy and tender chicken.
Step 3: Prepare your aromatics.
Prepare your aromatics by peeling the ginger and garlic, and then slicing the ginger thinly while leaving the garlic cloves whole. Also, wash the Thai basil leaves and set everything aside.
Step 4: Rinse the chicken.
After 10 minutes, the baking soda will have already tenderized your chicken. Make sure to rinse the chicken well to remove all the baking soda and then pat them dry. 
Step 5: In a pot or wok, heat the sesame oil and add the ginger and garlic.
Traditionally, the Taiwanese use clay pots for cooking Three Cup Chicken. Its ability to release steam while maintaining a high temperature consistently makes it perfect for the braise, reduce, and glaze cooking technique that this dish requires.
Don't worry if you don't have one, you can use a wok instead.
Heat your wok over high heat and then add 2 tablespoons of sesame oil. Once you see your oil shimmering, add the ginger and garlic and cook for about 1 minute until fragrant.
Step 6: Add your chicken.
Drop your chicken pieces, stirring occasionally until they are browned and crisping at the edges. This should take at least 2 minutes.
Step 7: Pour in the sauce mixture and stir well.
Pour in your sauce mixture which is a combination of soy sauce, dark sweet soy sauce (kecap manis), and Shaoxing wine. Make sure to stir it well so all your chicken will be coated.
Bring it to a boil and then lower the heat. Cover and let it simmer for about 10 to 15 minutes. Your chicken will continue to cook until soft and sweet as it mingles with the braising liquids. After about 15 minutes, the sauce will be reduced and thickened.
Step 8: Stir in the Thai basil leaves.
Towards the end of cooking, add the fresh Thai basil leaves. Stir it in and cook until wilted. The basil leaves are a tell-tale sign that this is a Taiwanese dish. 
Step 9: Serve with a bowl of fresh rice and enjoy!
When cooked, the chicken will be coated with a slightly reduced sauce and crowded with soft garlic cloves and herbs. This lip-smacking dish is bursting with flavor and best eaten with a bowl of fresh rice.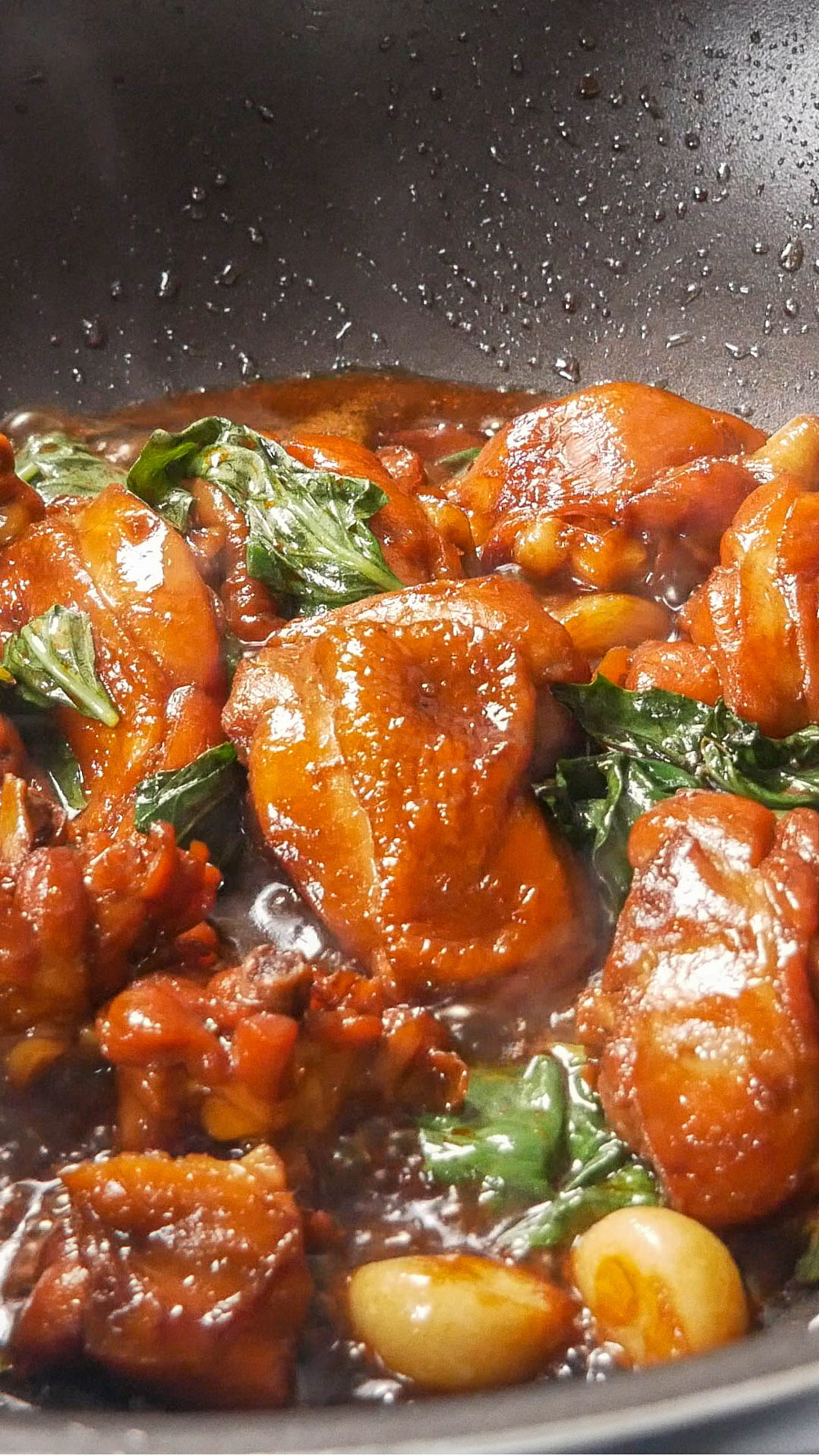 Three Cup Chicken
Ingredients
1

lb

chicken drumsticks

1

tbsp

baking soda

2

inch piece of

ginger

sliced

6-7

cloves

garlic

2

tbsp

sesame oil

1

bunch

thai basil leaves
Sauce
1.5

tbsp

soy sauce

1.5

tbsp

dark sweet soy sauce

(kecap manis)

1.5

tbsp

Shaoxing wine
Instructions
Cut the drumsticks into chunks, about 3 pieces. You can ask your butcher to do this for you.

Coat with baking soda and mix well. Set aside for 10 minutes to tenderize.

Peel the ginger and thinly slice, about 6-8 pieces.

Peel garlic cloves and leave whole.

Wash the Thai basil leaves and set aside.

Once the 10 minutes are up, rinse the chicken well, making sure to wash away all the baking soda. Pat dry well.

In a pot or wok, heat the sesame oil and add the ginger and garlic. Cook for 1 minute until fragrant.

Add the chicken and cook until the outside is no longer pick, about 2 minutes.

Pour in the sauce mixture and stir well. Cover and simmer for 10-15 minutes on low heat.

Stir in the Thai basil leaves and cook until wilted.

Serve with a bowl of fresh rice and enjoy!
Notes
Feel free to use different cuts of chicken! I personally like using drumsticks but thighs are a good alternative too. Also, Three Cup Chicken is traditionally cooked with bone-in chicken parts, but you can certainly use boneless chicken if you want.

The baking soda plays a crucial role in tenderizing the chicken. Please don't skip this step!

Thai basil is essential to this dish. There really is no substitute for it but, if you can't find any, you can omit it. It will still be delicious!

Don't remove the chicken skin. It helps keep the chicken moist and flavorful.

If there are leftovers, you can keep them in an airtight container and store them in the fridge for up to 3 to 4 days. Simply reheat using the microwave or in a pan over medium heat.

Want to keep your Three Cup Chicken longer? Keep it in an airtight container and place it in the freezer. Your Three Cup Chicken will last for up to 3 months when stored in the freezer.
Final Thoughts
Three Cup Chicken has become a standard item on the menus of Taiwanese restaurants. While there are various renditions of the "three cup" recipe, chicken is the classic one. 
What I love most about Taiwanese recipes is that they are usually humble, homey dishes that I can easily make at home. In fact, it will take no more than 30 minutes to prepare the whole dish, making it perfect even for weeknights.
Taiwanese cuisine is close to Chinese food, but with local influences and some slight variations and differences in cooking methods. So if you are fond of Chinese food, you'll definitely enjoy Three Cup Chicken!
Go on, try my recipe for a wholesome Taiwanese meal and let me know what you think!
Pin & save this recipe for later!