Treat yourself to a quick and tasty Cantonese-style fried rice with a classic ingredient – Chinese sausage or 'lap cheong'. I'm a firm believer that Chinese sausages make everything better, especially fried rice!😋
As long as you have day-old rice and Chinese sausage, everything else is easily customizable according to your preferences! I kept it simple with online and garlic for this recipe but you can also toss in carrots, peas, broccoli, mung bean sprouts, and more!
Pro tip: Soak the sausages in hot water for 5 min so they're easier to slice. This also melts away excess oil.
Everything comes together in just 15 minutes. If you are looking for a no-frills quick and easy weekday meal, this is one!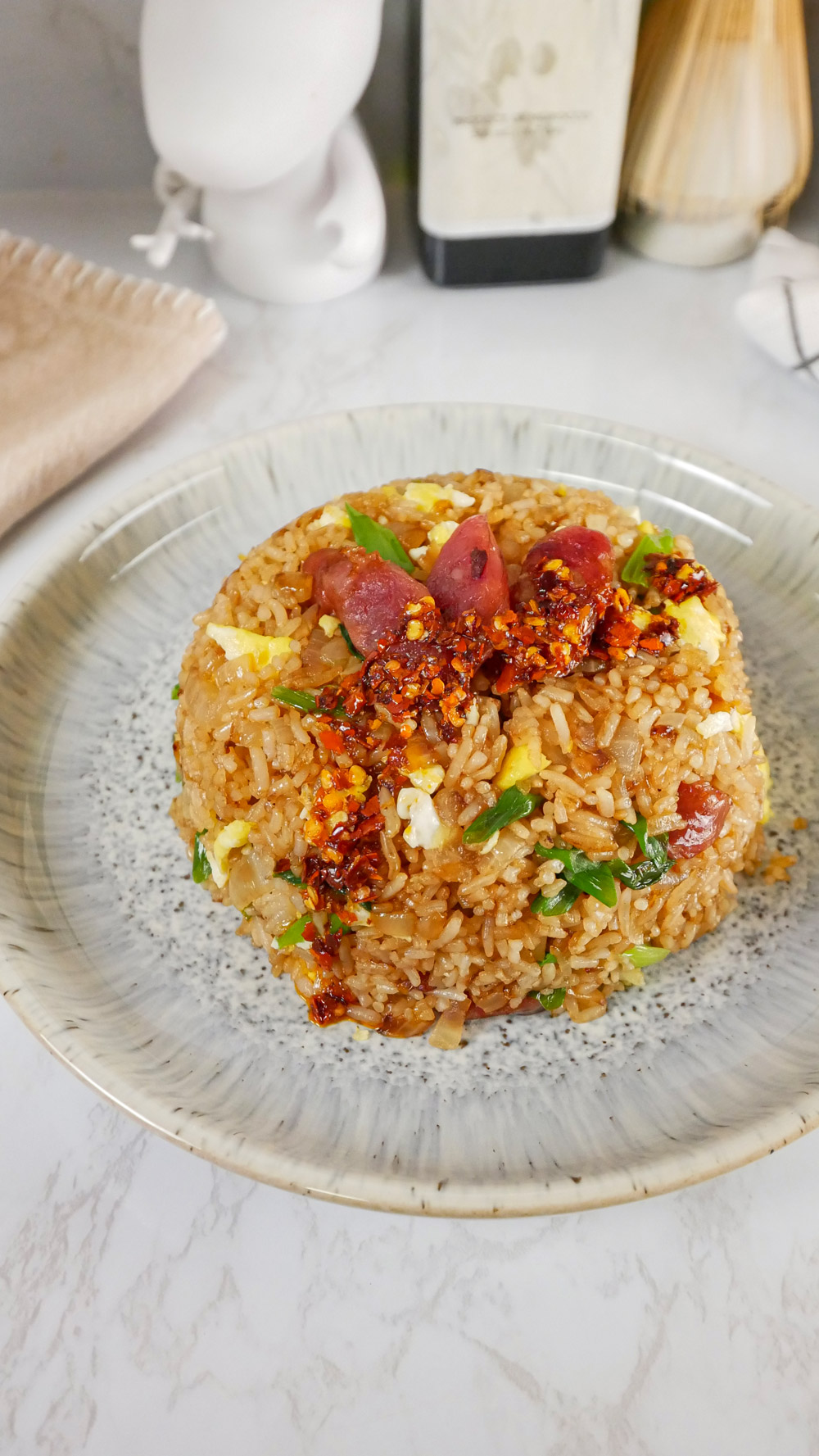 Lap Cheong Fried Rice
Ingredients
2

cups

day old rice

3

lap cheong

chinese sausage links

1/2

medium onion

diced

3

garlic cloves

minced

1

egg

2

tbsp

neutral oil

1

tsp

sesame oil

1

scallion

chopped
Sauce
1 1/2

tsp

soy sauce

1 1/2

tsp

dark soy sauce

1

tsp

oyster sauce

1

tsp

water

1/8

tsp

white pepper powder
Instructions
Place the lap cheong (Chinese sausage) in a large heat-proof bowl. Pour hot boiling water over the sausages until they are fully submerged. Set aside to soak for 5-10 minutes (see note 1).

Pull out the Chinese sausages and allow them to slighty cool before slicing into 1/4 inch thick pieces on a diagonal.

To prepare the sauce, combine soy sauce, dark soy sauce, oyster sauce, water, and white pepper powder. Mix together and set aside.

In a wok or deep pan, heat oil over medium-high heat. Add onions and cook for 1 minute, then add garlic and sliced sausages. Stir fry for another 1-2 minutes.

Toss in the rice and break it up using a spatula. Pour in the sauce and stir fry to mix well.

Push the fried rice to one side and crack the egg. Once the egg has cooked, break it apart into small pieces with a spatula and mix it into the rice. Add scallions and sesame oil and give it one last mix.
Notes
1. Soaking the sausage links in hot water will melt away excess oil and soften it up so it's easier to slice.