Ma jiang mian or sesame noodles is one of those quick 10 minute meals that you can make any day of the week. This dish has a nice combination of salty and sweet from all the delicious sauce condiments.
Some recipes call for only sesame paste but I really love the creaminess and nuttiness that the peanut butter adds. If you don't want this to be spicy, you can completely omit the chili oil. I personally love the kick that the chili oil adds to this dish so I usually add a little extra in the sauce. If you want to make your own chili oil, I have a recipe that is PERFECT for this ma jiang mian recipe HERE!
What is Ma Jiang Mian?
Sesame Noodles or Ma Jiang Mian is a humble yet tasty Taiwanese classic. It is made of simple ingredients, yet the combination of all these flavors make it the perfect quick and easy weekday meal.
A popular street food in Taiwan, this cold sesame noodle dish is characterized by wheat noodles covered in a delicious, creamy sauce made of sesame, peanut, and soy sauce. Ma Jiang Mian is so popular in Taiwan that even their 7-Eleven stores are selling it.
How To Make Taiwanese Sesame Noodles
Before you order some Chinese takeout again, why not skip it and make your own healthy sesame noodles at home?
My simple Taiwanese Sesame Noodles recipe proves that you can make a delicious, hearty meal even with the simplest ingredients at home. Absolutely no cooking skill is required, and you can make this in just 10 minutes.
Simply follow the step-by-step instructions below:
Step 1: Create your special sauce.
The first step is building your salty, sweet, creamy, and nutty sauce. To do this, take a bowl and combine the sesame paste, peanut butter, sesame oil, black vinegar, light soy sauce, dark soy sauce, chili oil, and sugar. Adjust the seasoning according to your taste.
Make sure that everything's well incorporated, and then set aside.
Step 2: Cook the noodles.
Now that you have your sauce ready, it's time to cook the noodles.
For that al dente texture, make sure to follow the instructions that come with the packaging. Because you will use some starch water later, let the water come up to about an inch above your noodles. 
The starch water derived from cooking the noodles should be thick, so you can use it to thicken the sauce and make it richer.
Step 3: Combine the noodles and the sauce.
When your noodles are ready, transfer them to a bowl and add a bit of starch water. Next, take the sauce you prepared earlier and then add it on top of the noodles.
Mix it well, making sure your noodles are all covered with sauce. If you notice that your sauce is too thick for your liking, adjust by adding more starch water. 
Step 4: Add some garnish, serve, and enjoy!
If you're satisfied with the consistency of your sauce, garnish your noodles with your finely chopped scallions, julienned cucumbers, and sesame seeds.
Serve and enjoy your delicious Taiwanese sesame noodles!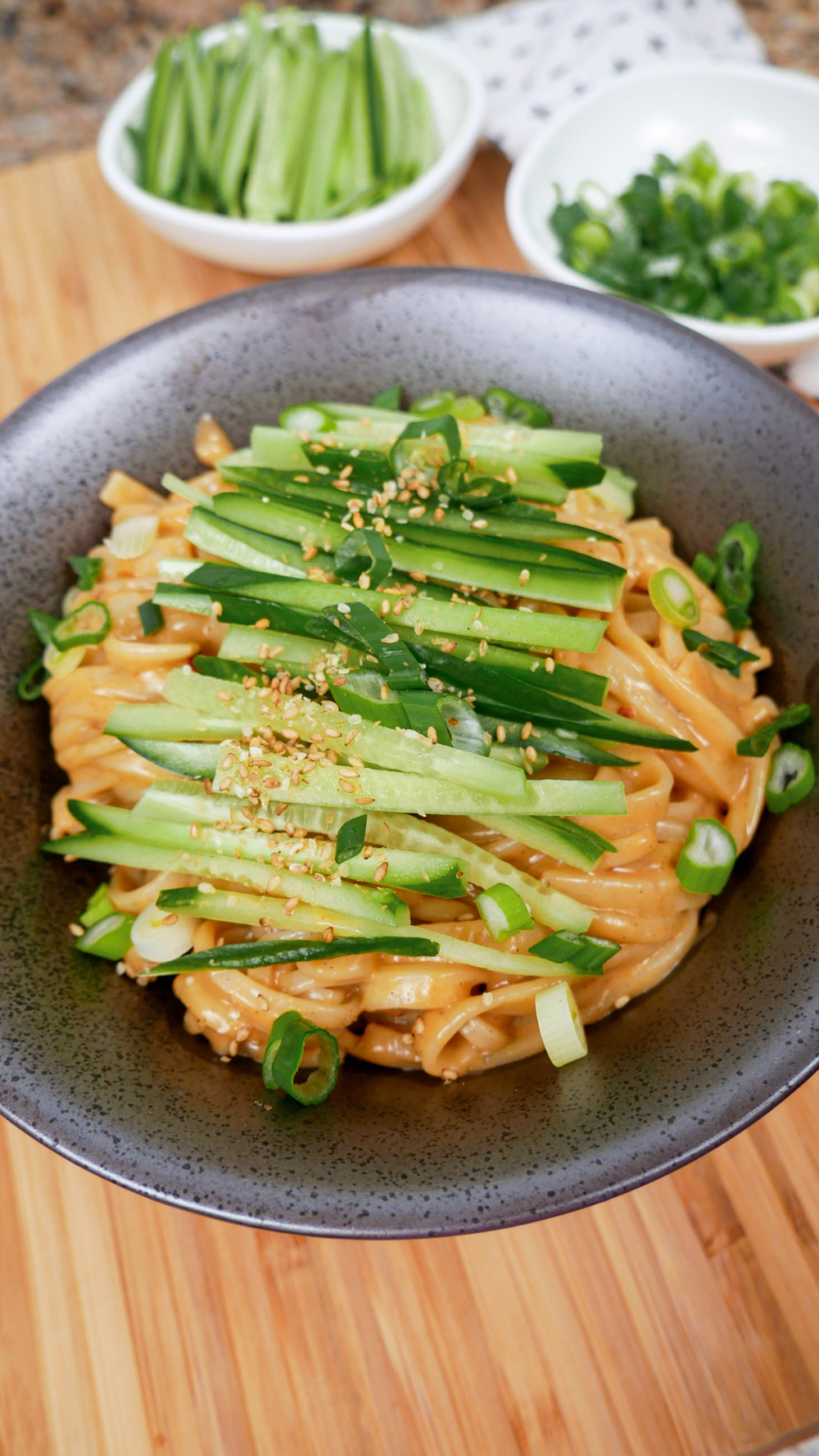 Taiwanese Sesame Noodles (Ma Jiang Mian)
Salty, sweet, creamy, and nutty – all in one bite!
Ingredients
400

grams

fresh wheat noodles

or 200g dried noodles

1

tbsp

Taiwanese sesame paste

zhi ma jiang

1

tbsp

peanut butter

1

tsp

sesame oil

1

tsp

Chinese black vinegar

1.5

tbsp

light soy sauce

1.5

tbsp

dark soy sauce

2

tsp

sugar

2

tsp

chili oil

1/4

cup

starch water

from cooking noodles
Toppings
1

scallion

chopped

1

cucumber

julienned

1/2

tsp

sesame seeds
Instructions
In a bowl, combine the sesame paste, peanut butter, sesame oil, black vinegar, light soy sauce, dark soy sauce, chili oil, and sugar. Set aside.

Cook the noodles based on the package instructions. *The starch water should be thick to help create a rich thick sauce. Allow the water to come up to about an inch above the noodles when cooking.*

Transfer the noodles to a bowl and start by adding 1/4 starch water. Add the sauce on top of the noodles and mix well. If the sauce is too thick, you can add more starch water.

Garnish with scallions, cucumbers and sesame seeds.
Notes
Taiwanese Sesame Paste (Zhi Ma Jiang) is one of the key ingredients that gives this dish its distinct flavor, however, it is not to be mistaken for tahini.

You can be creative with your garnish. Some optional ingredients include cucumber, green onion, cilantro, chili oil, and crushed sesame seeds. You can also sprinkle some crushed peanuts for the extra nutty goodness.

This dish can also be served cold. Rinse the noodles in cold water after it is cooked, then drain in a colander. Mix with sauce and enjoy!
Final Thoughts
This creamy Taiwanese Sesame Noodle recipe is very quick and easy to make and it might seem simple, but don't be fooled! It's simple yet complex because it is loaded with bold flavors that perfectly complement each other. 
So go on and try these nutty, aromatic Taiwanese Sesame Noodles. Who knows? This might be your next ultimate weekday meal!
For those who tried this, I hope it turned out to be a delight for your taste buds! I'd love to see images of your own creation and any feedback you'd like to share. .
Pin & save this recipe for later!