If you want to make something that's simple, easy, and most importantly tasty, these delicious garlicky chili oil noodles will hit the spot every time.
Only a few simple everyday ingredients are needed for this recipe so you can whip this up for a delicious lunch or dinner in just 10 minutes.
Personally, I like my food quite spicy so just this recipe is going to be HOT and SPICY! If you have a low spice tolerance and would like to reduce the level of heat, just adjust the chili flakes and Thai chili peppers in the recipe. If you want, you can also make my Korean Chili Oil recipe in advance, and use it as an alternative to the chili oil in this recipe! This chili oil is relatively mild in spice but packed with flavor!
Why you'll love this recipe
Chili oil has been eaten with noodles for thousands of years and this recipe takes a page from 'You Po Mian' – a traditional Chinese recipe that pours hot flavored oil over wheat noodles. Ideally, you want to use fresh wheat noodles but I didn't have any on hand so I used dried wheat noodles for this recipe instead. 
Sauteing the garlic adds a significant amount of flavor to the oil, making this dish even more delectable. Once the hot oil hits the chili mixture, you'll hear a wonderful sizzle that'll make your mouth water and fill your house with a fragrant aroma. This recipe comes together in as fast as 10 to 15 minutes so it's the perfect recipe for days you need a quick, easy, but most importantly delicious meal. 
How do I prepare these Easy Chili Oil Noodles?
This recipe is as fun to make as it is to eat. To get started, follow these simple instructions below!
Step 1: Make the chili oil
Combine the chili flakes, salt, sugar, soy sauce, black vinegar, and Thai chili peppers in a heat-proof bowl and mix them well together.
Step 2: Saute the garlic
In a pan, preheat the oil over medium heat. Once the oil is hot, add the garlic and saute until it's slightly toasted but be careful not to burn it.
Remove from the heat and pour it immediately over the chili mixture and stir well. Set aside for 5 minutes to let it cool.
Step 3: Cook the noodles
In a pot, boil the noodles according to the package instructions. Once it's done, drain the water and transfer the noodles to a bowl. Next, add the garlic chili oil and mix well.
Step 4: Plate and serve!
Transfer the chili oil noodles to a bowl and garnish with some scallions, cilantro, and sesame seeds on top. Serve immediately and enjoy!
Cooking tips for Chili Oil Noodles
This recipe is easy peasy so you'll have no trouble putting this together. To make the perfect noodles every time, here are a few tips to keep in mind:
To prevent the garlic from burning in the oil, be sure to keep an eye on the temperature. Lower the heat if needed!
Feel free to add your favorite toppings including a fried egg, peanuts, or pickles.
Ingredient substitutions
Chinese wide wheat noodles: honestly, you can use any type of noodles for this recipe, whether it's rice, buckwheat, or starch. You can even use noodles from an instant noodle packet, like my Chili Oil Ramen recipe!
Szechuan chili flakes: aside from spice, Szechuan chili flakes adds a subtle numbing sensation to the oil, which I love. If you're not a fan of the numbing or don't have these chili flakes on hand, you can substitute it with gochugaru or red chili flakes. 
Chinese black vinegar: a splash of Chinese black vinegar adds a tangy flavor and a hint of sweetness to this dish. It can be substituted with white rice vinegar or rice wine vinegar.
Thai chili peppers: they may be small in size, but these chili peppers pack a punch of spice. They can be substituted with habanero, jalapeño peppers, or serrano peppers.
Cooking Variations
Since this recipe is fairly easy to make, you can use it as a base to build a filling meal. Here are some ideas on what you can add:
1. Vegetables – for a nutritious addition, you can boil or steam your favorite leafy greens or vegetables like broccoli, snap peas, or gai lan, then add them to the chili oil noodles and mix.
2. Meat – you can pan-fry pork, chicken, or beef strips in advance and toss them into the mix. For a vegetarian alternative, you can also slice firm tofu into small cubes and pan-fry them until they're golden brown and crisp!
3. Egg – you can never go wrong with adding a fried sunny-side-up egg on top of chili oil noodles.
4. Seafood – if you're craving seafood, you can sauté some shrimp, squid, or scallops and toss them in with the noodles. 
Frequently Asked Questions
What are Chinese wheat noodles?
Wheat noodles in Chinese cuisine are an extensive category of noodles in varying shapes and sizes. They are usually made of wheat flour and water or egg, but they can also differ in texture and chewiness depending on how they're made. 
I prefer to use flat wide wheat noodles for this recipe because they're wider and denser than other noodles. They have the advantage of soaking more chili oil to ensure every bite is full of that spicy flavor! 
You can find flat wheat noodles in any Asian market but keep in mind that they are sometimes labeled as ribbon, sliced, or knife-cut noodles. In case you can't find these noodles at the market, feel free to use any variety of noodles you like! 
What is Chinese black vinegar?
Chinese black vinegar is made from fermented glutinous rice, and depending on the brand it can also contain sorghum and wheat. Unlike regular vinegar, it has a dark color and thicker consistency, while also having a mildly acidic and slightly sweet taste. I like to add a tablespoon of Chinese black vinegar to this recipe because it adds a bit of tanginess that rounds out the saltiness and spiciness of the sauce. Black vinegar is very versatile and can be used in many different applications. I love using it to elevate dumpling dipping sauces and many of my Chinese-inspired recipes!
Where can you buy Thai chili peppers?
You can buy Thai chili peppers at any Asian grocery store. If you're lucky, you might be able to find some at the farmer's market. But if it's not available near you, you can also purchase them online. 
They're usually sold in large bunches and it always takes me a while to go through all of it. So, what I like to do is preserve their freshness by storing them in the freezer. First, wash them thoroughly, then allow them to fully dry by laying them out on a flat surface and patting them down with a paper towel. Once dried, transfer to a ziplock bag then store in the freezer until you need them!
Can these chili oil noodles be reheated?
While these noodles taste best when fresh, any leftovers can be stored in an airtight container in the fridge for up to 3 days. To reheat the noodles, place them in a pan with some oil and cook until they're warm. Alternatively, you can microwave the noodles in a bowl for 1 to 2 minutes or until warm.
What other dishes will go well with Chili Oil Noodles?
A bowl of chili oil noodles is usually enough to satiate your hunger, but if you want to add a couple of side dishes to complement your noodles, here are some of my recommendations: 
1. Dumplings – no matter what fillings you put inside, dumplings are the perfect pair to almost any dish. If you're looking for inspiration, you can even try my Japchae Dumplings or Tuna Rice Paper Dumplings recipes!
2. Bao – baos and noodles are commonly enjoyed together so here are some of my favorite bao recipes:
3. Vegetables – if you're trying to get your veggie servings in for the day, check out my Pea Shoots with Garlic or Spicy Asian Cucumber Salad or Chinese Cucumber Garlic recipes.
4. Protein – for a complete and heartier meal, I like enjoying these noodles with delicious protein-packed recipes like:
5. Egg – eggs and noodles are what I like to call a complete package and this recipe is no exception. A simple fried egg or my Chinese Tea Eggs would take these noodles from great to INCREDIBLE.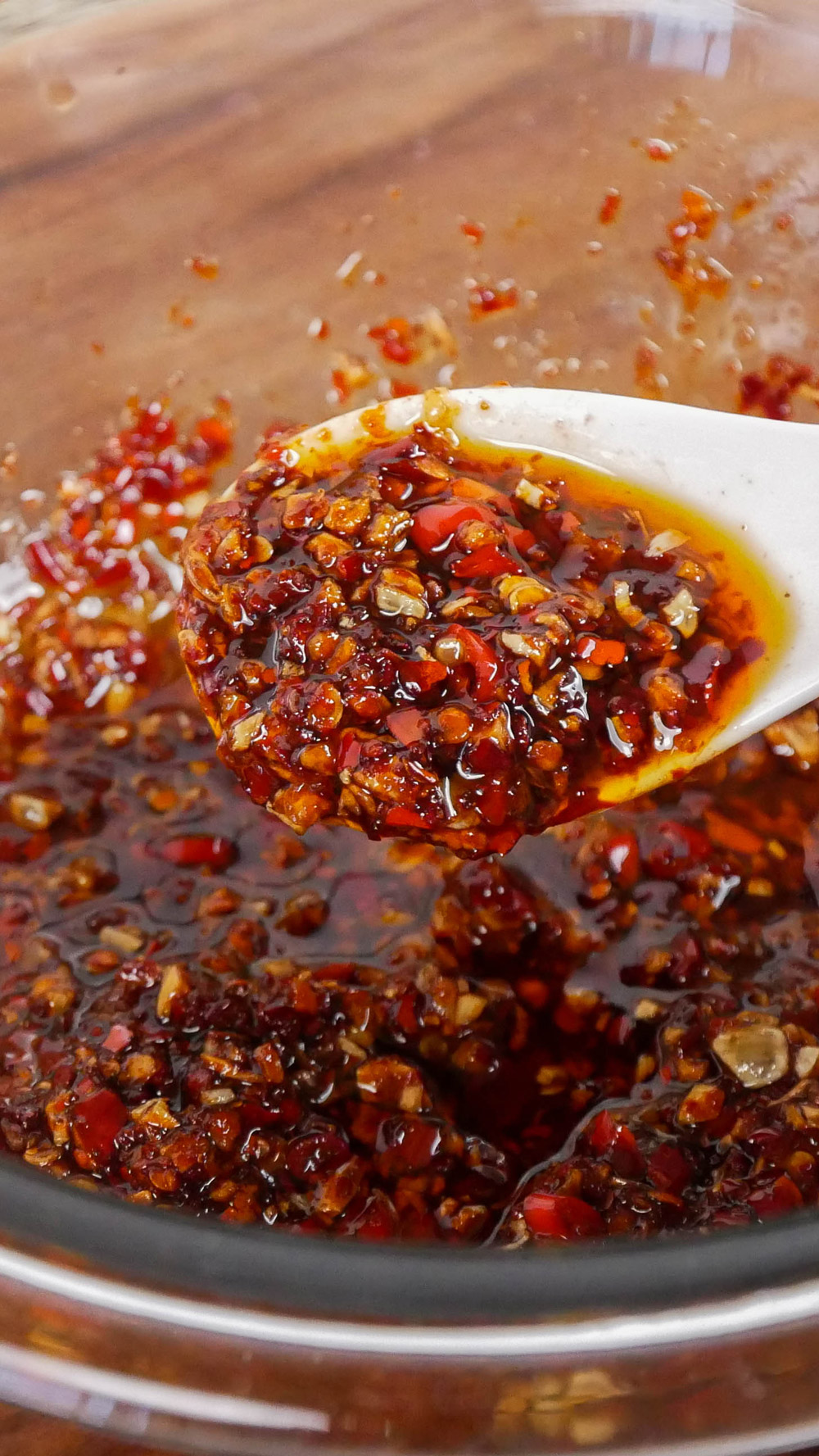 Easy Chili Oil Noodles
Ingredients
7 oz

(200 g)

Chinese wide wheat noodles

fresh or dried

1

scallion

chopped, for garnish

1/4

cilantro

roughly chopped, for garnish

1/2

tsp

sesame seeds

for garnish
Garlic Chili Oil Sauce
2

tbsp

Szechuan chili flakes

substitute with gochugaru or red chili flakes

1/4

tsp

salt

1/2

tsp

sugar

1

tbsp

soy sauce

1

tbsp

Chinese black vinegar

3

thai chili peppers

chopped

1/4

cup

neutral oil

2

tbsp

garlic

minced
Instructions
Combine the chili flakes, salt, sugar, soy sauce, black vinegar, and thai chili peppers in a heat proof bowl.

In a pan, heat up the oil on medium heat. Add the garlic and cook until slightly toasted, about 1 to 2 minutes. Adjust the heat if needed to prevent the garlic from burning.

Pour the garlic oil over the chili mixture and stir well. Set aside for 5 minutes or until cool.

Boil the noodles according to the package instructions. Drain and transfer to a bowl. Add the garlic chili oil and mix well.

Garnish with scallions, cilantro, and sesame seeds.

Serve immediately and enjoy!
Pin & save this recipe for later!