Water spinach or 'ong choy' is a household favorite stir-fried vegetable dish in my family. This recipe is inspired by my dad, who would make this often for dinner!
Lately, I've been trying to eat more vegetables so I like to make a large portion to eat as a main course with a bowl of rice.
I recommend that you don't skip the shrimp sauce because it's the secret ingredient to this recipe. The smell can be a little bit funky and off-putting, but it's packed with a ton of umami flavor that complements the water spinach. Keep in mind that it's very concentrated and salty, so a little bit goes a long way!
What is water spinach?
Water spinach or Kōng Xīn Cài (空心菜) in Chinese, is a green leafy vegetable with pointed leaves and long hollow stems. It's a common ingredient in Chinese and Southeast Asian cuisines that's usually used in stir-fries, salads, or soups.
But don't be fooled by its name, because it isn't actually related to spinach. It belongs to the morning glory family, and you'll see their resemblance once their flowers start to bloom. In the United States, water spinach is considered an invasive species because of how easy they are to grow. They're semi-aquatic species that can thrive in soil or water under tropical conditions. If left unmanaged they can easily take over your garden.
Water Spinach vs Sweet Potato Leaves
If you grew up in an Asian household, you'll know that water spinach and sweet potato leaves can sometimes be difficult to tell apart. They both have leafy greens and long stems that are great for soups and salads.
If you're strolling through the vegetable aisle in the Asian market for ingredients for this recipe and come across two similar-looking bundles, here's how you can determine which one is water spinach. Sweet potato leaves have wider heart-shaped foliage, while water spinach has long and slender arrow-shaped ones. Sweet potato leaves can come in green or violet colors while water spinach only grows in the color green. The last part you'll need to inspect is their stalks – where sweet potato leaves have thin and solid stalks and water spinach has soft and hollow ones.
Easy Stir Fried Water Spinach
Water spinach naturally has a mild flavor when it's cooked which is why I like to mix in a bit of garlic and shrimp sauce. But don't get intimidated by the look and smell of the shrimp sauce before you've had the chance to try it! Adding Thai chili peppers will also give the dish a kick that will make you want more!
With its minimal ingredients and preparation, you can create this dish in as fast as 20 minutes. The majority of the time spent will be cleaning the water spinach however, once it's cleaned, the cooking time is relatively quick. 
How Do I Prepare Stir Fried Water Spinach?
This recipe is as straightforward as it gets. You will only need to follow 4 easy steps to create this delicious vegetable dish. Here's how:
Step 1: Prepare the water spinach
To make the water spinach easier to eat, chop them into 3-inch pieces. They're usually covered with grit and sand so it's important that you wash and rinse them at least 4-5 times. Once the water runs clear and there is no visible grit or sand at the bottom of the bowl, it's ready! Drain then set aside.
Step 2: Prepare the ingredients
Peel and mince 3 garlic cloves. Then, chop 3 Thai chili peppers and set aside.
Step 3: Stir-frying
In a wok or deep pan, heat the oil over medium-high heat. Once the oil is hot, sauté the garlic and chili peppers for 30 seconds.
Toss in the water spinach and stir fry until it's slightly wilted. Then, make a well in the center and add shrimp sauce and a tablespoon of water. Mix the sauce well until it's smooth and continue stir-frying until it's cooked completely.
Step 4: Serve hot!
Before plating the water spinach, make sure to get a final taste. If it's too salty, you can add a few tablespoons of water. But if it needs more flavor, add one teaspoon of shrimp sauce at a time. Once you're satisfied with the taste, serve it on a plate and enjoy it with a fresh bowl of rice!
Cooking Tips for Stir-Fried Water Spinach
Making this recipe doesn't take a lot of skill and effort, but here are a few tricks that will help you perfect this dish:
The easiest way to find out whether the water spinach is cooked is by pressing its stem with a fork. If it feels soft and goes through easily, then it's ready to serve.
The stem changing its color to a dull green is also a good indication of doneness.
I like to use 3 Thai chili peppers for this recipe, but you can adjust the amount depending on your spice tolerance. You can also completely omit it if you don't want a spicy dish. 
Ingredient Substitutions
Water spinach: Since this is the main ingredient of this dish, I don't recommend substituting it with another ingredient. But if you can't find them in the store, other leafy greens like spinach, bok choy, or sweet potato leaves would also work.
Shrimp sauce: I like to use Koon Chun shrimp sauce for this recipe, but you can also use your preferred brand. If you can't find shrimp sauce at all, you can substitute it with fish sauce. It won't have the same intense umami flavor as shrimp sauce so just adjust the amount according to taste.
Thai chili peppers: These peppers have a signature sweet and spicy taste, but if they're hard to come by you can replace them with serrano peppers, chili garlic sauce, or red pepper flakes.
Frequently Asked Questions
Where to buy water spinach?
You can find water spinach sold in big bunches in Asian grocery stores or the farmer's markets. When picking them out, be sure to choose one that has a bright green color and no wilted leaves.
If you don't need to cook the water spinach the same day, store it in a bag inside your fridge. But remember to cook it within 2 days before it starts to rot.
What is shrimp sauce made of?
Shrimp sauce or shrimp paste is a fermented condiment that's commonly used in China and several Southeast Asian countries. It's primarily made with small shrimps and salt, and it's usually fermented for a few hours and up to a few weeks. 
Depending on the region, shrimp paste can be prepared in varying methods, that's why you can see them sold as dry or wet, and as a block or in a jar. They can also come in different colors like gray, light pink, or brown. But for this recipe, I'm using wet shrimp sauce that has a smooth consistency and gray color.
Can you reheat this recipe?
This dish will taste best when it's freshly cooked but if you need to store leftovers, they reheat quite well. The best way to reheat them is in the microwave or over the stovetop. Just make sure the sauce boils for a couple of minutes and then take it off the heat.
If you want, you can even make a big batch in advance and reheat small portions throughout the week to make sure you can add more vegetables to your diet.
What other dishes would go well with Stir Fried Water Spinach?
This recipe already tastes great on its own but if you want to add a bit of protein to your meal, it can taste great with these dishes: 
1. Tofu – pairing this with my Air Fryer Salt and Pepper Tofu will make this a healthy and guilt-free meal.
2. Fish – if you're looking for another quick and easy course to go with this vegetable dish, my Miso Marinated Cod will hit the right spot! 
3. Shrimp – if you want to take a break from heavy proteins, pairing it with my Chinese Scrambled Eggs with Shrimp will keep it light yet satisfying.
4. Char Siu – the sweet and savory flavor of Char siu will go great with the umami and salty taste of this dish. You can even try my Air Fryer Char Siu recipe to see for yourself!
5. Chicken – for a complete meal that's high in protein, I recommend my Taiwanese Three Cup Chicken recipe. Both of these dishes combined make the ultimate rice killer!
Next time you're looking for a quick and tasty vegetable side or main dish, give my Stir Fried Water Spinach recipe a try!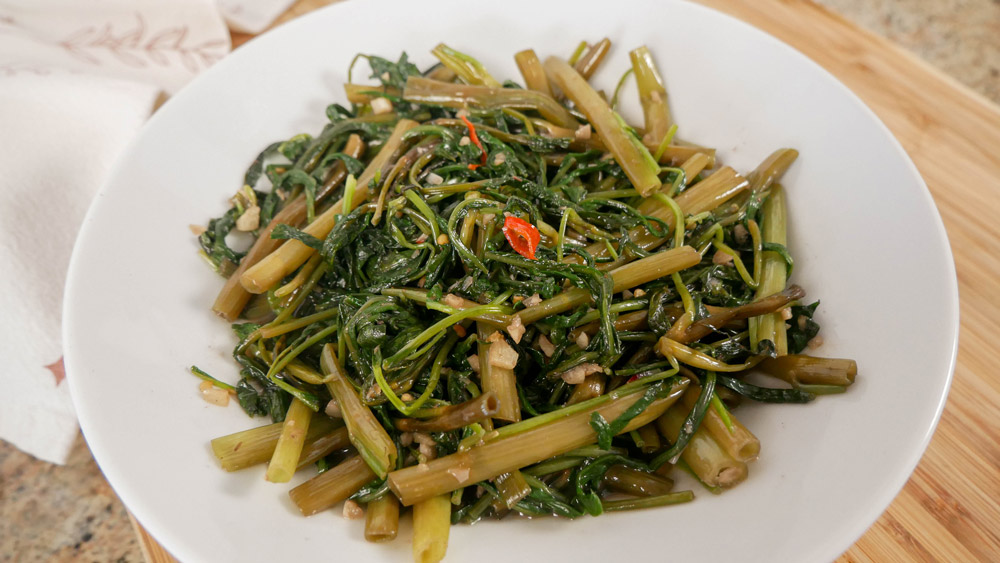 Stir Fried Water Spinach
Ingredients
1/2

lb

water spinach

3

thai chili peppers

chopped, adjust if needed

3

garlic cloves

minced

1/2

tbsp

shrimp sauce

Koon Chun brand

2

tbsp

oil

2

tbsp

water
Instructions
Chop the water spinach into 3 inch pieces. Wash and rinse 4-5 times to remove the grit and sand. Drain well and set aside.

In a wok or deep pan, heat the oil over medium high heat. Add garlic and Thai chili peppers and cook for 30 seconds.

Toss in the water spinach and stir fry until slightly wilted.

Create a small well in the center and add the shrimp sauce along with 2 tbsp of water. Mix the shrimp sauce and water until smooth.

Stir fry the water spinach with the shrimp sauce until completely cooked. Taste to adjust seasoning as needed. If it is too salty, add a few more tablespoons of water. If it is lacking flavor, add more shrimp sauce, a teaspoon at a time.

Serve and enjoy with rice!
Pin & save this recipe for later