Water spinach or 'ong choy' is a family favorite stir fried vegetable dish in my home. This recipe was inspired by my father, who would make this often for dinner.
Lately, I've been trying to eat more vegetables so I like making a larger portion to eat as a main course with a bowl of rice!
The secret to this recipe is the shrimp sauce. It's a little bit funky and the smell can be off-putting for some but it is packed with umami and flavor. The sauce is very concentrated and salty so a little bit goes a long way!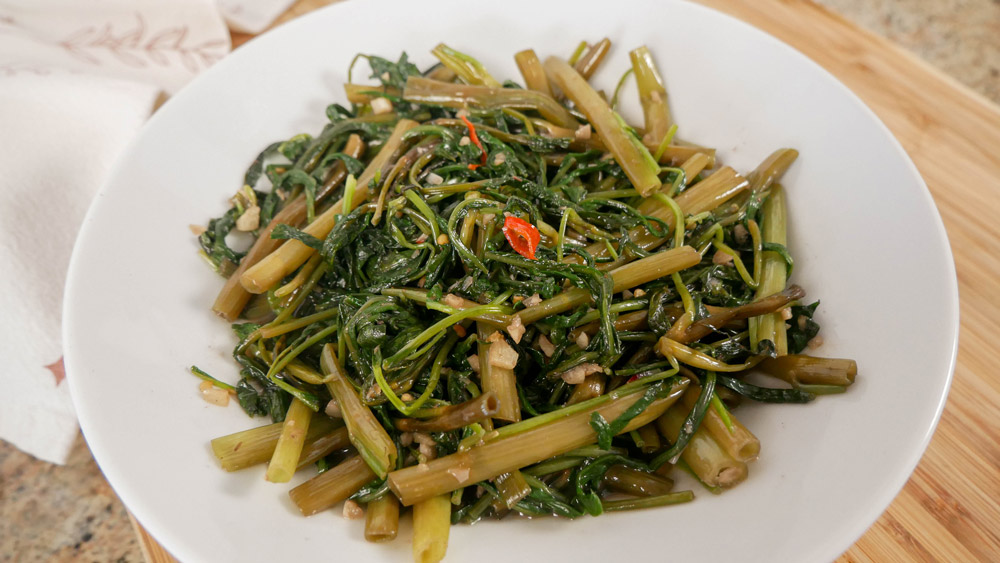 Stir Fried Water Spinach
Ingredients
1/2

lb

water spinach

3

thai chili peppers

adjust if needed

1

tbsp

garlic

minced

1/2

tbsp

shrimp sauce

Koon Chun brand

2

tbsp

oil

2

tbsp

water
Instructions
Chop the water spinach into 3 inch pieces. Wash and rinse 3-4 times to remove the grit and sand. Drain well and set aside.

Mince the garlic and chop the thai chili peppers. Set aside,

In a wok or deep pan, heat the oil over medium high heat. Add the garlic and peppers and cook for 30 seconds.

Toss in the water spinach and stir fry until slightly wilted.

Create a small well in the center and add the shrimp sauce along with 2 tbsp of water. Mix the shrimp sauce and water until smooth.

Stir fry the water spinach with the shrimp sauce until completely cooked. Taste to adjust seasoning as needed. If it is too salty, add a few more tablespoons of water. If it is lacking flavor, add more shrimp sauce, a teaspoon at a time.

Serve and enjoy with rice!