Sandwiches are a common snack anywhere in the world. However, one particular sandwich from Japanese cuisine has made its way to international stardom– Tamago Sando. Even the world-famous Anthony Bourdain glorified this sandwich when he tweeted "Inexplicable deliciousness" to describe it.
Most of my fondest travel memories are of food and I like to relive those experiences by recreating the things I loved to eat, like these tamago sando or Japanese egg sandwiches! 
They are basically the grab-and-go sandwiches that are usually sold at conbini (sometimes spelled as konbini) or convenience stores in Japan. I tried these sandos for the first time at a 7-Eleven in Tokyo (and yes, they were delicious!). 7-Elevens in the United States are extremely underwhelming compared to other countries like Thailand and Japan where you'll find tasty and unique snacks like these delicious sandos. 
If you haven't tried it before or have been craving it, why not make it yourself? Here, I want to share with you what Tamago Sando is, what makes it different from other egg sandwiches, and how to make it.
What is Tamago Sando?
Tamago is the Japanese word for egg, while sando is short for san-doh-itchi which means sandwich in Japanese.
This timeless snack can be described as creamy egg salad tucked between slices of milk bread. The rich taste of the egg yolks combined with the mayo makes the filling creamy and bursting with flavor. Not only that, the texture of the filling perfectly complements the soft and pillowy bread slices!
The Difference Between American Egg Sandwich and Tamago Sando
Tamago Sando is a lot simpler compared to American-style egg sandwiches. It is just as basic as mashed boiled eggs with mayo between slices of bread.
There are no spices, mustard, lettuce, onions, pickles, green onions, celery or whatever extra ingredients Americans add. An important thing to note is that Japanese egg sandwiches use Kewpie mayo which is richer and sweeter than most mayo brands in America. I've tried an American-style egg sandwich, and I liked it as well, but I'd say the simplicity of Tamago Sando is what makes it more special.
Here are the main elements of Tamago Sando that makes it unique:
Milk Bread– Milk bread is *essential* for these sandwiches. It has a slightly sweet flavor and a feathery soft texture which is ideal for this type of sando. Shokupan, which is a Japanese milk bread similar to a Pullman loaf, is highly recommended. This type of white bread is slightly sweet and spongy, and can be found at most Japanese or Asian grocers. You can also find pre-sliced loaves at most Asian bakeries but if you can't get your hands on any, you can sub with regular white bread or brioche.
Mayonnaise– Tamago Sando requires Japanese mayonnaise also known as Kewpie. The flavor complexity of American mayonnaise is different, so stick with Japanese mayonnaise for a more authentic taste. You can easily buy it at your local Asian grocery store, and Kewpie is the most recognizable brand sold in the US. Although Japanese mayo is creamy, the tartness and sweetness balance it out. This is because it is made with rice vinegar, giving it a sweeter tang compared to American mayo. Another thing that makes Japanese mayo different is that it is made with the egg yolks only. This gives it a thicker texture and richer flavor.
Eggs– And of course, you'll need eggs! These are the main ingredients of Tamago Sando, so it's important that you buy fresh eggs from your local farmers' market or high-quality free-range eggs. You'd want the taste of eggs to shine through, so the quality of eggs is a big deal.
How to Make Tamago Sando
Tamago Sando requires just a few ingredients and is very easy to prepare. In fact, total prep time can be under 20 minutes. If this is your first time making this simple, yet delicious, Japanese egg sandwich at home, here's a step-by-step guide you can follow.
Step 1: Boil the eggs.
To make the egg filling, the first thing you need to do is to boil the eggs. In a medium saucepan, boil enough water to cover the eggs by one inch (2.5 cm). Keep it on medium heat and simmer for 7 to 8 minutes.
Step 2: Run the eggs under cold water or place them in an ice bath.
Once the eggs are finished cooking, transfer the eggs to a bowl with iced water to stop the cooking process. Let the eggs cool completely.
Step 3: Peel the eggs and cut them into small pieces.
Peel the eggshells and cut them into small, same-sized pieces. Once done, transfer the eggs to a clean bowl.
Step 4: Make the egg filling.
Combine the chopped eggs with Japanese mayo and season with salt and ground black pepper to taste. Mix it well to ensure everything is combined evenly. 
Step 5: Assemble the Tamago Sando.
Set out two slices of bread. Divide the egg mixture onto the two pieces of bread and spread evenly. Top with the other piece of bread, compress slightly and cut the sandwiches in half, diagonally, or into three equal pieces. You can also cut the crust off the bread if you want.
Step 6: Serve!
Serve the egg sandwiches with your preferred drink and enjoy your snack! While it is recommended to consume them within the same day, you can store leftovers in an airtight container and keep them inside the refrigerator for up to 2 days. You can also keep the leftover sandwiches in plastic wrap and store them in the refrigerator.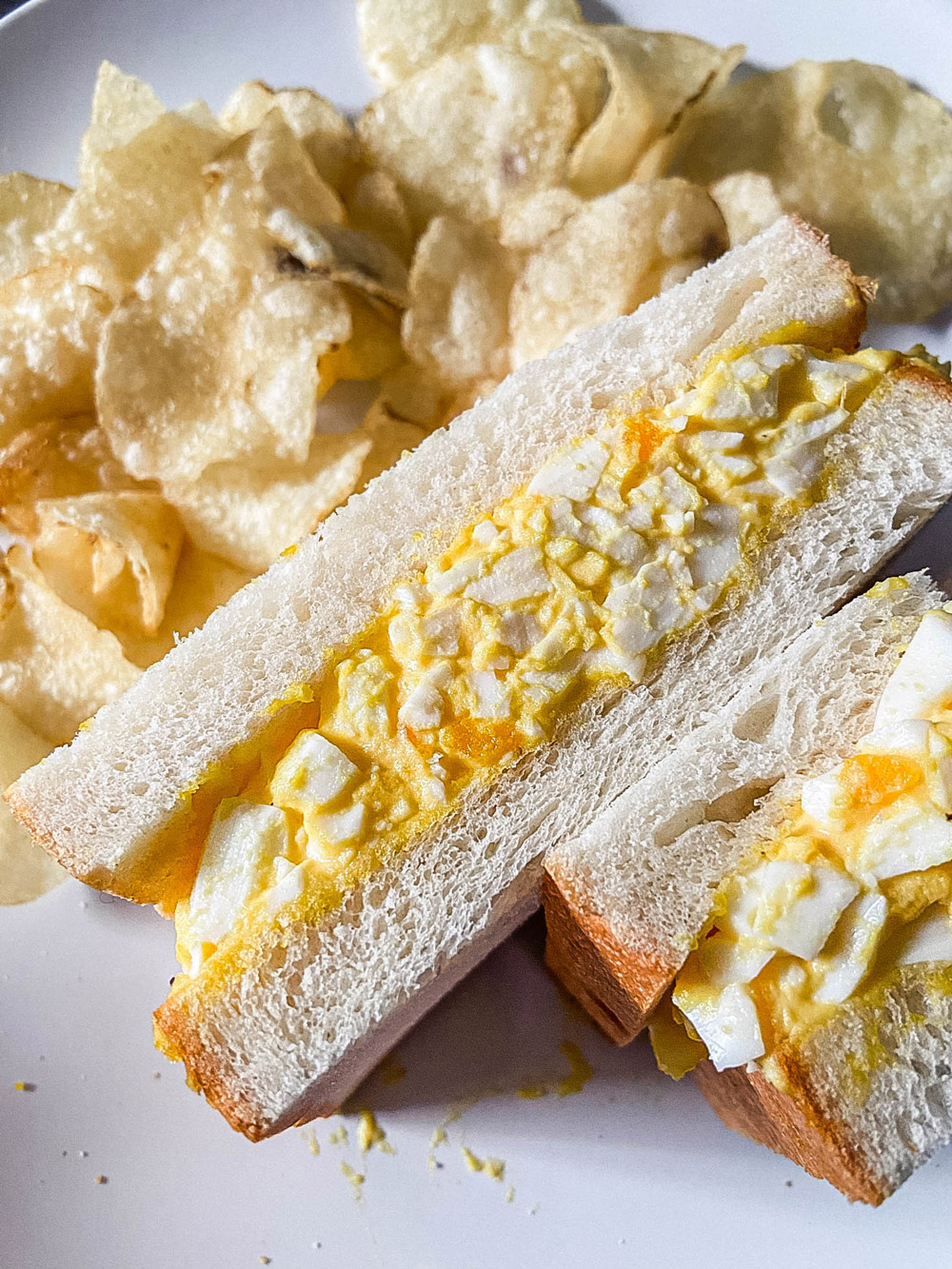 Tamago Sando (Japanese Egg Sandwiches)
Rich and creamy egg sandwiches are perfect for a quick and easy lunch. They're great for picnics and hiking too!
Ingredients
6

eggs

hard-boiled

4

slices of

milk bread

1/4

cup

kewpie mayo

1/2

tsp

salt

adjust to taste

pinch of

ground black pepper
Instructions
In a pot of boiling water, add your eggs and simmer for 7-8 minutes.

Remove the eggs and run it under cold water or place in an ice bath.

Peel the eggs and cut into small pieces.

In a bowl, mix the chopped eggs with kewpie mayo, salt, and pepper.

Assemble the sandwiches. Divide the egg mixture onto two pieces of bread and spread evenly.

Top with the other piece of bread and carefully cut in half.
Notes
Milk bread is *essential* for these sandwiches. You can usually find pre-sliced loaves at most Asian bakeries but if you can't find them, you can substitute with white bread or brioche.

I exclusively use kewpie mayo for this recipe. Kewpie mayo is richer and slightly sweeter than regular mayo brands. 

Keeping the egg filling in the fridge for about 10 to 15 minutes will allow the flavors of the ingredients to marry with each other. Doing this will also thicken the filling, making the sandwich easier to assemble and cut.

Allowing the eggs to completely cool off will make them easier to peel. The ice bath or running the egg under cold water will cause it to contract and pull away from the shell.
Final Thoughts
Tamago Sando is a homey snack in Japanese culture, as almost everyone probably grew up eating it as an afternoon snack or even as breakfast. It's interesting that this modest sandwich became so popular internationally, and has even been part of the menu of trendy cafes in the United States. However, when you get a taste of it, you'll understand where all the hype is coming from. 
The recipe we shared in this article is untainted by extra ingredients that can distract your palate from the pure taste of eggs. I didn't want to jazz the recipe up because I wanted to achieve something as close in taste as the authentic Tamago Sando being sold in convenience stores in Japan.
So try it out and let me know if you liked it!
Pin & save this recipe for later!