If you know me, you know that honey walnut shrimp is my favorite Cantonese banquet food of all time. This is the one dish that I ask for every year on my birthday because I just love it so much!
To be honest, this dish is quite expensive at restaurants and after learning how to make this at home, I've been able to enjoy this whenever I want! So if you're looking for a recipe that's cheap and tastes even better than the restaurants, this is the one.
But of course, this recipe isn't Honey Walnut Shrimp without the walnuts! So, make sure to serve these with my Honey Glazed Walnut recipe. They're light, crispy, and extra delicious with this dish. I promise it's worth the extra step!
So go ahead and give this recipe a try – I hope you'll enjoy it as much as I do!
Why you'll love this recipe
This dish is a classic Cantonese staple and for good reason – it's served with crispy shrimp, honey walnuts, and fresh broccoli and tossed in a delectable sweet mayo sauce. 
With this recipe, I promise you'll never order takeout whenever you crave this classic banquet-style dish. Most of the ingredients are pantry staples or easily accessible at your local supermarket, so you can easily whip this dish up in about 20 minutes. I also recommend making a big batch of my honey glazed walnuts ahead of time so you can prepare this dish whenever you want!
How do I prepare Honey Walnut Shrimp?
Honey Walnut Shrimp is one of the most coveted dishes in Chinese restaurants that are simple and easy to make at home. Follow the steps below to recreate this tasty dish!
Step 1: Prepare the shrimp
Start by peeling and deveining the shrimp. With a knife, butterfly the shrimp by making a deep incision along its back. Be careful not to cut too deep or you'll end up slicing the shrimp all the way through in half.
Step 2: Coat the shrimp
Place the butterflied shrimp into a bowl and add cornstarch. Make sure to coat the shrimp on all sides, then set aside.
Step 3: Cook the broccoli
In a pot, bring 4 to 5 cups of water to a boil. Add the broccoli and ¼ tsp of salt, and let it cook for 1 to 2 minutes or until your desired doneness. Transfer the broccoli to an ice bath to stop the cooking process, then set it aside.
Step 4: Fry the shrimp
In a wok or deep pot, preheat the oil to 350°F (175°C). Once the oil is hot, add the shrimp one at a time and fry in batches for 2 to 3 minutes or until they're golden brown. Make sure not to overcrowd the pot so they don't end up sticking together.
Once the shrimp are cooked, transfer them to a wire rack to drain the excess oil.
Step 5: Make the sauce
In a bowl, combine the mayonnaise, sweetened condensed milk, rice vinegar, honey, and salt. Stir them together to mix well. Then, add the shrimp and mix everything together to coat well.
Step 6: Serve!
Arrange the broccoli on a plate, followed by the shrimp. Don't forget to sprinkle a generous amount of honey-glazed walnuts and serve!
Cooking Tips for Honey Walnut Shrimp
Preparing the shrimp is probably the most tedious part of this recipe, but if you get the shrimp already peeled, then the rest of the steps should be relatively straightforward and easy. To make the perfect version of this recipe every time, here are a few tips you can follow:
Don't skip the step of deveining the shrimp. This helps remove the unpleasant gritty and sandy texture when you bite into it.
Frying the shrimp in batches will prevent them from sticking and dropping the oil temperature too low.
If you want to adjust the sweetness of the sauce, you can add more or less honey and/or condensed milk depending on your taste preference.
Ingredients & Substitutions
Shrimp: I like using large shrimp for this but any size would work. You can also use prawns if you like!
Cornstarch: the cornstarch creates a light and crispy coating on the shrimp which then soaks up all the sweet mayo sauce. You could substitute cornstarch with potato starch.
Broccoli: broccoli is usually served with this dish at restaurants and I think it adds freshness to balance out the creaminess and richness of the dish. Feel free to swap it with any veggies you like!
Frying oil: the frying oil to use is a neutral oil like avocado, sunflower seed, canola, vegetable, grapeseed oil, or peanut oil.
Mayo: the mayo is the base of the creamy and rich sauce and I prefer using Japanese Kewpie mayo. It's a little sweeter and richer than regular mayo however you can use whichever you prefer.
Sweetened condensed milk: the sweetened condensed milk adds sweetness and creaminess to the sauce. My favorite brand to use is the Longevity Sweetened Condensed Milk. If you don't have any sweetened condensed milk available at home or at your local market, you can replace it with a combination of heavy cream and white sugar. But if you want a dairy-free version, you can DIY it by simmering coconut milk and sugar until it's reduced into a thicker consistency.
Honey: the honey helps to sweeten the sauce and also adds a complex depth of flavor. I think wildflower honey tastes best because it is neutral in flavor but you can use any honey that you prefer. You can substitute honey with maple syrup or brown sugar.
Rice vinegar: the rice vinegar gives provides a slightly acidic twist that helps balance out all the flavors and elements of the dish. You can substitute rice vinegar with apple cider vinegar, white wine vinegar, or lemon instead.
Frequently Asked Questions
Shrimps vs Prawns?
Shrimps and prawns are both crustaceans that look similar, but their size isn't the only thing that makes them differ from each other. Although you won't sense a significant difference in their taste, prawns are usually a bit sweeter.
To distinguish the two – both crustaceans have ten legs, but shrimps have claws on two pairs while prawns have claws on three pairs. The shells of their bodies are also built differently – where shrimps have a slight curve due to the second section of their shell overlapping their first and third sections. While prawns appear straighter because their shells overlap on their abdomen.
I haven't tried using prawns for this recipe, but if you've got your hands on some, they are a great substitute that's worth trying! Whether you use shrimp or prawns, I guarantee this will be a winner in your home.
How do you devein shrimp easily?
Deveining shrimp isn't a necessary step because it's not toxic nor will it make you ill. However, it can vastly improve the texture of the shrimp by getting rid of the gritty texture when you bite into it. To devein a shrimp, you'll need to peel the shell off of the shrimp first. With a paring knife, cut a shallow incision down the back of the shrimp. Using the tip of the knife, scoop out the black vein that's located right under its surface and that's it! If you've done this and you don't see a vein, you're in the clear.
What is an ice bath?
An ice bath is a method of cooling down food rapidly after cooking. This helps prevent the food to overcook and it also helps vegetables (like broccoli) retain their bright vibrant colors.
To make an ice bath, you'll need a bowl that's filled with cold water and ice. All you have to do is transfer your food (in this case, broccoli) directly into the water. This stops the carryover heat from overcooking the broccoli, so you can get a crisp consistency.
Where to buy shrimp?
You can find shrimp at any grocery store or seafood market. You just need to make sure they're good quality and fresh by inspecting their smell and appearance. Spoiled shrimp will smell strongly like ammonia, and their shell will feel slimy and soft to the touch. 
Be sure to ask the fishmonger or check the price labels for 'PF', which stands for previously frozen. This means that the shrimp was previously frozen then thawed and usually sold at a higher price. If that is the case, you're better off buying frozen shrimp, which works just fine for this recipe!
Once you've got yourself a bag of shrimp, you can store them in the freezer in an airtight container for 3 to 6 months.
Can you make this recipe without condensed milk?
I think this recipe is better with sweetened condensed milk because it gives the dish a sweeter and creamier consistency. If you want to tone down the sweetness but retain its rich consistency, you can swap the condensed milk with plain yogurt. For a dairy-free version, you can also use thickened coconut milk by simmering coconut milk and sugar until it's reduced into a thicker consistency.
What other dishes would go well with Honey Walnut Shrimp?
Here are some of my favorite dishes to enjoy with honey walnut shrimp!
1. Fried rice – while I think a bowl of fresh jasmine rice is all you need, you can level it up with a delicious Char Siu Fried Rice! 
2. Cucumber salad – the flavors of this dish can balance out well with the blend of savory and sour tastes of cucumber salads like my Spicy Asian Cucumber Salad recipe or Chinese Cucumber Garlic recipe.
3. Vegetables – if you want a quick and easy vegetable dish to complement this dish, check out my vegetable recipes:
4. Tea Eggs – marinated tea eggs with a jammy yolk make the perfect addition to this meal! For some inspiration, check out my Chinese Tea Eggs recipe!
Next time you crave honey walnut shrimp but don't want to spend the extra dollars to order it at a restaurant, give this recipe a try! I promise you'll never go back 🙂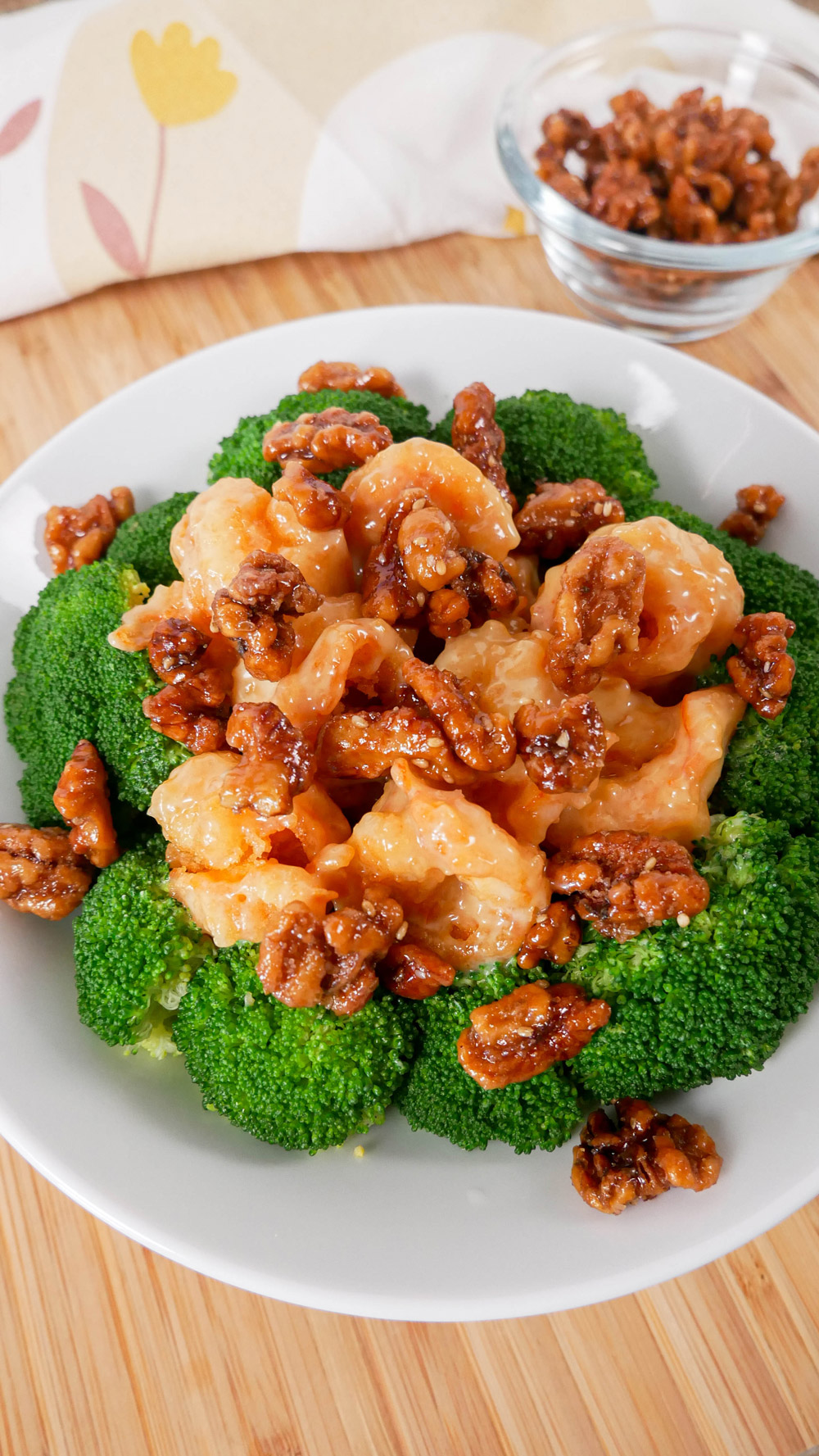 Honey Walnut Shrimp
Ingredients
1

lb

shrimp

peeled and deveined

1/4

cup

cornstarch

1

head

broccoli

1/2

tsp

salt

frying oil
Sauce
1/4

cup

mayonnaise

Kewpie brand

3

tbsp

sweetened condensed milk

1/4

tsp

rice vinegar

2

tsp

honey

salt to taste
Instructions
Peel and devein your shrimp. Next, using the tip of your knife, butterfly the shrimp by making a deep incision along the backside of the shrimp.

Transfer the shrimp to a small mixing bowl. Add the cornstarch and toss to coat well. Set aside.

In a pot over medium heat, bring 4 to 5 cups of water to a boil. Add 1/2 tsp salt and the broccoli. Cook for 1 to 2 minutes or until your desired doneness. Transfer to an ice bath to stop the cooking process. Set aside.

To make the sauce, combine the mayonnaise, sweetened condensed milk, rice vinegar, honey, and salt (to taste) in a small mixing bowl. Stir together to mix well.

In a deep pot, heat the frying oil to 350 F (175C). Add the shrimp one at a time and fry in batches for 2 to 3 minutes or until golden brown. Make sure to work in batches to prevent overcrowding the pot. You don't want them to stick together!

Transfer the shrimp to a wire rack to drain the excess oil. Repeat until all the shrimp have been cooked.

Place the shrimp in a large mixing bowl. Pour the sauce over the shrimp then mix well to coat evenly.

Serve with broccoli and enjoy!
Pin & save this recipe for later