Honey walnut shrimp is my favorite cantonese banquet food of all time! Every year on my birthday, I only ask for this because it's so good.
After learning how to make this at home, I've been able to enjoy this whenever I want! Not to toot my horn but I think my recipe tastes even better than the restaurants lol.
This recipe isn't honey walnut shrimp without the walnuts! Make sure to serve these with my honey glazed walnut recipe. They're light, crisp, and extra delicious with this dish.
Give this recipe a try – I hope you enjoy this as much as I do 🙂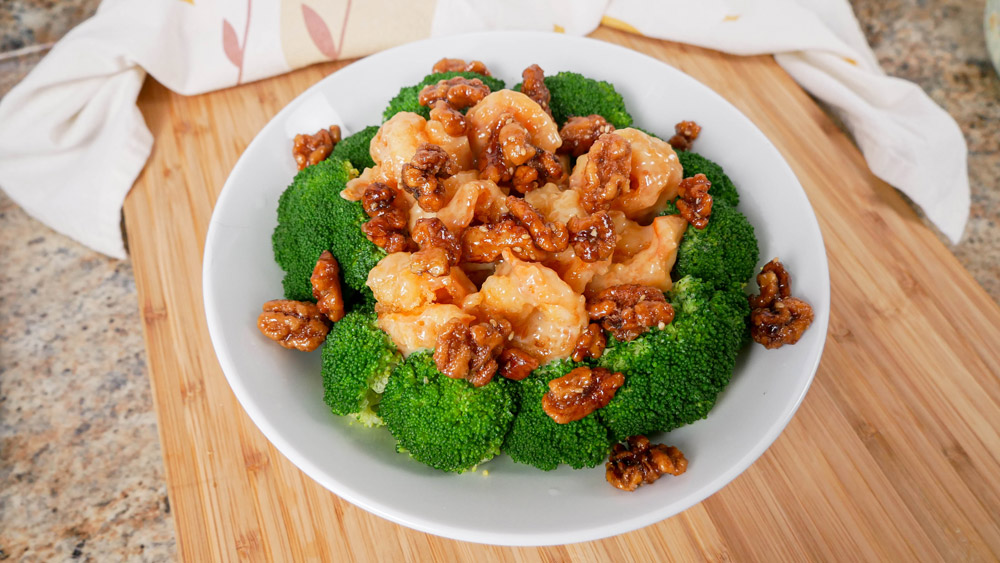 Honey Walnut Shrimp
Ingredients
1

lb

shrimp

peeled and deveined

1/4

cup

cornstarch

1

head

broccoli

1

tsp

salt

frying oil
Sauce
1/4

cup

mayonnaise

Kewpie brand

3

tbsp

sweetened condensed milk

1/4

tsp

rice vinegar

2

tsp

honey

salt to taste
Instructions
Peel and devein your shrimp. Butterfly the shrimp by making a deep incision along the back of the shrimp.

Set the shrimp in a bowl. Add the cornstarch to coat well. Set aside.

Bring 4-5 cups of water to boil in a pot. Add the broccoli and 1/4 tsp salt. Cook for 1-2 minutes or until your desired doneness. Transfer to an ice bath to stop the cooking process. Set aside.

In a deep pot, heat the frying oil to 350 degrees F. Add the shrimp one at a time and fry in batches for 2-3 minutes or until golden brown. Make sure not to overcrowd the pot so they don't stick together.

Transfer to a wire rack until all the shrimp has been cooked.

Place the shrimp in a bowl and pour the sauce in. Mix well and coat evenly.

Serve with broccoli and enjoy!
Sauce
In a small bowl, combined the mayonnaise, sweetened condensed milk, rice vinegar, honey, and salt. Stir together to mix well.