Looking for a delicious meatless burger option? This mushroom steak burger is it!
Portobello mushrooms are a meaty and hearty vegetable so they are ideal for burgers as meat alternatives. The glaze is smokey, savory and has a BBQ-like flavor thats packed with a ton of seasoning. It'll level up your mushroom game and make you wonder if you should even eat a beef burger again.
I can never have a burger without fries on the side and this recipe would pair really well with my Korean pickle brine fries. Give it a try and let me know how you like it!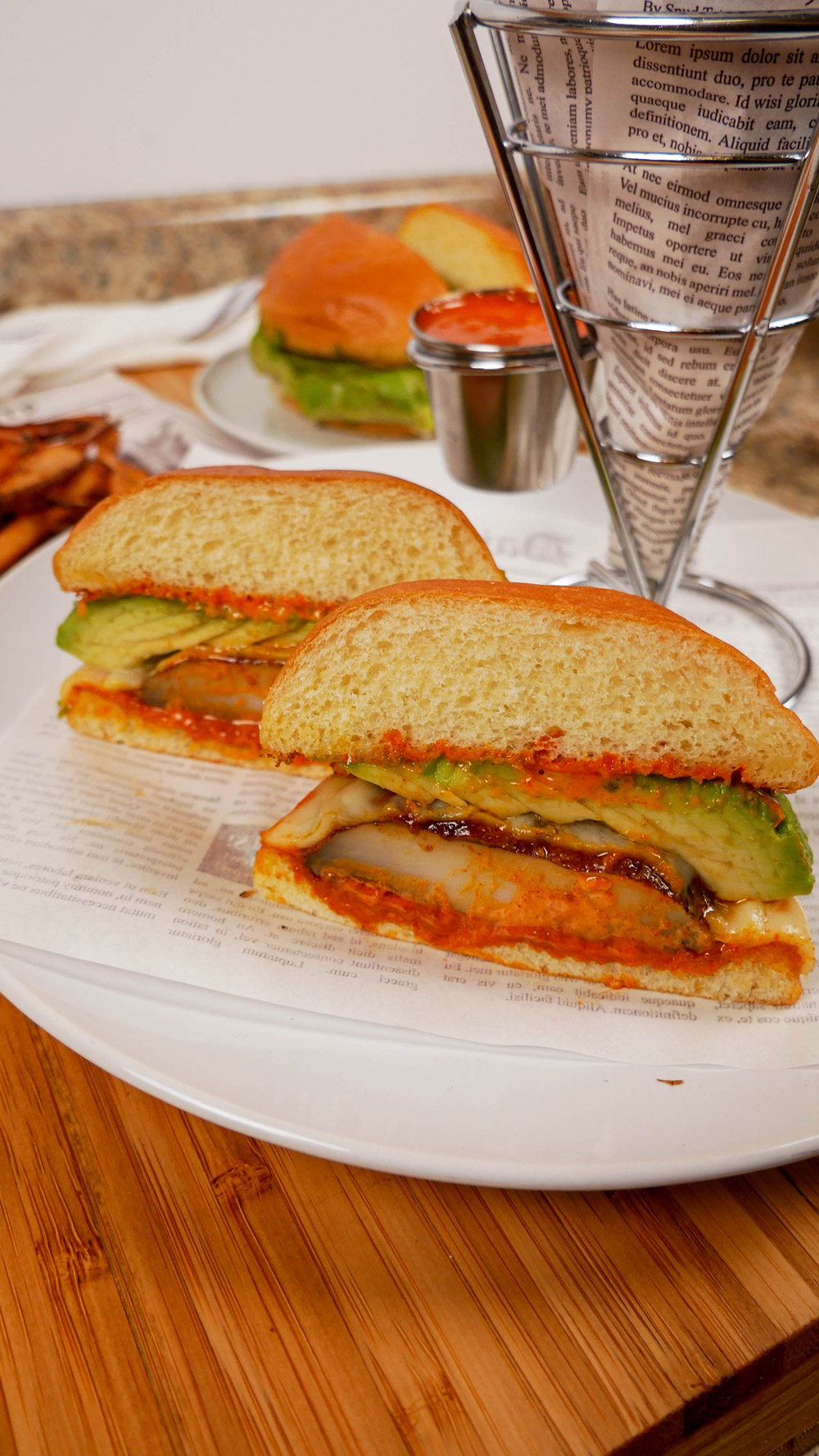 Mushroom Steak Burger
Ingredients
2

Portobello mushrooms

1

tbsp

olive oil

2

brioche buns

or buns of your choice

1

tbsp

butter

to toast buns

2

slices of pepper jack cheese

or cheese of your choice

1

avocado

sliced

pinch of flakey salt

to taste
Mushroom Glaze
1

tbsp

Dijon mustard

1

tsp

Sriracha

1

tsp

Worcestershire sauce

2

tsp

soy sauce

1

tsp

smoked paprika

1/2

tsp

cayenne

1/4

tsp

cumin

2

tsp

sugar

salt and pepper

to taste
Gochujang Mayo
1.5

tbsp

gochujang

Korean red pepper paste

1/2

tsp

gochugaru

Korean red pepper flakes

1/2

tsp

sugar

1/2

cup

mayo

preferably kewpie

2

cloves of

garlic

grated

1/2

tsp

sesame oil

1

tsp

rice vinegar
Instructions
Remove the stem from the Portobello mushroom. Using a damp paper towel, gently scrub the mushroom to remove any dirt.

Flip the mushroom underside up. With a spoon, scrape away the dark brown fibers underneath the mushroom cap This helps remove the earthy and funky flavor that these fiber produce.

Place the mushrooms on a plate and cover with saran wrap. Microwave for 3 minutes and flip every minute to ensure both sides are evenly cooked.

Carefully remove the mushrooms from the microwave and pat dry with a paper towel. Set aside

In a bowl, combine the Dijon mustard, Sriracha, Worcestershire sauce, soy sauce, smoked paprika, cayenne, cumin, sugar, salt and pepper. Mix until well combined.

Heat a pan on medium low heat and toast the buns with butter. Remove and set aside.

In the same pan, heat 1 tbsp of oil and add the mushrooms. Cook for about 1 minute on each side.

Next, use a brush and lather the glaze on both sides of the mushroom. Cook for about 1-2 minutes on each side or until slighty charred.
Gochujang Mayo
In a bowl, combine the gochujang, gochugaru, sugar, mayo, garlic, sesame oil, and rice vinegar. Mix well until thoroughly combined.
Assemble the Burger
Add a layer of gochujang mayo on the bottom bun. Next, add the mushroom and top with cheese. Melt the cheese with a blow torch (optional)

Place the sliced avocado on top followed by a pinch of flakey salt.

Lather a spoonful or two of the gochujang mayo. Crown the burger with the top bun and enjoy!