This is the easiest Korean 'banchan' or side dish recipe you'll ever make. It only takes 5 minutes, making it the perfect quick and easy side dish to put together on a busy or lazy weeknight.
The tofu is served cold so all you need to do is assemble the sauce and pour it on top. There are so many tofu variations in Korean cooking and this tofu recipe is one of my favorites!
Why you'll love this recipe
If you've never been particularly fond of tofu, maybe you just haven't found the right recipe that will make you want to reconsider. My easy Korean silken tofu recipe is a must-try for a high-protein tofu dish that's packed with a ton of flavor. 
Soy sauce and sesame oil are a classic flavor duo, but the spice kick from the gochugaru and chili oil is what makes you want to come back for more. You can serve this with plain rice or noodles, or as a refreshing side dish for your main course. Most of the ingredients are pantry staples plus, you'll be able to easily prepare this in a matter of minutes!
How do I prepare Korean Silken Tofu?
Since there's no cooking involved in this quick and easy silken tofu recipe, it'll be relatively easy to prepare. To get started, follow the steps below!
Step 1: Prepare the tofu
To start, slice the silken tofu and arrange it on a plate.
Step 2: Make the sauce
Combine the scallion, garlic, red pepper, water, soy sauce, sesame oil, sugar, gochugaru, and sesame seeds in a bowl. Mix them together until they're well combined.
Step 3: Assemble and serve!
Pour the sauce mixture over the tofu, making sure each piece is coated well. Top with as much chili oil as you prefer and serve immediately!
Preparation Tips for Korean Silken Tofu
Although preparing silken tofu only takes a few steps, keeping these tips and tricks in mind will ensure it comes out perfectly delicious every time:
While this recipe is served cold, you can also serve it warm if you'd like. Just steam for 6 to 8 minutes or microwave for 1 to 2 minutes until warm. Be sure to pour out the excess water before pouring the sauce on top. 
Feel free to adjust the seasonings of the sauce according to your preferences. If you want it to be saltier, add more soy sauce. If you want it spicier, just add more gochugaru or chili oil!
To make this even easier, you can also make the sauce ahead of time. Making it a day in advance will allow the ingredients to mingle and develop the flavor. This sauce can also be used as a dipping sauce for Korean Seafood Pancake.
Ingredients & Substitutions
Silken tofu: I used the silken tofu that comes in a tube, which is commonly used for Korean stews like Kimchi Soondubu Jjigae. You can also use silken tofu that comes in rectangular containers or paperboard boxes. 
Scallion: scallions add a mild onion flavor to the dish, as well as a bit of color as a garnish.
Garlic: garlic adds a subtle spice that helps cut through some of the savoriness in the dish. Just be mindful of how much garlic you're adding – raw garlic can get spicy!
Red pepper: you can use any type of pepper you like for this dish, including jalapeno, serrano, or Thai chili peppers. 
Soy sauce: I'm using regular Korean soy sauce or 'jin ganjang' for this recipe, but if you want to reduce the amount of sodium, you can use low-sodium soy sauce. 
Sesame oil: sesame oil adds a roasted nutty flavor that complements the sauce. A little goes a long way!
Sugar: the sugar helps to balance out the savory flavors in the dish. Feel free to adjust the sugar based on your preferences. 
Gochugaru: gochugaru adds a subtle kick to the sauce. For a milder dish, reduce the amount of gochugaru added or omit it completely. If you wanted it spicier, just add a bit more gochugaru until you're happy with the spice level. While gochugaru has a distinct flavor that is hard to replicate, you can substitute it with Sichuan chili flakes or red pepper flakes. 
Roasted sesame seeds: the sesame seeds add a nutty flavor and textural crunch to the dish. They also look great as a garnish. 
Chili oil: you can use any brand of your favorite chili oil, but if you like you can also try using my easy Korean Chili Oil recipe. It only takes 15 minutes and it's incredibly delicious!
Topping Additions
For additional flavors or textures, try customizing the toppings for this recipe! Some ideas include:
Pork floss – if you want to sneak in a bit of protein, the sweet and savory flavors of pork floss are a welcomed addition to this dish. It also melts easily in your mouth, making it the perfect topping on silken tofu.
Furikake – for a burst of umami flavor, you can never go wrong with a dash or two of furikake!
Cucumbers – if you want to add another refreshing element to the silken tofu, try adding some diced cucumbers. They're crunchy and refreshing plus, they'll absorb the flavors of the sauce for a flavorful bite. 
Crushed peanuts – if you're looking for a bit of texture to contrast the creaminess of the silken tofu, crushed peanuts might be a great addition. The nutty flavors will also enhance the sesame oil in the sauce.
Fried garlic – if you want to make the ultimate garlic sauce for your silken tofu, fry a few minced garlic up until they're golden brown and fragrant. Generously top them over the tofu, and I promise you won't regret it!
Frequently Asked Questions
What is silken tofu made of?
If you're not familiar with silken tofu, its wobbly consistency is made from coagulated soy milk. It originally contains mature white soybeans that are steamed, grounded, and pressed to get soy milk. It's then added with a type of coagulant, called glucono delta-lactone, to turn it into its iconic gelatin-like consistency.
You can use any silken tofu that you find in the grocery store but I think the silken tofu that comes in a tube tastes the best. It can be found at any Korean grocery market in the refrigerated section. 
Can you steam silken tofu?
Silken tofu is perfectly safe to eat without cooking. But if you want to heat it, you can also steam it on a steamer basket for 6 to 8 minutes. Alternatively, you can pop it in the microwave for 1 to 2 minutes or until it's heated through. Once heated, make sure to carefully pour out the excess water before topping with the sauce. 
What can I substitute gochugaru with?
Gochugaru is a Korean chili powder that's made from a type of red chili pepper. Compared to regular chili powder, gochugaru provides a complex fruity and smokey spiciness when added to any dish. While gochugaru has a distinct flavor that can't be easily replicated, you can substitute gochugaru with Sichuan chili flakes or red pepper flakes. 
Can you store Korean Silken Tofu?
Yes, you can store leftover silken tofu in the fridge. Make sure to store it in an airtight container and it will stay good for 2 days. 
Since tofu has a high moisture content, it has the tendency to spoil rather quickly, so I recommend consuming the tofu as quickly as possible. You'll know the dish is spoiled once it has a sour smell. In that case, discard it immediately. 
Looking for more easy and delicious tofu recipes?
Check out some of my favorites below!
1. Air Fryer Salt and Pepper Tofu – don't underestimate the simple combination of roasted salt and black pepper – it creates a delectable base of flavor for the crispy tofu. The secret is to toast the salt and pepper, which adds a more complex flavor than regular table salt and black pepper!
2. Impossible Mapo Tofu – if you love mapo tofu but you're looking for a healthier alternative with plant-based meat, you've come to the right place. Mapo tofu is notorious for being a rice killer so make sure to prepare extra servings of rice because you'll be devouring this!
3. Seafood Soondubu – if you're craving a filling seafood stew, this recipe is right up your alley. Every bite was a seafood flavor bomb so if you're a seafood lover like me, you have to try this recipe. It's spicy, hot, and refreshing!
4. Soybean Paste Stew – this is a classic Korean stew that's incredibly comforting, satisfying, and easy to make. It has a lovely combination of tofu, mushrooms, and veggies, making it the perfect hearty meal.
5. Maeun Tang – 'maeun tang' or Korean spicy fish stew is a super delicious Korean fish soup that literally translates to 'spicy soup'. It's served with tofu and veggies making it the perfect comforting meal.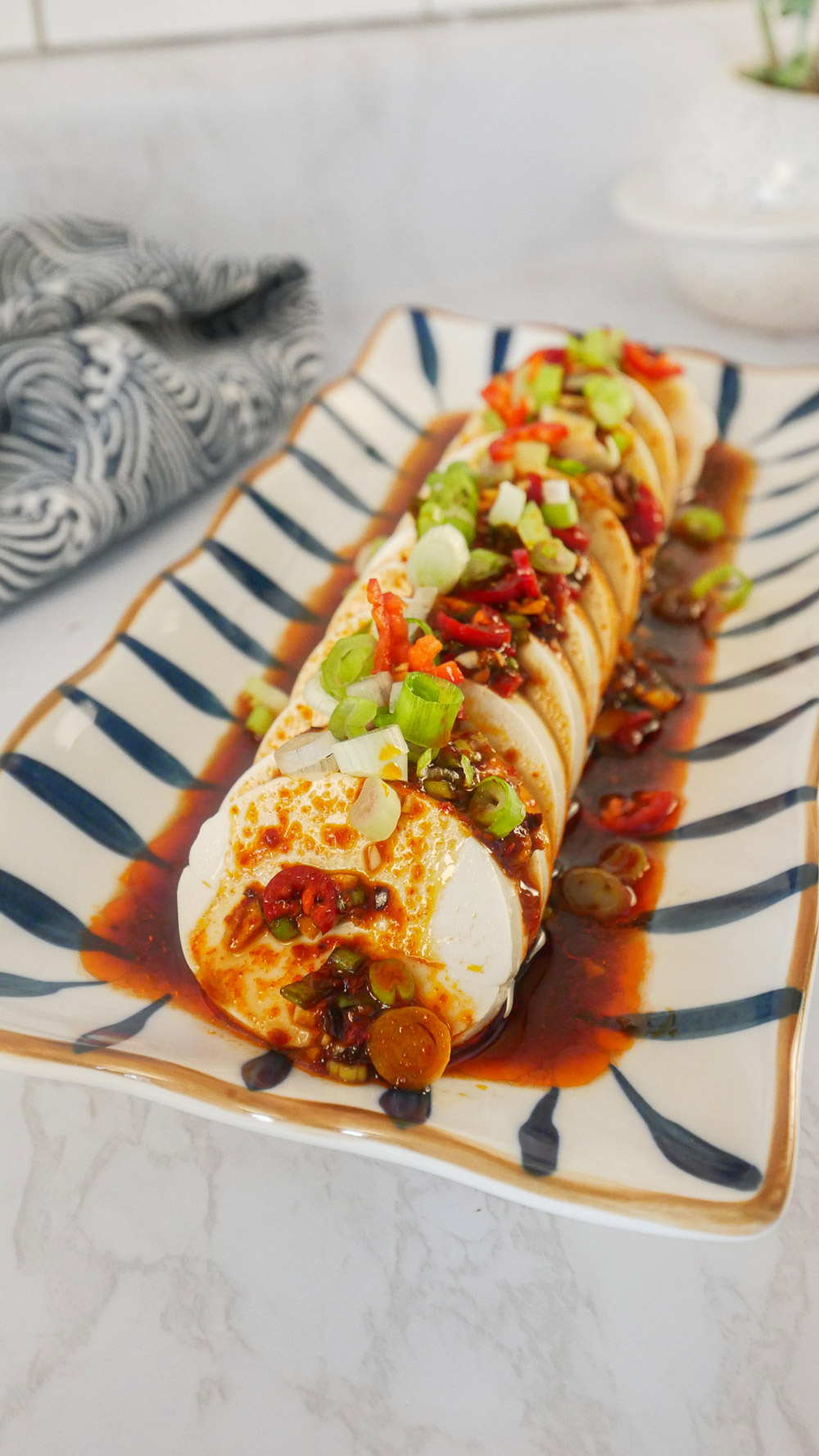 Korean Silken Tofu
Ingredients
1

12-16 oz package

silken tofu

1

scallion

finely chopped

1

garlic clove

minced

1

red pepper

or jalapeno, sliced

1/4

cup

water

1/4

cup

soy sauce

1/2

tbsp

sesame oil

1/2

tbsp

sugar

1/2

tbsp

gochugaru

Korean red pepper flakes

1/2

tbsp

sesame seeds

1

tsp

chili oil

optional
Instructions
Slice the tofu and arrange it on a plate.

Combine the scallion, garlic, red pepper, water, soy sauce, sesame oil, sugar, gochugaru and sesame seeds. Mix together well.

Pour the sauce mixture over the tofu. Top with chili oil.
Pin & save this recipe for later!