This crunchy eggplant katsu is eggless, vegan, and incredibly delicious. Perfect with a bowl of rice or on top of curry, it hits the spot every time. After posting my original Eggplant Katsu recipe, I got tons of requests for an eggless version. I might be a little biased, but I think this eggless one tastes better than the original!
The wet batter in this recipe allows the panko breadcrumbs to adhere a lot better to the eggplant, which results in a crispier and crunchier exterior.
I like to serve this dish with a side of homemade tonkatsu sauce and a hot bowl of fresh rice, and you have to believe me when I say this combo is absolutely heavenly! If you give this recipe a try, let me know what you think in the comments below!
What does katsu mean?
Katsu is the shortened term for katsuretsu, which means "cutlet" in English. It's a well-beloved Western-style Japanese dish that's composed of a protein cutlet that's covered in a crispy panko breading.
The dish was first invented in 1899 at a Western-style restaurant called, Rengatei. It was inspired by the French dish, côtelette de veau, which is a veal cutlet that's coated in bread crumbs and pan-fried in butter. Since the chef in Rengatei thought the dish was too greasy for the Japanese palette, they took inspiration from the method of making tempura, switched the veal with pork cutlets, and used panko bread crumbs instead of the typical bread crumbs found in Western culture.
The result was a lighter and crunchier version that made the dish an absolute hit. Since then, katsu has become the inspiration for more dishes – from katsu sandwiches to katsu curry to katsu donburi (rice bowls). Katsu can also be made with various ingredients aside from pork including beef, chicken, tofu, and even eggplant. 
Japanese Eggplant vs American Eggplant
If you're in the United States, you're probably used to seeing short and oblong-shaped eggplants with a dark purple color. These cultivars are called Globe or American eggplant and they have a savory taste when cooked.
Japanese eggplants, on the other hand, are long and skinny, and often have deeper purple colors that sometimes appear black. They have a mild sweet taste that can turn creamy once cooked. Japanese eggplants can be mistaken for Chinese eggplants because of their similarities in shape. To distinguish between the two, Chinese eggplants are usually a lighter purple color.
This recipe can work with any type of eggplant, however, so feel free to use what's available!
Crunchiest Vegan Eggplant Katsu
If you don't normally like the taste of eggplant, this recipe will change your mind once take a bite. Its crunchy exterior pairs well with the silky texture of the eggplant making it the perfect combination of textures and flavors. 
If you're planning to enjoy this with a bowl of rice, don't forget to pair it with the tonkatsu sauce! It adds another layer of sweetness and umami flavors which will make you hungry for more. 
Ingredient Substitutes
Cornstarch: cornstarch is necessary for giving eggplants their signature crunchy texture, but you can also use potato starch.
Panko bread crumbs: if you can't find Panko bread crumbs, you can also use regular bread crumbs for this recipe. You can also make homemade Panko by crumbling stale and crustless white bread into a coarse texture. Spread them on a baking sheet and bake them until they turn golden brown.
Worcestershire sauce: Worcestershire sauce has a unique combination of tangy, sweet, and salty flavors. You can duplicate its sharpness by adding a splash of balsamic vinegar to the sauce.
Oyster sauce: oyster sauce adds a sweet and umami flavor to the katsu sauce however you can replace it with a mixture of soy sauce and sugar. 
Smoked paprika: smoked paprika is added to the recipe for a hint of spice so any chili powder should work. Some alternatives include cayenne pepper, chili flakes, or chili powder.
How do I make Crunchy Eggplant Katsu?
This dish is relatively straightforward and easy to prepare. With a few simple steps, you can make a delicious eggplant katsu worthy enough to impress. To begin, follow these steps below:
Step 1: Make the wet batter
To make the batter, combine all-purpose flour, cornstarch, baking powder, salt, and water in a bowl. Make sure to mix well and set the mixture aside.
Step 2: Make the breading
For the breading, combine panko breadcrumbs, salt, paprika, and black pepper in a deep plate or dish. Then set aside.
Step 3: Prepare the eggplant
After washing the eggplant, slice them into ½ inch pieces. Keep in mind that thicker slices will take longer to cook. 
Step 4: Coat the eggplant
To coat the eggplant, dip it into the wet batter first, making sure all sides are completely covered. Next, place it into the panko coating. Coat all sides, making sure to press the breadcrumbs firmly to help them stick better to the surface.
Step 5: Frying 
In a pan, preheat the frying oil on medium-low heat. To check if the oil is hot enough, add a pinch of breadcrumbs to the hot oil. If it starts to sizzle, then you'll know it's ready for frying. However, if it doesn't sizzle, allow the oil to heat up for a few more minutes. 
Slowly add the eggplant to the preheated oil and let it cook for 2-3 minutes on each side or until it starts to turn golden brown. Once they're done, remove them from the heat and place them on a wire rack to let the excess oil drain. Don't forget to sprinkle a pinch of salt on top for some flavor.
Step 6: Mix the sauce
To make the katsu sauce, combine the ketchup, Worcestershire sauce, oyster sauce, and sugar in a bowl. Stir and mix well until fully combined.
Step 7: Serve hot!
Serve the crispy eggplant with a fresh bowl of rice and a serving of katsu sauce on the side. Enjoy!
Cooking tips for Crunchy Eggplant Katsu
Making this eggplant katsu recipe is very straightforward and even a novice cook could nail it easily. To ensure you get the perfect golden brown exterior and crunch, here are a couple of tips you can keep in mind:
When coating the eggplant in the panko breading, press the breadcrumbs onto the eggplant so it adheres better. 
Be sure the oil is thoroughly hot before adding the eggplant katsu to the pan. If it is not hot enough, the breadcrumbs will soak up all the oil resulting in a greasy and soggy katsu.
If you start to see smoke coming out of the oil, lower the heat immediately to prevent the breadcrumbs from burning!
Frequently Asked Questions
Can you bake Eggplant Katsu?
If you're trying to lower your intake of fried foods, baking eggplant is a great alternative. Although it will take longer to cook, the result is a less oily version while maintaining its crunchy texture. 
For instructions on baking, check out my Baked Vegan Katsu with Eggplant recipe! For an air fryer version, set the temperature at 390F/200C and air fry for 25 to 30 minutes or until crispy on both sides. Be sure to flip halfway through!
What are Panko breadcrumbs?
You might be wondering what the difference between Panko bread crumbs and regular bread crumbs is. Panko is a Japanese-style breadcrumb that is traditionally used for breading tonkatsu and other deep-fried dishes. It is lighter than your standard breadcrumb because it is made from toasted crustless white bread. It also stays crunchy for a longer period of time because it doesn't absorb as much oil when frying. 
Panko breadcrumbs have gained popularity over the years so you can easily find them in most grocery stores or Asian markets. If you can't get a hold of any, you can also make some at home by crumbling stale and crustless white bread into a coarse texture with a food processor. Once crumbled, spread them out on a baking sheet and bake them until they turn golden brown.
Can you store leftover Eggplant Katsu?
Fried foods usually don't hold well as leftovers because the coating loses its crunch and becomes soggy as it sits. This dish is best served fresh to maintain its crunchy exterior.
What other dishes pair well with Eggplant Katsu?
Eggplant katsu is already delicious on its own but if you want to add more variety to your meal, here are a few side dishes to choose from:
1. Cucumber Salad – Cucumbers are the perfect side dish because they're light, refreshing, and very easy to put together. Here are some of my favorite cucumber salad recipes:
2. Curry Rice – curry and katsu are a classic combo so if you're looking for a heartier meal, try pairing this eggplant katsu with my Korean Curry Rice recipe.
3. Tofu – Similar to eggplant, tofu has a soft and silky texture that pairs well with the crunchiness of the panko breading. If you want a refreshing side dish, you can try my Korean Silken Tofu recipe.
Looking for more Japanese-inspired recipes?
Check out my recipes below!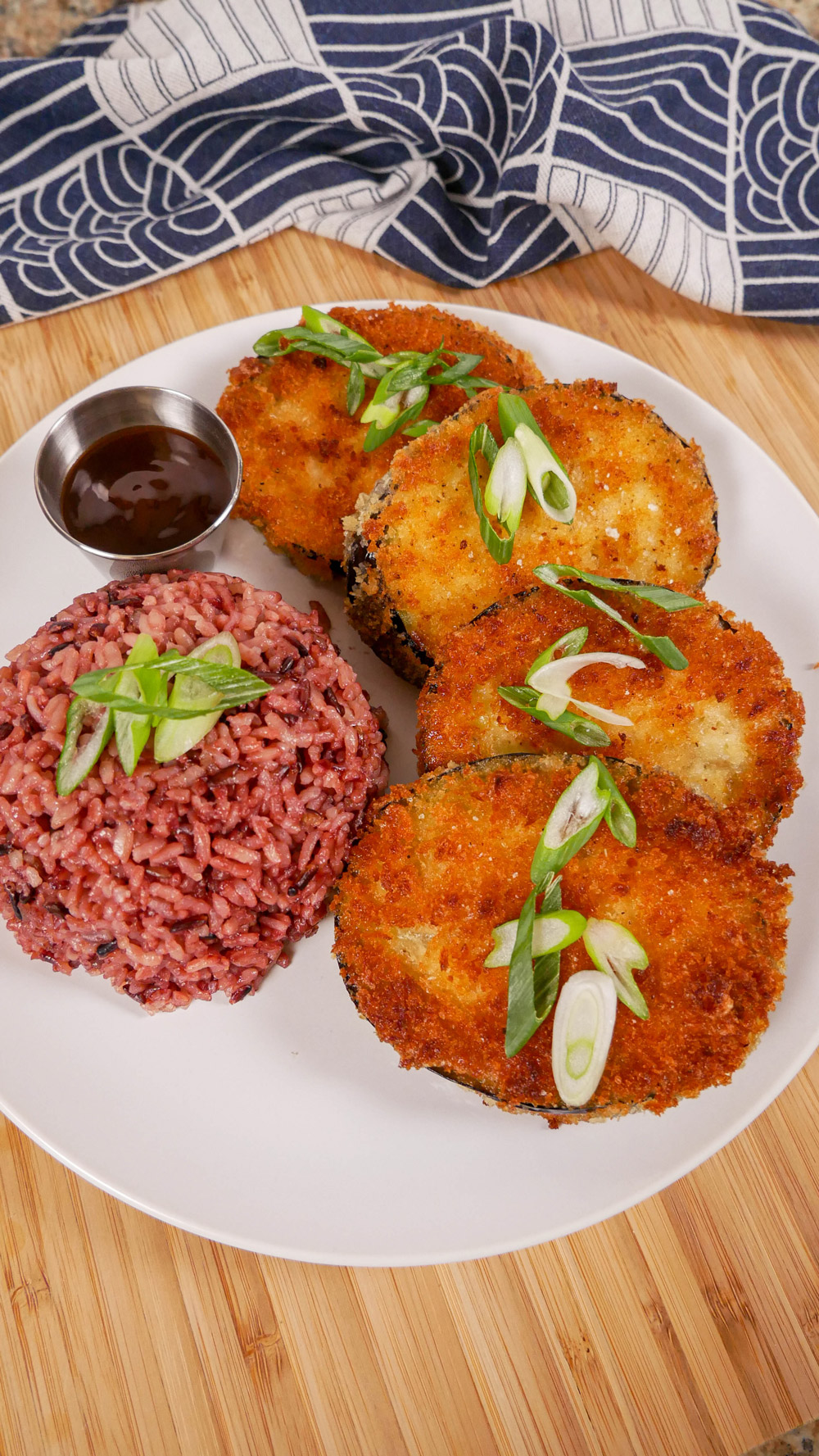 Crunchy Eggplant Katsu
Ingredients
1

lb

eggplant

1/4

cup

neutral oil

for frying, more if needed

pinch of flakey salt
Wet Batter
1/2

cup

all-purpose flour

1 1/2

tbsp

corn starch

or potato starch

1

tsp

baking powder

1 1/2

tsp

salt

1/3

cup

water
Panko Coating
2 1/2

cups

panko bread crumbs

1/2

tsp

salt

1/4

tsp

black pepper

1/2

tsp

smoked paprika

optional
Tonkatsu Sauce
2

tbsp

ketchup

2

tbsp

Worcestershire sauce

1

tbsp

oyster sauce

1/2

tsp

sugar
Instructions
Preheat oven to 390F / 200C.

For the wet batter, combine all-purpose flour, corn starch, baking powder, salt, and water. Mix well.

For the panko breading, combine panko bread crumbs, salt, paprika, and black pepper in a deep plate or dish. Set aside.

Slice the eggplant into 1/2 inch pieces. Dip eggplant into the wet batter until fully coated.

Next, place the eggplant in the panko coating. Press the bread crumbs into the eggplant to help the breading adhere better.

Transfer coated eggplants to a sheet tray then spray with cooking oil spray.

Bake for 20 to 30 minutes or until golden and crispy. Make sure to flip half way through so both sides are evenly cooked.

Once the eggplants are out of the oven, sprinkle with a pinch of flakey salt.

Enjoy with the chipotle lime dipping sauce!
Tonkatsu Sauce
In a small bowl, combine ketchup, Worcestershire sauce, oyster sauce and sugar. Mix well until fully combined.
Pin & save this recipe for later