The Breakfast Crunchwrap from Taco Bell is my all-time favorite fast food breakfast! It's a meal that I could probably eat everyday but probably shouldn't. After seeing the nutrition facts for one breakfast crunchwrap, I knew I had to recreate it at home so that I had complete control of what was going into it. This meant that I could add my own twist, like sautéing kimchi with the sausage and even making a parmesan crisp!
To be quite honest, this tasted like a gourmet or elevated crunchwrap. The complexity and marriage of all these flavors from the kimchi and sausage, creamy jalapeno/pickle sauce, and the parmesan crisp really worked!
If you want to level up your breakfast, give my recipe a try!! 🙂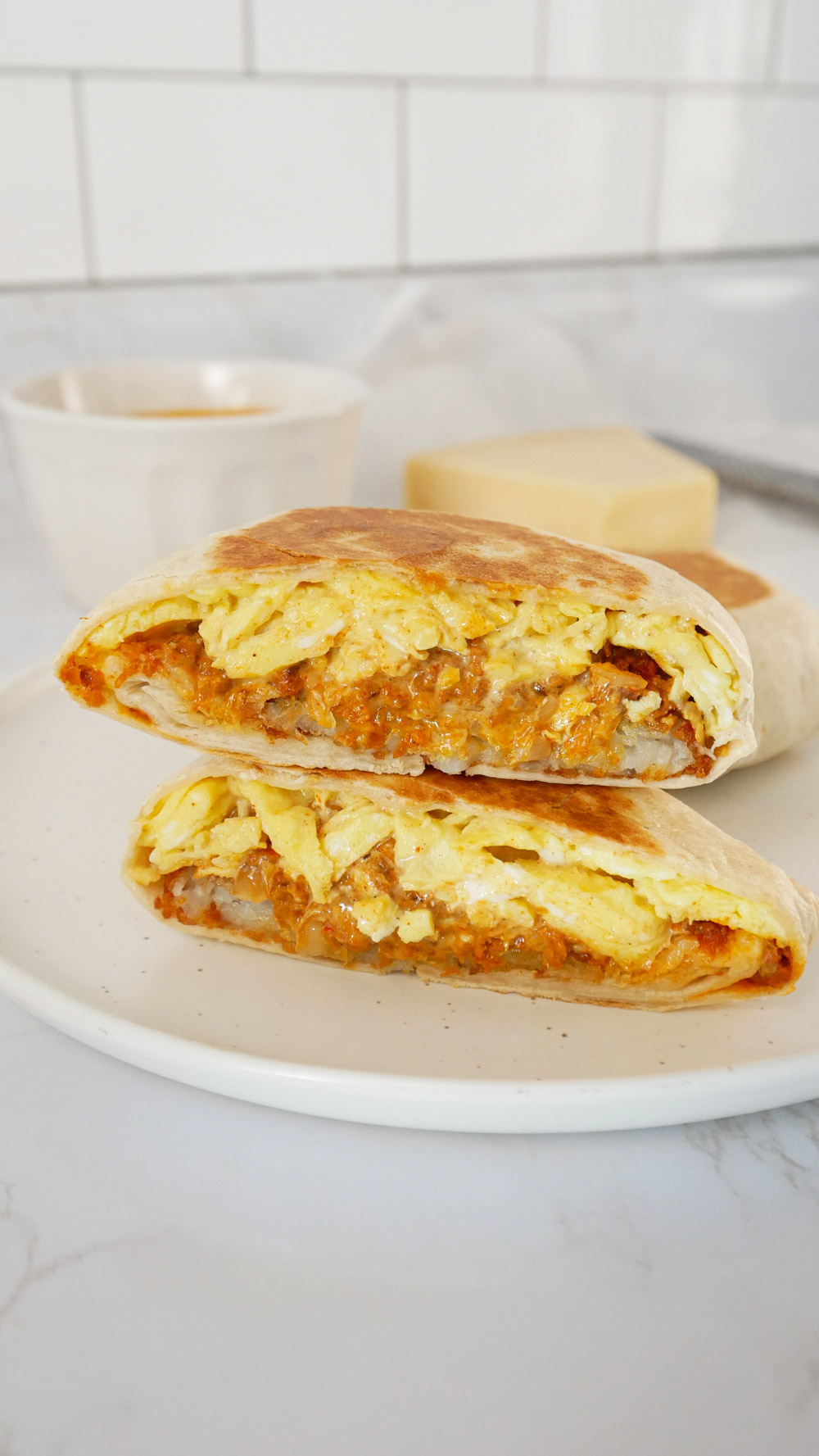 Kimchi Breakfast Crunchwrap with Parmesan Crisp
Ingredients
2

flour tortillas,

burrito size, warmed

6

oz

ground sausage,

or your choice of protein

1/4

cup

kimchi,

chopped

4

eggs,

scrambled

2

tbsp

butter,

divided

1/4

tsp

salt

2

cooked hashbrowns

1

tbsp

olive oil

1/2

cup

grated parmesan cheese,

plus more for topping
Sauce
1/2

cup

mayo

1 1/2

tbsp

pickle or jalapeno juice

1 1/2

tbsp

pickled jalapenos or pickles

1

tsp

paprika

1

tsp

ground cumin

1/2

tsp

garlic powder

1/2

tsp

onion powder

1/2

tsp

sugar

1/4

tsp

chili powder

1/4

tsp

salt,

adjust to taste

1

thai chili

chopped, optional
Instructions
Let's start by preparing the parmesan crisp! Preheat the oven to 400F or 205C. Prepare a baking sheet lined with a silicone baking mat or parchment paper.

Transfer 1 tbsp of grated parmesan onto the baking sheet and spread it out into a thin circle, about 4 inches in diameter. Repeat for the remaining cheese, making sure to leave about 1 inch space in between each. Bake for 4-7 minutes or until golden brown, then set aside.

In a pan, heat olive oil over medium heat. Add the ground sausage and break it up into small pieces with a spatula. When the sausage is fully cooked, push it to one side and add 1 tbsp butter.

Once the butter melts, add the chopped kimchi and cook for 1 minute. Mix the kimchi and sausage together and cook for another minute. Remove and transfer to a bowl.

In another bowl, scramble the eggs with salt. Heat a pan over low-medium heat and add the remaining tbsp of butter. Cook the eggs to your preferred doneness and transfer to a bowl.

For the sauce, combine mayo, pickle juice, pickled jalapenos, paprika, cumin, garlic powder, onion poweder, sugar, chili powder, and salt. Mix until well combined and set aside.

Once everything has been made, it's time to assemble!

Lay a warm flour tortilla on cutting board and stack it with scrambled eggs, sausage kimchi mixture, 1-2 tbsp of sauce, freshly grated parmesan cheese, the parmesan crisp, and hash brown. Gently fold all sides of the tortillas over towards the center.

Transfer the crunch wrap to a pan and toast it on both sides over low heat.
Pin & save this recipe for later!