If you have extra ramen flavor powder laying around the house like I usually do, you have to make popcorn with it! It's so easy and it tastes so good! 
I'm using the Shin Ramen soup flavor powder because that's my choice of instant ramen but honestly, any ramen powder would work for this. For extra layers of flavor, I also like to add curry powder and cumin powder along with the soup powder. After giving them a quick toss, they're ready to eat! 
This recipe is easily customizable so feel free to use any spice combinations that you like! Some spices that I think would also work really well include:
Smoked paprika
Chili powder
Chipotle powder
Gochugaru (Korean chili flakes)
Cayenne pepper
Onion powder
Garlic powder
Za'atar
Cinnamon & sugar (for a sweet version!)
Let me know what your favorite popcorn flavor combinations are down below!
Why you'll love this recipe
If you like the flavors of ramen and the light crunchy texture of popcorn, combing these two elements together will create a deliciously addictive snack. Plus it only takes 5 minutes to make! Since popcorn has a fairly bland and neutral taste, you could flavor it in so many different ways. Whether you're using a ramen soup seasoning packet or creating your own mix of spices, the possibilities are truly endless. 
Feel free to use this recipe as a base and build your own seasoning mixture to make it how you like. If you're looking for ideas, I have a few flavor combinations below that I think you might enjoy 🙂
Ramen Popcorn Flavor Combinations
Aside from curry and cumin powder, here are a few more flavor combinations you can experiment with:
1. Garlic powder – somehow the addition of garlic always makes any dish taste much better, and ramen popcorn is no exception! If you want to level up the umami flavors add a teaspoon of garlic powder and adjust to taste.
2. Cinnamon & sugar – if you have a sweet tooth, you can scrap the ramen packet powder completely and dust the popcorn with cinnamon and sugar. Or if you're feeling adventurous, maybe combing all three might actually be…. a masterpiece?!
3. Bacon grease – instead of cooking the popcorn with olive oil or butter, you can save the bacon grease from breakfast and use it to add a delicious smoky bacon flavor. I meannnnn….
4. Chili powder – if the spice in ramen seasoning isn't hot enough for you, you can always increase the level by adding any chili powder of your choice, including smoked paprika, gochugaru, or cayenne pepper.
5. Grated parmesan – if you're looking to add a flavor bomb to your popcorn, some grated parmesan cheese will get the job done. I think it would complement the ramen seasoning packet very nice actually!
How do I prepare Ramen Popcorn?
If you're craving a quick snack or something to munch on while watching a movie, doing homework, or just lounging around, this tasty popcorn might just be the exact thing you're looking for. To get started, follow these simple instructions below!
Step 1: Prepare the seasoning powder
In a small bowl, combine the ramen flavor packet, curry powder, cumin powder, and any additional spice of your choice. Mix them well together and set them aside.
Step 2: Cook the popcorn
Preheat 3 tablespoons of olive oil (or butter) in a deep pot on medium heat. To test if the oil is hot, drop a few kernels into the pot. When they pop you'll know it's ready.
Next, turn the heat to low and add the dried corn kernels. Mix them for a few minutes then cover the pot with a lid. Shake the pot every few seconds to mix the kernels around. 
Step 3: Flavor the popcorn
Once all of the kernels have popped (you'll know they're ready when you don't hear any more popping), turn off the heat and remove the lid. Next, pour the ramen seasoning mixture on top. Drizzle 2 tablespoons of oil or butter and toss to coat the popcorn. Do a quick taste test to check if the seasonings are to your liking. Serve and enjoy!
Cooking Tips for Ramen Popcorn
If you've never tried making popcorn before, here are a few tips you can keep in mind when making this recipe:
Feel free to adjust the amount of ramen seasoning and spice you use. The ramen seasoning is fairly salty so be sure to taste as you go. If you have leftover ramen seasoning, just wrap it tightly with plastic wrap and save the rest for next time!
When cooking, it's important to shake the pan from time to time to prevent the kernels and popcorn from burning. It will also mix the kernels and popcorn around so they're evenly cooked.
Be careful not to open the lid while the kernels are in the middle of popping otherwise, your kitchen will be raining popcorn! You'll know the popcorns are ready when you don't hear any more popping sounds. 
Ingredient Substitutions
Olive oil: aside from olive oil, you can also use other neutral-tasting oils including:
Curry powder: while there are many variations of curry powder, I like using Madra's Curry Powder. if you don't have curry powder, you can make your own blend at home by combining:
Cumin powder: the taste of cumin powder is unique and can be challenging to find a substitution but ground coriander is as close as you can get! Feel free to swap the cumin for any other spices that you prefer. Here are some other spices that you can use:
Frequently Asked Questions
What is the secret to perfect popcorn popping?
While I'm not a popcorn-popping expert by any means, I think the secret to popping the perfect popcorn is to start with good-quality and fresh popcorn kernels. As I mentioned in my video below, the oil should also be hot before you dump in all the kernels into the pot. To ensure the oil is hot and ready, just place a couple of kernels into the pan, and once they pop you'll know the oil is at the right temperature. Shaking the pan is also a crucial step because it will distribute the popcorn and kernels around to prevent burning and promote even cooking. 
What is in ramen seasoning packets?
Ramen seasoning packets do most of the work for instant ramen noodles. In fact, it carries all the flavor! Depending on the brand, a ramen seasoning packet can contain garlic powder, onion powder, salt, black pepper, dehydrated vegetables (green onion and carrots), sugar, red pepper, paprika, ginger powder, soybean paste powder, corn starch, and monosodium glutamate (MSG).
Contrary to popular belief, MSG is a natural flavor enhancer. It's a substance that is derived from the amino acid glutamic acid that's naturally found in our bodies. It also contains lower levels of sodium compared to table salt so it's ideal for people looking to reduce their sodium consumption. MSG is also used in a wide range every snacks and products, from chips and condiments to seasoning blends and soups. 
If you had reservations about using MSG or consuming MSG, don't be alarmed! It's natural and it makes your food taste better!
Why do you add oil when flavoring popcorn?
Adding a bit of oil or butter when flavoring the popcorn will ensure the seasonings will adhere better. While the popcorn has little nooks and crannies, the seasoning will not stick and fall off, resulting in a bland, boring, sad little popcorn 🙁 The oil or butter will act as the 'glue' to help the seasoning adhere, giving you a burst of flavor in every bite. Just be mindful of how much oil or butter you're adding – you don't want the popcorn to be soggy or drenched! I recommend starting with 2 tablespoons of oil or butter first, then if needed, add more one tablespoon at a time. 
Can you save and reheat ramen popcorn?
If you've fallen in love with this recipe and decided to make a big batch, you can store any leftovers in an airtight container. The ramen popcorn will stay fresh for up to 1 week, as long as you store it in a cool, dry place. To revive its crispness, spread the popcorn on a sheet tray and place it in the oven at 250°F (121°C) for 5 minutes or until they're hot. Be sure to mix the popcorn around so they're evenly warmed!
Looking for more easy snack recipes? I got you covered!
Whether you're planning an elaborate spread for movie night spread or just want to have a fun and quick snack, here are a few recipes you might want to make with your ramen popcorn:
1. Kimchi Nachos – similar to popcorn, nachos are a great movie snack! If you're looking to level up your nachos, give this recipe a try. You won't be disappointed.
2. Pepsi Chicken Wings – these 5-ingredient glazed chicken wings are finger-licking good and so easy to put together! Be sure to make a big batch because these are addicting!
3. Hotteok (Korean Sweet Pancakes) – if you're looking for a sweet treat, these soft and chewy, slightly crispy pancakes will get the job done! They have a sweet filling made of brown sugar and assorted nuts – so good!!
4. Pineapple Guacamole – chips and dip are a classic snack and my favorite dip happens to be this delicious pineapple guacamole! It's not traditional by any means but it's absolutely delicious!
5. Mango Mochi – if you love soft and chewy textures like mochi, you're going to love my mango mochi recipe! They have the perfect amount of sweetness from the fresh mango and they only take 10 minutes to make 🙂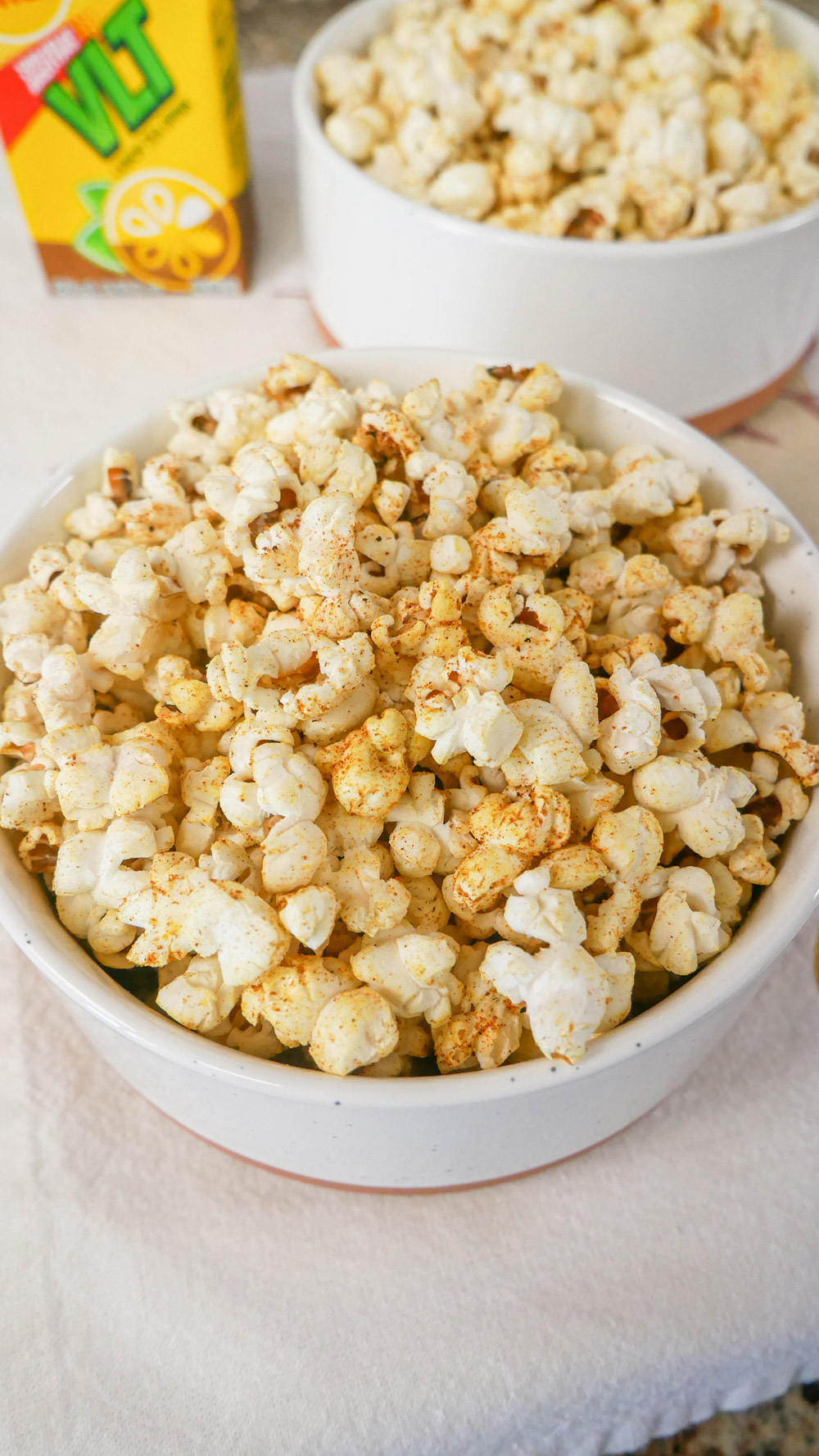 Ramen Popcorn
Ingredients
1/2

cup

dried corn kernels

5

tbsp

olive oil

divided

1/2

tbsp

ramen flavor powder

adjust to taste

3/4

tsp

curry powder

adjust to taste

1/4

tsp

cumin powder

adjust to taste
Instructions
In a small bowl, combine the ramen flavor packet, curry powder, and cumin powder. Mix together well.

Heat 3 tbsp olive oil in a deep pan on medium heat. To test if the oil is hot, add a few kernels. When they pop, the oil is ready.

Turn the lead to low and add the dried corn kernels in. Mix for a few seconds then cover with a lid. Shake the pan a few times to help mix the the kernels arounds.

After all the kernals have popped, turn off the heat and remove the lid. Pour the ramen seasoning mixture on top. Drizzle 2 tbsp of oil and toss to coat the popcorn.
Pin & save this recipe for later!