I first made these French tuiles back when I was in high school and they have been my absolute favorite baked goods ever since! I make these all the time for my friends and family and I get compliments all the time because they LOVE it so much.
I call these 'sweet pringles' because their shape reminds me of pringles! While shaping them is optional, I think it adds a nice presentation. Whether they're shaped or not, they'll taste just as good so it doesn't really matter what they look like!
My original recipe used toasted almonds but I didn't have any in my pantry so I skipped it used my spiced maple glazed pecans that happened to be on my kitchen counter. I also topped some with flakey salt and let me tell you, the sweet and salty combo is to die for. It will literally have you coming back for more!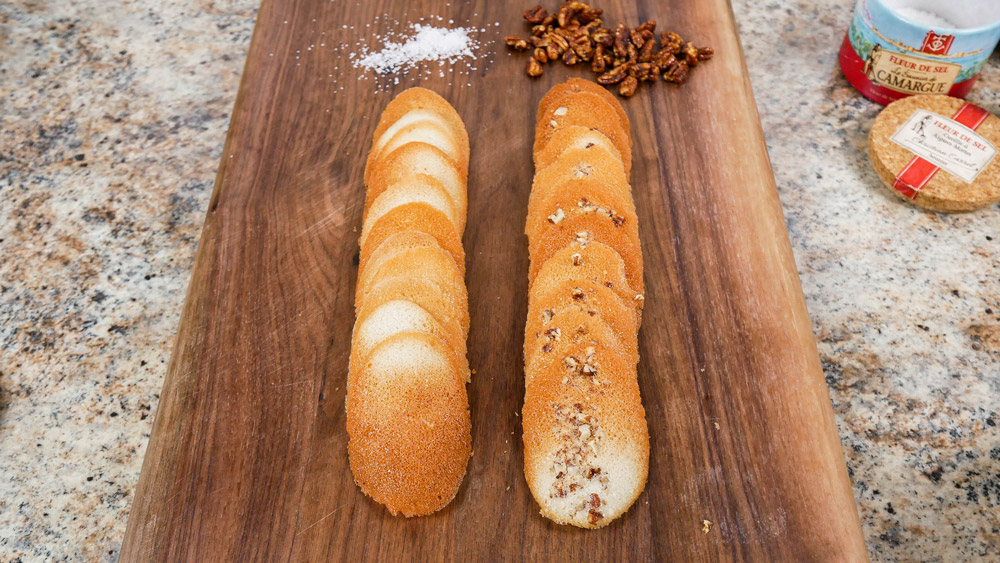 Ingredients
3

tbsp (45g)

butter

1/2

cup less 2 tsp (100g)

sugar

2

egg whites

1/4

tsp

vanilla extract

3

tbsp + 1 tsp (30g)

all-purpose flour

1/2

cup

chopped nuts

optional

pinch of

flakey salt
Instructions
Preheat oven to 400 degrees F / 200 degrees C

Place the butter in a heat proof bowl and microwave until melted.

In a bowl, combine sugar, egg whites, vanilla and mix with whisk together.

Stir in the flour with melted butter and whisk until smooth

On a lined sheet tray, drop a teaspoon of batter at a time. Using the back of a spoon, spread the batter out thinly. The batter should be so thin you can see the parchment or lining.

Sprinkle chopped nuts or a pinch of flakey salt on top of each tuile.

Bake for 6-10 minutes or until edges are browned, making sure to turn the sheet tray halfway through.

The tuiles will be very malleable after it comes out of the oven and will harden fairly quickly. To shape the tuiles, use an offset spatula to lift and transfer the tuiles from the baking tray immediately after coming out of the oven onto a rolling pin. If you prefer to keep them flat and straight, wait for them to cool completely and they will come right off the sheet tray.

Store in an air tight container for up to 4 days.
Notes
Shaping the tuiles is optional. They'll taste just as good so it doesn't really matter what they look like!
Pin & save this recipe for later!