Once you get a taste of these spiced maple-glazed pecans, you'll understand how addicting they are! I love snacking on them and I don't even feel guilty because they don't have any added sugar. Making them is also very easy because all you'll need are maple syrup, salt, and your favorite spices.
For this recipe, I'm using one of my favorite spice combinations – which consists of chipotle powder, smoked paprika, cayenne pepper, and white pepper. If you want a sweet version, you can completely skip the spices or substitute them with any combination you like. Other spice variations that I think will work well are cumin, cinnamon, and chili powder. But this recipe is easily customizable so you can come up with your own blend according to your taste preferences!
If you plan on making this recipe, expect a medley of flavors that range from crunchy, sweet, salty, and spicy – that's why I think they're the perfect snack to have around the house. I usually like to eat them as is, but if I'm feeling adventurous I sometimes top them on ice cream or yogurt or sprinkle them over my French Tuile Cookies recipe. Since the pecans usually tend to go quickly, I always make sure to bake a big batch whenever I prepare them! 
Why you'll love this recipe
Instead of reaching for chips, I like to snack on these tasty pecans because their combination of sweet, salty, and spicy flavors tricks me into thinking I am! Since most of the ingredients may already be in your pantry, making this recipe won't be a hassle at all. All you need to do is to combine maple syrup, salt, and spices, and you'll have a delectable snack in as fast as 25 minutes!
If you like, you can even make a big batch and separate them into different flavors. That way, you'll have an endless supply of snacks in the house. If you have extra, you can even give them to your family and friends on special occasions as a homemade gift!
How do I prepare Spiced Maple Glazed Pecans?
For a nutritious snack that keeps your hunger at bay, you'll want to give this sweet and spicy recipe a try. To prepare, you can follow this easy step-by-step guide below:
Step 1: Prepare the oven
Preheat the oven to 350°F (180°C) while you prepare the ingredients.
Step 2: Prepare the glaze
In a bowl, combine the pecans, maple syrup, salt, pepper, chipotle powder, smoked paprika, cayenne pepper, and white pepper. Remember to mix them well so the spices are evenly distributed.
Step 3: Bake the pecans
Pour the pecans into a single layer on a lined sheet tray. Then, place the tray in the oven and let the pecans bake for 12 to 18 minutes. Remember to mix them halfway through to ensure they're cooking evenly.
Keep a close eye on the pecans after returning them to the oven to make sure they don't burn!
Step 4: Cool and store
Once you start to smell a pleasant sugary aroma and the pecans begin to have a golden brown coating, you'll know they're ready. Take them out of the oven and let them cool completely. You'll be tempted to reach for some right away but patience is key here! Once cooled, transfer them to an airtight container and they will stay fresh for up to 2 weeks!
Cooking tips for Spiced Maple Glazed Pecans
It can be difficult to mess up this recipe since it only requires a few steps to make. But there are a few pointers that you'd need to keep in mind when working with sticky substances, like maple syrup:
Don't forget to line the sheet tray with parchment paper or a silicone baking mat to prevent the pecans from sticking to the surface. If you forget, you could end up scrubbing the sheet tray for hours!
Only use a wooden or silicon spatula for mixing the glazed pecans if you don't want your metal or plastic utensils to suffer the same fate.
Keep a close eye on the pecans when baking to prevent them from burning, or else you'll end up with a bitter-tasting mess! 
Let the pecans cool completely before transferring them to a container to ensure they won't end up sticking to each other.
Ingredient Substitutions
Pecans: if you're not fond of pecans, you can also replace them with walnuts or almonds. If you like, you can even try my Honey Glazed Walnut recipe!
Maple syrup: maple syrup is the primary sweetener in this recipe that forms a shiny and delicious glaze, but if you can't find real syrup in the store you can also replace it with honey or molasses.
Chipotle powder: chipotle powder adds a smoky and spicy flavor to this dish, but if it's unavailable you can use a combination of smoked paprika and cumin instead.
Smoked paprika: smoked paprika also builds the spice in this recipe but adds a hint of sweetness to the flavors. If you don't have some on hand, you can add an extra dash of chipotle powder or cayenne pepper instead. But you can also replace it with chili powder.
Cayenne pepper: cayenne pepper adds the final level of spice to this recipe. But if you don't have any at home, you can also substitute it with red pepper flakes or chili powder.
White pepper: white pepper adds a milder spice level to the recipe, but if it's unavailable you can also replace it with black pepper or completely omit it instead.
Frequently Asked Questions
How should you store Spiced Maple Glazed Pecans?
Once the glazed pecans are completely cool, you can store them in an airtight container at room temperature for up to 2 weeks. Keep an eye on them on hot and humid days since the glaze has a tendency to melt. You can also extend their shelf life for 3-4 weeks if you store them in the fridge. If you want to make a big batch, you can keep them in the freezer for up to 2 months and only thaw a small portion when you want to consume them. Just keep in mind that the texture will slightly change when frozen and thawed. 
How can you tell if a pecan is good?
When buying pecans, one way to make sure they're fresh is to get them from reputable grocery stores, farmer's markets, or online shops. Good unshelled pecans should have a uniform brown color that is free from cracks or damage. You can also detect it from their weight since matured pecans should be heavier than they look. Make sure to stay away from pecans that have a rancid smell since those have gone bad. 
How do you detect real maple syrup?
To experience the complex flavors of real maple syrup, you need to know how to spot authentic syrup against fake ones. Since it can be difficult to differentiate through their color, one foolproof method is to read the label on the bottle – real syrup should only list pure maple syrup as its sole ingredient while imitation ones will have a long list of components where corn syrup is the main ingredient. Authentic maple syrup should also have a thin and runny consistency that easily pours out, while other syrups tend to be thick and sticky.
What dishes will Spiced Maple Glazed Pecans go well in?
Aside from having them as a convenient snack, these tasty pecans are easy to incorporate into plenty of dishes. Whether they're sweet or savory, the spices and glaze can surprisingly elevate your meals even if you just add them as toppings. If you want my suggestions, I'd recommend you give these recipes a try:
1. Ice cream – if you're a kid at heart, then you know that ice cream tastes best when it has as many toppings as you like. If you want to unlock your new favorite topping, try this on my Hong Kong Egg Waffle recipe and you'll know how addicting these can be!
2. Pancakes – pancakes are always a sweet and delectable treat no matter what time of day. If you add these pecans as toppings or fillings in my Korean Sweet Pancakes and Mango Pancake recipes, I swear you'll want to make them all week long!
3. Smoothie – if you want a refreshing and hearty meal that doesn't require a lot of ingredients, you can blend the pecans with my Misugaru Shake recipe or add them as toppings for a spicy kick!
4. Noodles – if you want to enhance its nutty flavors, chop and scatter a generous amount of these sweet and spicy pecans on top of my Taiwanese Sesame Noodles recipe!
5. Bao buns – you'll have to trust me when I say this – this melt-in-your-mouth Pork Belly Bao recipe will taste ten times better with a sprinkle of chopped pecans on top.
6. Peanut sauce – for a refreshing side dish with an unexpected twist, crush and add these glazed pecans on top of the peanut sauce to go with my Shrimp Summer Rolls recipe!
Looking for more quick and easy snack recipes? Check them out below: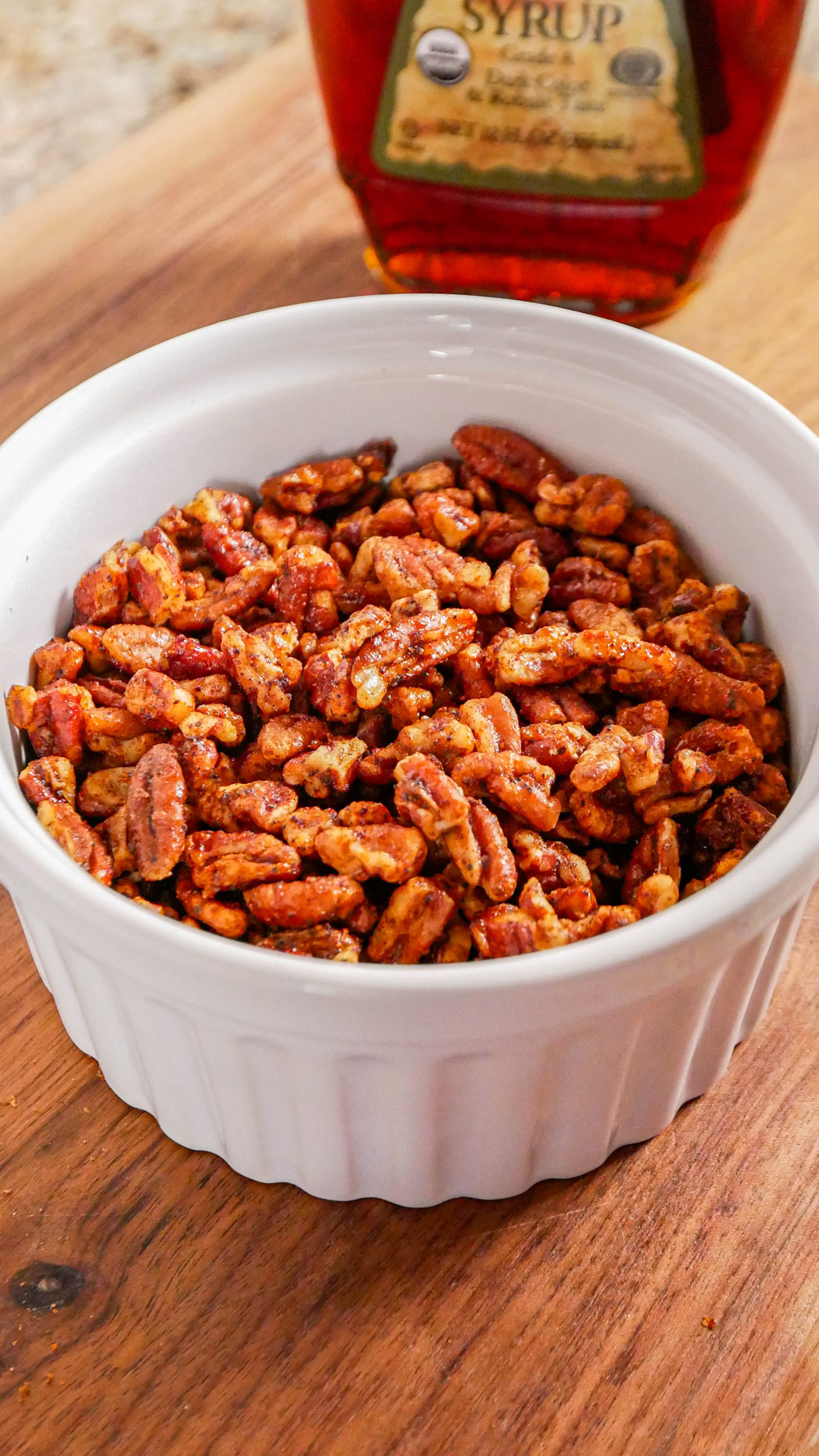 Spiced Maple Glazed Pecans
Ingredients
1 1/2

cup

pecans

4

tbsp

real maple syrup

1/2

tsp

salt

1/8

tsp

black pepper

1 1/2

tsp

chipotle powder

1/2

tsp

smoked paprika

1/4

tsp

cayenne pepper

1/4

tsp

white pepper
Instructions
Preheat oven to 350 degrees F / 180 degrees C.

In a bowl, combine the pecans, maple syrup, salt, pepper, chipotle powder, smoked paprika, cayenne pepper, and white pepper. Mix together well.

Transfer the pecans onto a lined sheet tray in a single layer. Place in the oven and bake for 12-18 minutes, making sure to mix halfway through.

Keep an eye on the pecans after tossing halfway through to prevent it from burning.

Let it cool completely. Store in an air tight container for up to 2 weeks.
Notes
Feel free to substitute the spice or completely omit them!
Allow the pecans to cool completely before eating and storing. 
Pin & save this recipe for later!