Summer's right around the corner and what better way to embrace the new season than with Vietnamese shrimp summer rolls! This is my take on the classic shrimp summer rolls but with a little twist on the inside. Rather than using raw carrots and radish, I quickly pickled them to add more flavor in each bite!
This dish is also called spring rolls, depending on where you live. Here in NYC, most restaurants label these as summer rolls and the fried version as spring rolls. No matter where you're located, summer rolls are the perfect light meal for the warmer months.
You can't have a summer roll without a dipping sauce and my peanut dipping sauce is the perfect accompaniment to this dish. It's jam packed with flavor so your taste buds and I can guarantee that your taste buds will do a happy dance after each bite.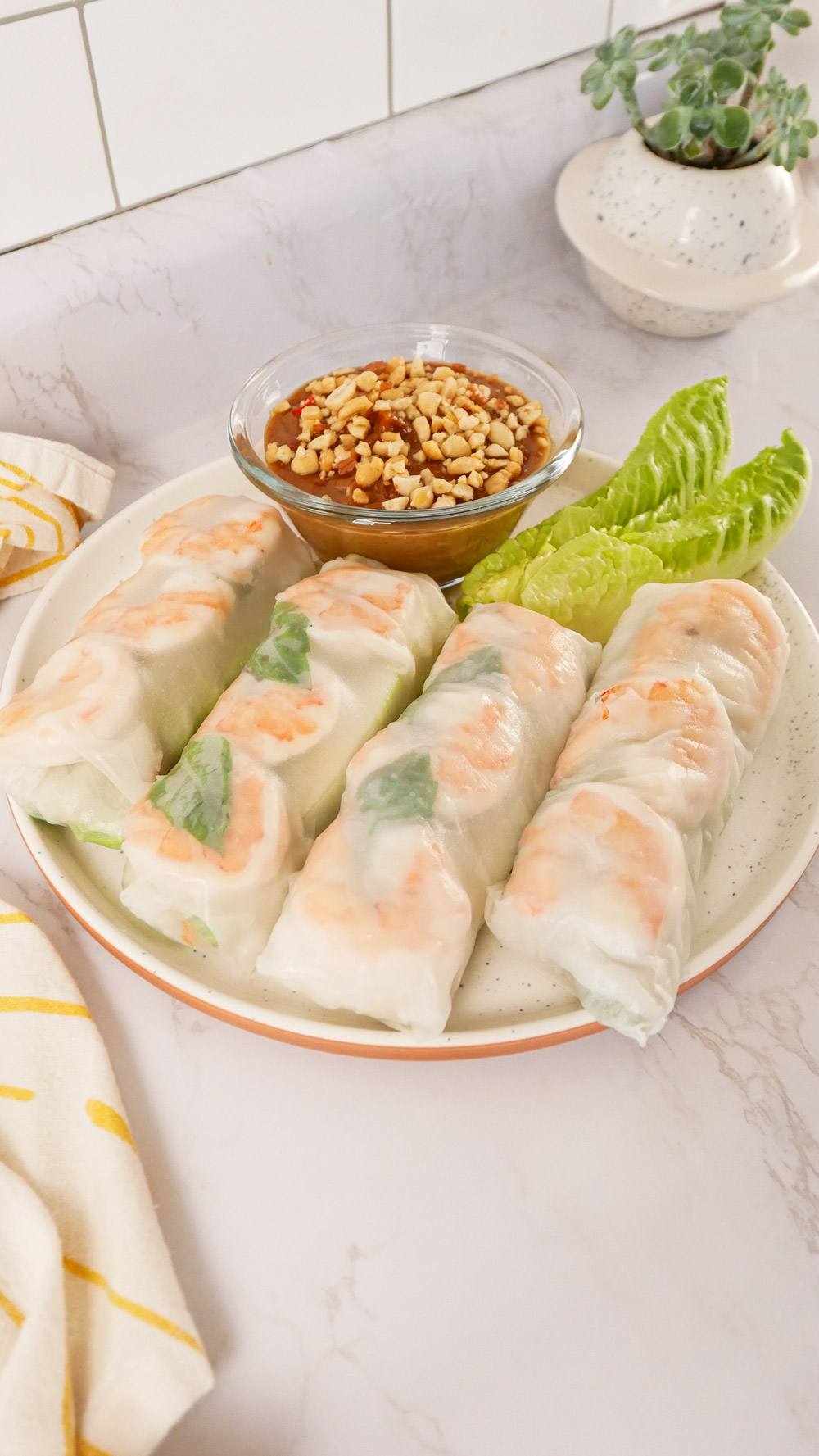 Vietnamese Shrimp Summer Rolls
Ingredients
8

large

shrimp

peeled + deveined

1

inch

knob ginger

sliced

2

small

shallots

halved

2

scallions

rough chopped

6

sheets of rice paper

6

oz

vermicelli noodles

cooked

6

lettuce leaves

your choice of lettuce

12

thai basil leaves

1

cucumber

sliced

3

cups

water

for boiling
Pickled Carrots + Radish
1

tbsp

sugar

1

tbsp

hot water

2

tbsp

lime juice

2

tbsp

fish sauce

3

cloves

garlic

minced

2-3

thai chili peppers

sliced

1/3

cup

carrot

julienned

1/4

cup

daikon radish

julienned
Peanut Sauce
2 1/2

tbsp

creamy peanut butter

1 1/2

tbsp

hoisin sauce

2 1/2

tbsp

hot water

1

tbsp

rice vinegar

1 1/2

tsp

soy sauce

1 1/2

tsp

fish sauce

1

tsp

sesame oil

1

tsp

chili garlic paste

like sambal

1

garlic clove

grated

1

tsp

sugar

crushed peanuts,

for garnish
Instructions
Let's begin by preparing the pickled carrots and radish.

Start by thinly slicing the carrots and radish. Transfer to a shallow bowl or container.

In a small bowl, mix the sugar and hot water until the sugar is dissolved. Add the lime juice, fish sauce, minced garlic, sliced thai chili peppers and stir to mix well. Pour the mixture over the carrot and radish. Place in the fridge while you assemble the rest of the ingredients.

Next, let's prepare the peanut sauce.

In a bowl, combine the creamy peanut butter, hoisin sauce, hot water, rice vinegar, soy sauce, fish sauce, sesame oil, chili garlic paste, grated garlic, and sugar. Mix until fully combined. Adjust the seasoning according to your taste and preferences! Finally, garnish with crushed peanuts.

Now let's finish up the dish!

In a pot, combine 3 cups water, sliced ginger, shallots, and scallions and bring to a boil. Once boiling, turn off the heat and add the shrimp. Cover with a lid and poach for 3 minutes.

Transfer the shrimp into an ice bath to stop the cooking process.

To assemble the summer roll, dip a sheet of rice paper into luke warm water and set it down on a cutting board or clean surface.

Layer on the ingredients of the summer roll which include lettuce, thai basil, cucumbers, pickled carrots and radish, vermicelli noodles, and shrimp.

Serve and enjoy with peanut sauce!
Pin & save this recipe for later!