If you haven't heard of misugaru (미수가루), it's a Korean multigrain powder that's nutritious, high in protein, and also super delicious!
I was looking for something that I could make for breakfast and found misugaru powder on sale at H Mart. I figured I'd give it a try, and now it has turned into my go-to breakfast! There are several brands of misugaru you can choose from, but I chose one that had 15 all-natural ingredients. (If you're curious about which brand I went with, you can see it in the video that's located at the bottom of this page).
You can enjoy misugaru as a hot or cold drink but lately, I've been loving it as a frozen shake. I typically use oat milk, a few spoons of misugaru powder, agave syrup, and ice. But the good thing about this recipe is you can adjust the ingredients according to your taste and preferences!
What is misugaru?
Misugaru or misutgaru is a mixture of powdered grains that are usually mixed into a hot or cold beverage. It has a malty and nutty flavor profile and it is a popular drink for breakfast that many Korean people enjoy. The number of grains misugaru consists of will depend on which brand you'll get. Some will even have up to 20 grains in the blend!
The most common grains you'll find are oats, barley, short-grain rice, job's tears, millet, brown rice, soybeans, and many more. The grains get their distinct nutty flavor through steaming, drying, and roasting before the final method of grinding them into a fine powder.
It's believed that misugaru has its roots dating all the way back to 800 AD when the military consumed it as food in the war. That's because the grains don't spoil easily once cooked, and it keeps the troops full for long periods of time. Misugaru is still popular as a breakfast drink and can be found in every cafe in Korea. 
Pure vs Instant Misugaru Powder
While strolling down your local Korean market, you might see a few packages labeled as instant misugaru powder. You might be interested in trying it since it's a ready-to-mix drink, which will make the preparation easier since you'll only need to add hot or cold water. This will be great if you haven't tried a misugaru drink before, so you can get an idea of whether you like its taste.
The only downside to buying the instant powder is you won't be able to control its level of sweetness, or what type of base and sweetener is used in the mixture.
If you want to make this recipe, make sure to pick up a bag of pure misugaru powder since it will only contain nutritious powdered grains. This way, you can build the drink according to your preferred taste and ingredients without any added preservatives or additional sweeteners. 
Cold & Refreshing Misugaru Shake
If you haven't tried using misugaru powder before, you'd think it would taste bland and boring just by looking at it. But thanks to the number of unique grains that are commonly used in the blend, it has a distinctly delicious flavor. 
If you're struggling to make breakfast in the morning, you can make misugaru shake in as fast as 5 minutes. As long as you have good-quality misugaru powder, the rest of the ingredients can most likely be found in your home or at your local market. All you need from this point is a powerful blender, ice, milk, and sweetener of your choice, and you'll have a filling breakfast to help you start the day!
How do I prepare a Misugaru Shake?
Making misugaru into a shake is quick and easy which is why it's the perfect breakfast for when you're on the go. To prepare this highly nutritious and healthy beverage, you'll only need to do three steps:
Step 1: Prepare the ingredients
In a blender, combine your choice of milk or water, misugaru powder, sweetener, and ice cubes.
Step 2: Blend
Blend to crush the ice into a smooth mixture. You can also add more sweetener to adjust its sweetness or pour more milk for a thinner consistency.
Step 3: Serve!
Pour the misugaru shake into your glass and enjoy it for breakfast or as a refreshment during the day!
Preparation Tips for Misugaru Shake
Granted, the recipe is short and sweet, but here are a few tricks that can help you prepare the shake easier:
You can swap the ice cubes with ice chips to make the mixture easier to blend.
If you want a lighter consistency, you can omit the milk and opt for water as your base instead.
You can also sprinkle a little misugaru powder on top of the shake to give it another texture that will make it more enjoyable to drink.
Can you make cold misugaru without blending?
If you don't have a blender, you can still enjoy a cold misugaru drink. You'll just need to combine the powder, sweetener, and cold milk or water. Misugaru powder does have the tendency to clump, so to prevent this you can pour a little bit of liquid into the powder and stir until it's dissolved. Then, pour the rest of the ingredients in to complete the drink. 
You can also drop a few ice cubes into the drink to keep it cold for longer. This will have a thinner consistency than the shake, but it will still be delicious!
Can you drink misugaru hot?
If you're craving a hot drink on a chilly day, you can make a cup of misugaru by heating the milk or water in a pan or microwave. Once it's hot, add the misugaru powder and sweetener, then stir until they're well combined. Pour the drink into your favorite mug, and let this tasty drink warm you up.
Where to buy misugaru powder?
You can find misugaru powder in Korean or Asian markets, and they'll usually be in the oats and cereal aisle. You can also find it online, but make sure to only buy from reputable sellers. There will be several brands to choose from and the number of grains they contain will vary but you can check the ingredients list to see what grains they consist of.
Misugaru can last for 2-3 months at room temperature, as long as you keep it tightly sealed. Some brands will have resealable packages, but if the one you have doesn't, it's best to transfer it to an airtight container. To extend the shelf life of the misugaru powder to up to a year, you can also put it in the fridge or freezer.
Is Misugaru Protein Powder?
Misugaru powder is similar to protein powders because it does contain high levels of protein, vitamins, and minerals. The number of grains it contains will also keep you full, that's why it's often used as a meal replacement. But unlike protein powders, misugaru has slightly less amount of protein per serving so be sure to check the nutrition labels for exact measurements. 
Ingredient Alternatives
Misugaru: Since this is the star of the show, I don't recommend substituting it with any other ingredient. But in case you just ran out for this morning's breakfast, a few spoons of finely ground oatmeal or protein powder will give you a similar feeling of satiation.
Milk: I prefer to use oat milk for this recipe, but you can swap it for your preferred choice of milk. Whether it's whole milk, soy milk, or almond milk, misugaru will taste great with it.
Agave syrup: You can substitute agave syrup with any type of sweetener. Honey, sugar, maple syrup, or stevia are great alternatives.
What other drinks and dishes can you make with misugaru?
1. Iced coffee – if you prefer to drink coffee in the morning, mixing a few spoons of misugaru powder can add an extra nutty flavor!
2. Green juice – instead of adding protein powder to your green juice, a few spoons of misugaru powder can give you a similar protein content with an added nutty and malty twist.  
3. Chocolate milkshake – if you're up for giving yourself a treat, why not add misugaru into the mix to make the ultimate dessert? You can even top it off with some chocolate syrup and ice cream to turn it into the best milkshake that you'll ever have. 
4. Dalgona latte – mixing a few spoonfuls of misugaru into this popular coffee drink will give it another level of flavor. A final sprinkle at the top will also give it an interesting texture that will make you want more!
5. Bingsu – this classic Korean desert won't be complete without a sprinkle of misugaru at the top. If you haven't tried this before, it would be perfect on a hot summer's day!
6. Ice cream – it's been proven that misugaru tastes great with dairy so to take it up a notch, why not sprinkle it on top of ice cream? You can even use my Hong Kong Egg Waffle with Ice Cream recipe to try it!
7. Cookies – this may be out of the box, but the nutty flavor of misugaru can complement any type of cookie. If you're looking for some inspiration, you can add a few spoonfuls of the powder to my French Tuile Cookies recipe.
Start your day off on the right foot and have yourself a healthy and delicious shake for breakfast! I hope you give this a try 🙂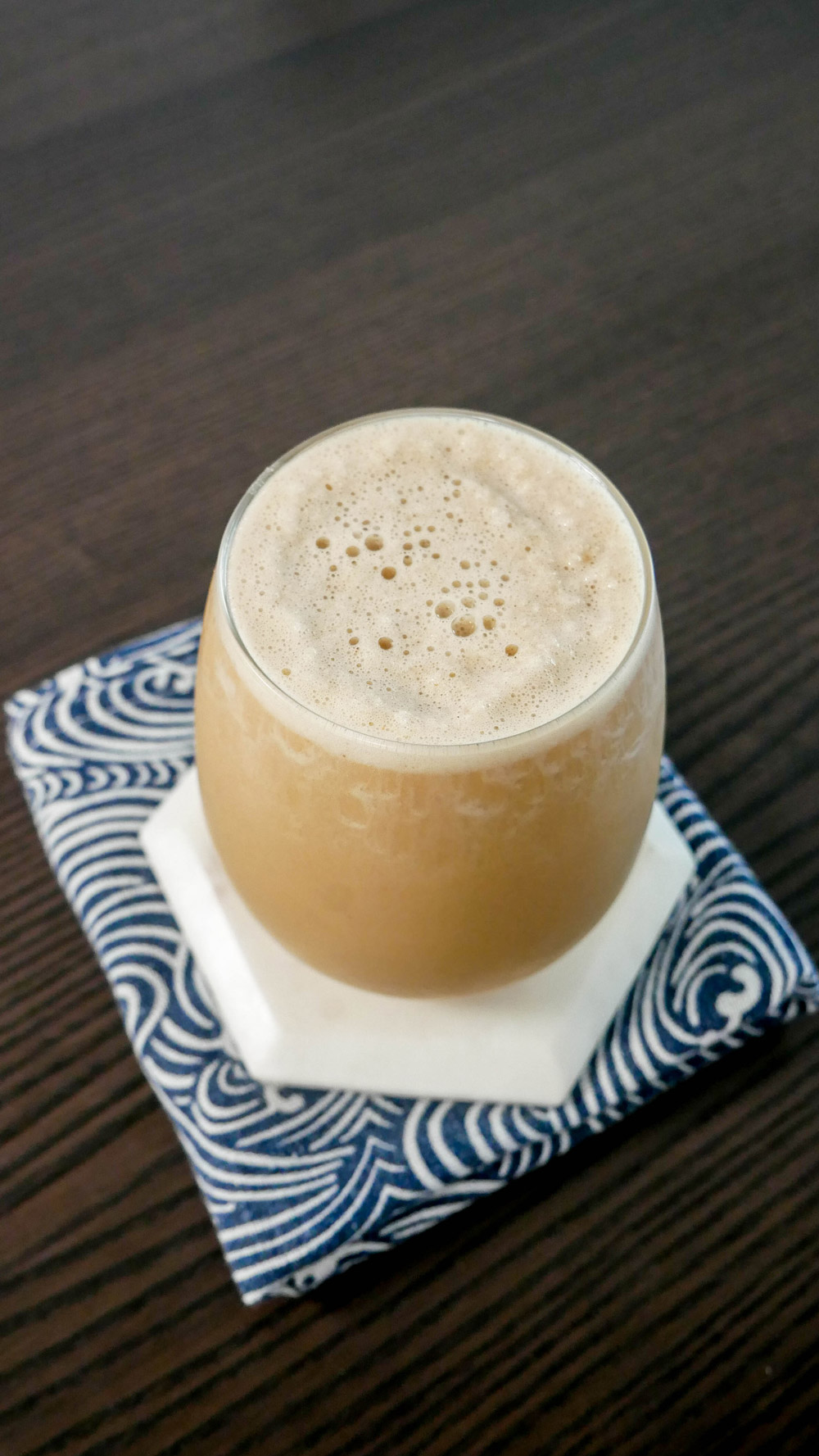 Misugaru Shake
Ingredients
1

cup

water or milk

3-4

tbsp

misugaru powder

1-2

tbsp

agave syrup

or sweetner of choice

ice cubes
Instructions
In a blender, add the water or milk, misugaru powder, sweetner, and ice cubes.

Blend until ice has been crushed and smooth. Adjust the sweetness and consistency to your preferences.
Notes
For hot misugaru, heat up your base (water, milk, coffee, etc) and add a few spoons of misugaru powder. Mix well.
For cold misgaru, combine the powder with your liquid base and stir well. 
Pin & save this recipe for later