Mango pancakes are a classic Hong Kong treat! They're filled with thick luscious cream and a fresh piece of mango on the inside, making it the perfect treat for summer.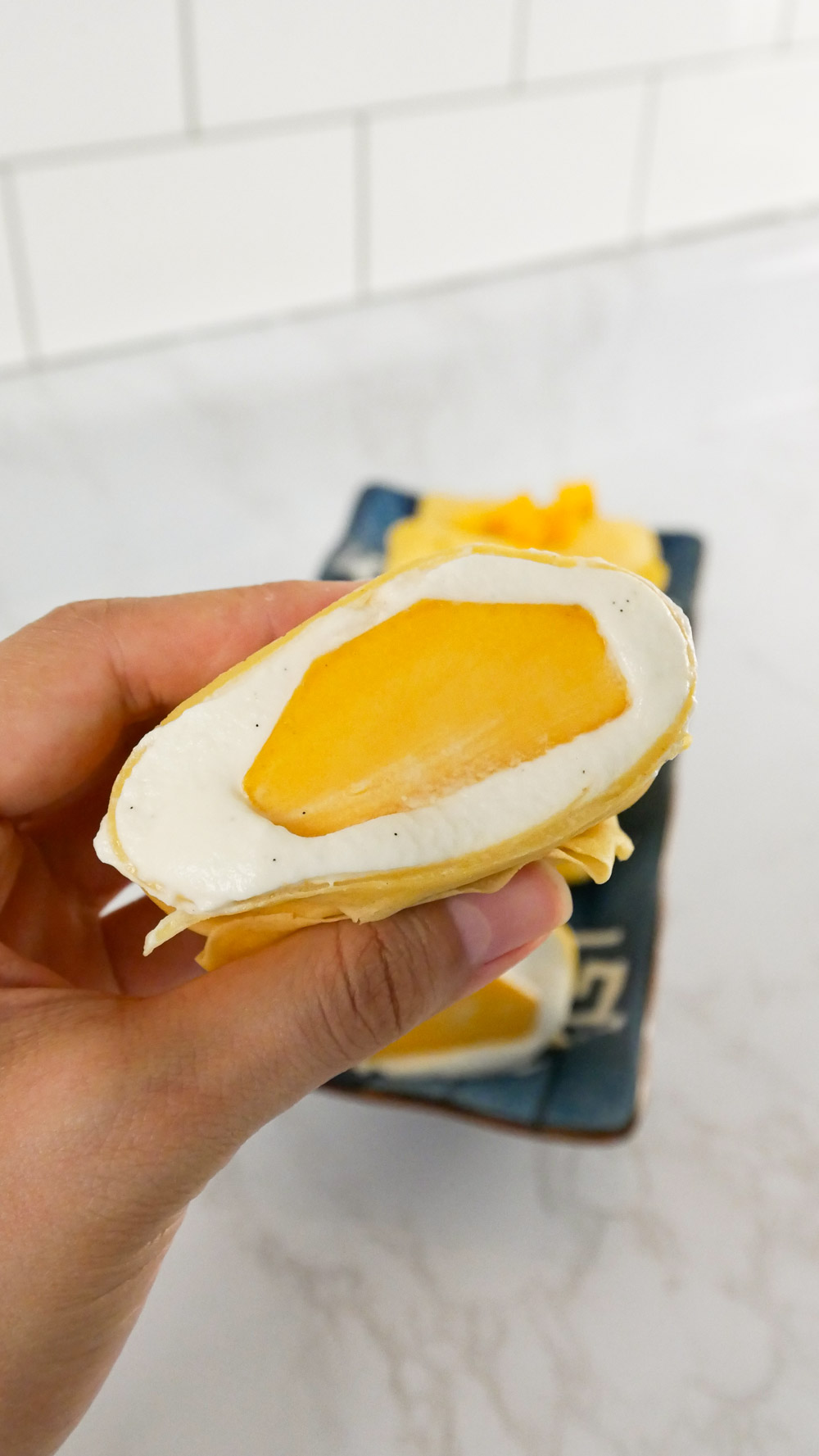 Mango Pancake
Ingredients
Batter
1 cup

milk

your choice of milk

3

eggs

1/3 cup

(50 g)

all-purpose flour

1/4 cup

(25 g)

powdered sugar

1/4 cup

(30 g)

custard powder

Bird's brand, or substitute with cornstarch

1

tsp

vanilla extract

2

tbsp

neutral oil
Filling
2

cups

heavy whipping cream

or non-dairy cream

1/3

cup

powdered sugar

2

tsp

vanilla bean paste

or vanilla extract

4

ripe

mangoes
Instructions
In a bowl, combine eggs and milk. Whisk until fully combined.

In another bowl, combine flour, custard powder, and powdered sugar.

Sift the flour mixture over the egg mixture. Whisk together until combined. Add vanilla extract and oil and mix again.

Run the batter through the sieve to break down any lumps. Set batter aside.

Heat a 10 or 12-inch non-stick pan over low heat. Coat the pan with non-stick cooking spray. Pour about 1/4 cup of the batter into the center of the pan. Swirl the pan in a circular motion while pouring to distribute the batter as evenly as possible. Allow this to cook for about 1 minute. Remove and set aside. Repeat for the rest of the batter. Once all the pancakes are done, allow them to cool down to room temperature before adding the filling.

While the pancakes are cooling, peel then cut the mangoes into 2 pieces down the seed. Cut the mangoes into rectangular shapes, or whichever shape you prefer.

In a large mixing bowl, combine heavy whipping cream, powdered sugar, and vanilla bean paste (or extract). Whisk until stiff peaks form.

To assemble, the pancake, place one sheet of the pancake on a cutting board or clean surface area. The smooth side should be facing down on the board.

Add 1-2 tbsp of cream on top on the pancake and smooth it out into a rectangular shape. Place a piece of mango on top, then add 1-2 more tbsp cream on top. Smooth the cream out and fold.

Fold the left side of the pancake over towards the right side. Fold the right side of the pancake towards the left. Fold the top and bottom part of the pancake over towards the center. Flip the assembled pancake and repeat for the rest.

Refrigerate for at least 30 minutes to allow the cream to set.
Notes
Place the mixing bowl and whisk attachment in the fridge for about 30 minutes so it's nice and cold for the whipping cream. 
Pin & save this recipe for later!