To kick off my Hong Kong street food series, I'm making one of my favorite snacks – curry fish balls!
From a young age, I would often hear my dad rave about how much he missed Hong Kong's street food while he was growing up. Luckily, I live in one of the most diverse cities in the world New York City and was able to enjoy this frequently in Manhattan Chinatown.
Every weekend I would visit my grandparents' house in Chinatown and I would have curry fish balls with rice noodles from the corner street vendor. This is a very nostalgic snack for me and I'm so happy to be able to share this with you!
Why you'll love this recipe
If you're looking for a quick snack that's made from an incredibly delicious combo, you'll want to try making my Curry Fish Balls recipe. The soft and bouncy texture of the fish balls coupled with the spicy and umami flavors of the rich, velvety curry sauce, will have you craving this week after week!
To replicate the street food experience, don't forget to skewer the fish balls on a wooden barbecue stick! They're great as a party appetizer or as a tasty snack plus they're tremendously versatile. These fish balls can also be enjoyed on their own or as toppings with noodles or rice. To make this a heartier meal, I sometimes like to add noodles! The noodles sop up all that delicious sauce, making it a quick and tasty dish. 
Once you have the fish balls and curry seasonings, the rest of the ingredients are pantry-friendly or easily accessible so you can prepare this in just 25 minutes!
How do I prepare Curry Fish Balls?
You'll never have to hunt down a food cart or 'cha chan tang' (Hong Kong-style cafe) to get your hands on some delicious curry fish balls! To make this at home, just follow the steps below:
Step 1: Boil the fish balls
In a pot with water, boil the fish balls for 5 minutes. Then, drain the water and set the fish balls aside.
Step 2: Saute the garlic
In a wok or pan, preheat oil over medium heat. Once it's hot, add the minced garlic and cook for 1 minute or until it's fragrant.
Step 3: Add the curry
In the same pan, turn the heat down to low and add the curry paste. Mix the curry paste in and let it cook for 1 to 2 minutes before adding the curry powder.
Step 4: Make the sauce
Pour the chicken stock into the pan and stir until the curry mixture dissolves. Then, add the oyster sauce, soy sauce, sugar, salt, and evaporated milk.
Once the sauce comes to a simmer, add the fish balls and cook for 3 minutes.
Step 5: Prepare the slurry
 While the sauce is cooking, prepare the cornstarch slurry by combining cornstarch and water.
Step 6: Thicken the sauce
Slowly pour the slurry into the sauce until it reaches your desired consistency.
Step 7: Plate and serve!
Once you're happy with the thickness of the sauce, skewer 5 to 6 fishballs onto a stick and serve while hot.
Cooking Tips for Curry Fish Balls
To make sure these curry fish calls turn out perfect every time, here are a few tips to keep in mind:
Adjust the amount of curry powder added based on your preferred spice level or tolerance. If you don't want it to be spicy, reduce the curry powder to ½-1 tablespoon.
I recommend using low-sodium chicken stock for the sauce to have more control over the saltiness of the dish. If you find that your sauce is underseasoned, add a pinch of salt. You can always add more seasoning to a dish but you can't take it away!
Add the cornstarch slurry 1 tablespoon at a time until the sauce reaches your desired thickness. Ideally, the curry sauce should have a thick consistency. If you want the sauce to be thicker, add more slurry, but if you want it thinner add less. If you find that the sauce is too thick, add a tablespoon of water at a time. If you find that the sauce is too thin, add more cornstarch or simmer until it reduces and thickens up. 
Be mindful of the cooking time of the fish balls. Overcooking the fish balls will turn them dry and rubbery, causing them to lose their bouncy texture. I suggest sticking to the cook times at each step!
Ingredients & Substitutions
Fish balls: feel free to use any fish ball brand of your choice. You can see which brand I used for this recipe in the video below.
Neutral oil: you can use any neutral oil of your choice for sauteeing, including vegetable, canola, avocado, grapeseed, peanut, or corn
Garlic: the garlic will enhance the overall flavors of this dish so feel free to use as much garlic as you like!
Yellow curry paste: I prefer to use the Maesri brand of curry paste but you can use your preferred version. You can also replace it with curry powder and add a bit of chili powder to add some additional spice.
Curry powder: I like to use madras curry powder for this recipe because of its fragrance and spiciness. You can substitute it with any other curry powder however, it will not be the same as the iconic Hong Kong-style curry. 
Chicken stock: chicken stock will add more flavor to the sauce, but you can also use vegetable stock or just plain water. Just keep in mind that if you do use water, you'll need to adjust the seasoning. 
Oyster sauce: the oyster sauce will balance out the umami flavors in the curry sauce with its sweetness, but you can also double the amount of soy sauce or add a splash of Worcestershire sauce as a replacement.
Soy sauce: soy sauce helps to season the sauce and add umami. 
Sugar: a touch of sugar helps to mellow out all the salty components in this dish. 
Evaporated milk: the evaporated milk will make the sauce creamy, but you can also use any milk or cream of your choice.
Cornstarch: you can also use potato starch for making the slurry.
Frequently Asked Questions
What are fish balls made of?
Fish balls are bite-sized patties made of a mixture of pulverized fish, flour, egg, salt, and pepper. Depending on the brand you use, they can also incorporate other seasonings like garlic powder and MSG. The type of fish meat used can vary depending on the origin and company, but milkfish, surimi, or tilapia are the most common. Some brands even add seafood, like crab meat or shrimp, to the mixture to make the fish balls more flavorful.
How do you know when fish balls are cooked?
Frozen fish balls sold in grocery stores are already cooked, so boiling them in water allows them to thaw and helps revive that soft and bouncy texture. You'll know when the fish balls are cooked once they float to the surface of the water. This could take about 2 to 5 minutes depending on the size of the fish balls. Once you spot a few floating fish balls, remove them from the water and allow them to drain.
Curry Powder vs Paste
Although curry powder and curry paste have similar flavor profiles, they each contain a few distinct ingredients that can contribute to the overall flavor of the fish ball curry. Curry paste is chili based which usually contains red, green, or yellow chilies, and is more concentrated due to its paste form. It's often used in Thai dishes, like green curries, stews, or soups, and you'll need to dissolve the paste with water to incorporate it.
While curry powder is a mixture of several spices, like cumin and turmeric. It's often used for flavoring Indian cuisines including masalas or kormas. I prefer to use both curry paste and powder in this recipe to make sure you get the most flavorful bite in each serving.
Can you store & reheat Curry Fish Balls?
You can store any leftover curry fish balls in the fridge in an airtight container. To reheat, place the sauce and fish balls in a pan and let the mixture simmer until they're heated through. If the sauce is too thick, you can also add a bit of water to thin it out. Alternatively, you can reheat the fish balls in the microwave until warmed all the way through. 
Looking for more easy and delicious snack recipes?
If you're hungry for more street food-style snacks, here are some of my top recommended recipes:
1. Hong Kong French Toast – this recipe is another staple in the streets of Hong Kong, and it's loaded with a ton of peanut butter and condensed milk. It's incredibly rich, delectable, and addicting!
2. Hong Kong Egg Waffle with Ice Cream – this recipe is perfect for hot summer days or when you need to satiate your sweet tooth. The egg waffles are super fun to make, and you can customize the ice cream and toppings with your favorite ingredients!
3. Taiwanese Fried Chicken – crispy fried chicken is a street food staple and the combination of salty, sweet, and spicy flavors in my Taiwanese fried chicken recipe will make you want to devour this dish!
4. Korean Fish Cake Soup – if you're looking for something that's soothing and comforting, you have to try making my fish cake soup recipe. It's light and refreshing and also pairs well with soju!
5. Korean Hot Dog – if you're a fan of corn dogs, you might want to try your hand at making this classic Korean street food. Its light and chewy batter goes really well with its crispy exterior, making it the ultimate hot dog!
6. Gilgeori Toast – for a filling snack that you can eat on the go, try making my Gilgeori Toast recipe. It's an egg sandwich that's packed with tons of vegetables, making this a sweet and savory treat.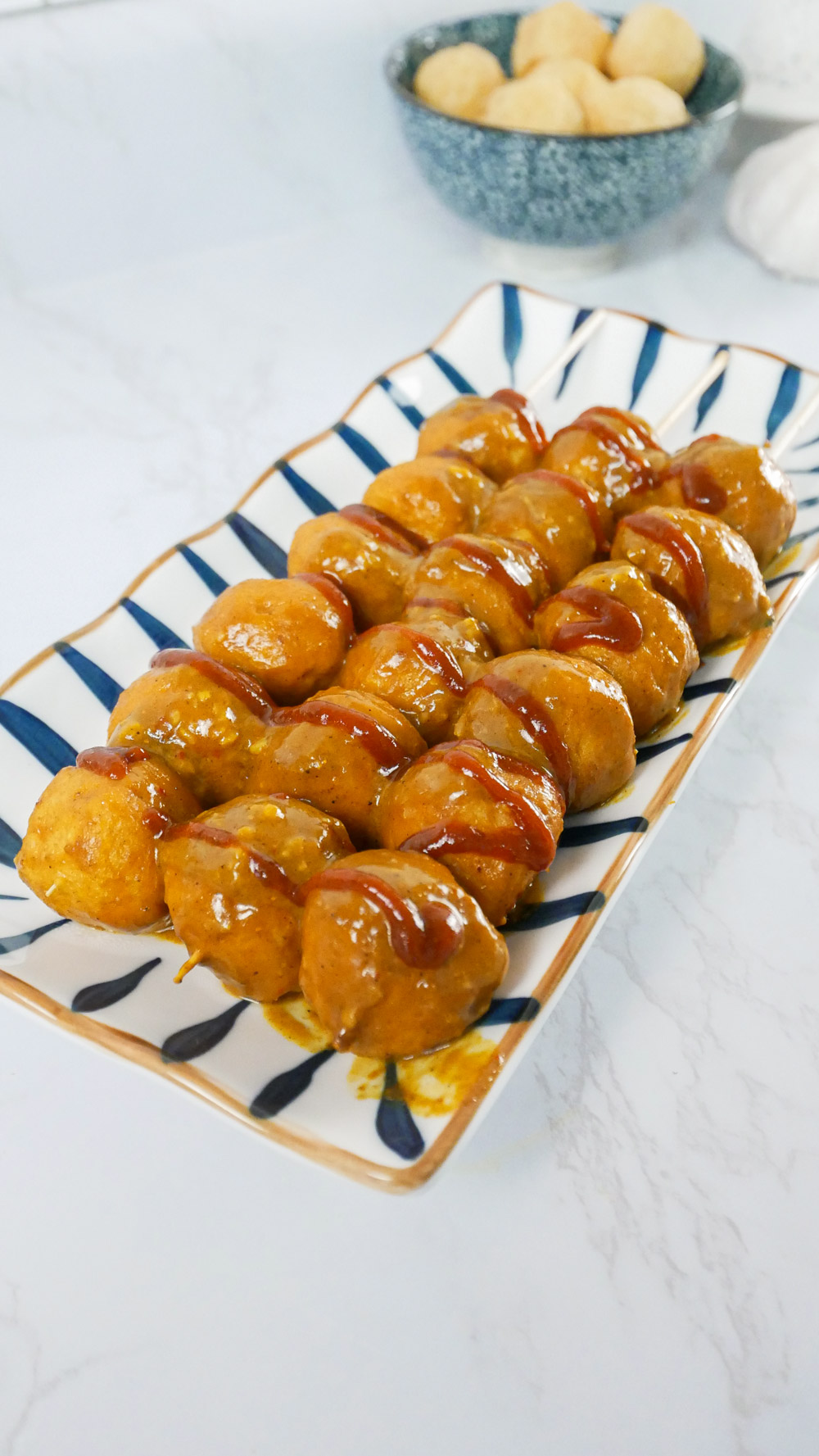 Curry Fish Balls
Ingredients
15

(225 g)

fishballs

2

tbsp

neutral oil

1

tbsp

garlic

minced

2

tsp

yellow curry paste

preferably Maesri brand

2

tbsp

curry powder

preferably madras

2 1/2

cups

chicken stock

low sodium

1

tbsp

oyster sauce

1

tsp

soy sauce

1

tsp

sugar

1/8

tsp

salt

adjust to taste

2

tbsp

evaporated milk

or your choice of milk

1

tsp

cornstarch

1

tbsp

water
Instructions
In a pot with water, boil the fish balls for 5 minutes. Drain and set aside.

In a wok or pan over medium heat, add oil and minced garlic. Cook for 1 minute until fragrant.

Turn the heat down to low and add the curry paste. Cook for 1-2 minutes then add the curry powder.

Pour in the chicken stock and stir until the curry mixture has dissolved. Add oyster sauce, soy sauce, sugar, salt, and evaporated milk.

Once the sauce comes up to a boil, add the fish balls and cook for 3 minutes.

In the meantime, prepare the cornstarch slurry by combining cornstarch and water.

Pour in the slurry slowly until it reaches your desired consistency.

Once thickened to your liking, serve immediately and enjoy!
Pin & save this recipe for later!