Crispy eggplant katsu is an amazing 'meatless' alternative to the popular tonkatsu dish in Japanese cuisine. The extra crunchy exterior with the soft tender interior is loaded with flavor in every bite.
It is no secret that rice is a staple in every Asian home so eggplant katsu goes wonderfully well with a side of freshly cooked fluffy rice. 
This eggplant katsu recipe is light and packed with bold flavors, but also filling at the same time. It can easily be a family favorite dish that even meat lovers will enjoy.
Enjoy this vegetarian katsu recipe as is or add it on top of curry rice for a full, hearty meal!
What is Eggplant Katsu?
Katsu is a popular Japanese cooking technique that involves breading meat, seafood, vegetables, and other ingredients in panko breadcrumbs and frying them until crunchy and golden brown.
Eggplant katsu is heavily inspired by the popular Japanese Tonkatsu, which is breaded and fried pork cutlets that is usually served with tonkatsu sauce, a bowl of white rice, and a side of shredded cabbage. This dish simply involves eggplant slices coated with panko breadcrumbs and baked or fried until a crispy exterior is achieved while maintaining a silky texture inside. 
How to Make Eggplant Katsu
Eggplant katsu is so easy to make that it only takes less than half an hour to prepare and cook. If this is your first time, follow my detailed instructions below on making this dish.
Step 1: Prepare the components of the breading.
An essential part of your eggplant katsu is the breading. So prepare your breading by mixing the flour with half a teaspoon of salt on a plate or deep dish, and then set aside.
In a separate plate or deep dish, combine your panko bread crumbs, 1 teaspoon of salt, paprika, and black pepper. Combine them well and then set them aside.
Finally, mix the eggs with water in a separate deep dish or plate. Set aside.
Step 2: Slice your eggplant.
Now let's prepare for the main star of the dish, eggplant! Start by washing and slicing them into pieces. You don't want to cut your eggplant too thick or thin. About half an inch per piece is the perfect width.
Step 3: Coat your eggplant slices with the breading.
Once your sliced eggplants are ready, you can start coating them with the breading. 

First, place your eggplant pieces in the flour dredge, ensuring all parts are well coated. Next, dip the eggplant slices into your egg wash. Again, make sure to coat them well.
Finally, coat the eggplant with panko bread crumbs. You might want to apply just a little pressure so the breading will stick better into your eggplants.
Step 4: Fry your breaded eggplant slices.
Once you're done coating all the eggplant slices, the next step is to fry them. In a pan, pour some neutral oil like vegetable, canola, avocado, or grapeseed, and heat it under medium-low fire. 
You can test if your oil is ready for frying by taking a pinch of breadcrumbs and observing the reaction when you put them in the oil. If the breadcrumbs sizzle, you're ready to fry your breaded eggplant slices. If they sink to the bottom without bubbling, the oil isn't hot enough. 
It takes about 2 to 3 minutes to fry each side and achieve that golden brown exterior. Don't let your panko breadcrumbs burn! Keep an eye on your eggplants and adjust the heat accordingly.
Step 5: Let them cool, and then serve.
Once you're done frying them up, allow your eggplants to cool on a wire rack and top them with flakey salt before serving.
You can eat them as is or on top of rice and some curry. If you want to turn it into eggplant katsu curry, you can spoon some rice on a plate, spoon some curry over the rice, and crown it with the crispy eggplant slices.
Finally, sprinkle some finely chopped scallions for garnish and freshness.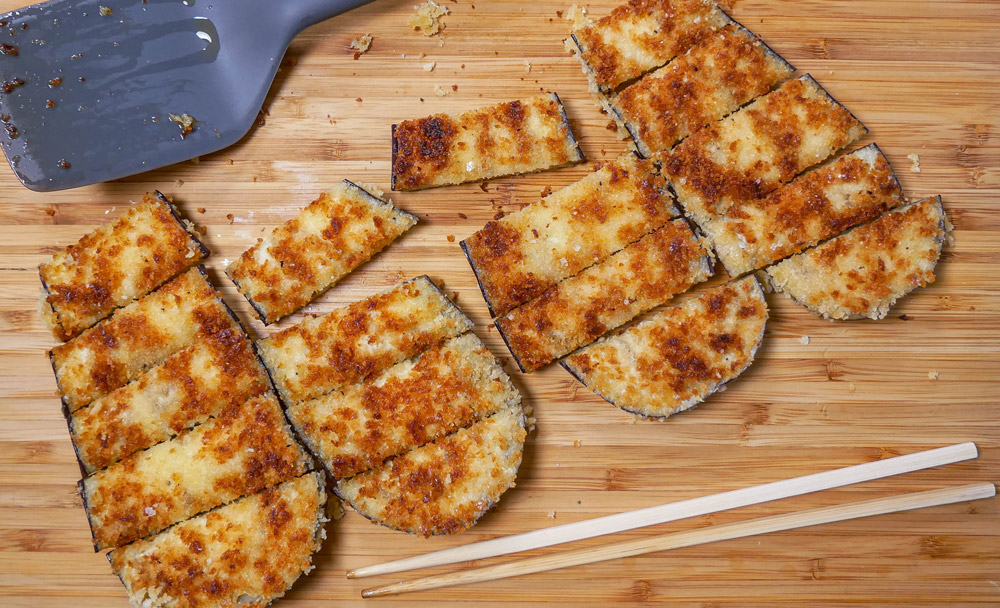 Eggplant Katsu
Extra crispy, crunchy and oh so delicious!
Ingredients
1

eggplant

American / Chinese / Japanese

Neutral oil for frying
Panko Breading
1

cup

panko bread crumbs

more if needed

1

tsp

salt

1/4

tsp

paprika

1/4

tsp

black pepper
Instructions
Mix the flour and 1/2 tsp salt in a plate or deep dish. Set aside

Combine the panko bread crumbs, 1 tsp salt, paprika, and black pepper in a plate or deep dish. Set aside.

Mix the eggs and water in a plate or deep dish.

Slice the eggplant into 1/2 inch pieces.

Place the eggplant in the flour dredge, making sure to coat well.

Dip the dredged eggplant into the egg wash and coat well.

Next, coat with panko breading. Press the coating into the eggplant to help the breading stick better.

In a pan, heat the frying oil on medium-low heat. Add a pinch of breadcrumbs into the pan to test the oil. If it starts to sizzle, it's ready.

Fry the eggplant for 2-3 minutes on each side or until golden brown. Adjust the heat accordingly – you don't want the panko breading to burn!

Move to a wire rack and top with flakey salt.

Enjoy as is or top on curry rice!
Notes
You can substitute flour with cornstarch or potato starch.

There are many different kinds of eggplants, but any kind will work for this recipe. Feel free to use whatever you like or what's available.

Although eggplant katsu is traditionally fried in oil, you can also air fry or bake them for a healthier alternative. Note that your eggplant katsu may not turn out to be evenly golden brown compared to when you fry them. Air fry or bake at 390F/200C for 30-25 minutes or until crispy on both sides. 

Keep your leftovers in an airtight container and store them in the fridge. When stored properly, they can last for up to 3 days. Simply refry or reheat before you eat them.
Final Thoughts
These crispy panko-crusted eggplant slices can very well replace meat to turn your typical katsu into a delicious, mouthwatering vegetarian dish. Even though this dish is meatless, it is guaranteed to be loaded with flavor that even meat lovers will enjoy!
I love this eggplant katsu because it is filling, comforting, and satisfying for my tastebuds. With the crunchiness outside and the silky texture of the eggplant inside, this dish will surely take you on a sensory experience. If you're craving a vegetable dish, my eggplant katsu is the perfect hearty dish.
If you've already tried my recipe, let me know how it turned out!!
Pin & save this recipe for later!