Chinese tea eggs were one of my favorite childhood street food snacks! I remember going to this hole-in-the-wall joint everyday after summer school in Flushing to get tea eggs. They would serve them warm in a small plastic bag so you can throw the shells and bag out when you're done.
What I liked most about their tea eggs was that they weren't overly salty. The eggs had the perfect amount of flavor and saltiness and that was my inspiration for this recipe. These tea eggs are typically braised in a soy sauce based mixture for hours which ultimately ends up with a chalky and rubbery yolk. In my opinion, that's the same as an overcooked well-done steak and I knew I could do better.
Instead of a hard boiled egg, I ended up cooking the eggs until it was soft with a jammy yolk on the inside. Marinating it overnight in the soy sauce mixture really helped the egg absorb all those amazing flavors. I'm pretty happy to say that I think I got the flavor profile very close to what I remembered it to be like!
Feel free to make a batch and let it sit in your fridge for up to 4 days. The longer it marinates, the more flavorful and salty the egg will be.
I hope you enjoy my tea egg recipe!!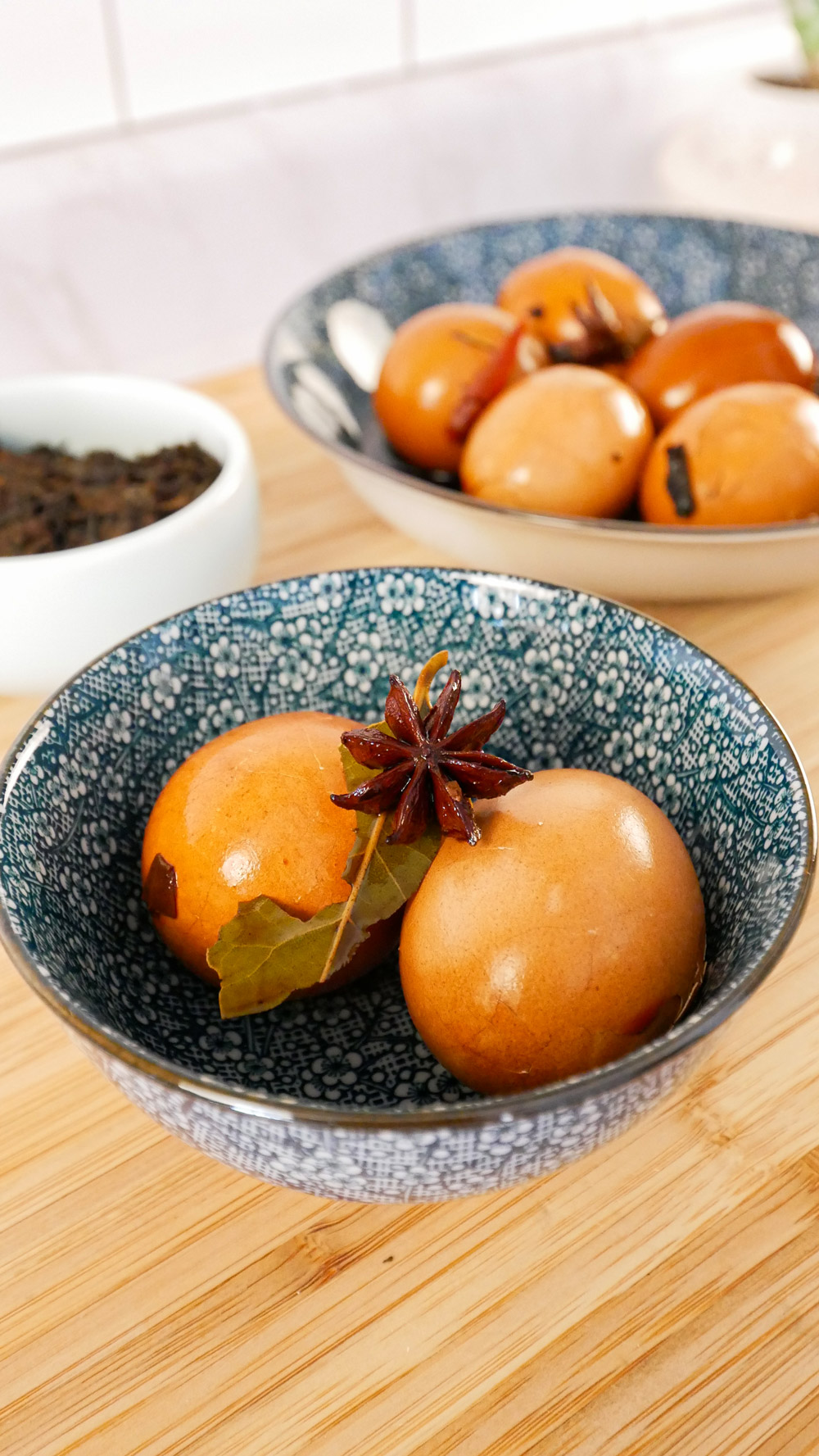 Chinese Tea Eggs
Ingredients
12

eggs

3

slices ginger

3

cloves

garlic

smashed

3

star anise

1

cinnamon stick

2

bay leaves

2

tbsp

red tea leaves

or your choice of tea

1

tsp

Sichuan peppercorns

4

tbsp

low sodium light soy sauce

substitute with 2 tbsp regular soy sauce

2

tbsp

dark soy sauce

2

tsp

sugar

1/2

tsp

salt

3

cups

water

2

dried chili

optional
Instructions
Bring a pot of water to boil over medium heat. Add eggs and boil for 7 minutes or to your desired doneness.

Transfer the eggs into an ice bath or into a bowl under running cold water.

While the eggs are cooling, combine ginger, garlic, star anise, cinnamon stick, bay leaves, tea leaves, Sichuan peppercorns, low sodium light soy sauce, dark soy sauce, sugar, salt, dried chilis, and water in a pot.

Bring this mixture to a boil over medium heat. Let this boil for 15 minutes. Set aside to cool once done.

While the soy sauce mixture is cooling, finish preparing the eggs. Using the back of a metal spoon, gently tap the eggs and crack the shell. This will create a 'marbling' effect on the eggs after it marinates in the soy sauce mixture.

When the soy sauce mixture has cooled, transfer it to a container. At this point, you can strain the liquid if you want.

Transfer the cracked eggs into the container with the soy sauce mixture. Cover and refrigerate for at least 1 day or up to 4 days.

Enjoy as is or with your favorite condiments!
Pin & save this recipe for later!